The COVID-19 pandemic has driven consumers to value flexibility in their buying experience. They no longer want to go to the store as often when they can buy them online, often with just one click. And even better, they can order a subscription box and receive their products regularly without thinking about it. And the numbers speak for themselves – subscription business revenues are growing five times faster than S&P 500 companies.
From a business perspective, subscription commerce offers a stable financial model based on recurring monthly revenues built around almost any niche. From beauty product samples to spare razor cartridges, meal kits, and candles, it's now possible to have anything delivered to your door on a recurring basis. But the most critical question is how to start a subscription business. Read on to learn more.
Table of Content
What Is a Subscription Service?
A subscription business model is a recurring revenue model where a business charges customers a weekly, monthly, or annual fee in exchange for its products or services. Customers can renew their subscriptions after a certain period. This model allows you to leverage customer relationships to create a steady revenue stream. A subscription service also helps turn first-time buyers into regular customers. And with predictable recurring monthly revenues, businesses can accurately forecast future growth and expansion. There are generally three types of subscription services:
Curation

: Curated subscriptions are a specific type of subscription service that selects a group of products for a customer within a product category or across multiple categories. This selection is made by using past sales data or asking consumers to take a quiz or survey describing their preferences. In this subscription model, consumers effectively pay for a brand to personalize its offering and conduct the product discovery process on their behalf. This type of subscription service is the most popular with customers and can include items such as clothing, makeup, or pet accessories. Some popular curated boxes are Ipsy, Stitch Fix, and BarkBox.

Replenishment Subscriptions

: Replenishment subscriptions allow consumers to automate purchasing essential items, such as razors or diapers. This is a recurring order of everyday consumer goods, such as groceries or household items. One of the most popular replenishment subscriptions is Amazon Subscribe & Save (consumer goods) and Dollar Shave Club (razors).

Access subscription

: While curation and replenishment subscriptions are for physical products, access subscriptions extend to services and the digital realm. Customers pay for access to premium content or services. Streaming services like Netflix, Hulu, and Spotify are all-access subscriptions as customers pay to access the content.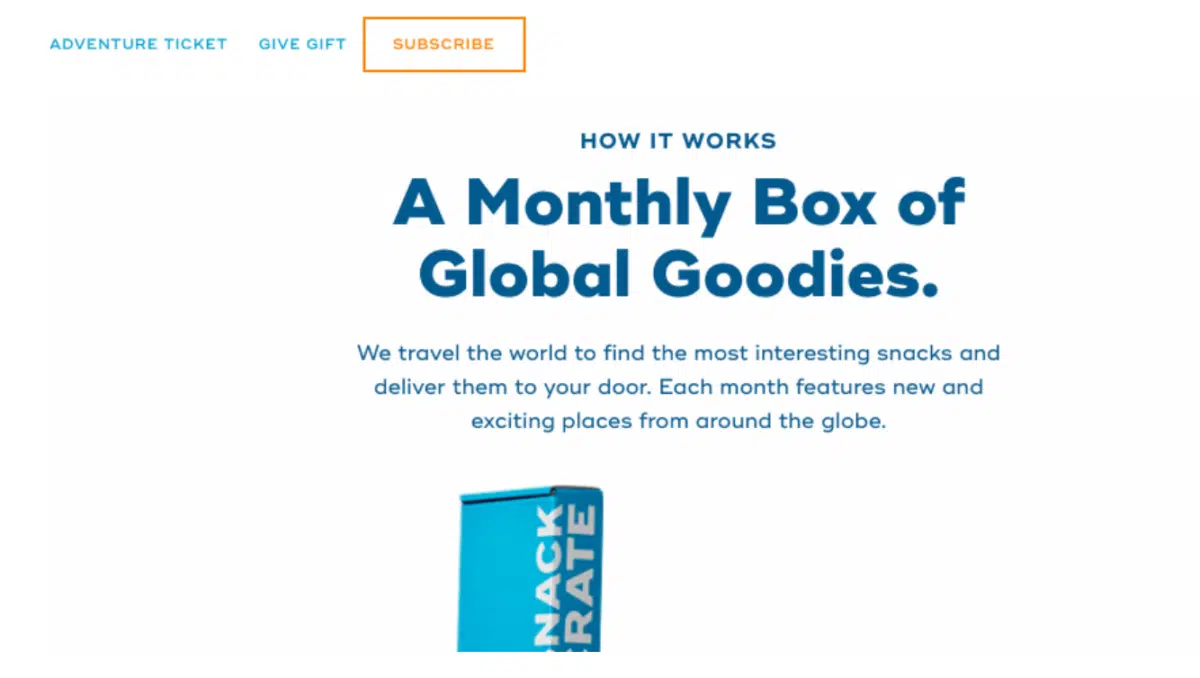 Why A Subscription Business Model To Your Retail business?
Your retail business needs a subscription business model for several different reasons:
Reducing customer acquisition costs
Customer acquisition is costly for both retail and service businesses. However, acquiring new customers rarely provides an adequate ROI if they only make one purchase. Achieving longer customer lifetimes and revenue generation are significant challenges for companies selling to consumers.
A subscription-based model solves these hurdles. This business model is appealing because recurring revenue is built-in. With incentives for customers to continue their subscriptions and technology in place to enable regular, automated billing, it is possible to create a successful retail business that predictably generates revenue.
Avoid the risk of dead stock
With a subscription business model, you can properly plan bulk orders based on the current number of subscribers, reducing the risk of outdated products that don't sell well.
See related: What Is Dead Stock in Retail? – Common Causes and How to Avoid It
Improves your cash flow
Regular recurring revenue feeds cash flow, especially during off-peak seasons, allowing you to budget for expenses and investments in your business. This enables you to have cash on hand to cover certain costs. You also can streamline all aspects of your business, from sales forecasting to inventory planning.
Improve the customer experience
Recurring subscriptions allow you to understand your customers' behavior better. This, in turn, allows you to improve the customer experience continuously and, as a result, build customer loyalty. If done right, companies that offer subscriptions create loyal and repeat customers who spend 67% more than new customers. In addition, it's a great way to set up a referral program. This principle of lifetime customer value reduces the unpredictability of one-time purchases.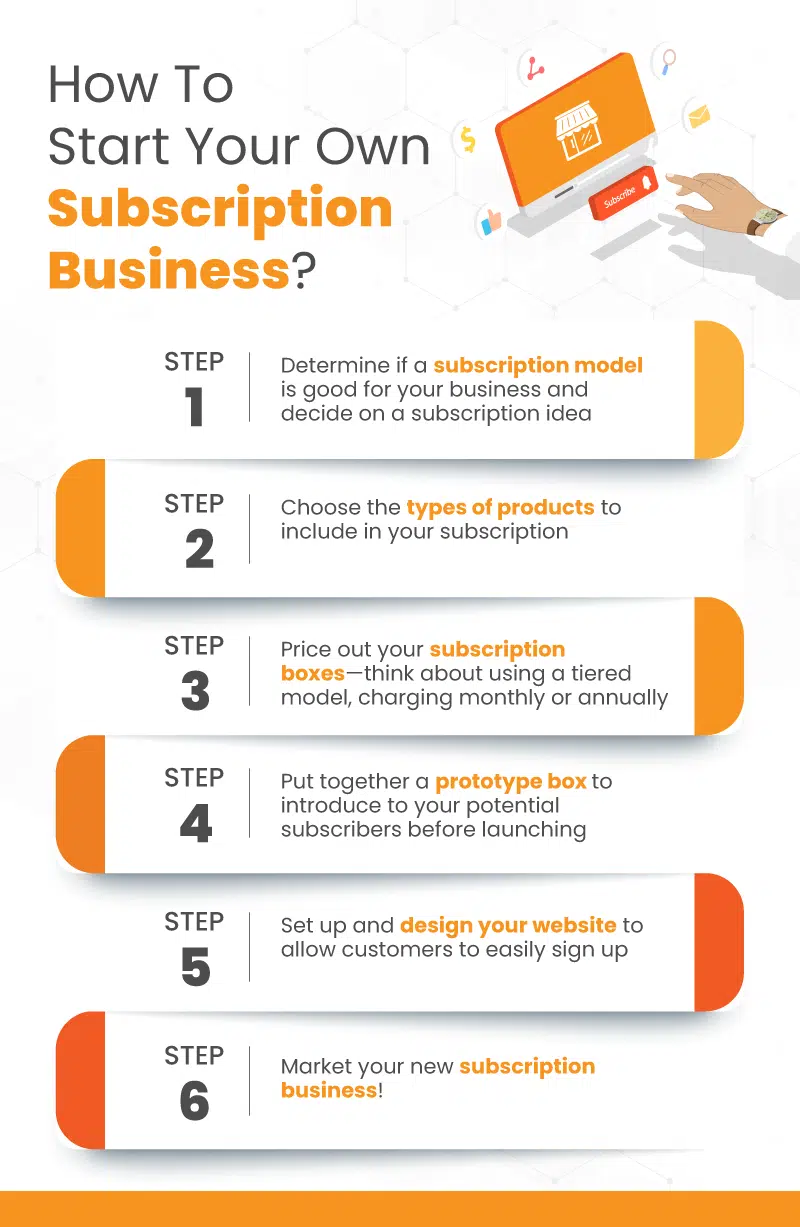 How To Start Your Own Subscription Business?
Step 1: Determine if a subscription model is right for your business and decide on your subscription idea
The first step in the process of how to start a subscription business is to find out if the subscription offer is relevant to your products and services. How often do customers request the products you want to include in your subscription box? Is it a physical product that customers will need refills for? For example, if your company sells prom dresses, a subscription service probably doesn't make sense since it's not a product that most people collect or need to restock. FabFitFun, a popular subscription company, sends out seasonal boxes with 6-8 full-size products perfect for each season, such as beach products in the summer and dry skin products in the winter.
Step 2: Choose your subscription products
Choosing the type of products you want to offer each month is fundamental to starting your subscription business. You can reach out to brands to create partnerships if you're not manufacturing your own products. You can also create a "prototype box," or sample subscription, so new subscribers can get an idea of the types of products they will receive each month.
Step 3: Price your subscription boxes
There are several things to consider when pricing your new subscription service. Consider the items in your box, the cost of packaging materials, fulfillment, shipping, transaction fees, and platform fees. You should price your package with at least a 40% profit margin to be viable. Pricing is an essential part of your subscription strategy, and a one-size-fits-all approach could turn some people off while leaving money on the table for your most engaged customers. One of the best ways to price your offerings is to use a tiered model.
For example, you can offer discounts to people who commit for a certain number of months or to specific customer groups, such as students. Then adjust your prices over time based on your customers' experience. If possible, keep your existing customers at a fixed rate and only raise prices for new customers. Also, if you set a price but feel something is wrong, don't hesitate to offer customer surveys or special offers. Look for details – which prices seem to resonate most with your audience? When you are diligent about pricing, you give your business the foundation for a strong and sustainable revenue stream.
For example, the Variety Fun subscription offers two options: a less expensive "Fun Box" with more traditional snacks and a more expensive "Fit Box" focused on healthy snacks. You can also offer different prices depending on your subscriber's commitment length. A one-year subscription would have a lower monthly cost than a monthly subscription.
Step 4: Put together a prototype box
A common mistake when launching a subscription box is having your first mailing ready before you start marketing. The purpose of a prototype box is to introduce potential subscribers to the types of products they will receive month after month. A prototype box doesn't have to contain the exact items you plan to ship in your first month. But it should match the quantity, quality, and value of the products you intend to deliver to customers once you launch. To create your prototype box, you must first choose your products, select your box, and your packaging materials.
Step 5: Set up and design your website
Once you've chosen the type of subscription and the products you want to offer, it's time to create your website. Creating your website can be intimidating, but there are many user-friendly eCommerce platforms and no-code designers to help you get started. Your website will allow customers to sign up to receive and customize their next box. You can also share information about the products they receive each month.
Step 6: Market your new subscription business
Marketing any business is the key to success, but it can seem daunting when faced with a blank slate. Selling a subscription is selling a relationship with your brand. You need to explain to customers how your subscription will enrich their lives.
Develop and brand all your social media platforms.

Run contests and giveaways to get people excited about your product.

Start building an email list and send out regular newsletters.

Take tons of product photos, so you have creative assets to promote.

Entice subscribers to refer their friends. You'll gain more customers, and referrals will stay subscribed longer to enjoy their rewards.

Invite customers to give you feedback on each subscription box mailing.

Send subscribers a survey after each mailing and ask them to rate each item in the box. You can then use this feedback to identify their tastes and send them items they are more likely to enjoy next time.

Offer collectible items or packaging with each shipment, such as a sticker or collectible box, to keep customers looking forward to each new arrival.
Be sustainable. According to a study by the National Retail Federation and IBM, 70% of North American consumers want brands to be environmentally friendly. Focus on sustainable practices in your business and share them with your customers.
Consumers expect their subscriptions to become more personalized over time, and 28% of curation and access groups said a customized experience was the most important reason they continued to subscribe. With a subscription model, customer retention is key. To keep your paying subscribers, focus on high-quality customer service – without it, recurring revenue cannot be sustained. After all, it costs five times more to acquire a new customer than to retain an existing one.
Engage with your customers as much as possible, encouraging them to post on social media or asking for feedback on your offerings. A good experience can turn into recurring revenue, which is the foundation of your subscription service.
Payments And Technology For Subscription Businesses
You cannot run a subscription business without a point of sale software and payment processor that supports subscription billing. Manually billing all your subscribers each month or at the beginning of the subscription, cycle is too much work. With subscription billing from your retail POS system and eCommerce platform, you can automatically bill your subscribers on a regular schedule. In addition, the POS platform will allow you to synchronize data transfer, product descriptions on your website, site speed, sales, and inventory reports, email marketing integrations, and schedule regular online store inspections.
Wrapping: How To Start A Subscription Business?
The eCommerce subscription business model is the way of the future. It offers the opportunity for unprecedented growth, increased brand loyalty, and stability for an eCommerce brand. On the other hand, it comes with some risks. And those risks are mitigated by choosing a hybrid single product or membership subscription model.
You can use many powerful subscription tools no matter your store's hosting platform. And it's never been easier to get into the market and launch a box or membership. With a little creativity and the right plan, you may find that this approach makes for happier customers and higher retention rates for your business, allowing you to grow exponentially.
Get Started with KORONA POS today!
Tell us a little bit about your business and explore all features that KORONA POS has to offer. And there's no commitment or credit card required.
FAQs: How to Start a Subscription Business
What can be sold as a subscription?
Many different types of products can be sold as a subscription. The ideas below mainly reflect the most popular subscription box niches: food and beverages, personal care and hygiene, health and fitness, childcare, clothing, books, and pet care.
What are subscription-based services?
A subscription service is when the customer purchases a product or service on a recurring basis (weekly, monthly, quarterly). The company often offers a subscription box or membership that is more convenient and a better deal for the customer.
What are the best subscription services?
Some of the best subscription boxes include BirchBox, Ipsy, Stitchfix, BarkBox, MenloClub, KiwiCrate, the Dollar Shave Club, and FabFitFun.
How do I create a successful business subscription?
1. Determine if a subscription model is right. 2. Choose your subscription products. 3. Focus on exceptional customer service. 4. Price your subscription boxes. 5. Put together a prototype box 6. Set up and design your website. 7. Market your new subscription business 8. Keep enhancing subscriber experience. 9. Tried and tested promotional tactics.