Marketing for small businesses continues to evolve quickly. The advent of social media has forced business owners to adapt and take advantage of new ways to reach new audiences. Though perhaps overwhelming at times, it's a great opportunity to build brand awareness and scale your business.
In the past few years, video has become increasingly important. And nowhere is video marketing more important than on YouTube. Each minute there are 500 hours of video uploaded to the platform and each day users consume over 1 billion hours. And with the average session (on mobile) lasting 40 minutes, you'll have plenty of time to communicate with your viewers. YouTube marketing provides businesses with another affordable outlet to reach a huge new audience.

So for those of you who haven't done so already, let's go over the basics on how to start a YouTube channel for businesses. An optimized channel with regular updates and good production will help strengthen your brand identity and bring new shoppers into your scope.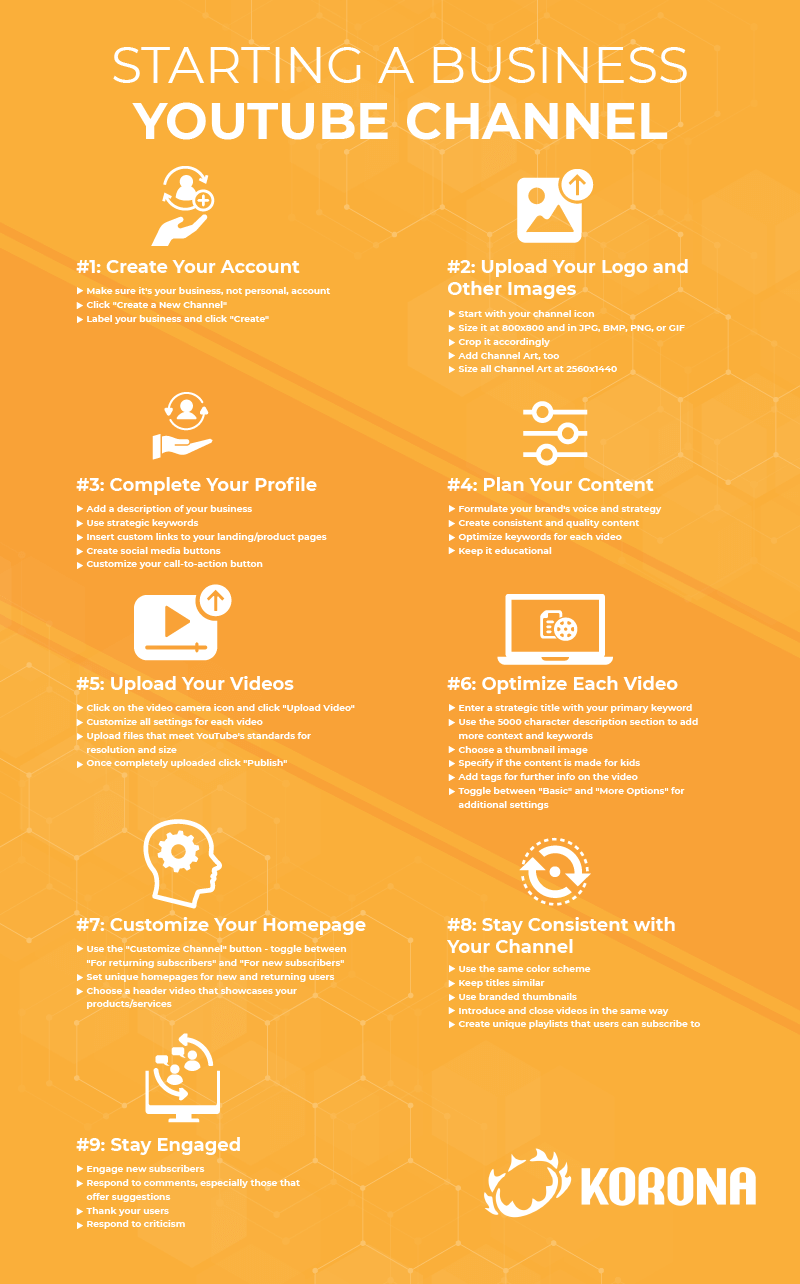 1. Create Your YouTube Account
YouTube is now owned by Google, so you must first be logged in to your Google account. Ideally, you already have a Google business account. This can be used for emails, virtual meetings, Google Ads, Google My Business, and more.
Using a business account for your YouTube channel off the bat will make things easier for you down the road. It will also, of course, help build brand identity.
YouTube makes it easy to switch between accounts so you can continue using both your business and personal accounts.
Go to the Channel Switcher page to see your current accounts. Click on "Create a new channel" to get started. From there, it will ask you to create a Brand Account. Label your business's or brand's name and click "Create."
2. Upload Your Logo and Any Other Images
Like any of your online profiles you'll want to have your logo and name front and center.
Start with your channel icon. Typically, this will be a small image of your logo. Click "edit" to upload a photo. Images should be square at 800 x 800 and in JPG, BMP, PNG, or GIF.
Check the display before confirming, and crop it to a circle as well. Icons will display as circles throughout most of YouTube. This image will be displayed next to the title of your videos and next to your business name on your home screen page.
Users can also upload original photos to the Channel Art section. This is a great way to make your brand stand out and to highlight some of your products, brick and mortar stores, or shoppers. These images must be smaller than 4MB and should be uploaded at 2560 x 1440.
Like your logo, channel art can be previewed so you can see how it will appear on various types of devices. Again, be sure that it looks appealing cropped and on mobile. This image(s) will be displayed in the large banner at the top of your home page.
3. Complete Your Profile Details
The more customization you can do to your channel the more opportunity you'll have to stand out and reach a more targeted audience.
Go to your logo in the top right corner and click on the "Settings" icon that looks like a gear. Here, you can add a description of your business/channel. Pay close attention to keywords in this section to help YouTube understand more of exactly what you offer so the algorithm can bring your channel relevant traffic.
In this section users can also insert custom links to landing pages, product pages, and all social media profiles. These links will appear in the lower right corner of your channel art image. Users can customize a call-to-action attached to the link back to your website. Take advantage of this critical space on your YouTube profile.
4. Determine Your Content
Getting the page set up is relatively easy and fast. YouTube has made this simpler over the years to encourage more users.
The harder part will be actually creating the content. It's important to first formulate a strategy and voice. As with any marketing for your business, you want your YouTube channel to have a consistent message.
Additionally, it must be quality content. YouTube, of course, is now owned by Google. And the search engines have the most complex algorithms in the world. In order to provide users with a better and better product, these algorithms have learned to reward content creators that provide useful information. Always keep this in mind when making a new video.
Finally, optimize your keywords as you do with any search engine. Keep your titles and descriptions straightforward and relevant. If you are not sure how to make them catchy and at the same time include all the needed keywords, turn to professional writers. They will help you make it clear to YouTube exactly what your video is about and who you want to reach.
For most businesses, the best type of content to produce will be educational. Users are more interested in learning from YouTube. It's a great opportunity to provide your existing customers or prospective buyers with useful content.
With great educational content, brands can also build their identity and storytelling. We all hear a lot about how important it is to define your brand and tone of voice. There's no better way to do this than through educational content.
5. Start Uploading!
Once you determine the type of content you'll produce and film/edit a few videos it's time to start uploading them to your channel.
Doing so is remarkably easy. Simply navigate to the video camera icon in the top right corner and click "Upload video." Once there you can either upload from your computer or drag and drop a file.
As it uploads you can customize the settings or video, its title, description, tags, and more.
6. Optimize Each Video
While you need to optimize your overall strategy for your keywords, audience, and brand, you'll also need to do the same with each individual video. The custom options mentioned above are the areas to do so.
First enter an apt title. Your title should contain your primary keyword and do a good job of describing the content of the video. You'll have 100 characters for this section.
Below the title section is your description. Get more in depth with the information contained in the video. You can include links and calls to action with the 5000 characters allowed here.
Next, choose your thumbnail. You can upload a custom thumbnail with custom text or choose one of three stills from the video that YouTube automatically pulls from your video. These are important for creating attention-grabbing content.
You'll also need to specify if the content is made for kids or not. YouTube's new safety policies require that users always complete this section.
At the bottom of the page, add your tags. These are additional opportunities to add keywords to help YouTube identify the substance of your content and users find your videos. You'll have ample space to do so with a 500 character limit.
At the top of the page users can toggle between "Basic" and "More Options." The latter offers some more customization options that aren't as commonly used. The most important section offers the ability to add your own subtitles.
7. Customize Content for New and Returning Users
Another change YouTube has made recently is allowing users customization based on their audience. Below the channel art of each page there is space for channels to insert their featured video. This section can be changed based on whether the user is a new visitor or returning.
Typically, this part of your YouTube page is your opportunity to draw viewers in. You'll want to make sure that this video is a trailer of sorts, giving viewers an idea of what you sell and stand for.
On your channel homepage navigate to the "Customize Channel" button. Under the "Home" tab toggle between "For returning subscribers" and "For new visitors" buttons to add different trailer videos for each.
8. Keep Your Channel Consistent
Like your social media pages, website, or any other communication you have with your shoppers, you'll also want your YouTube channel to stay consistent.
The channel is not simply a place to dump all of your video content. Instead, curate it to form a consistent narrative and promote your brand.
Use a singular color scheme.
Keep your titles the same style
Use branded thumbnails
Introduce and close videos in the same manner
Create themed playlists
9. Stay Engaged With Your Users
Finally, all businesses must keep engaged with viewers and subscribers. Like review sites and social media profiles, responding to user interaction is critical.
Like comments
Respond to criticism
Thank loyal guests
Add insight
Be funny
This doesn't have to be time-consuming. Just show your viewers that you're paying attention and that you care.
For more advice on how to manage your business's social media check out our other guides. And to learn how a POS system can improve your business click below to get started with a free trial.
Get Started with KORONA POS today!
Tell us a little bit about your business and explore all features that KORONA POS has to offer. And there's no commitment or credit card required.