Selling on Instagram is much more than just creating an account and getting your product photos up. Instagram can be one of the most powerful tools to increase your product sales and contribute to the implementation of your multi-channel retail business. Instagram is the 4th most used social platform. Only Facebook, Youtube, and WhatsApp are ahead of Instagram in terms of daily active users worldwide, with a whopping 1.386 billion people. In this guide, we break down how to sell on Instagram, starting with the basics but also adding some tips for increasing sales on Instagram. Read on to learn more.
Table of contents
Why Retail Business Owners Should Leverage Instagram
In today's digital age, social media has become indispensable for businesses looking to connect with their customers and reach new audiences. Instagram, in particular, has emerged as a powerful platform for retailers to promote their products, engage with their customers, and drive sales. Here are three key reasons why retail business owners should leverage Instagram:
People are researching products on Instagram
Instagram has become a popular destination for consumers who are researching products before making a purchase. According to a survey by Facebook, 83% of Instagram users say they discover new products and services on the platform, and 81% use it to research products and services before making a purchase. Additionally, 80% of users follow at least one business on Instagram, and 200 million users visit at least one business profile daily. These figures demonstrate the importance of having a strong presence on Instagram for businesses looking to reach potential customers and drive sales.
Younger consumers expect you to be on Instagram
With more than 1 billion active users, Instagram has a massive user base, and a significant portion of that audience is made up of Gen Z and Millennial consumers. These younger generations are more likely to engage with brands on social media, and they expect businesses to have a presence on Instagram. According to a survey by Sprout Social, 81% of Gen Z and 71% of millennials check Instagram at least once a day. Furthermore, 72% of Instagram users are under the age of 35. This means that retailers who want to attract younger consumers must be active on Instagram.
Your competitors are selling on Instagram
Many retailers are already following this retail trend and leveraging Instagram to promote their products and drive sales. In fact, Instagram has become a popular platform for eCommerce selling. The platform recently introduced features like Instagram Checkout and Instagram Shop to make it easier for businesses to sell their products directly on the platform. According to a survey by BigCommerce, 72% of Instagram users have made fashion, beauty, or style-related purchases after seeing something on Instagram. Retailers not actively selling on Instagram risk falling behind their competitors.
In addition to these three reasons, Instagram offers several other benefits for retailers:
Building brand awareness: Instagram allows businesses to showcase their products and tell their brand story through visual content. Retailers can build brand awareness and loyalty by creating an aesthetically pleasing feed and engaging with their followers.
Connecting with influencers: Instagram is a popular platform for influencers, who can help retailers reach new audiences and promote their products to their followers.
Cost-effective advertising: Instagram's advertising platform allows businesses to create targeted ads that reach their ideal customers without breaking the bank.
Step-by-Step Guide On How To Sell On Instagram
​​If you're looking to sell your products or services on Instagram, here are some tips to help you make the most of the platform:
1. Verifying the eligibility of your Instagram account for sale purposes
Before you start selling on Instagram, you must first ensure your business is located in one of the countries where Instagram Shopping is available.
Your Instagram account must be in an available market to tag products. If your account is located outside of an available marketplace or if a VPN or proxy service was used to set up a store on Instagram outside of an available marketplace, you may lose the ability to tag products. Similarly, if you are temporarily outside of an available marketplace (for example, for a trip), you may also lose the ability to tag products. It can take up to two weeks before your account becomes available again. You'll also need to ensure that the items you want to sell comply with Instagram's commerce provisions. Your business will need to have a business website and a business profile on Instagram that is connected to a Facebook page.
2. Identify the right niche and establish your audience
One of the keys to success on Instagram is to find the right niche and build a loyal following. This is especially true for retailers who want to sell their products on the platform. By identifying and targeting a specific audience, retailers can create content that resonates with their followers and drives sales.
To find the right niche on Instagram, retailers can start by analyzing their target market and researching the types of content that perform well in their industry. They can also look at their competitors and identify any gaps or opportunities in the market that they can fill. Once they have identified their niche, they can create content that speaks directly to their target audience.
A great example of a brand that has successfully narrowed its niche on Instagram is Glossier. Glossier is a skincare and makeup brand that targets a specific audience: Millennial women who prioritize self-care and natural beauty. Their Instagram feed is filled with user-generated content showcasing real women using their products and sharing their experiences. By building a community of loyal followers, Glossier has been able to leverage the power of social proof to drive sales and build a successful brand.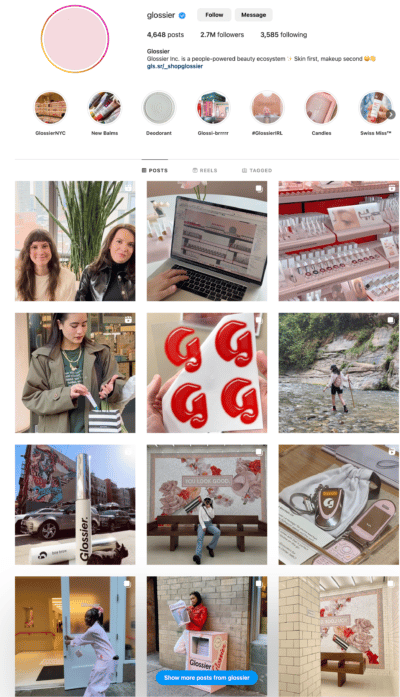 3. Set up your Instagram business account
If you're looking to promote your business on Instagram, setting up a business account can help you get started. It's a straightforward process, too. Here are the steps to set up an Instagram business account:
Download the Instagram app and sign up for an account if you don't already have one. You can also convert an existing personal account to a business account by going to your profile, tapping the three horizontal lines in the top-right corner, and selecting "Settings." From there, choose "Account" and then "Switch to Professional Account."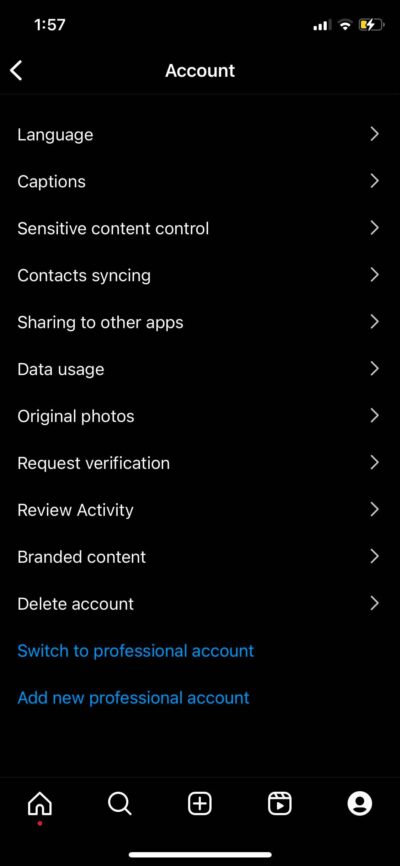 Choose "Business" as the account type when prompted. You'll be asked to connect your account to a Facebook Page. If you don't have a Facebook Page for your business, you can create one during this process.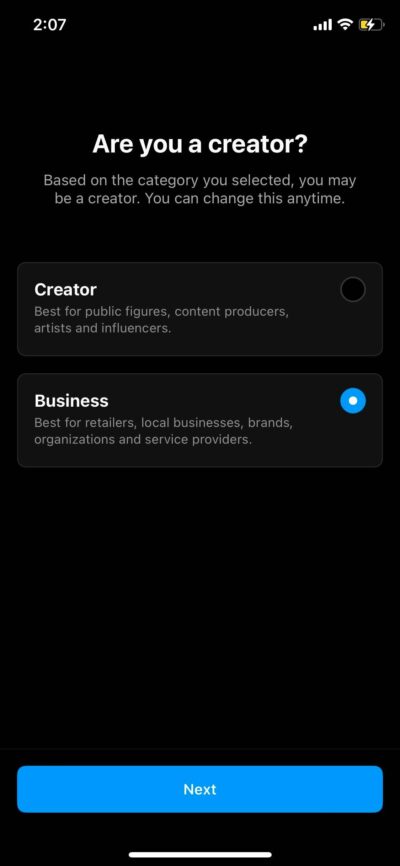 Enter your business information, including your business name, category, and contact information. This information will be displayed on your Instagram profile.
Customize your profile by adding a profile picture, bio, and website link. You can also choose to make your profile private or public.
Start posting content to your account! You can post photos, videos, and stories to engage with your audience.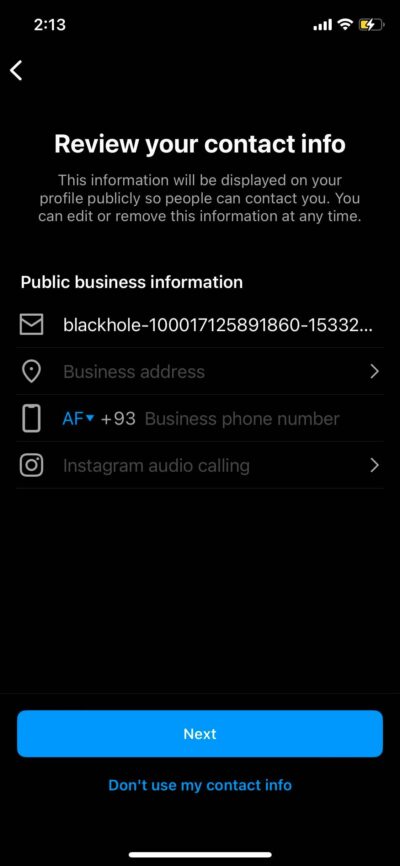 Use Instagram's business tools to track your performance. Instagram offers insights into your account's performance, including data on your followers, reach, and engagement. You can use this information to improve your content and grow your audience.
Setting up an Instagram business account is a straightforward process, and it can help you reach new customers and grow your business on social media.
4. Optimize your Business Instagram profile
Optimizing your business profile is important to sell on Instagram effectively. Here are some tips for optimizing your business Instagram profile:
Choose a recognizable username: Choose a username that is easy to remember and reflects your brand name. If your brand name is taken, try to come up with a variation that still represents your brand.
Use a profile photo that reflects your brand's uniqueness: Choose a high-quality profile photo. It can be your company logo or a professional photo.
Write a clear bio: Your bio should be brief but descriptive. Use keywords that describe your business and what you offer. You can also include a call-to-action to encourage people to visit your website or make a purchase.
Add a link to your website: Instagram only allows one clickable link in your bio, so make sure to add a link to your website. This will help drive traffic to your site and increase sales.
Use Instagram Stories Highlights: Instagram Stories Highlights allow you to showcase your products, services, or brand in a visually appealing way. Create highlight covers that reflect your brand and add your best content to your Highlights.
Post regularly: Consistency is key when it comes to Instagram. Make sure to post regularly, whether it's daily or a few times a week. This will help keep your followers engaged and interested in your brand.
Use relevant hashtags: Hashtags can help increase your reach on Instagram. Use hashtags relevant to your brand and the content you're posting.
By optimizing your business Instagram profile, you'll be able to attract more followers and increase sales. Remember to keep your profile up-to-date and post quality content that resonates with your audience.
5. A Few Tips to Increase Sales on Instagram
1. Engage with Live Shopping streams
Instagram Live Shopping is a feature that allows retailers to showcase their products in real-time while engaging with their audience. To set up a Live Shopping post, you must have a business account and at least 10,000 followers.
Once you meet the requirements, tap the camera icon, select Live, and then select Live Shopping. Retailers need to engage with Live Shopping streams because it provides their customers with a more immersive and interactive shopping experience for their customers. By showcasing products and answering questions in real-time, retailers can build trust with their audience and increase the likelihood of making a sale.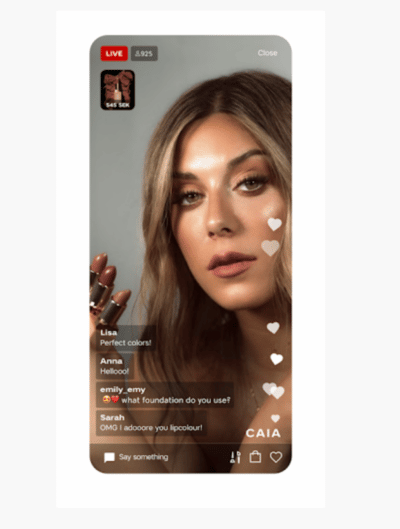 2. Partner up with influencers to amplify your posts
Influencer marketing is a powerful tool for businesses looking to increase their reach and sales on Instagram. Businesses can amplify their posts and reach a wider audience by partnering with influencers with a large and engaged following. When choosing influencers to work with, it's essential to consider their niche, engagement rate, and relevance to your brand. Influencers can promote your products through sponsored posts, product reviews, and giveaways.
3. Showcase products with Reels
Reels are short-form videos that can be up to 60 seconds long. They provide a fun and engaging way to showcase your products and demonstrate their features. By using hashtags and engaging with your audience, you can increase the visibility of your Reels and attract new customers.
4. Pin great content to your Instagram grid
Pinning great content to your Instagram grid is a simple but effective way to boost sales. By featuring your best products and showcasing them in a visually appealing way, you can attract more customers and increase engagement. You can also use your Instagram grid to tell your brand's story and build a connection with your audience.
5. Run Contests
Running contests on Instagram is a great way to increase engagement and attract new customers. By offering prizes and incentives, you can encourage your followers to like, comment, and share your posts. This can increase your visibility and attract new customers to your brand.
6. Leverage Video
Video content is becoming increasingly popular on Instagram, and it's a great way to showcase your products and connect with your audience. Using video lets you provide your customers a more immersive and interactive shopping experience. You can create product demos, tutorials, and behind-the-scenes content to showcase your brand and build trust with your audience.
Using video to text is also a great way to make your content more accessible to viewers who may be hearing impaired or prefer to read content rather than watch a video. Instagram allows creators to add captions to their videos, making it easier for viewers to follow along even if they can't turn on the audio.
FAQs: How to Sell on Instagram Frequently Asked Questions
1. Can I sell directly on Instagram?
Yes, it is possible to sell directly on Instagram. However, checking out and completing a payment on Instagram is currently only available to all eligible business and designer accounts in the US. You also need to ensure that your products are on the list of products allowed to be sold on the platform.
2. How many followers do you need to sell on Instagram?
There is no minimum number of followers required to have a sales account on Instagram. You can start tagging products on your Instagram even if you don't have followers. However, You need at least 10,000 followers to live stream on Instagram. Live streaming is a feature only available for businesses, so you will also need a professional Instagram account to host a live video on the platform.
3. How do I promote my products on Instagram?
There are several ways to promote your products on Instagram. You can create engaging content that showcases your products, use hashtags to increase visibility, collaborate with influencers, and run paid advertising campaigns. You can also take advantage of Instagram's shopping features, like product tags and the Shop tab, to make it easier for your followers to purchase your products.