Last Updated: December 7, 2020
Big or small, all retailers should be offering gift cards. After all, gift cards are proven to increase retail sales. Customers who shop with a gift card are more likely to spend more money in your store. Plus, offering gift cards is a great way to get new shoppers in your doors.
Finally, unused gift cards are still sales for retail stores – about 10-19% of gift cards are never redeemed. More than $1 trillion in gift cards have been sold over the past 10 years, so if you take 10% of that, it amounts to $100 billion!
So offering gift cards is clearly a must for all businesses. But how can you sell more retail gift cards? Driving more gift card sales can be a big boon to any company, so consider these strategies on how to sell more gift cards at your retail store.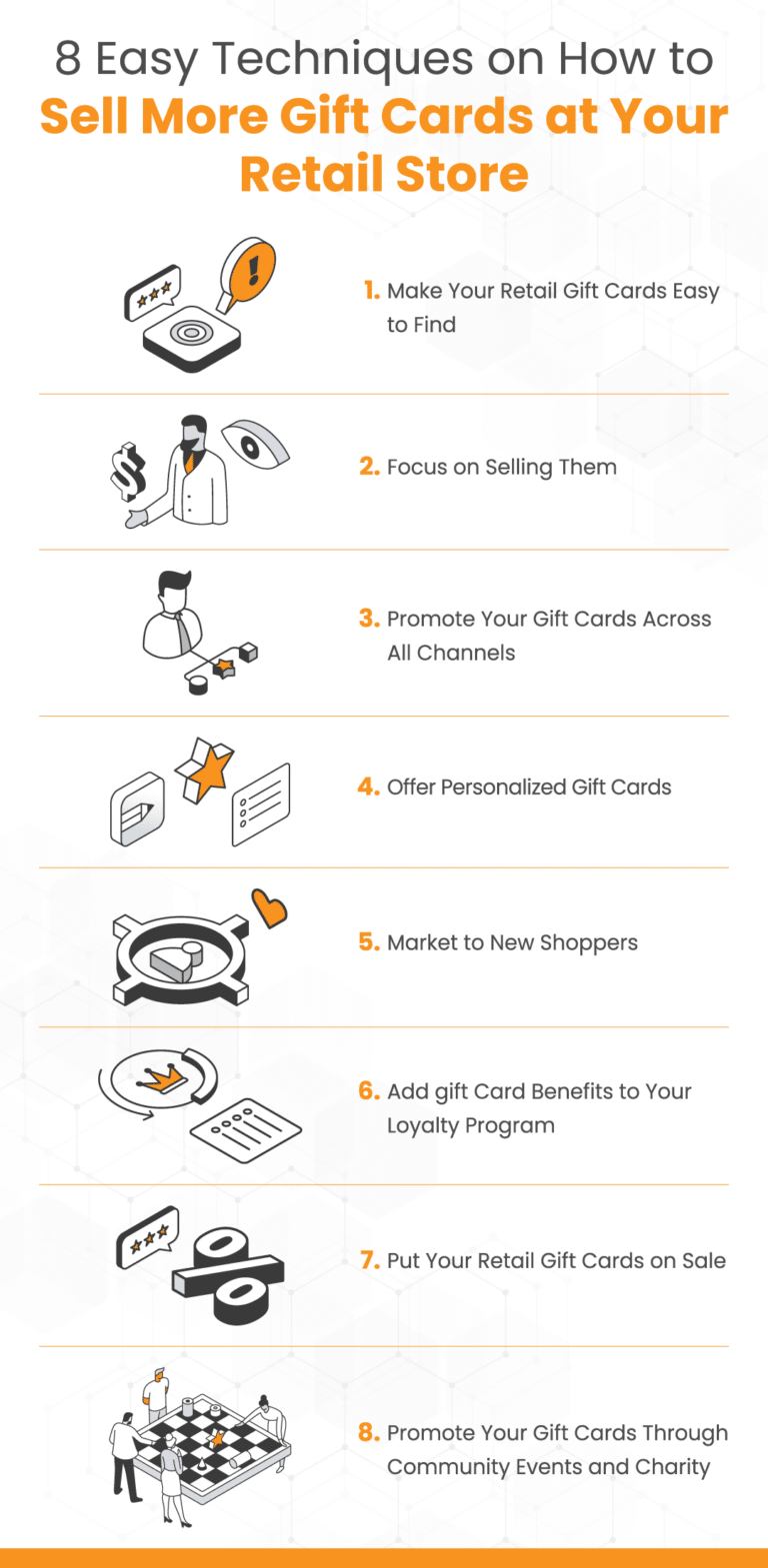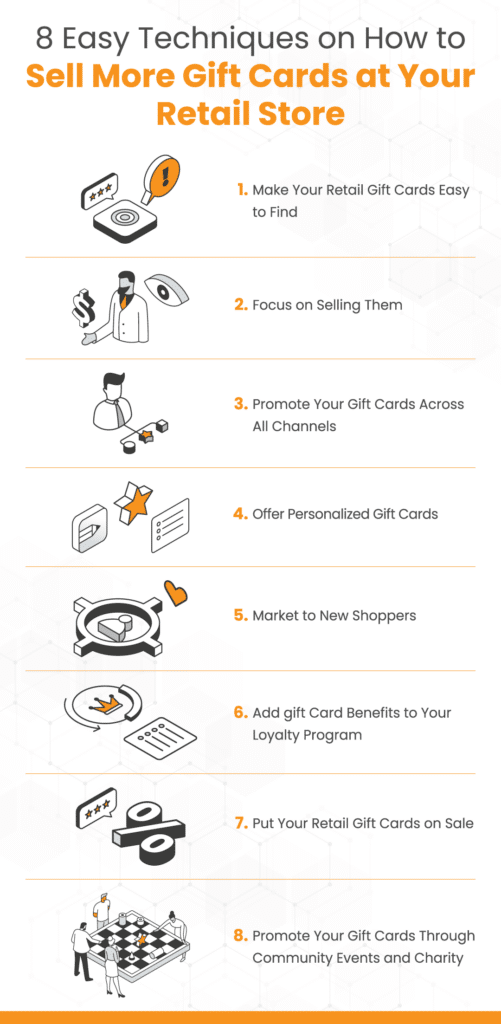 1. Make Your Retail Gift Cards Easy to Find
The easier you make the purchase, the more likely it is that your customers will buy it. Most of us are always forgetting about birthdays and holidays until the last minute. Set your gift cards out near your point of sale or retail checkout area to make the reminder easy. Add colorful signage and place them in small racks or holders. This keeps them organized and visible.
2. Focus on Selling Them
Don't just sit back and hope that your gift cards sell. Like anything in your store, take a proactive approach to selling. After making them visible to your shoppers, go the extra mile by mentioning it to them.
This approach is aided by great staff training. Encourage your associates and cashiers to talk about your gift cards with each customer. The power of suggestion goes a long way.
3. Promote Your Gift Cards Across All Channels
Again, if you're selling something on one channel, sell it on all retail platforms. For most retailers these days, this includes a brick and mortar store, an eCommerce shop, social media, email marketing, and loyalty program.
eCommerce gift cards are great for incentivizing larger purchases. Offer a $25 gift for any purchase over a certain amount. This will encourage extra spending. Just make sure that it's visible on your website. Some stores trigger a popup announcement, while others just keep it marked in their toolbar.
If you send out email newsletters, promotions, or reminders, use it as an opportunity to reach your shoppers with gift card deals. Email marketing has the highest proven return on investment of any marketing outlet. Because we all get so many promotional emails, find ways to make yours stand out. Offering a gift card for subscribers is a great way to engage and get people excited.
Finally, advertise your gift cards across all social media channels. Especially around the holidays. We're all too busy and can easily forget about something we needed, so offer a friendly reminder and sell more retail gift cards.
4. Offer Personalized Gift Cards
Some shoppers worry that giving a gift card as a present may come across as impersonal. So make each card as personal as possible.
Let the customer add a photo or other image to the gift card.

Leave room on the card or packaging for a note.

Spruce up your gift card holders. Put in the extra effort to make them nicer gifts.

Offer personalized printing, like offering to print a card with the recipient's name on it.

Structure the message around events or holidays. Have a birthday, New Year's, graduation, Mother's Day, etc. cards so that people will be reminded to purchase on multiple occasions.
These can depend on the type of shop you have, but find a good way to personalize the cards that suits your store.
5. Market to Shoppers Who Don't Shop With You
Most gift cards are sold to your existing shoppers so that they can give them away to a friend or family member. This additional revenue and free advertising is, of course, wonderful. But don't stop there! Market to people outside of your current network as well. It's a great way to gain new loyal customers.
Also, consider partnering with other retail stores that you like. Offer a trade-off to sell each other's cards are your locations. Even if they take a cut of the sales, it's still a great way to build partnerships and advertise more.
6. Add Gift Card Benefits to Your Loyalty Program
Find ways to tie the two together. It can be as simple as offering a gift card at certain thresholds. With an easy points-based loyalty program, reward your members with $25 after they reach 1,000 points, for example. Just be careful to not make the incentive here too small. A 1% back loyalty program is hardly exciting. And might come across as insulting more than anything.
For businesses that sell smaller ticket items, like coffee shops and bakeries, build your gift cards into the rewards program by loading small dollar amounts on to gift cards that can be used to redeem a latte or donut. It doesn't cost the business much but goes a long way in the eyes of the customer.
7. Put Your Retail Gift Cards on Sale
It's not the most ideal solution, but if you really want to start moving more gift cards, it's an easy way to do so. Keep the discount low – like 5-10% – and monitor your revenue very closely to make sure that you're not operating at a dramatic loss. But as we mentioned earlier, customers who shop with a gift card are more likely to spend more money, so selling them at a discounted rate can actually be a strategic move.
8. Promote Your Gift Cards Through Community Events and Charity
A popular way of moving through gift cards is to donate them to local festivals and philanthropic auctions. Not only does it raise money for good causes, but it also serves as an easy way to advertise and build your brand's integrity.
Most shoppers value social responsibility from their retailers. It serves as a great talking point for word of mouth advertising as well.
KORONA POS Can Help You Sell More Retail Gift Cards
You can't sell gift cards without a great retail POS system. KORONA POS partners with Plastic Printers, one of the best gift card printing companies in the business. Get your gift cards shipped to you in no time.
Once you have them, KORONA POS makes it fast and easy for your cashiers to load money onto each one sold. Click below to talk to one of our product specialists and learn more about our point of sale gift cards!
Get Started with KORONA POS today!
Tell us a little bit about your business and explore all features that KORONA POS has to offer. And there's no commitment or credit card required.