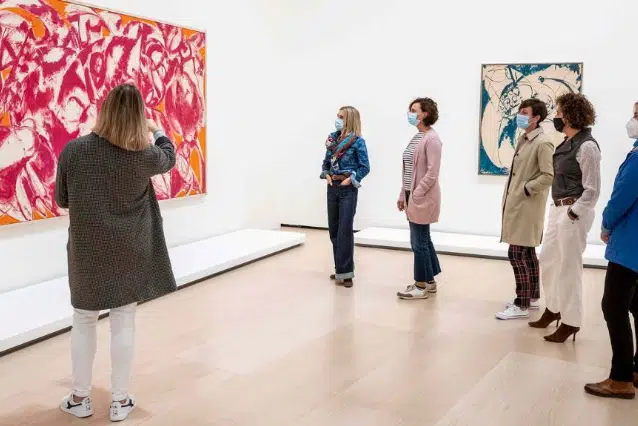 For many curators, the thought of a museum tour conjures up images of sculpture, scripted tours around various collections, and troops of visitors led by a uniformed guide throughout the institution. But with the advent of COVID-19, this type of tour quickly became less common, forcing some attractions to rethink their museum tour management.
For many forward-thinking museums and art institutions, there are new types of tours that attract the modern visitor. From a behind-the-scenes tour of a favorite collection to a one-on-one bespoke tour of a museum with a local guide, there are many options today for learning more about how museums are running their tours. Read on to learn more about the different options museum managers have to manage museum tours better.
Table of Contents
Streamlining Museum Tours With Audio Tours
For many years, human guides were indispensable in helping visitors find objects, discover new collections, and learn about the history and significance of the objects under their care. However, in an effort to reduce costs and increase visitors, many museums have reduced the presence of human guides and are increasingly focusing on technology. One of the most common technologies used for this is pre-recorded tours.
Attract New Visitors
Pre-recorded tours can be replayed for those who need more time to understand or want to go at their own pace. They can also be translated into many languages that your employees do not speak, reducing your need for bilingual employees and enticing a wider audience of guests.
Most museums have used some form of audio tour at one time or another. While many have embraced personal phone and app technology, the audio tour remains a strong competitor today regarding increasing tour throughput.
The options for audio tours to be in multiple languages and to contain varying content, coupled with easy-to-use, reusable technology, have made them an obvious choice for many museums.
Leverage Existing Tech
And with more than 2.5 billion people owning smartphones, museums can leverage the technology already in the hands of their visitors. It helps them reduce equipment costs and focus on providing content for their apps and downloadable tours. The use of audio tours does not negate the importance of human guides. Of course, most museums will always need them. However, they bring several key benefits that will help museums improve their operations.
Manage Museum Tours With a Time-Ticketing System
Although we are no longer at the height of the COVID-19 pandemic, many museums and other cultural institutions are taking measures to enable physical distancing and contactless entry. One common way organizations do this is by implementing timed tickets for visitors. Timed ticketing software allows organizations and venues to sell tickets in advance to avoid overcrowding and meet capacity limits. At the same time, this system will enable organizations to collect data on which visitors to expect, the most popular days and times, and other trends. In addition to those benefits, timed ticketing systems offer museums some additional perks:
Managing capacity
New capacity guidelines implemented in each state require museums to cap the number of people inside. Timed ticketing systems allow organizations to set a ceiling on the number of tickets sold during set periods of the day. Additionally, by selling tickets through a digital platform, staff can be informed in advance of the number of people to expect and the potential number of walk-ins. This allows for better preparation for museum visits; curators know precisely what to expect and use all this data to provide a smooth tour experience.
Data collection and understanding of attendance patterns
Pre-booking visitors via an online ticketing platform also provides museums with data that can help them improve how they serve their visitors. Timed ticketing software provides access to data such as visitor demographics, attendance trends, and purchasing patterns. This data will help your staff understand key information about your visitors and how to tailor and improve your museum tours to their preferences.
Leverage Museum Tours With a Twist
If you don't like removing the human element in guided tours, some options won't require a museum employee to show your clients around. For example, it's possible to offer visitors the opportunity to explore collections with other guests. Such a "tour" could include elements that an official museum tour guide would not. You could even incorporate a stop at a local café, visits to partnering museums, or an overnight stay.
Airbnb: A Case Study
Airbnb began offering "experiences" with their hosts in addition to their regular accommodation offerings in 2016. Among the many offerings on Airbnb are guided tours of museums, art galleries, and historical attractions aimed at showing a more local knowledge of the museum in the context of its hometown. Visitors can combine a museum tour with an overnight stay with the same guide, allowing for a more personal connection and social experience for the visitor. With over 1.5 million bookings for experiences each year, it's not hard to picture this as an opportunity for growth among museums working to attract new visitors.
The Museum Hack Example
Another example is Museum Hack, a private company that organizes renegade tours of the world's most famous museums. The company offers existing tours based on several pre-created itineraries or hires a guide to create a custom tour for those visitors. Each small group tour provides visitors with interesting information about the collections and social activities.
The tour is guided not only by an official guide but also by the group's wishes. It brings a new perspective to a museum you may have visited hundreds of times, introducing you to the stories of the collections, your guide, and other group members. Operating across the United States, Museum Hack has redefined museum tours for a new audience. Photo opportunities, food and drink stops, personalized content, and added personalization make the tour more enjoyable.
LGBTQ+ Tours at the Victoria and Albert Museum
To make tours more personal, London's Victoria and Albert Museum, also known as the V&T, has established LGBTQ+ specific tours. These tours, which take place once a month, are free guided tours that combine a number of collections to highlight historical and cultural LGBTQ+ content.
Whether it's the artist or the art itself, the tours draw on the guides' personal experiences and group input to navigate the museum. The guide can choose to include any object in the museum and share stories and personal experiences associated with it. In developing a free tour that caters to an underrepresented group of visitors, produced by members of the LGBTQ+ community, the V&A has made a usually hidden story more visible and accessible. In 2017, the group recorded the tour for its followers on social media, and over the past two years, it has been viewed more than 12,000 times.
Running Tours At a Museum: Recap
Effective management of museum tours mostly calls for the use of technology to provide a seamless experience to visitors. And among the technological tools to be leveraged, the online ticketing system plays a very important role. It is the driving force behind the management of a museum. It allows you to collect customer's data, reduce admission lines, understand attendance patterns and contribute to a higher attendance in your venue. For effective management of your museum tours and your museum in general, try KORONA Event. KORONA Event is an online ticketing platform specially designed for museums, amusement parks, water parks, and zoos. The platform also comes in the form of a point-of-sale system called KORONA POS. So, instead of using several solutions for different operational aspects of your venue, you can use an all-in-one system combining your POS and online ticketing platform. Don't hesitate to click on the button below to learn more about KORONA Event.
FAQs: Managing Tours At a Museums
1. How do I attract more visitors to my museum?
There are several ways to attract more visitors to your museum. For example, you can leverage local influencers and publishers, encourage visitors to follow you on your various social media pages, host unique events throughout the year, and invest in an online ticketing platform to streamline the process of buying and visiting your museum. 
2. How do you make a good museum display?
Have clear visitor personas and audiences in mind. Create a story around the collections you exhibit and a linear flow through the museum exhibit. Leverage graphic design to create interest, flow, and focus.
3. Why are museum tours important?
Museum tours are important because they bring a new perspective to a museum you may have visited hundreds of times, introducing you to the stories behind the collections, sculptures, paintings, etc. 
4. What is a museum virtual tour?
A virtual museum tour allows visitors to take self-guided, room-by-room tours of selected exhibits and areas of the museum from their desktop or mobile device. It highlights pre-recorded audio or visual tours.