Whether people are on the road traveling to a new exciting place, or simply searching for a service in their own neighborhood, chances are they are scouring Google reviews or Yelp before pulling the trigger. In fact, over 9 out of 10 people consult online reviews before making a purchase.
The potential impact of a poor customer review varies greatly depending on which industry you're in and its level of competition. For example, average star ratings for car rental locations are much lower, and a single negative review carries far less weight than those for small local businesses such as liquor stores. Most small businesses, though, fall into the latter category. A few bad reviews can have a major impact on future success.
eCommerce adds another level of importance to reviews. An Amazon shop selling items that are available in other Amazon shops will rely even more on customer reviews.
No matter how you cut it, small businesses need customer reviews as part of their online presence in driving customers to their products, whether it be for an online business or a brick and mortar retail store.
Nonetheless, it's inevitable that any business, big or small, will run into hiccups with negative customer reviews. While this can provide a time-consuming challenge, it also presents an opportunity of sorts (as long as the business responds in a productive and appropriate manner).
Here are some helpful tips and points on replying to negative reviews: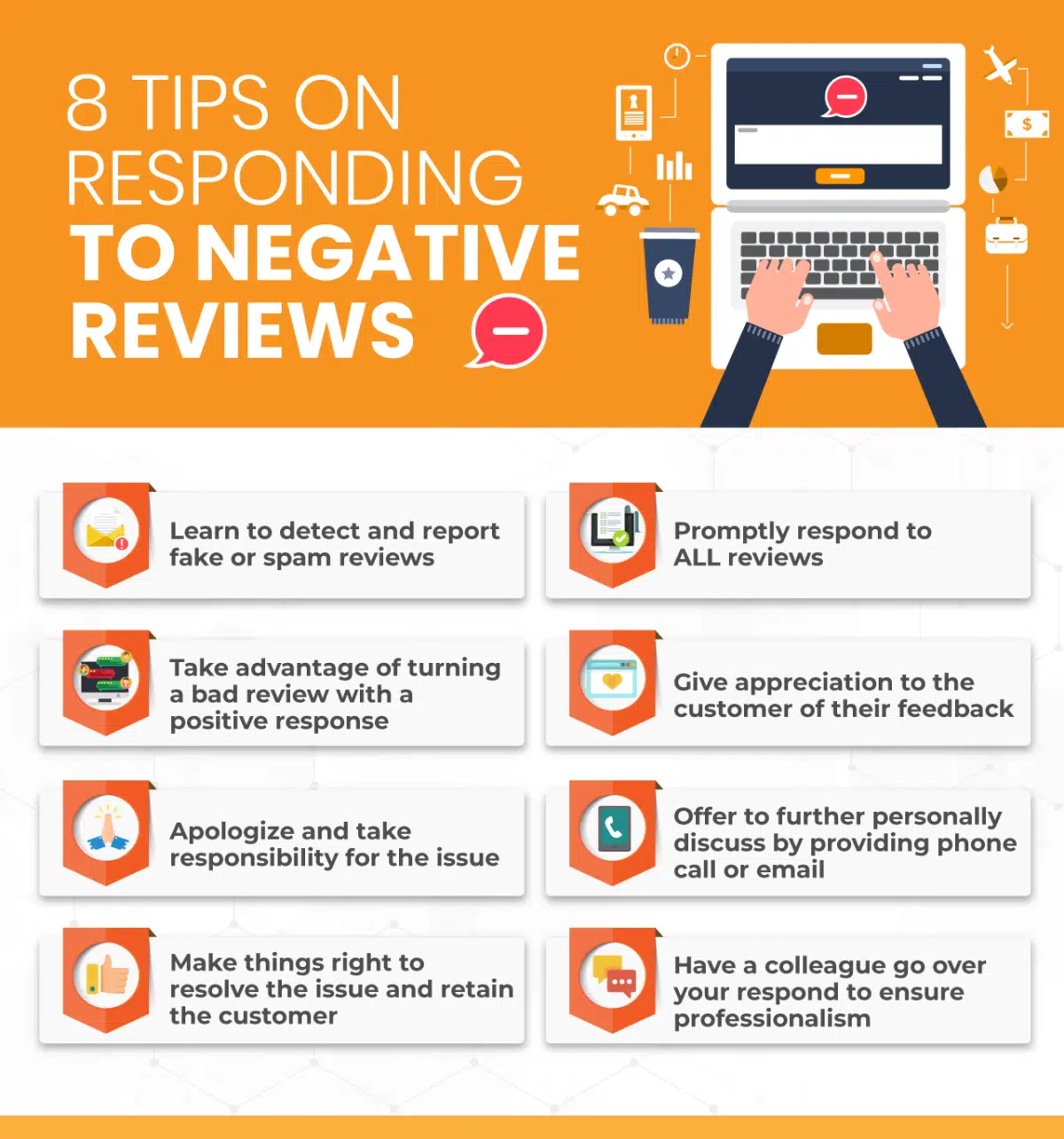 1. Fixing Fake or Spam Reviews
Thankfully, websites have algorithms to detect whether a review is inappropriate or spam, however; it is helpful to note that if you receive a negative review on Facebook, Google, or Yelp that you deem to have slipped through their screening process you can always report it.
Still, until the review is resolved or deleted, you're better off responding to fake negative reviews so that potential customers reading the review page will see that you attempted to resolve the issue.
2. Always Respond to Reviews and Always be Timely
Make sure you're prompt with your response and make sure you ALWAYS respond. Future potential customers will inevitably read your ratings, which is why you should respond to negative reviews even if you deem them to be unfounded.
Considering the incredibly high percentage of shoppers that read reviews – especially recent ones – a proper response showing that your company takes the time to value every customer can have an enormous impact on your sales potential.
Most customers won't have the time or patience to wait for a response before they dismiss your business and move on to other competitors. That is why time is of the essence! Try to respond within 24 hours of the review.
Not only will this prompt response alleviate and correct the problem at hand, it will also show potential readers of reviews that you pay attention to your customers on a daily basis and are highly aware of your business's opportunities for improvement.
3. Turn a Negative Review into a Positive Response
Here is where the opportunity we mentioned in the introduction can come in. With the right cards played, the responder can really leverage this opportunity to turn a negative review into a positive customer service experience by replying with personality and authenticity.
By identifying yourself and your position within your company you can create a line of communication that is much more personal to reflect and reinforce your business's values. Be aware of customizing individual replies so as not to come off as responding to negative reviews with generic templates. Readers of reviews will notice these patterns and be dissuaded from using your product.
Studies have shown that one-in-three negative reviewers have either changed their review to a positive one, or deleted it outright after a response from the company they were reviewing.
4. Thank the Customer for their Purchase and Feedback
It's important to acknowledge the customer's purchase and time spent making the complaint. Most industries are highly competitive for small businesses; recognize and appreciate the customer for choosing your company in the first place.
Secondly, thank the purchaser for taking the time to write a review instead of just dismissing your product and moving on. Showing gratitude for providing feedback, and for the opportunity to correct whatever mishaps or problems that occurred is essential here.
Ask further questions as to what specifically happened and/or how the experience could have been more enjoyable. Make the customer feel valued and heard, and then you can take further steps to rectify the situation.
5. Apologize and Take Responsibility for the Negative Experience
Even if you are unsure as to why things went awry or convinced that your company did nothing wrong in the situation, it's always best practice to accept responsibility and say you're sorry for an unsatisfactory experience. There is no upside in trying to convince a customer that their negative experience is unfounded. In other words, never argue, always apologize. Ask for a second chance and assure the customer that the same mistakes won't be made in the future.
Remember, though, the customer is NOT always right. Don't put up with unwarranted abuse or unreasonable shoppers.
See related: Dealing With Difficult Shoppers
6. Ask the Reviewer to Continue the Conversation Offline
Having a drawn out public back and forth on a review website will only dissuade customers from using your product or website. Again it's not about being right, it's about making the customer happy.
Therefore, publicly acknowledging and apologizing for your shortcomings is great. But the next move is to provide a private channel of communication to resolve the issue. While it's time-consuming for small business owners and their employees to communicate directly with customers, a direct line of conversation can do wonders to make things right, bring about customer satisfaction, and build brand loyalty.
7. Make It Right and Resolve the Situation For the Customer
The two most important things here are to publicly rectify the situation, and to retain the customer in question. There is no shame in providing a short explanation as long as you don't put the blame on the customer (again, with the caveat that the complaint is at least remotely fair) and offer to make amends.
For example, if you own a liquor store or wine shop, and recommend a specific brand, you're bound to eventually sell a corked bottle. How you respond to a customer that opens that corked bottle can be crucial. Offering the unhappy customer a free bottle, or a taste of some samples in the store will bring the customer back into the shop and show them that you're willing to go the extra mile to ensure that they're satisfied.
Chances are, if they taste something they really like, they'll probably delete or change that review! This is how companies should respond to negative reviews, especially for small businesses.

8. Get A Peer Editor to Look Over Your Reply
The hands-on, personality-driven customer service that many people find attractive about small business owners is extremely valuable. Nonetheless, it presents situations that are a bit more interpersonal. Especially in this small business setting that is more casual and brings less corporate training, negative reviews can cause a visceral reaction from business owners and managers.
As previously discussed, it is always best practice to respond promptly, however it may be helpful to have a third party review the response to make sure it doesn't read as overly patronizing or defensive. Peer editing of your official business reply can help detect any awkward or unnecessary language while maintaining the personal touch of addressing each specific review.
How to Respond to Negative Reviews to Bring in More Sales
In the current ecosystem of online presence, being honest about your business, your product, and your development attracts more lifelong customers. By working through the general rule that customer satisfaction is the most important factor (especially in dealing with reviews), business owners should naturally build this aspect of public relations into their company culture. Therefore, knowing how to respond to a negative review online and implementing these techniques into your day-to-day business practices will ensure a much greater chance of lasting success.
Get Started with KORONA POS today!
Tell us a little bit about your business and explore all features that KORONA POS has to offer. And there's no commitment or credit card required.
FAQs: Responding to Negative Reviews
What is the best way to respond to a negative review?
While it may be tempting to ignore negative reviews, or worse, respond poorly, it's typically best to try to de-escalate the situation and find a way to make the customer happy. It's costly to lose existing customers and even costlier if they go on to tell others about their negative experiences. You should always acknowledge the complaint, apologize, and then find a way to fix it. Remember, though, that there are times when you should stand up for your team or business. If a customer is lying, abusive, or threatening, there is no need to put up with such behavior.
Should I respond to positive reviews, too?
Yes! It's great to give a shout-out to all of those users who left you a positive review as well. Not only does it show them that you care but it also shows search engines that there is engagement between your business and customers. Such interactions have a positive effect on your SEO efforts.
Can you remove negative reviews?
This all depends on the platform on which the review was left. In most cases, review platforms make it very difficult for businesses to remove any negative reviews. But in certain cases where the review is proven fake, the review site will allow for its removal. To initiate a claim for a review removal, simply reach out to the appropriate platform and contest the validity of the review.