When experts predict a recession, you'll likely need to change some of your company's management directives to stay as close to profitable as possible. These actions may include cutting back on hiring, being more cautious with spending, or raising your prices.
While raising prices during uncertain economic times is not unheard of and may even be expected, it is not always the best option, especially when consumer spending is likely to decline.
It is, therefore, essential that business owners and leaders prepare their organizations to survive (and hopefully even thrive) in the next recession, whenever it comes. Below are some concrete ideas for protecting your retail business from the recession without raising prices.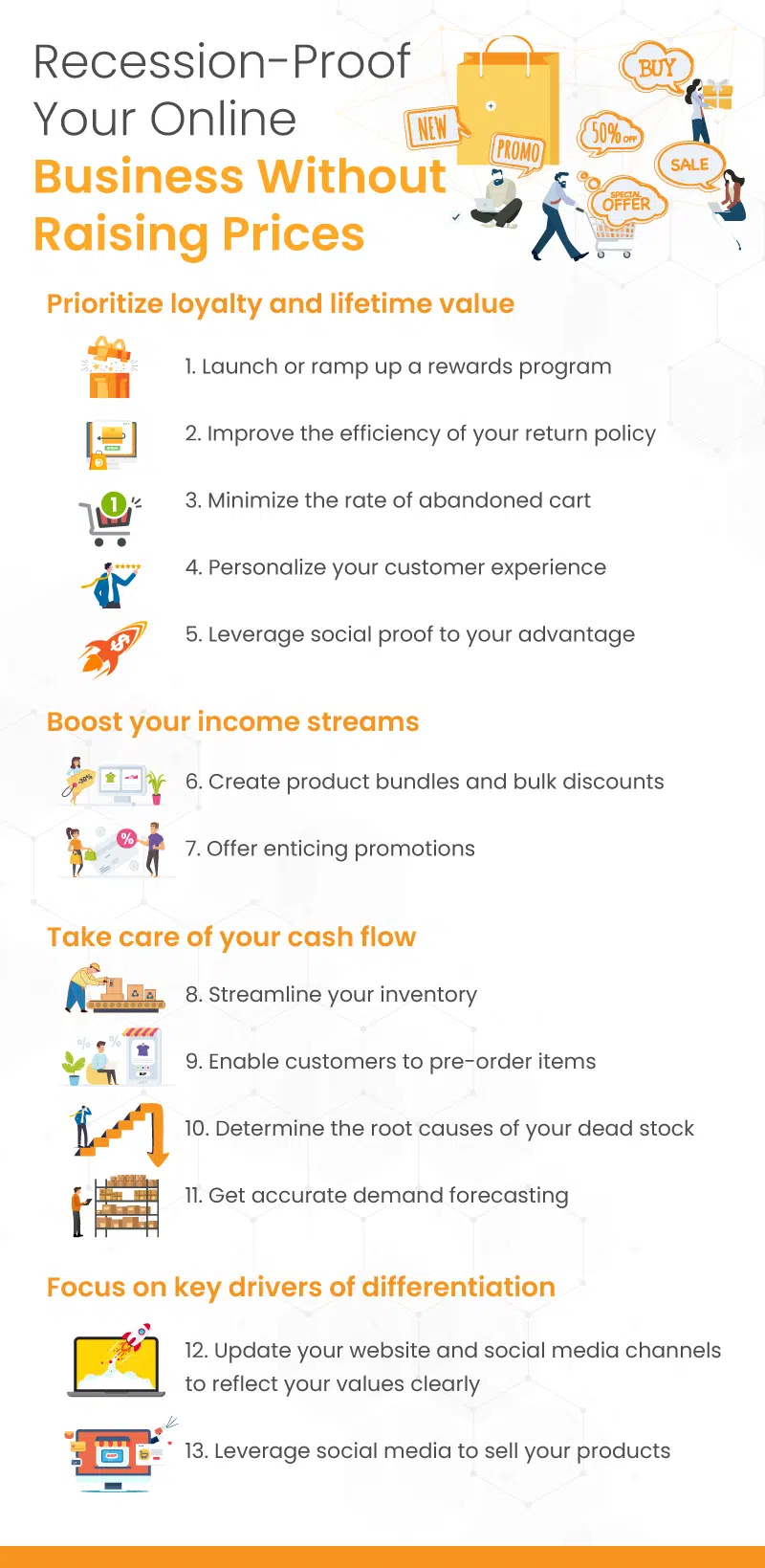 Table of Contents
Shift Your Focus to Loyalty and Lifetime Value
During an economic downturn, acquiring new customers can be costly. It is much more cost-effective to focus on retention and lifetime value than to try to get new customers to make a purchase.
It is five times more expensive to attract a new customer than to retain an existing one. However, by increasing customer retention by 5%, profits can increase by 25-95%. Additionally, the success rate of selling to a customer you already have is 60-70%, while the success rate of selling to a new customer is 5-20%. Below are some strategies to withstand the recession without raising prices by strengthening customer loyalty.
1. Launch or ramp up a rewards program
The best loyalty programs are about rewarding your customers for their loyalty to your business. It's still possible to start a rewards program – or to refresh an existing one. But what exactly makes a good loyalty program are typically its benefits. If the benefits you offer are relevant and not unreasonably unattainable, customers will likely feel compelled to trust you repeatedly. The most common types of loyalty programs are as follows:
Points programs

Cash back programs

Tiered programs

Threshold programs

Punch card programs

Gamification programs

Pay-per-membership programs
For all their benefits, loyalty programs are only suitable for some businesses. To determine if a loyalty program is right for your business, you'll need to answer the following questions: How often do people buy your product or service? What is the average purchase amount from your brand? What is your company's market?
A great loyalty program should also be easy to find, sign up for, and use. Customers need to feel empowered and confident to enroll and redeem their rewards without too much trouble. If your current loyalty program is less popular than you'd like, consider re-evaluating your benefits, ease of use, and marketing strategies.
For example, Annmarie Gianni, a small business specializing in skincare and beauty products, created a customer loyalty program based on a series of attractive offers to customers who took the "What's Your Skin Score" quiz placed on their website. Among other things, they offered a sample kit at a promotional price, free shipping, a free ebook, a $10 promotional code for the next purchase, and a money-back guarantee.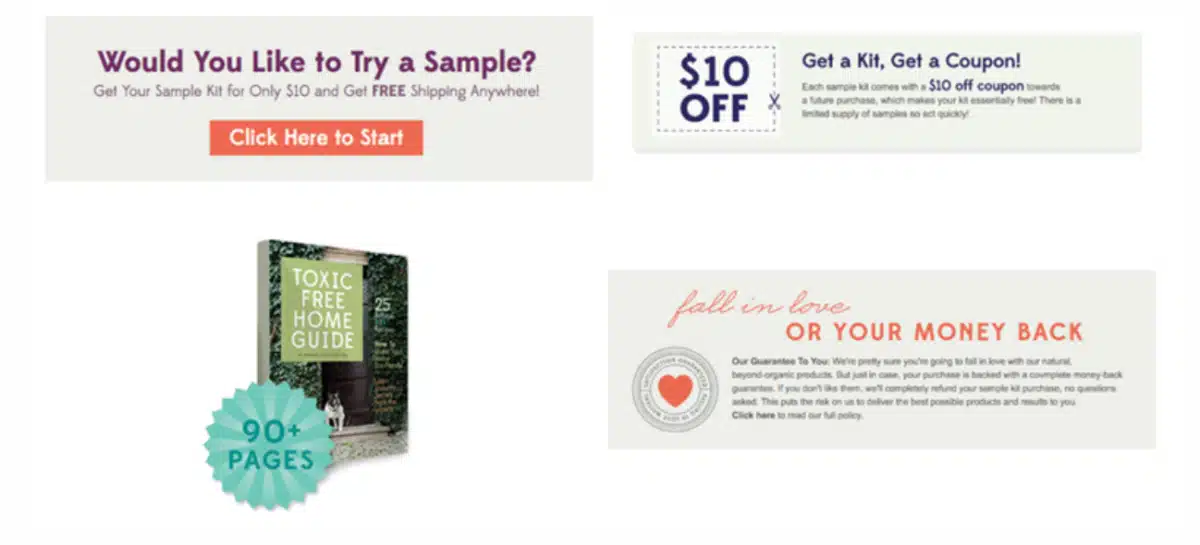 You can also look at Sephora's Beauty Insider program to get an idea of how to structure the rewards.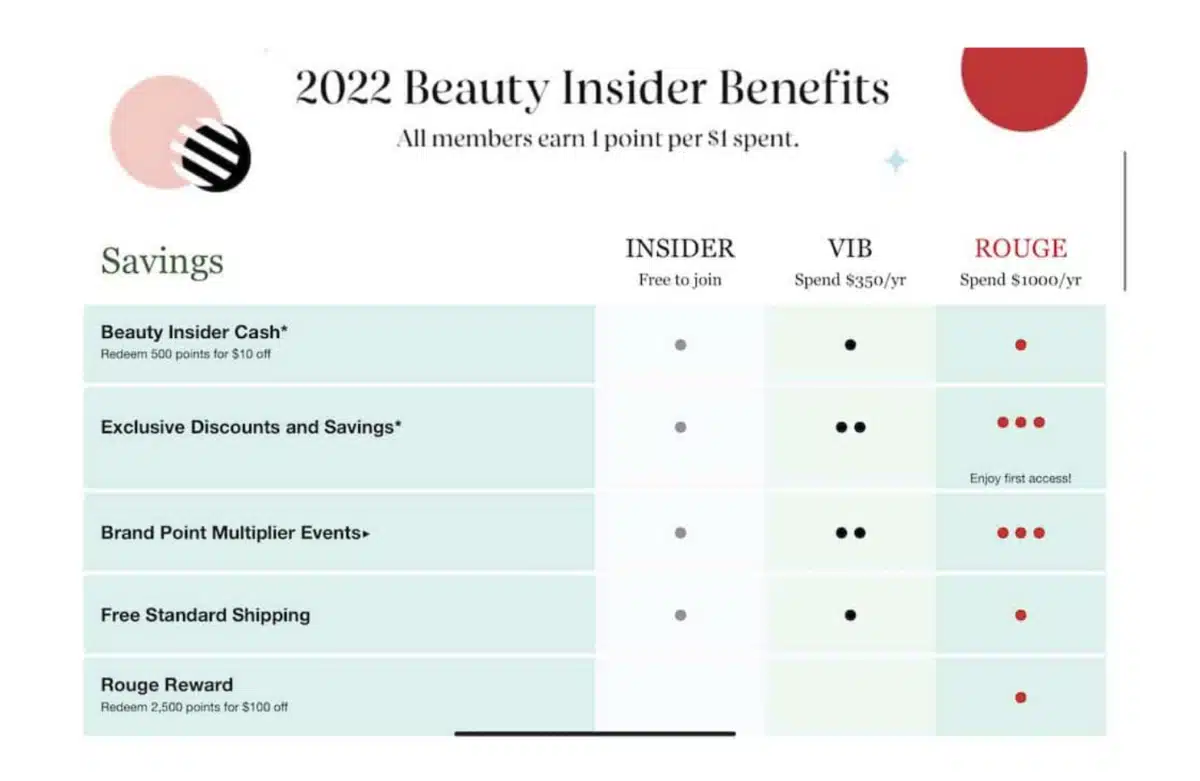 2. Improve the efficiency of your return policy
Most customers agree that returning items is the worst part of shopping online. By creating a more favorable return experience, you'll differentiate yourself from retailers who don't and gain loyal customers. The first thing you need to do to make your return policy a tool for increasing conversions is to write an easy-to-understand return policy.
When customers read your policy, they should be confident about what can and cannot be returned. Clearly state the types of items accepted, the condition they must be in, and the time frame (if any) in which they must be returned. If possible, offer a generous return window. The convenience of the process is part of the appeal of online shopping. The same is applicable in a brick-and-mortar type store.
Refrain from making the experience a headache by giving customers a tight deadline to return unwanted items. If you have physical stores, offer customers the option to return items to the store instead of shipping them for a complete omnichannel shopping experience.
3. Minimize the rate of abandoned cart
Reducing your abandoned cart rate is another solid alternative to raising prices, even during a recession. There are many reasons for a high abandoned cart rate. But one thing is for sure: reducing your abandoned cart rate comes down to improving your users' shopping experience. You can solve this problem by offering multiple delivery options. Be clear about the total costs. Display a persistent reminder of the basket contents. Make sure you provide easy checkout with the payment methods your customers use most.
In addition, asking your customers what they want to see and experience with you upfront can reduce the abandoned cart rate. For example, a product recommendation questionnaire allows you to ask customers what they're looking for so that the rest of their shopping experience with you is directly tailored to what they've indicated. By considering your customers' needs, you build their trust and make the experience as pleasant as possible.
4. Personalize your customer experience
Customers expect companies to understand their unique tastes and preferences and to engage them as individuals rather than as customer types or segments. A personalized customer experience achieves this by providing messages, offers, and products that are tailored to each individual. Indeed, 71% of consumers want brands to offer more personalized experiences and communications, or you risk losing business.
There are several ways eCommerce companies can create a more personalized experience:
Create unique search, navigation, and landing page experiences for each site visitor.

Ask customers about their preferences to personalize their experience, now and in the future.

Allow customers to pick up where they left off, even after leaving your site.

Plan an omnichannel customer experience strategy

. Customers expect to access customer service in the way that is most convenient for them. It doesn't matter if it's a face-to-face or phone conversation, email, social media, or live chat.

Trigger recommendations on the site based on what customers click on and convert.
How can this work? A brand new visitor to an apparel site might search for "women's shoes. The site responds by showing them the best-selling shoes, and the buyer clicks on a blue women's hiking boot.
Using machine learning to process this behavior, the system identifies that this customer wants to see women's clothing, appears to be buying outdoors gear, and may have an affinity for the color blue. This information is processed instantly to recommend similar items and indicate what other products are shown to this shopper on the site.
5. Leverage social proof to your advantage
Positive product reviews can drive conversion and help you build loyalty, trust, and authority in your industry. 93% of customers read online reviews before purchasing a product. In an economic slump, these numbers count for a lot. Customers are more concerned about the quality of the products they buy, and the feedback of other customers is a big part of their final buying decision.
Reviews can encourage customers to trust you and convert their purchases when prominently displayed on your website and in your email marketing. You can also leverage reviews and content from review-centric channels like Quora, Facebook, and TikTok. In fact, 49% of TikTok users say they purchased a product after seeing a review on the platform.
Boost Your Income Streams
There are several marketing strategies to increase your average order value and conversion rate to withstand the recession. Not only will your profits increase, but by encouraging your customers to add more to their cart, they will feel like they are getting a good deal.
6. Create product bundles and bulk discounts
Product bundling occurs when a retailer groups complementary products into a group of items that can be purchased together. Sometimes products are bundled together as part of an upsell or cross-sell campaign.
Upselling involves persuading the customer to upgrade to a higher version. For example, promoting an upgraded, more expensive version of a makeup brush that the customer is considering purchasing.
Cross-selling involves promoting related products that are adjacent to other products in a similar group. For example, promoting a blush to go with a makeup brush. In the physical retail world, this concept is similar to cross-merchandising.
You can try mixed and pure bundles to see what works best for your customers. Mixed bundles allow customers to purchase items together or separately, while pure bundles only allow customers to purchase certain items as a set. When it comes to discounts, buy-one-get-one (BOGO) offers are the most beneficial.
7. Offer enticing promotions
While offering enticing promotions during a recession or inflation may seem counterintuitive, it can help you generate more sales. One way to run promotions is to offer flash sales. A flash sale is a short period in which you offer a high-value deal, such as a discount, a new product bundle, or anything else that hasn't been provided to your audience recently.
The time-limited nature of these campaigns, often coupled with limited product inventory, encourages customers to buy immediately without waiting. This appeals to our instinct to impulsively buy something, just in case we miss out. Flash sales in eCommerce are a particularly effective tactic for selling out-of-season inventory or underperforming product lines, simply taking up space in your warehouse.
Take Care Of Your Cash Flow
A steady cash flow mitigates the impact of inflation because your business can continue to operate without interruption. You don't need to make drastic changes if you have a steady flow of working capital.
There are several ways to improve cash flow as a retail business. Implement more thoughtful inventory practices. Liquidate excess inventory. Monitor credit sales and unpaid invoices. More importantly, reduce your merchant card service fees.
Streamline Your Inventory
When a recession is imminent, adjusting your inventory and purchasing strategy is essential. For example, unplanned slow-moving or dead stock inventory can eat away at your cash flow and profits. Below are some strategies to help you move dusty inventory and make smarter buying decisions.
8. Enable customers to pre-order items
If you need to figure out the demand for certain items, let your customers tell you by placing pre-orders. Pre-order forms will allow your customers to tell you whether an item is worth ordering in small or large quantities.
Not only will pre-orders help you better forecast demand, but many pre-order systems accept some or all of the payment upfront. This will give you more cash and flexibility when you need it most.
9. Determine the root causes of your dead stock
Is the impending recession the only reason your inventory isn't moving? Or are there other long-term factors at play? If you understand the full range of reasons why your stock is stagnant, you'll be able to address the issues more rationally. Ask yourself the following questions:
Did you miscalculate or misjudge how much inventory you needed?

Is a competitor taking over part of your business?

Do you need to market these products more effectively?

Is there a seasonality or trend associated with slow-moving items?
The answers to these questions will help you identify why your inventory is not moving as fast as you'd wish. You can then implement the right strategies at the right points in the supply chain to minimize waste.
See related: What Is Dead Stock in Retail? – Common Causes and How to Avoid It
10. Get accurate demand forecasting
During a recession, demand forecasts are disrupted. Therefore, there is no room for guesswork. If you were in business during a previous economic crisis, review the demand and sales figures from that period to get an idea of how your business is doing.
If this is your first time preparing for a recession, relying on qualitative data, such as market research and surveys, may be better to get a sense of your customers' spending. More importantly, sophisticated inventory management software is essential to have accurate data to make the right decisions. With the sales data provided by your point of sale software, you will know which items are selling the best or the least. KORONA POS can help you in this regard.
Focus On Key Drivers Of Differentiation
Economic downturns can cause customers to reconsider their buying habits and brand loyalty. During the COVID-19 pandemic, 75% of U.S. shoppers tried a new brand. According to a McKinsey study, 73% of those who tried something new intended to make it a more permanent part of their habits.
While this may seem like bad news for any business, you can use this phenomenon to your advantage by focusing on what differentiates you from your competitors. By emphasizing your brand values – transparency, sustainability, quality, or any other criteria – you can entice buyers to choose you.
11. Update your website and social media channels to reflect your values clearly
Let your customers know what you stand for by clearly adding your brand values to your website and other channels. More young consumers are shopping with brands or retailers with a strong brand identity. It's also more important for Gen Z and millennials to spend money on brands that value authenticity.
According to a report by First Sight, 73% of Gen Zers are willing to pay 10% more for an item if they know it's sustainable. So you can add a "values" section to your "about" page or create an entirely separate page on your site. You can dedicate a series of posts or a standalone post on your social media channels explaining your values to your followers.
You can pin these posts to the top of your Instagram, LinkedIn, or even TikTok pages, so they're easily discoverable later. Content marketing is another area where you can express your core values. You can publish original blog posts, thought leadership content, videos, or even podcast episodes that explain how your values relate to the products you sell.
12. Leverage social media to sell your products
Brands often exploit Social media channels for marketing and organic presence. However, they can do much more. You can sell your products directly through your followers' social media channels. Social media selling allows eCommerce businesses to make any social media post sellable. It's simply using online social tools to engage in relationship-building strategies that have always been the foundation of good sales professionals. This allows you to participate in the buying decision.
Learn more about: How To Sell On Social Media Here
Conclusion
You don't always have to raise prices to weather a recession. With creative strategies to increase the value and volume of your orders, you can still generate solid numbers, even when you're tightening your belt. You may have lower margins, but at least you'll be able to keep your business running.