Much of the brick and mortar retail world has taken a serious hit from the COVID-19 pandemic. Widespread social distancing measures and state directives for the closure of non-essential businesses have resulted in the vast majority of small businesses having to scale back hours or shut down entirely.
Though the latest stimulus package promises to help small businesses directly, there are some ways that retailers can shore up their business during this difficult time.
Perhaps the most clear strategy is starting or expanding your eCommerce presence. We've long talked about the importance of offering an omnichannel shopping experience. But it's never been quite so clear how critical it is for mitigating unforeseen circumstances. So, if you've been putting it off for some time, this is your big chance to grow your online business. And once this crisis is past, you'll be set up for long-term success. Expected to reach nearly $500 billion in annual revenue in 2020, online retail will only keep growing in the coming years. Learn how to move your business online with these simple steps.
How to Build an eCommerce Store?
While building an online store won't replace your brick and mortar store, it will certainly help to make up for a slower few months at your physical retail store. And when you do get back to normal, the combination of the two will bring you more lasting and substantial success.
So how do you get started on building your web-shop? Here are a few first steps.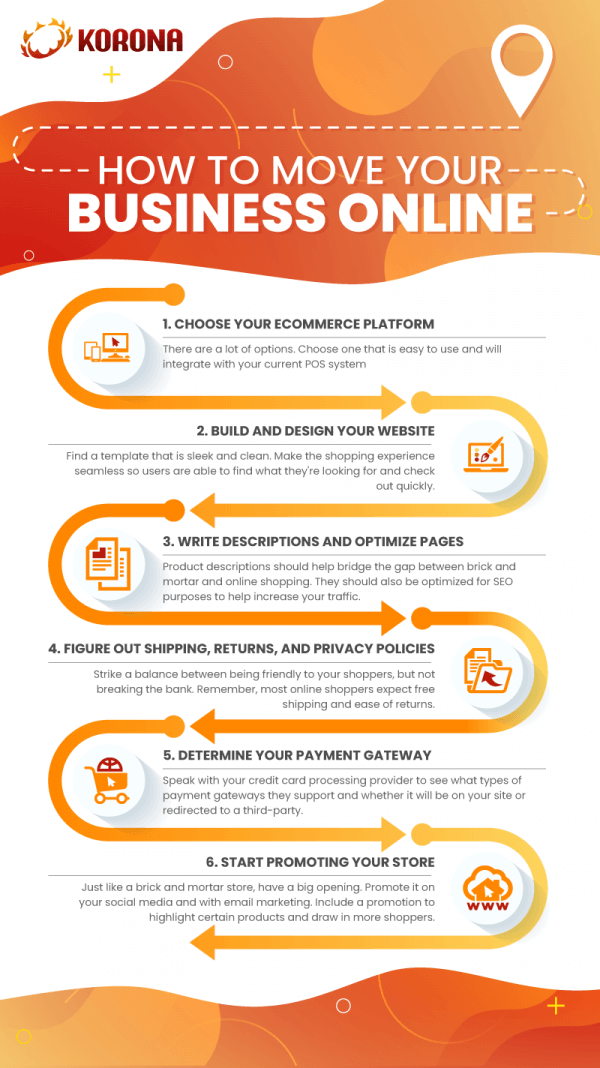 1. Choose Your eCommerce Platform
There are a lot of eCommerce platforms out there. While all aim to provide the same service, they vary in quality. Shop around to see what platform works best for your business.
Importantly, the online sales platform that you choose must integrate with your brick and mortar POS system. You can't afford to try to operate with two distinct points of sale. This will affect your operational procedures, including your inventory management, accounting, payroll, traffic, ordering, and more.
With KORONA, your POS software will integrate with several of the biggest eCommerce platforms on the market, including WooCommerce and Magento. Give us a call to schedule a demo with these integrations so you can see how your brick and mortar and online retail can come together.
2. Build and Design Your Website
First, make sure that you keep your online store on brand with your brick and mortar store. You want to have the same look and feel, as well as convey the same message and ethos.
Most eCommerce platforms will offer users a variety of overlaid themes. This eliminates the need for users to do any code work, and instead easily installs an attractive theme. You'll be given some basic customization options, too. Look for themes and features that enable ease of functionality, a simple, clean design, mobile usage, and simple checkout processes.
Spend some time mapping out the customer experience, too. You need to make sure that shoppers can easily finalize a purchase. A tedious checkout process can leave you with too many frustrated shoppers and abandoned carts.
3. Write Descriptions and Optimize Pages
Next, spend time making great product pages. This is your final step towards convincing a shopper to make a purchase with you. And it's likely required a lot of time and money getting the shopper to this point. A high conversion rate here is necessary for success.
Start with making sure you have high-quality photos and videos. These will catch customers' eyes and help them envision what the product will look like in their hand or on their body. Show images from various angles and enable zooming on the product. Doing so will help bring the divide between the brick and mortar and online shopping experience.
Product descriptions are also critical. Spend plenty of time making them informative, accurate, and readable. They should present your products in flattering but reasonable terms. Provide all necessary information such as size, material, ingredients, etc. You can also include information on how to use the product, but stay away from superlative descriptors that may come across as disingenuous.
You also need to optimize pages for SEO purposes. It's important that search engines recognize exactly what you're selling so that their algorithms can point shoppers in the right direction. Product descriptions, therefore, aren't just written for the shopper. They should help drive more traffic to your online business, too.
4. Figure Out Shipping, Returns, and Privacy Policy
Arguably the trickiest aspect of setting up a new online store is setting up your basic policies. Shoppers want convenience, consistency, and flexibility, so it's important to err on the side of benefitting the customer. That doesn't mean you should be too generous. Remember, expedited shipping options and friendly returns will cost your business money.
Turnaround time and shipping options are tricky to figure, so start out slowly and don't make promises that you can't keep.
Free shipping is another important item to consider. Online shoppers are now largely expecting to receive free shipping options, so, if you can, offer it. But not all small businesses will be able to do so. If that's the case, keep the shipping costs reasonable, or build the costs into your prices.
5. Determine Your Payment Gateway
Payment gateways are another element of online stores that brick and mortar retail doesn't have to deal with. Payments at physical retail stores are completed in person on a credit card machine attached to your point of sale. The credit card processor then sends the information to all relevant parties to facilitate the final transaction.
The same process happens at online stores, but requires this unique aspect. Payment gateways let your processor talk to all requisite parties to complete the transaction. eCommerce retailers have the option of sending guests to third-party payment sites or allowing the transaction to be completed on your own site. The latter is much more convenient and comes with a higher conversion rate, though the former is easier to manage, comes with less liability, and will be cheaper.
Speak with your credit card processor to make sure that they can integrate with the payment gateway and eCommerce platform you're using for your store.
6. Start Promoting Your Store
Once you're up and running, it's time to start your marketing! The hard part might be done, but you still need to get shoppers to your store.
Continue to optimize your SEO strategies to rank for as many relevant keywords as possible.
Start email marketing campaigns to send out to new shoppers, lapsed customers, abandoned carts, and more.
You probably already have social media accounts, so make sure to advertise your new store on all of these.
Run a promotional campaign to highlight your grand opening or product line expansion. Remind shoppers that you're here and ready to help.