Any online store owner's goal is to convert as many of their online visitors into paying customers as possible. However, this is easier said than done. The latest surveys and studies in 2020 show that the average conversion rate for eCommerce sites is just 2.86%, and the average conversion rate for eCommerce sites in the U.S. is even lower, at 2.63%.
With consumers constantly changing their online shopping habits, it's more important than ever to know how to improve eCommerce conversion rates. This article will discuss some of the best approaches to optimizing your eCommerce site to grow your business's sales.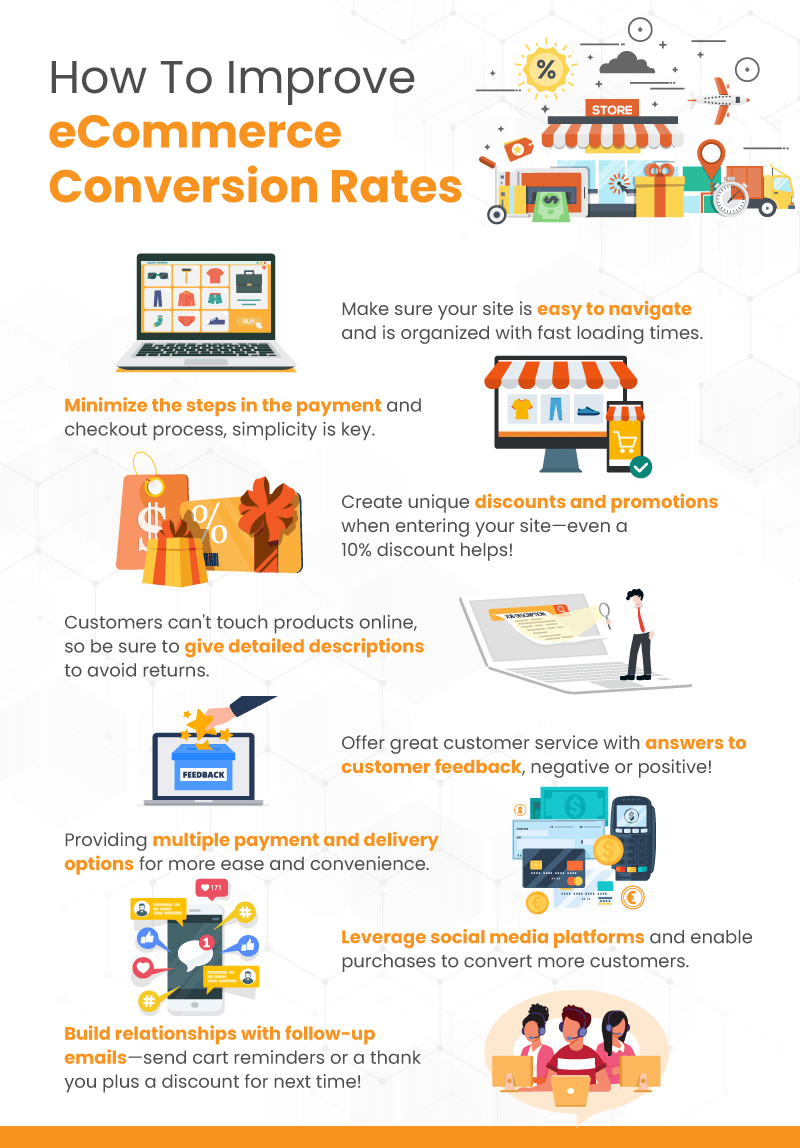 Make Sure Your eCommerce Site Is Easy To Navigate
There is nothing more frustrating to an online shopper than a poor shopping experience, such as a slow-loading product page or an overly complicated checkout process. In fact, just a 0.1-second improvement in mobile site speed resulted in an 8.4 percent increase in conversion rates for retail sites. In addition, a survey by Retail Systems Research found that 52% of consumers admit to being frustrated when eCommerce sites are too slow.. Here are some tips to make your website easier to navigate: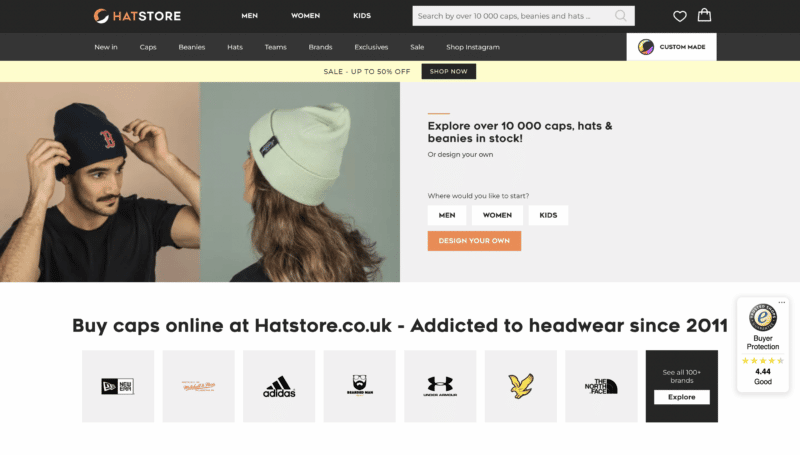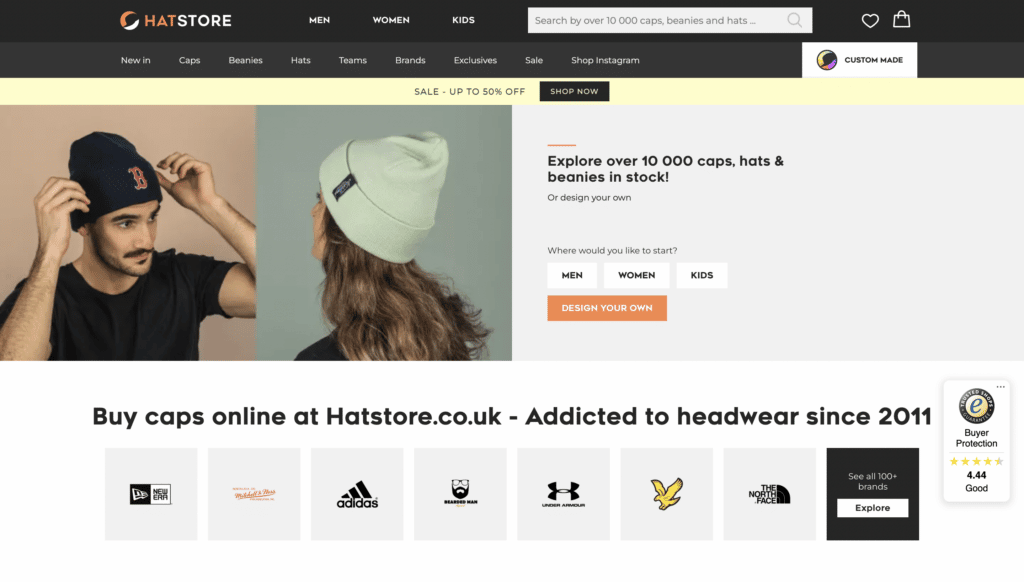 The navigation bar should be the first element of your website to critically examine. Start by choosing the right categories for the navigation bar. Focus on keeping your product groups separate and give your navigation bar a little contrast to the surrounding elements on your page. This will make the bar more visible and make it easier for shoppers to know where they are in case they land on your page from a referring site. After all, 50% of visitors use the navigation menu to find their way around. 


Think of the search bar as a salesperson in a brick-and-mortar store. If, as a customer, you can't find the product you're looking for in a store, you'll approach an employee. If there is no one in the store to direct you, you will probably leave the store frustrated. The search bar is the equivalent of a salesperson helping a customer find a product they couldn't find on their own. A search bar is best for sites that have a large inventory. And, if you do decide to add one, make sure that it functions well and actually helps customers get to where they're trying to go.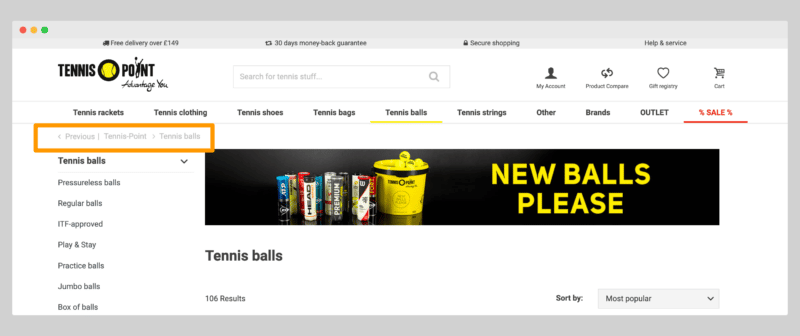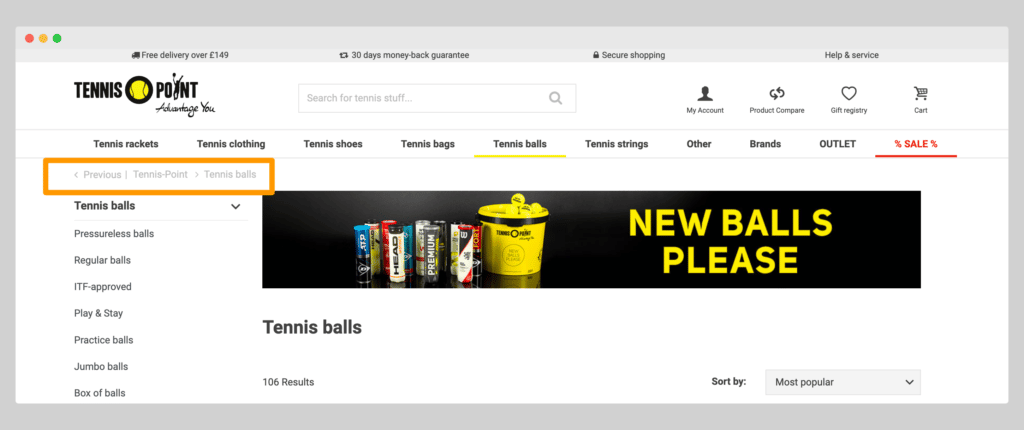 A breadcrumb is a single link in a string indicating the hierarchical location of a web page and is often used as a navigation aid. Not only does this help customers know where they are, but they can also use these links to get an overview of a specific category.
Let's say they came across the page due to an ad campaign or social media sharing, for example. While they were initially attracted to the product presented to them, they would also like to see what other products you offer in that particular category. Breadcrumbs help them find those other products you sell. Breadcrumbs also have a positive effect on your SEO. 
Reduce The Number of Steps In The Checkout Process
Improving your eCommerce conversion rate is also about simplifying your checkout process. People love shopping online because of the convenience it provides. However, if a lengthy or complex checkout process disrupts that convenience, they miss out on one of the key benefits of shopping online: simplicity.
Also, avoid unexpected extra charges. No one likes to see additional costs calculated right at the checkout line. Your customers may be turned off if you add extra convenience fees, service fees, and shipping charges right before the complete checkout process. Don't try to hide the extra charges and hope they won't see them. Remember, your customers need to be able to trust your brand.
Provide Discounts And Offers
A 15% discount on a purchase or an offer of free shipping is an effective and proven way to improve your conversion rate. Nearly 75% of consumers consider such offers a critical factor in deciding where to shop and what to buy. To encourage a purchase, send an offer when someone signs up for your email list or create personalized messages for your regular customers when they enter your store. 
Make offers and coupons easy to redeem, too. No shopper wants to receive a coupon or offer in their email, load their virtual cart, and realize that the offer does not apply to their purchases.
That said, giving your customers a little bit of time on when and how they use a specific discount offer can be beneficial. This adds a bit of personalization to their experience, and the slight sense of urgency encourages them to make additional purchases.
Provide Detailed Product Descriptions
The difference between an eCommerce store and a brick-and-mortar shop is the ability to touch the product and ask questions if you need to. Of course, in eCommerce sites, customers cannot touch the product or ask questions. Therefore, you need to make sure you describe the products in detail. 
Create interesting and informative content to inspire your customers and educate them on your product. Add a video or product demonstration for added impact. All these elements will help avoid returns and increase conversion rates.
Getting more traffic never hurts, either. And while it doesn't guarantee a higher conversion rate, it's still important to take your website's SEO seriously.  A good product description is a key aspect of eCommerce SEO.
Read also: How To Find Trending Products to Sell in Your Online Retail Store
Provide Multiple Payment and Delivery Options
The modern consumer has many ways to make a payment online. Whether it's PayPal, Apple Pay, Google Pay, or credit cards, it's up to you to determine which methods your target audience prefers.  
A better way to facilitate product payments on your website is to have a POS system that can make the process easy. With KORONA POS, retail businesses have all the tools they need to manage day-to-day operations, accept payments anywhere and build relationships with their customers. But the benefits of KORONA POS are not restricted to your retail store. With a powerful integrated eCommerce solution, KORONA POS unifies in-store and online sales to bridge the gaps between your website, social media, and point of sale. This allows you to sync inventory wherever you sell and offer customers seamless shopping options such as local pickup, delivery, home delivery, and e-baskets.
If you have both an eCommerce and brick-and-mortar store, consider offering BOPIS (Buy Online, Pick Up In-Store).  Simply put, BOPIS in retail allows customers to purchase goods online via a website or mobile app and receive same-day in-store pickup, either from their own vehicle outside the store or inside a dedicated merchandise pickup counter. The social distancing and security implications of BOPIS made it a common preference during the pandemic. Still, even before the pandemic, retailers had seen a dramatic increase in BOPIS activity.
Enable Purchases via Social Media Platforms
A brand's presence on social media is almost necessary for success at this point. Simply creating an organic presence on channels like Facebook and Instagram won't cut it. More eCommerce businesses are turning to these channels to advertise or to even sell their products directly to their followers. This is an incredibly effective strategy if your products match the type of content typically shared on Instagram or any other social platforms.
Send Follow-up Emails
Whether you're in touch with a buyer after they've made a purchase, just checking in to say hello, or reminding them that their cart is full of goodies, sending follow-up emails builds relationships and increases eCommerce conversion rates. 
Many shoppers load their baskets and then decide not to follow through with their purchase for one reason or another. Overlooking this phenomenon means you're missing out on these sales. Send an email reminding these consumers to proceed with their purchase and even offer them a discount if they do. 
Personalizing your emails can also further increase conversions. To do this, group customer segments based on different criteria, such as past purchases, location, or products they clicked on but did not purchase. Shoppers will appreciate this high level of customer service and be reminded about products that you already know they're interested in. 
Sending a post-interaction email (PIE) in which you invite shoppers to provide feedback on a product they recently purchased is a great way to encourage UGC and can increase the number of reviews. The more reviews you attract, the more confidence consumers feel when buying from you. A PIE also allows you to solicit feedback on products or customer service to provide an even better experience next time.
Wrapping Up: How To Improve eCommerce Conversion Rate
Improving your eCommerce conversion rate comes down to trying several marketing strategies to make the consumer experience on your site exceptional.  Making your eCommerce site easy to navigate or more user-friendly, reducing the number of steps in the checkout process, or offering the payment methods most used by your customers are some of the tips that can improve the shopping experience and, ultimately, your store conversion rate. 
Improving eCommerce conversion rates also involves having the right technology solutions. And among these solutions, the point of sale system is a must-have. Not only does the POS system make it easier to pay through your site, but it also provides a wealth of information that you can leverage to increase your conversion rate.  
Choosing the right point of sale software is even more critical if you have a physical store in addition to an online store. You will need to ensure all data between the two stores is consistent and synchronized so that it keeps your retail operations running smoothly. And that's where KORONA POS comes in. To learn more about KORONA POS software, click on the button below.