Last Updated: March 26, 2021
Customer service is, of course, one of the most important elements of managing a successful business. Whether you own a retail store, vineyard, coffee shop, or convenience store, any successful business requires excellent customer service.
When thinking of how to improve customer service, look no further than an intuitive and reliable retail POS system. POS software provides business owners with the knowledge, tools, and simplicity that are required to deliver the best customer service. Here are a few of the ways that your customer service (and business in general) can benefit from the right point of sale system.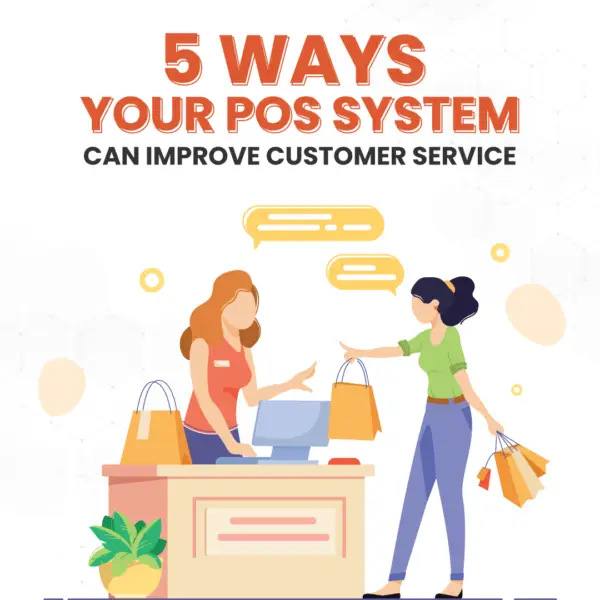 1. Give Your Customers What They Ask For
The most crucial component to great customer service is the ability to provide your clients with only the products that they need. This may seem obvious, but it is paramount to know the types of inventory you need to reorder so that you can increase your sales and satisfy your customers. It is also very important to understand the inventory that is not selling so that you avoid wasting money and space.
In most cases, inventory tends to reflect the predictions and tastes of the business owner, rather than the preferences of the customer. Advanced back-end reporting from your POS can help you identify exactly what your customers like. In some cases, this might hurt your pride, but it's better to sell products that your customers would buy, not just what you would.
Merchants can easily run numberless reports from your computer by just pressing a button. All the data that highlights customer favorites and top-selling items will assist business owners to make smart decisions.
2. Increase Your Transaction Speed
Nowadays, few people have the time to wait in long lines. 75% of retailers have lost customers due to wait-related issues, so this is an important area to optimize. Safe and reliable point of sale software will reduce the time that your clients spend at the register and will also eliminate all the human error that might be caused by the employees.
Retailers that have massive amounts of inventory no longer have to worry about slow transactions or even inventory errors. Your POS solution should provide integrated barcode scanning that helps increase efficiency and speed. Gone are the days of manual entry. Speedy transactions are the best way to make your customers smile and generate more business.
3. Offer Flexible Payment Options
It is now absolutely necessary to be flexible with your accepted modes of payment. Credit card processing can be frustrating, but few people still regularly pay with cash. Modern points of sale systems have luckily made it easier for retail owners to accept all major forms of payment, including credit, cash, gift cards, checks, EMV chips, and Apple Pay. Most customers enjoy shopping at a place with flexible and fast payment options.
4. Create Good Rapport with Your Customer Base
One of the advantages of using a point of sale system is the time that it saves business owners, allowing them to focus on more crucial things, like their clients. Instead of fidgeting with various buttons or troubleshooting a malfunctioned receipt printer, help answer a customer's questions or chat with someone as they check out. Good rapport with each of your customers will keep people coming back through your doors and will also encourage them to tell their friends.
5. Offer Emailed Receipts and Keep a Detailed Customer Database
Excellent customer service starts with the small things. Saying hello, smiling and even taking the time to address the customer by name goes a long way. However, busy or overwhelmed merchants hardly have the time or brain power to make this a regular occurrence, let alone encourage customers to register in a loyalty program.
But a quality and reliable POS system gives business owners an opportunity to make this process fast and easy. Your best customers should be rewarded through a loyalty program. And your business can build a customer database at the same time.
Additionally, emailed receipts and a customer database allow you to address each loyal client by name. Email receipts also help build worthwhile creating email marketing that targets customers with ongoing promotions and recommendations based on products they have previously purchased.
Improve Customer Service Using KORONA POS
Clearly, your point of sale system is NOT just a cash register. A reliable and integrated POS system assists business owners to offer better customer service in so many ways. Get in touch with a product specialist at KORONA POS to learn more and start a free trial. Try it for as long as you like and schedule a walk-through demo with our team.
Get Started with KORONA POS today!
Tell us a little bit about your business and explore all features that KORONA POS has to offer. And there's no commitment or credit card required.