Given that the probability of an existing customer returning to purchase something at your store is 60-70% compared to the 5-20% chance of converting a new customer, it's no surprise that eCommerce brands are prioritizing customer retention.
With repeat customers spending 33% more than new customers on average, increasing customer loyalty is one of the most effective ways to boost your bottom line. Loyal customers have a higher average lifetime value and are a reliable source of revenue for your brand.
Customer loyalty programs are one of the most effective ways to avoid losing customers to your competition and increase repeat purchases. Some research revealed that loyalty programs increase the likelihood of customers choosing your brand over competitors by as much as 59%.
Of course, strategies to increase customer loyalty are only effective if they're well-designed and executed. So here are some tried-and-tested strategies to grow your eCommerce customer loyalty and continue building your online brand.
High-performing customer loyalty programs boost customer satisfaction and encourage them to stick with your brand. Moreover, the likelihood of loyal customers recommending your brand to other consumers is twice as high. Not only is this form of marketing free, but it carries a lot of weight: consumers are much more likely to listen to the advice of friends and family than more traditional forms of marketing.
Fortunately, to improve customer loyalty, you can use strategies that are already proven to work. This limits the risk involved and maximizes the likelihood of success.
7 Ways to Improve Customer Loyalty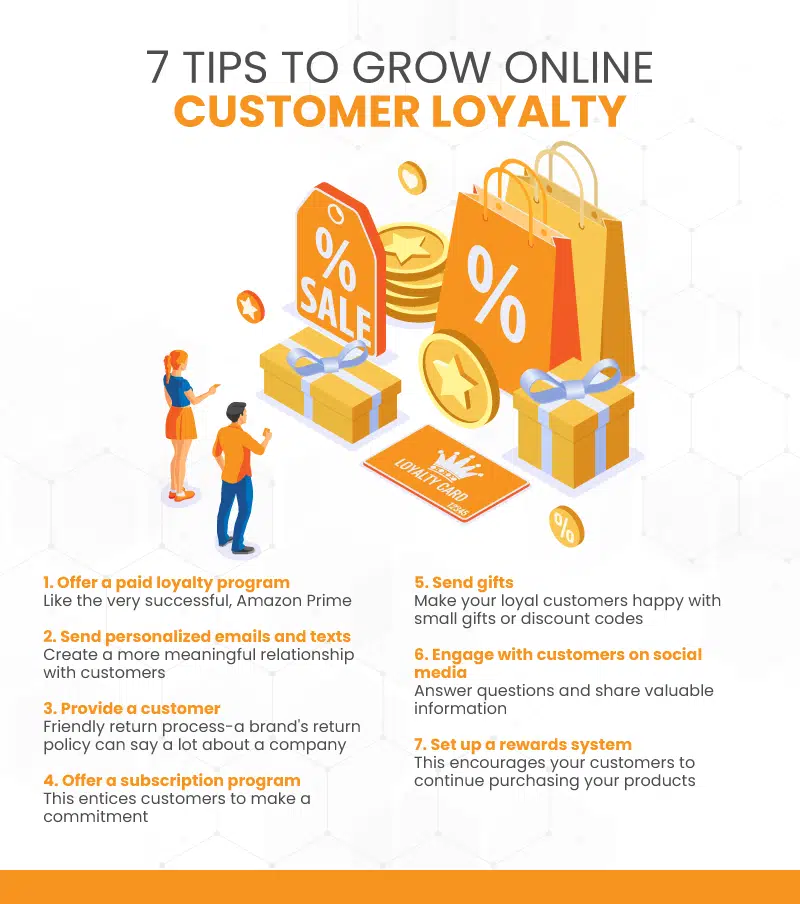 1. Offer an Amazon Prime-like Program
As a world leader in eCommerce, Amazon's business model is one every eCommerce brand can learn a thing or two from. Around 68% of the eCommerce giant's customers have subscribed to Amazon Prime.
The success of Amazon's loyalty program is evident in the numbers: on average, Prime members spend about 2.5x more than regular customers, and that's on top of the $120 annual subscription fee. A Prime subscription comes with many perks, including access to entertaining content and access to free two-day shipping. These delivery benefits prompt customers to get the most out of their subscription, encouraging them to spend more.
Paid loyalty programs provide you with another direct source of revenue from subscriptions. Moreover, they help brands identify their most serious customers and encourage repeat spending. So if you're looking to prove your loyalty program, take a page out of Amazon's book and offer perks that consumers just can't resist.
2. Send personalized emails and texts
A study revealed that customers are willing to pay premiums in exchange for a more personalized experience. Sending customers personalized recommendations and custom content builds more meaningful relationships with them and encourages repeat purchases, too.
While email is a go-to channel for sending important information, many eCommerce brands are also incorporating text messaging into their marketing strategy. SMS messages boast some of the highest open rates of any communication platform and are a more personal medium of interaction.
Shooting your loyal customers a text informing them about upcoming offers or flash sales can cultivate your relationship with them. However, be careful not to overdo it. Since customers see messages quickly and open them more often, overwhelming them with multiple messages may prompt them to unsubscribe altogether.
3. Offer a customer-friendly returns process
Your brand's return policy speaks volumes about your confidence in your products, a fact that consumers have learned to pick up on. With more than 60% of consumers checking your return policy out before making a purchase, retailers cannot afford to offer suboptimal return policies. A poor returns policy means many customers will move to your competition, and that may have an impact on your eCommerce conversion rates.
In an age where consumers value transparent and hassle-free processes, retailers are expected to offer free, straightforward returns. A customer-friendly returns process isn't just important to convert new prospects though; it's also vital to maintaining customer loyalty and encouraging repeat purchases.
As many as 92% of customers revealed their willingness to buy again from brands that offer hassle-free returns. Offering free returns helps build trust with your customers and cultivate lasting relationships.
4. Offer a subscription program
While Amazon Prime is the kind of subscription program brands should aspire to offer, not every business has the resources to pull it off. The Prime program provides customers with various perks beyond ones that influence their buying experience, including access to music, storage, and entertaining content.
Providing these perks can be demanding, especially for small and medium-sized businesses. However, you can still offer an attractive subscription program that benefits both you and your customers.
Perks as simple as fast free shipping or a percentage discount on select items can be enough to attract loyal customers. Moreover, a subscription program reveals which customers are willing to invest the most in your brand, which helps streamline marketing efforts.
Customers that subscribe to your program are making a commitment to your brand, and they're looking to get the most out of their subscriptions. This means they're likely going to spend more with your brand.
5. Send customers exciting gifts from your loyalty program
While rewards systems help customers provide customers with tangible goals, achieving enough points to cash in on benefits takes time and effort. You can give some of your most loyal customers a happy surprise now and again by sending them exciting gifts.
Sending out surprise gifts gives your customers even more incentive to stick with your brand. These gifts don't necessarily need to be tangible products – you can hand out gift vouchers or discount codes.
If you're looking to send out physical gifts to loyal customers, consider personalizing the items. For example, you can pull up your customer's purchase history and figure out the perfect gift to send their way. Showing customers that you care enough to personalize their experience encourages customer loyalty.
6. Engage with customers on social media
Did you know that on average, engaged customers spend 30% more than unengaged customers? Directly interacting with your customers can significantly improve your bottom line and boost customer retention. Social media, whether you like it or not, is the best way to engage with your most loyal fans.
See related: How To Sell Your Products On Social Media in 2023: The Guide For eCommerce Owners
Social media provides brands with various opportunities to digitally engage customers. For example, you can respond to their questions regarding a product or better understand how customers view your brand.
eCommerce brands can also use social media to share valuable content with customers, establish their business as a thought leader, and encourage customer loyalty. Consumers who interact with brands over social media commit to the business more meaningfully. You can also share valuable information with consumers to earn their trust – they'll learn to see your brand as a genuinely interested business in addressing their pain points.
7. Set up a loyalty program with useful rewards
As many as 84% of customers in a loyalty program make a redemption, providing eCommerce brands with a perfect opportunity to encourage repeat purchases. Our advice? Keep the rewards relevant for your customers.
One way to do so is to provide customers with a way to redeem items of their choosing. For example, a simple point-based system means customers gain points on each purchase. You then assign products in your store a certain amount of points. Customers can exchange their points in return for a product of their choosing.
For niche brands, offering a few rewards should be sufficient. Your audience is already invested in skincare products, so providing those as rewards will pique their interest. However, if your brand offers a variety of products, then providing diverse reward options is more important.
Businesses that offer various types of products have different audiences, with starkly varying buying interests. A one-size-fits-all rewards program won't cut it, so keep the options diverse enough to keep your most loyal customers interested.
Conclusion
Increasing customer loyalty is necessary to scale sustainably and grow your eCommerce brand. The cost of marketing to new customers is almost five times greater than to market to existing customers (though, interestingly, there is now some debate on this).
The message is clear either way, though – retaining customers and encouraging repeat purchases is a key part of securing a consistent, reliable revenue stream. So don't be afraid to try out different strategies and experiment to find what works best for your brand.
While we've covered some proven strategies for increasing customer loyalty, some tactics may work better for your brand over others. So, consider which methods are feasible and most likely to resonate with your audience, and tailor your marketing efforts around them.
For more information on how to implement a customer loyalty system at your business, click below to get a free demo from KORONA POS. We offer a range of different loyalty programs for various types of businesses, ranging from points-based systems to robust CRM integrations.
Get Started with KORONA today!
Tell us a little bit about your business and explore all features that KORONA has to offer. And there's no commitment or credit card required.