Retailers put a whole lot of thought and energy into hiring the right staff. After all, your retail team will be representing your business and products, so it's important that you have the best people for the job.
But one aspect of hiring that's often glossed over is the interview process. It's important to learn how to conduct a retail job interview in a way that helps you understand more about the candidate and the candidate learn more about the business and job. It's critical that you prepare ahead of time to hire the best team.
Below, we'll go over some of the basics on how to interview job applicants and start building a great staff.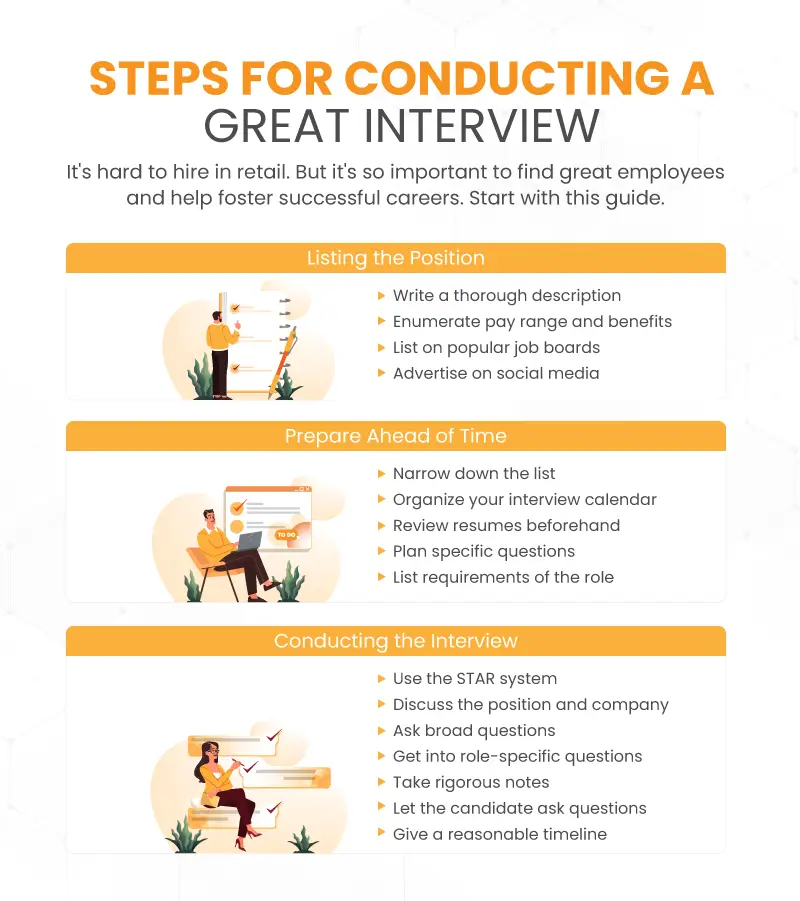 Listing the Position
Before even getting to the job interview, list the position in the right spots. There are more online resources for this than ever. You don't want to overwhelm yourself with applications, but it's important that the right eyes see that you're hiring. You want a broad and diverse group of applicants.
Write a Thorough Description
When creating a new listing, make sure that your primary focus is on the job description. Most retailers will be hiring for a limited number of types of positions. List exactly what the title of the position is and all responsibilities that come with the job.
You may also want to include any growth opportunities that come with the position. If you're hoping that a sales associate will eventually become a manager, inform the applicants.
List Pay Range and Benefits
Likewise, list reasonable pay ranges and benefits. Most entry level retail positions will pay hourly. In addition to their hourly pay, include information on expected hours per week and any flexibility that you're able to offer. Let applicants know if the position will require weekend and/or holiday work.
The same goes for managerial positions that may come with a salary instead. Offer a fair range and remember that you can always go higher if the right candidate comes along.
Include all information regarding benefits, including vacation, overtime, retirement accounts, and health insurance.
Add the Position to Popular Job Boards
Once your listing is complete, post the job opening to any relevant online boards. Some of the most popular include Indeed, Monster, and ZipRecruiter, but there are a lot of options.
For retail, there are some more niche options like Work In Retail, All Retail Jobs, and Retail Gigs. These are inexpensive to list job openings on and will be more likely seen by the right candidates.
Share Open Positions on Social Media
In addition to job boards, it's always smart to list retail job openings on your social media accounts. "We're hiring" posts can get a lot of traction and get shared around specific groups or industries.
Prepare for the Interview Ahead of Time
Once you have your job listed and the applications start to come in, it's time to narrow down the field and prepare for phone and in-person interviews.
Narrow Down Your List of Candidates
If you did a good job listing the position you'll have a big list of applicants. Therefore, it's time to pare down the list and start scheduling interviews.
Figure out certain qualifications that you and your team deem necessary for the position you're hiring for. It's not fun to sweepingly eliminate candidates, but if you have a lot coming in you'll need to find ways to get rid of large swaths at once.
You can also create a survey as part of the application to help weed out some candidates. Be careful with the criteria you include in the survey. You want it to help narrow down your candidates but not so much that it eliminates qualified individuals.
Plan Time on Your Calendar
Don't let interviews sneak up on you. Plan ahead of time accordingly and make sure you block off enough time to be respectful and avoid having to rush.
Many retailers have hectic days with too many things to juggle. Bring in any candidates during slower times of the day or week to prevent long delays or rescheduling.
Review the Resume Right Before the Interview
You've likely looked at dozens of resumes leading up to the in-person interview process. So remember to glance over each candidate's resume just before meeting with them.
It's important to understand who you're interviewing. It helps you personalize the questions and shows the candidate that you took the time to make the interview productive.
The interview should also set the stage for how you run your store on a daily basis. By preparing for the interview ahead of time you'll show each candidate the respect they'll receive as employees for the duration of their time at your business.
Write Out Specific Questions
Likewise, you want to plan ahead by writing out specific questions. Some of your interview can be off the cuff, but you should have a good plan from the outset nonetheless.
Print out a sheet with specific questions that you can fill in as the interview progresses. This will keep you on track and ensure that you don't miss any key questions or topics.
Know Your Requirements
Finally, have a clear understanding of exactly what the job entails. You must be able to describe the position and all of its responsibilities to each candidate. New hires can only start successfully if they know what comes with the job.
How to Conduct a Job Interview in Retail
Once you've listed the position, pared down your list, and planned for your interviews, it's time to have the actual interview. So now, let's look over the steps to conducting a great retail interview.
Use the STAR System
A lot of interviewers and interviewees use the simple STAR method. Make sure your candidates are addressing your questions in this format:
Situation – What was the situation a candidate faced in a past job that was challenging?
Task – What was the task that the candidate was faced with?
Action – What action did the candidate take to figure out the problem?
Result – What was the result of this action?
Remember that some interviewees won't use this method, particularly younger or inexperienced people. For those that don't, give each candidate the opportunity to do so by asking them helpful follow-up questions.
Explain the Position and Company
Often, interview candidates are nervous. Taking the lead with the interview is a helpful way to start the process.
Tell them about your retail business and what the role entails. Explain what sets your business apart from the competition and why your customers shop with you. Additionally, use existing employees as an example of what kind of expectations you have for the role.
Start with Broad Questions About the Candidate
Once you transition to asking the interviewee questions, start with more broad topics about their background and career goals.
Take the time to try to understand what kind of person they are and what they're passionate about. You want to hire well-rounded people who have more to offer than just answering standard interview questions. It also helps you gauge the candidate's desire to grow within your retail business.
Ask Questions Specific to the Role
Now it's time to get into more specifics about the job. These are the most important questions to have planned ahead of time.
Some business owners and managers will develop a way to score this portion of the interview. It helps keep this section organized and makes it easier to compare against other candidates.
For retail positions, the most important questions to ask will surround their customer service and ability to handle difficult situations.
Set up common scenarios to see how they would react and handle the situation.
Take Notes During the Interview
You'll likely be interviewing a large number of candidates, making it hard to keep track of each person once you're in the evaluation stage.
As we mentioned above, a score card of some sort may be helpful. In addition, take scrupulous notes to help you recall details of the interview and help you find the best candidate.
Offer the Candidate Time to Ask Questions
Towards the end of the interview, give the interviewee time to ask you questions. It's a good opportunity for them to show thoughtfulness and constructive thinking.
Look for good questions about details of the role, history of the company, or expectations for future roles.
Let Them Know How You'll Proceed
Once complete, be sure to thank each candidate for their time and let them know how you'll proceed with the hiring process. Even if you don't plan to hire a particular candidate, be polite and give them a timeline for when they should expect to hear from you.
Don't ever tell someone they aren't hired on the spot, and don't ignore them by not following up within a few days.
Get Started with KORONA POS today!
Tell us a little bit about your business and explore all features that KORONA POS has to offer. And there's no commitment or credit card required.