It is not unusual to hear some marketing gurus say that email marketing is dead. The reality is, however, quite different. According to a campaign monitor, 64% of small businesses use email marketing to reach their customers. And that's not all! 59% of consumers say that email marketing positively or negatively influences their purchasing decisions. And according to Statista, email is the primary way for U.S. consumers to discover brand coupons.
If you were doubting the effectiveness of email marketing as a marketing strategy, it's time to consider it. But before you launch any email marketing campaign, you must first build a list. But how do you go about growing your email database? That's what we're going to walk you through in this blog. You will discover how to build an email list and some of the best practices to follow in so doing.
See also: 7 Email Marketing Tips for eCommerce and Brick & Mortar Retail Stores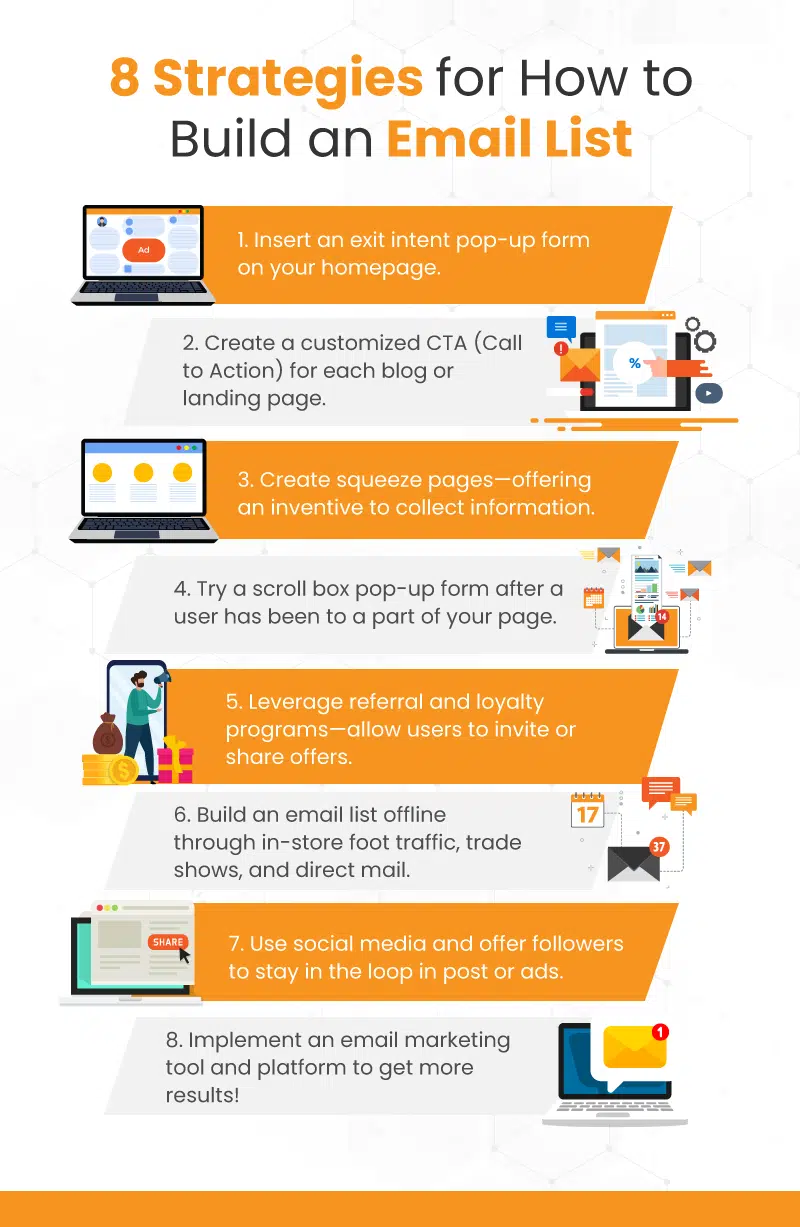 Table of Contents
Insert a Pop-up Offer On Your Homepage
Pop-ups have a conversion rate of 11.09%, with the top 10% having a conversion rate of about 42%. Homepage pop-up forms allow you to grow your email list and, in the process, save a potential sale. Pop-ups can dramatically increase your email sign-ups depending on your overall website traffic.
To start using pop-up forms to capture emails on your eCommerce site, start with an intent-to-exit pop-up. Exit intent pop-ups help keep users on your site longer. You must display them at the optimal time and on the right pages. Exit intent pop-ups, like all pop-ups, have a variety of components. Each component requires special attention. You will want to spend more time on some of these components and less on others, but you will discover which elements require the most effort over time. To create exit intent pop-ups that convert, you need compelling graphics, an intriguing title, bright colors, a compelling offer, a close button, and an effective CTA.
The idea behind exit intent pop-ups is that they reduce the possibility of an exit or bounce by capturing the visitor's attention and offering them a compelling reason to stay on the page or submit details. Offers and discounts work well, but depending on their niche, eCommerce site owners can offer much more than that.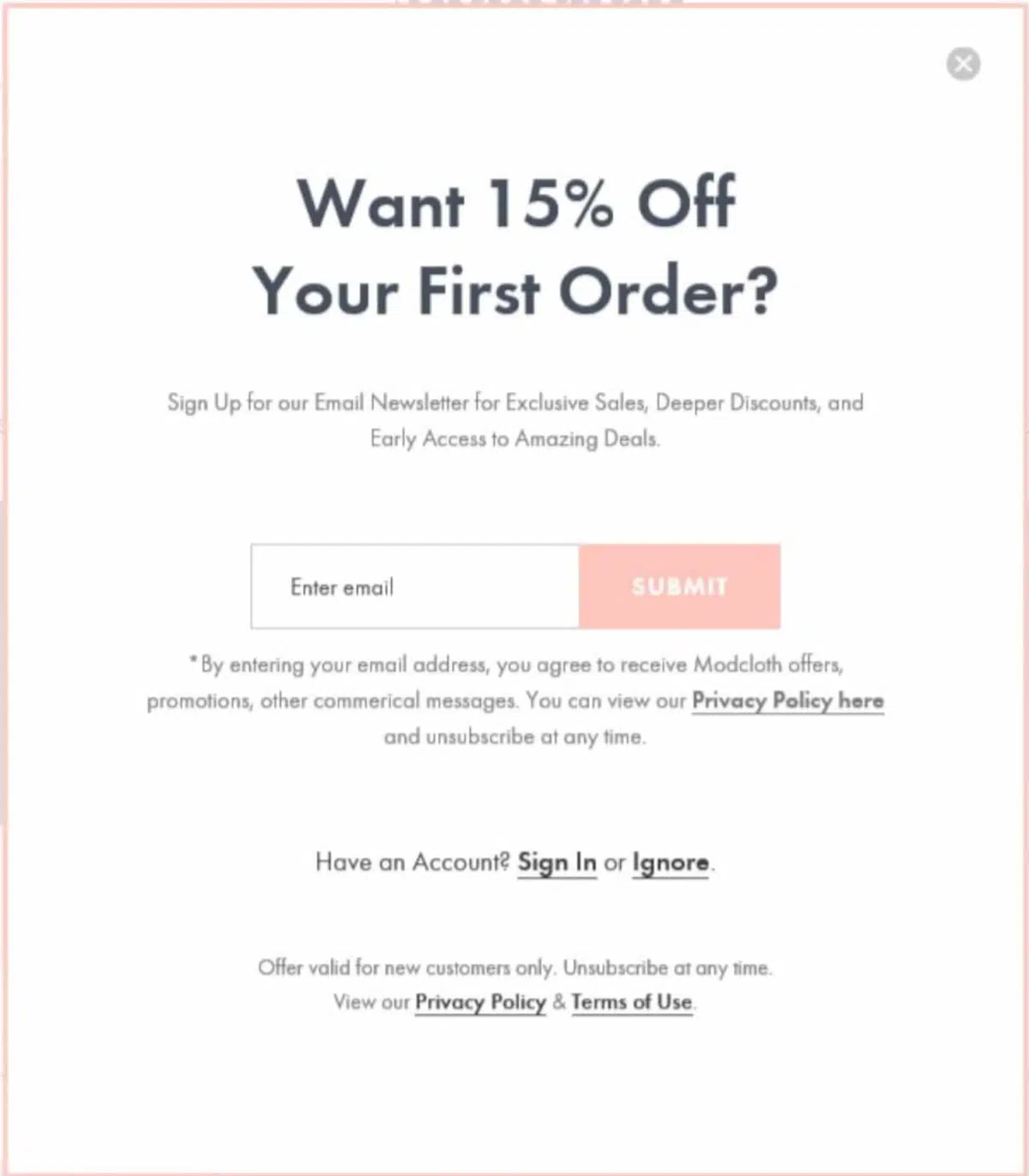 Create a Customized CTA For Each Blog or Landing Page
According to HubSpot, personalized CTAs have a 42% better view and submission rate than calls to action that are the same for all visitors – that means almost a 1.5x increase in email subscribers. This makes sense because the people who visit your blog post or webpage are looking for something specific, so your CTA should be specific too.
For example, if your blog post titled "Best Summer Dresses" attracts a large number of visitors, why not encourage them to sign up for your email list by including a simple CTA like "Enter your email address to receive discounts on our upcoming promotions." If you offer content directly related to the needs of your visitors, your newsletter will not look like a gimmicky ad.
Instead, it will be useful and valuable – key principles for a long-term customer retention plan. If you create a simple email signup form with a CTA like "Sign up for our mailing list to receive our latest content," conversion rates will likely be low – people won't give you their email address for anything. Instead, entice them to sign up. Some of the best lead magnets include a free eBook, a coupon, a webinar registration, etc.
Create Squeeze Pages
A squeeze page is set up to get a visitor's email address by offering something valuable in return. You encourage visitors to sign up for an email or subscriber list to gather more information about the product or service featured on the main page.
To persuade visitors to share their data, squeeze pages often offer some type of incentive: a special offer, a discount, access to exclusive content or a community forum. It's no wonder that squeeze pages have a high exit rate. Their sole purpose is to collect information about visitors, so you don't have to worry about anything else as long as their conversion rates are high. However, if you want to give visitors the option to visit other pages, you can include a link to the homepage or product category pages.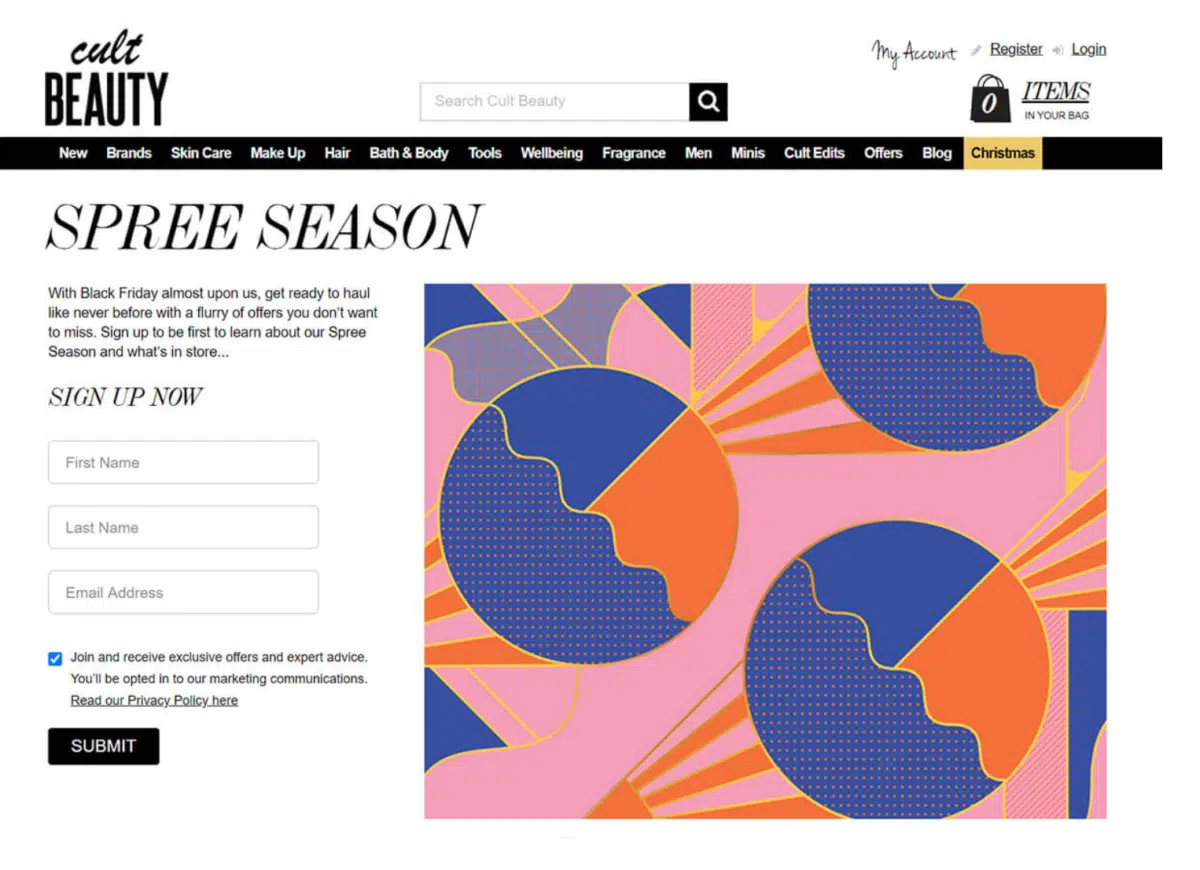 The picture above is an example of Cult Beauty's Squeeze Page. The brand created a dedicated squeeze page for their Black Friday marketing campaign to allow shoppers to sign up for their "squeeze list." The page contains a brief description of what they are signing up for and a sign-up form.
Try a Scroll Box
Knowing when to present your audience with a call to action at the right time is of the utmost importance. That's why scroll boxes are another great tool for lead generation. Scroll boxes pop-up after a visitor scrolls to a certain point on the page. These are a more subtle but effective way to capture email addresses. It all comes down to determining when users are likely to be ready to convert. Does it work best at the bottom of a blog page when it slides to the right, or does it get higher conversions at the top of the page when it slides to the left? A/B test some different options. It ultimately depends on your page's content and visitors, but a scroll box is a useful option to help you attract your visitors when they are most ready to convert.
Leverage Referral And Loyalty Programs
Referral program
People are more and more likely to trust recommendations from friends and family than they are direct marketing from the brand itself. Hence the importance of having a referral program. Once you have established a loyal customer base, the next step is to use the power of word-of-mouth marketing. Offer your followers and advocates additional benefits by recommending your product or service to their friends.
Referral programs work to reward customers who successfully recommend your business to new people. Typically, you will need to offer an incentive for both the referrer and the referred person. For instance, you each get a 20% discount on your next two purchases after referring someone. The reward will only be paid once the referred person submits their details or makes a purchase.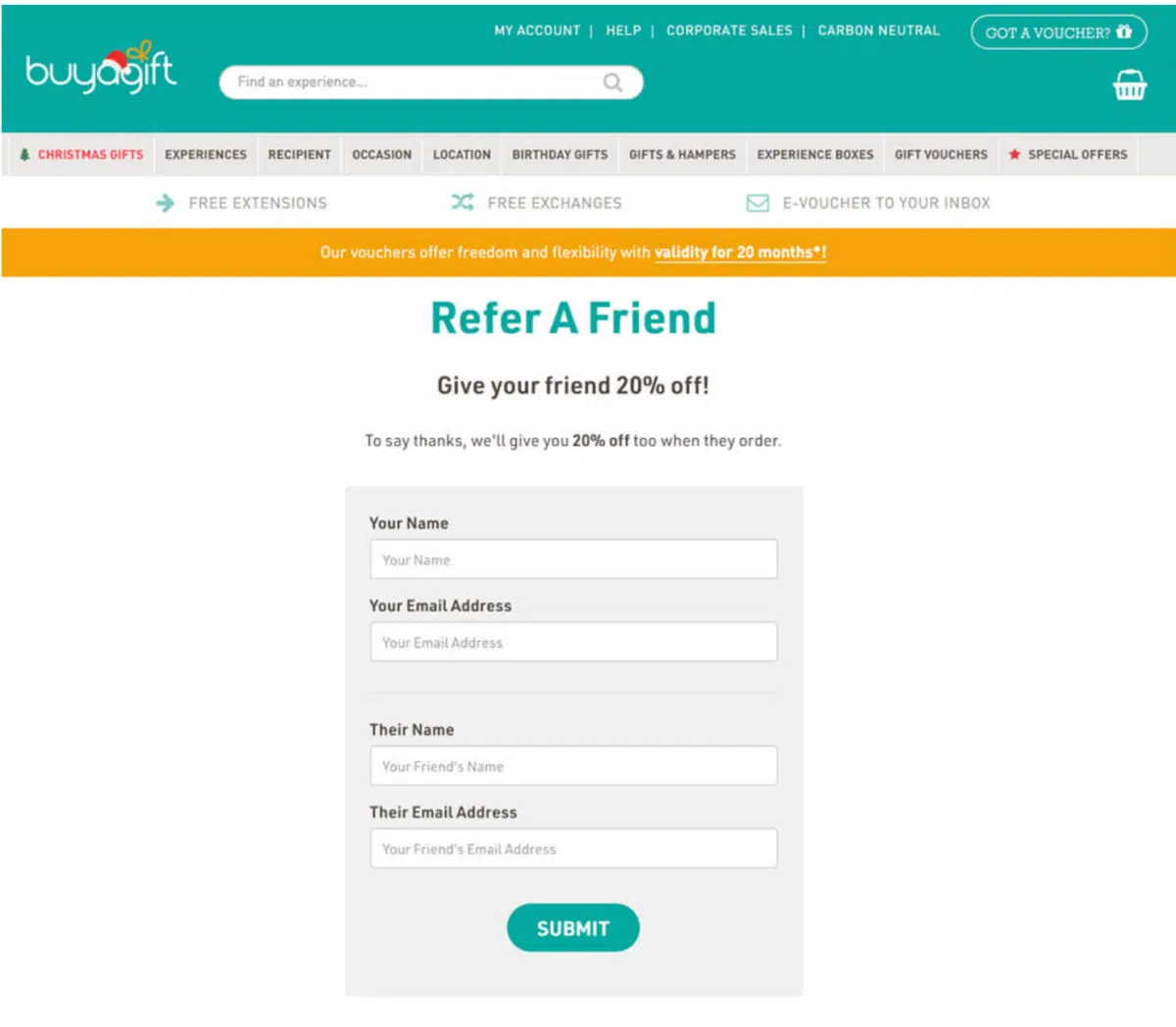 Another way to structure your referral campaign is to allow users to invite friends with similar interests to presale events. This way, you won't have to make an initial discount, but you can contact people who have been referred. However, it is essential to remember that a lot of overhead is involved in setting up referral programs, such as the need to invest in referral management software as well as an affiliate manager. Therefore, the effort is only worth it when you have dozens (or even hundreds) of affiliates promoting your products.
Loyalty programs
Technology Advice says people are more likely to shop at stores with loyalty or rewards programs. Loyalty programs are a great way to grow your email list and encourage repeat purchases. To make the most of your loyalty program and use it as an effective list-building tactic, ensure it's easy to sign up and offer truly notable benefits, like access to members-only sales, free gifts, events, content, etc. Also, make sure to personalize the experience once the person has signed up.
See also: How to Grow eCommerce Customer Loyalty: 7 Tips for Online Stores
How To Build an Email List Offline
While your website is your best option for building your email list, that doesn't mean it's the only way you can build it. You can also grow your email list by making the most of offline channels. Here are some easy ways to do this:
In-store: Foot traffic can be converted into email list subscribers by using sign-up sheets in your store or at the register. Do something creative – if someone at the fitting room has requested an item that is currently unavailable, encourage them to sign up for stock updates on new arrivals. Just be sure to get their full consent when collecting this information offline.
Trade shows: Trade shows are a great opportunity for companies to network with other wholesalers and sell directly to consumers. Email addresses are often collected at these with a giveaway promotion. If you distribute business cards, you can also encourage sign-ups on them.
Direct mail: If your company uses direct mail to send marketing materials, you could include a CTA or QR code for people to sign up to receive "paperless" news. Most people will choose to receive sales information digitally rather than traditionally, and promotions are easier to manage when they are digitally recorded. Whether you have a brick-and-mortar store or promote your business at an event, your in-person interactions can help you grow your email list, which will lead to more digital sales.
How To Build An Email List Using Social Media
People follow brands on social media mainly to keep up with new products. By offering an option on your Facebook, Instagram, and other social media accounts to sign up for email updates, you can give your followers another way to stay in the loop while drawing them into more personalized email nurturing campaigns.
There are several ways to build an email using social networks. First, you can include a sign-up button or form on your Facebook page to boost your lead generation. The easiest and most affordable way to get your company's newsletter in front of social media users is to add a CTA on your social profiles. Facebook and Instagram allow you to do this by featuring a "Subscribe" button on your profile, but you can also always share posts that invite people to join your mailing list.
Additionally, you can run a social media campaign to encourage your subscribers to sign up for your newsletter. Given the massive reach and increased visibility that social media offers, it's definitely worth doing whether you have a small business or not.
Social media platforms make brands more reachable, customizable, and, most importantly, more interactive. Instagram stories include polls, quizzes, and Q&A features, among others, that can generate user engagement. Promoting a contest, giveaway, or even a limited-time special event will drive traffic to a landing page where followers can sign up to participate.
Facebook Ads offers businesses the ability to use sign-up forms, which means that a person can sign up without leaving the platform. Because of their convenience, sign-up forms are known for their high conversion rate.
Start Building Your New Email List Now
Building an email list from scratch can't be done overnight. However, following the simple and effective tactics mentioned above increases your chances of growing your list quickly. Not all email list-building methods are equally effective. You should therefore test several email marketing strategies to get the best results for your business.
And it's not all about how fast you can build your list; it's about how effectively you acquire new prospects to keep them and the quality of the emails you acquire. Don't forget to attend trade shows and leverage in-store contacts. They're also great venues for building your email list and a great way to get in touch with your customers. Finally, email marketing tools such as Lemlist and Moosend can be very useful for your business.
Get Started with KORONA POS today!
Tell us a little bit about your business and explore all features that KORONA POS has to offer. And there's no commitment or credit card required.
FAQs: How To Build an Email List
1.
How long does it take to build an email list
?
The amount of time it takes to build an email list depends on how big you want your email list to be. If you run a successful opt-in campaign, you can have a solid email list in a few days, but if you want to build a large email list with hundreds of thousands of subscribers, it will take some time. 
2. Why are double opt-ins important?
Double opt-in is important because it usually means you are getting quality sign-ups. If you've ever signed up for a newsletter or anything else and received an automated email asking you to confirm your subscription, you've experienced double opt-in registration. This is even more important as it also protects you by complying with international email marketing laws and gives you the opportunity to start your relationship on the right foot.
3
.
What is the best way to build an email list for marketing?
There is no single best way to create an email list. There are many ways to build an email list, and it's up to you to see which strategy works best for you. From pop-ups and lead capture forms, contests, social media giveaways, and content updates to creating multiple landing pages are all strategies for creating an email list. 
4. What is the fastest way to build an email list?
The fastest way to build your email list is to use a variety of different tactics on different channels.  Use sign-up forms on your website while running contests on social media. Launch a loyalty program. Try and see which methods work best for you over time, then refine the method that works best for you.