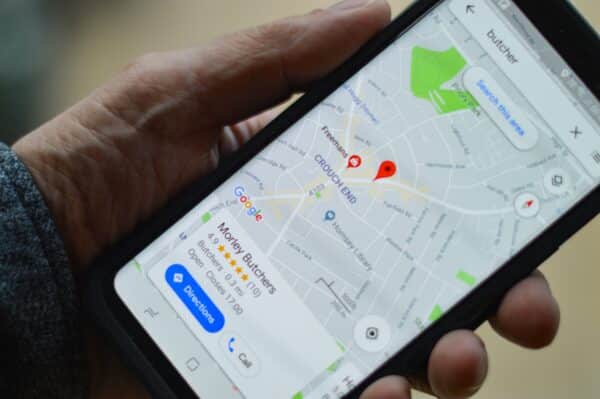 It has now been 18 years since Google Maps was first rolled out. As with the rest of Google, the platform's uses and influence have grown and morphed considerably over that time period. Not only does Google Maps help so many of us find our way around cities and towns near and far, it has also become the quintessential tool for getting basic business info.
Increasingly, Americans use online tools to find all types of businesses. According to one study, 98% of respondents said that they used the internet to find at least one local business in 2022. In fact, more than 20% of those respondents said that they used the internet to find one every single day!
And when it comes to search engine market share, Google dominates. You simply cannot maximize your foot traffic and revenue as a retail business without paying close attention to your Google My Business profile. Part of optimizing this profile relies on including descriptive information that points potential customers to your business. That's where keywords come in.
Read on for an ultimate guide on how to add keywords to Google My Business.
---
Table of Contents
Why Add Keywords Google My Business Profile?
When consumers look up local products or services on Google or Google Maps, those searches are made up of keywords. The search engine uses those keywords to point those consumers in the right direction as far as where to find local products and services. Thus, adding relevant and strategic keywords to your profile will help your business show up in Google results. In the end, more exposure leads to more sales.
Local SEO
Every business, no matter how big or small, should be thinking about search engine optimization, or, SEO. For brick and mortar businesses, local SEO has a huge impact on foot traffic and sales. Google reports that customers are 70% more likely to visit a store with a complete business profile on their search and apps. Therefore, optimizing your Google business profile will have a huge impact on your success.
Reduce The Burden Of Ads
With a more refined and targeted local SEO you'll drive traffic to your business organically. Not only is this much cheaper than bidding on Google Ads or paying for other advertising channels, but organic search results actually provide higher conversion rates than paid advertising. So making simple but smart changes to your profile by adding keywords is a cheaper and more effective way to increase traffic.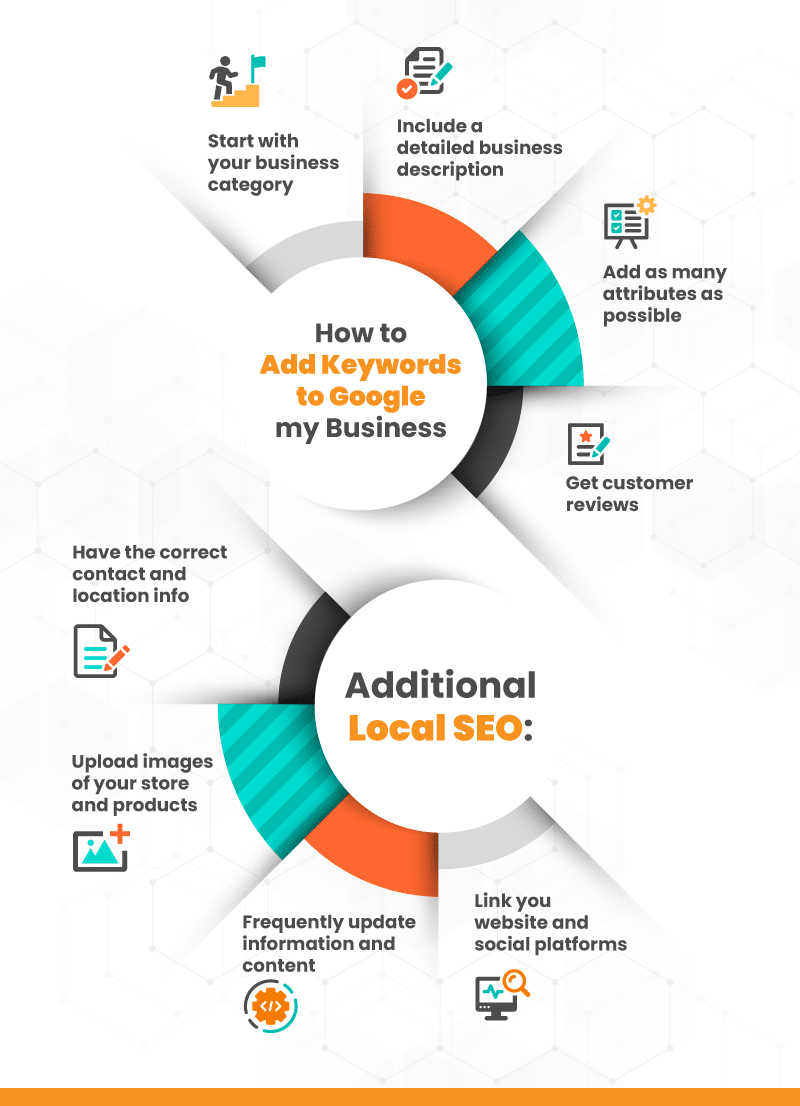 Start With Your Business Category
The first thing to think about is your business category. This will be the most basic search keyword to point consumers to your retail shop. Make sure that your category is highly relevant to what you actually sell. Trying to sneakily add irrelevant or incorrect categories in order to drive more traffic will only get you penalized by Google in the long run.
There are thousands of business categories covering everything from Aerobics Instructor to Zhejiang Cuisine. So making sure that your business type is accurate will signal to Google that the customers that are clicking through to your profile are actually finding what they're looking for.
Google Business Keywords With Business Descriptions
Next, continue to describe your business by adding as much info as you can to your profile description section. This section fits 750 words. Try to explain what your business is all about. What do you sell? What do you specialize in? Where are you located?
Inserting keywords about specific product searches is a great idea here. For example, a coffee shop's profile could say, "we focus on providing affordable fair trade coffee". Or for a liquor store you might want to mention something about the "largest selection of organic tequilas in Lower Manhattan." These types of niche offerings are bound to help you appear for more specific, or, secondary, keyword searches on Google.
Business Attributes Can Work As Keywords, Too
Adding attributes to your profile will also boost your searchability. Anything that accurately depicts your business can be used as keywords. There are many categories for attributes, and you should try to include as many as possible.
Attributes such as "Take Out", "Delivery", and "Open Late" are all very commonly used. Be sure to also include information about accessibility if you are able to accommodate individuals who use wheelchairs.
There are even more specific attributes you can think about adding if they apply to you, such as "Black Owned" or "Veteran Led." Include as many that apply to you, and as long as you are being honest and straightforward, you are bound to see improved results.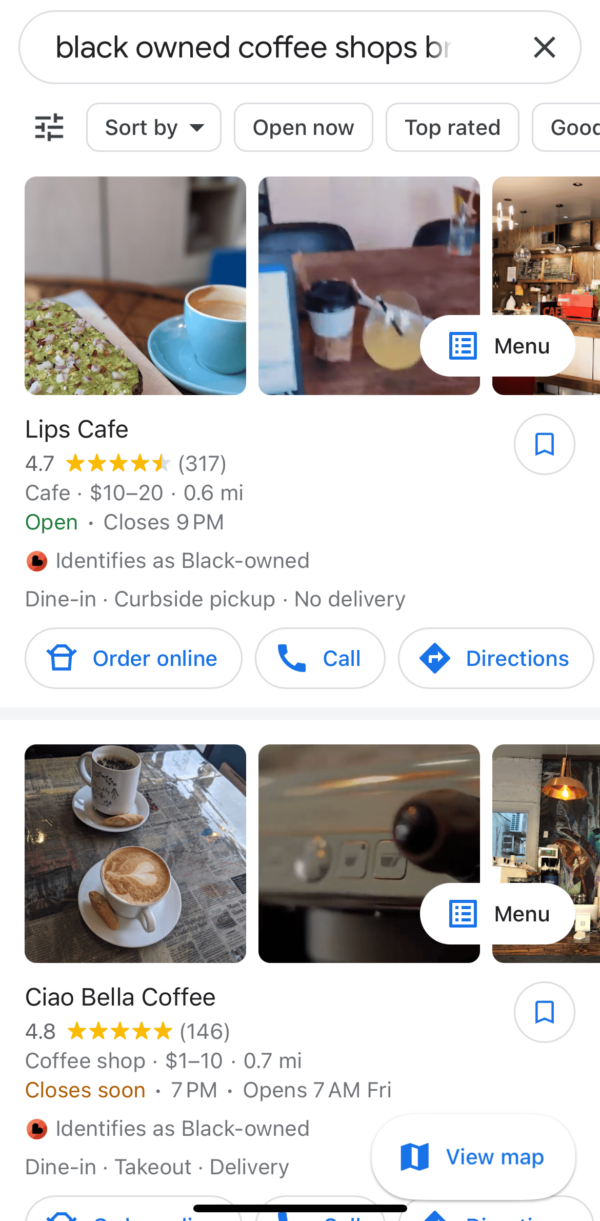 Generate Keywords From Customer Reviews
Conducting a search on Google or Google Maps will show you that reviews also come up as keywords. Each time a customer mentions a menu item, a retail product, or service in their review, it will further bolster your online presence for what your business offers. Reviews signal to Google that all of the information you have on your profile descriptions actually align with customer experiences at your establishment.
Therefore, it's important for businesses to try to generate more Google reviews from their customers. Plus, you'll still get the traditional benefit of added consumer confidence. Think about incentivizing reviews from satisfied customers by offering discounts or gift cards. Not only do these reviews have a huge impact on convincing new customers to give you a try, but they will also help point them in your direction in the first place.
Additional Local SEO Recommendations
Make sure to think about all of the dimensions of optimizing your local listing in order to maximize your exposure and foot traffic. Creating a more holistically designed Google business profile will help your keywords have more impact.
Of course, having the correct contact information and location is the most basic place to start. But here are some other important things to think about:
Remember That Searches Are For Humans
At the end of the day, Google's search engine is for human use! That means that while you're adding all of your descriptions and attributes you should keep in mind that the first reason for including keywords is to help real people find the products and services they desire in the locations in which they live or are visiting.
Thus, small business owners should avoid keyword stuffing or trying to drive traffic based on purchase items or attributes that don't apply. Quality user experiences and highly relevant descriptors will be rewarded by the search engine.
See also: Google Local Inventory Ads: A Retailer's Key to Digital-Physical Synergy
Strengthen Your Business Profile With Images
Add some images to your profile to show potential customers what your brick-and-mortar space and products actually look like. Providing this visual content will help searchers get a better understanding and feel for your business in general. Improved customer experience will be rewarded by Google's search engine, meaning your keywords will have a higher impact.
Treat Your Profile Like A Social Platform
Google also rewards pages and profiles that frequently update information and content. As such, many businesses have begun using their Google My Business profiles as something akin to a social media platform.
By constantly updating your description, items offered, and images, you are signaling to Google that you are maintaining an active profile. That means that everything that is mentioned or included on your profile is more likely to be relevant and accurate.
Link A Website Or Social Platform
Finally, be sure that all of the descriptive information for your Google My Business matches up with your eCommerce website and social profiles, especially your brick-and-mortar location and contact info. Linking your domain and social media pages will help signal to Google that your business is real, relevant, and consistent. Plus, driving traffic to your website will further increase brand awareness, customer acquisition, and eCommerce sales, if you do sell items online.
Reaching The Maps Pack
Ideally, you want your business to be included on the Google Maps Pack. This "pack" refers to the top three businesses that Google recommends based on the specific keyword search that a user enters. Prominently featuring this can increase your traffic.
For a deeper dive into this topic, check out What Is Google Map Pack? Increase Your Business's Ranking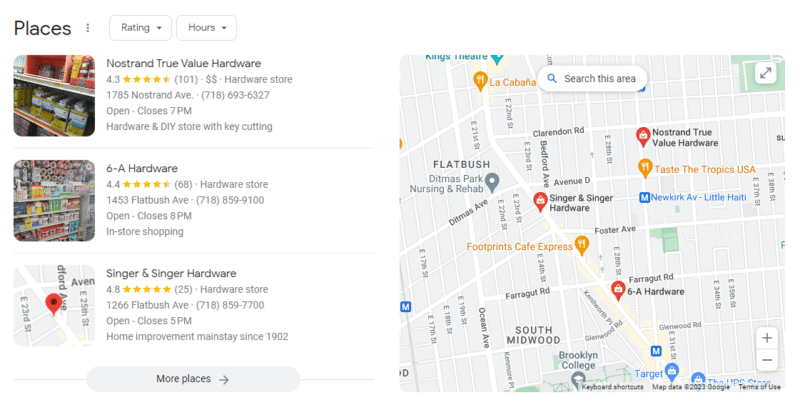 KORONA POS and mapAds
KORONA POS has a built-in integration specifically for optimizing Google business and online searches. mapAds is the quintessential local retail tool. It offers an automated platform designed to maximize product visibility. Best of all, it is based on location, so your inventory will be exposed to all potential customers in your community.
Give us a call today to learn more about our mapAds integration, and our point of sale software in general. We have in-house customer support ready to answer any questions 24/7.