In addition to being vessels of knowledge, education, and cultural management, museums are also businesses. The savvy museum professional has a vested interest in understanding how they operate and are structured. And with the advent of the COVID-19 pandemic, many museums have seen their visitor numbers drop considerably, leading them to reassess their management and revenue generation dynamics.
Cultural organizations have made significant efforts to expand their digital offerings during the lockdown period, ranging from social media initiatives to virtual tours, live-streamed events, and a wide range of digital content. In addition, virtual fundraising has become the benchmark for any institution that needs to maintain some form of revenue stream.
Virtual events are ideal ways to solicit donations by creating paid tickets, encouraging in-the-moment donations, and, most importantly, gathering a real-time audience with whom you can communicate your fundraising goals and aspirations. In this article, we'll walk you through the different ways to solicit donations through virtual events, online premium offers, and other ways to bring revenue into your museum. Read on to learn more.
Table of Contents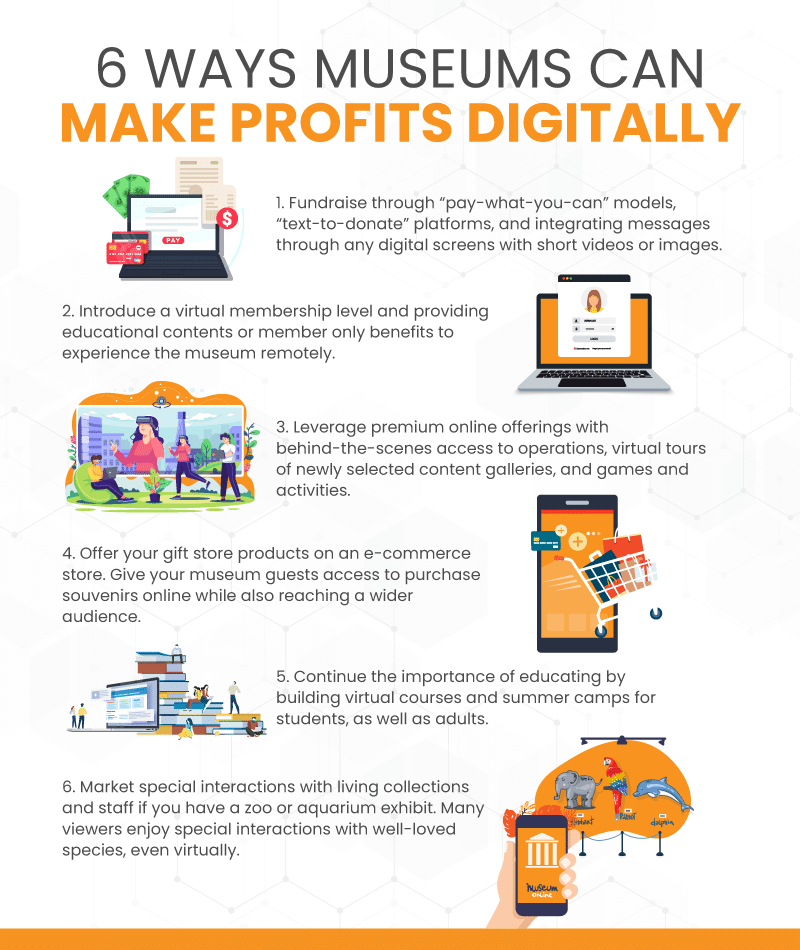 Digital Fundraising With Virtual Events
While any social event aimed at raising funds will look very different in an online format, that doesn't stop some cultural institutions from trying. There are three main ways for museums to solicit donations through virtual events:
"Pay-what-you-can" models

"Text-to-donate" platforms

Integration of fundraising messages
"Pay-what-you-can"
Also known as "value-for-value" or "pay-what-you-wish" this model is a pricing strategy that lets customers pay whatever amount they want for a given commodity or service.
"Pay-what-you-can" is an option many museums offer daily to select groups. They also might advertise certain days when anyone can visit their collections for as much or as little as they have to offer. For example, the UK-based Manchester Jewish Museum recently used this option for their "Eat the Archives: Appetizer" event in an effort to increase accessibility and connect with their community. The New York Metropolitan Museum of Art and Natural History Museum also famously offers this option for all local individuals attending.
The benefits of the "pay-what-you-can" model include increasing accessibility to your museum, strengthening community connections, and creating a sense of generosity among the public. These are critical elements in building a foundation of support for future digital fundraising campaigns.
"Text-to-donate"
"Text-to-donate" or "text-to-give" is a type of campaign that allows people to donate money to your organization from their cell phones via text message. This strategy requires potential donors to send a code or phrase to a number that will allow them to donate via their mobile device. The fee will then either be added to their monthly phone bill or deducted from funds available on their cell phone.
According to Double the Donation, revenue from monthly online giving has increased by 40%, with recurring giving options becoming increasingly popular with online donors such as Donor Perfect. For example, you can explain to donors how a $10 gift can add more value to your museum (for example, allowing a school child to attend a session on ancient Egypt or purchasing a box of acid-free tissue paper for conservation)
Quick Note: While fundraising is important to a museum's financial health, it can be stressful and time-consuming. If you're a small nonprofit, it's easy to think that you don't need to invest in donation management software. Donation collection tools can help you manage campaigns and donors. This means you can spend less time on administrative activities. A donation collection tool like Donor Perfect will be ideal because of its features, support, price, reputation, and ease of use. Also, make sure that you are using an online ticketing software that can integrate with other donation management software. The online ticketing platform is the lifeblood of your museum management. Make sure you make the best choice. Should you be looking for an online ticketing platform for your museum, click on the button below to learn more.
Creating an image of the usefulness of the donor's financial contribution provides authentication for digital fundraising appeals and adds additional context that can encourage donors to help you.
Add fundraising messages
When hosting online events, remind virtual attendees how to support your organization. It's essential to incorporate fundraising messages to encourage the audience to donate. Try following the "rule of seven." According to this rule, a potential customer must see or hear a marketing message seven times before taking action. In the context of a virtual event, this means including donation information before, during, and after the event. Include registration instructions, encouragement via a text to donate, and follow-up after the event with clear instructions on how to support and what attendees' financial contributions mean to your museum. Developing an "elevator pitch" is also a smart strategy for anyone involved in digital fundraising at your museum. Volunteers, staff, and trustees can benefit from creating a short, 20 or 30-seconds formulated pitch explaining why your museum needs help and what future donations could do for your organization.
Introducing a Virtual Membership Level
Creating a new level of membership focused primarily on virtual benefits is another strategy for generating revenue through virtual content. The National Steinbeck Center is a perfect example. It now offers a virtual membership level, which provides an interactive and content-rich way to experience the museum remotely. For $30 a year, virtual membership allows access to the museum's private archival collection, behind-the-scenes tours, and more.
Some other museums, such as the Carnegie Museums of Pittsburgh, have begun exploring digital members-only events, which add new benefits to membership even when the museum is physically closed. The Seattle Museum of Art also offers a (now virtual) members-only lecture series with its curators every two weeks, one of the great benefits of membership during COVID-19 closures.
Similarly, the Virginia Museum of Fine Arts has set up unique virtual "Cocktails with the Curator" sessions for Friends Circle members and beyond. As part of its "May is for Members" initiative this year, the San Francisco Exploratorium offered exclusive access to online content and a discount in its online store.
Leverage Premium Online Offerings
Many museums and art galleries, especially those with an educational focus, are not ready to accept the idea of erecting a paywall between their audience and their content. However, they should not rule out the possibility of monetizing the virtual presence of at least some of their online offerings. Why not sell virtual tickets in advance if you intend to provide quality content? You can continue to offer the rest of your online content for free, sponsored or not, but why not charge for your premium content or limited edition?
As you become more familiar with what your paying audience likes to see, you'll be able to evolve your approach based on their preferences. Often, it will be possible to benefit from numerous word-of-mouth recommendations to ensure that future paid content becomes more popular. Illustrative premium online offerings include behind-the-scenes access to operations, virtual tours of newly selected content galleries, and games and activities that support learning from your available free content.
Keep Your Gift Store Products on an eCommerce Store
A museum store or a gift store in a museum typically sells reproductions of museum works, postcards, books related to the museum's collections, and various types of souvenirs. Art museums also often offer clothing and decorative items inspired by or copying the artworks. A better way to make your museum store profitable is to open it as an online store. Many museums are fortunate to attract many visitors to their websites. Having an online museum store will allow you to reach a wider audience and especially allow anyone interested in buying an object to have it without necessarily needing to come to the museum.
See related: How to Run a Successful Gift Shop
Running an online museum gift shop requires the use of a POS system. As a museum gift store differs from other types of retail stores, the choice of a POS system tailored to this type of store is essential, not only for better facilitation of transactions but also for proper inventory management. Learn more about KORONA POS, one of the best museum POS systems, by clicking on the button below.
Build Virtual Courses And Summer Camps
Summer camps and courses can be critical revenue streams for museums of all kinds and sizes. However, while many museums can now reopen their doors at a reduced capacity to the general public, summer camps and courses remain constrained due to the difficulty of imposing physical distance and the associated risks. That's why launching virtual versions of your summer camps and courses can be an effective way to recoup revenue. For example, the Denver Museum of Nature and Science offers a virtual science course for students and school classes for $140 per Virtual Science Academy program.
The Asheville Art Museum has also begun offering adult virtual studio courses, such as "Cultivating Digital Photography Skills." Priced at $85 for non-members and $75 for members, these virtual classes are filling up fast. Multiple organizations are also testing virtual summer camps. For example, the Children's Museum of Pittsburgh has initiated a series of week-long virtual camps, with fees covering virtual workshops, supplies, and opportunities for sharing and exploration. Similarly, the Bass Museum of Art in Miami has launched virtual art summer camps, which include daily live video classes for children.
Leverage Special Interactions With Living Collections And Staff
If you own a living collection such as a zoo, aquarium, or similar organization, this can be an opportunity to generate revenue through unique virtual experiences. Organizations like the Elmwood Park Zoo and the Phoenix Zoo, for example, sell virtual "cameos" of animals, allowing individuals or companies to purchase an exclusive appearance of animals like giraffes and sloths during their video conferences. This has been a financial lifeline for zoos during the closure, generating tens of thousands of dollars.
Another option is to offer tickets for "virtual encounters" with the animals. Lincoln Park Zoo charges $15 per ticket for special online sessions with seals, black bears, wolves, or flamingos. Cultural organizations such as the Van Gogh Museum and Lincoln Center have launched ambitious programs to monetize their expertise through consulting and advisory services. Now, there are new opportunities for museums to virtually exploit similar avenues. Whether it's a living collection or a staff of knowledgeable and passionate practitioners, there are opportunities to provide customized virtual experiences and generate new forms of revenue in the process.
As cultural organizations move through the various phases of reopening, many realize that with reduced capacity and restrictions on events, finding ways to recoup lost revenue is vital. Exploring new digital revenue streams is increasingly essential for museums of all kinds.
That's why it's time for museums to consider how their digital content and other unique offerings can enable them to stay relevant to the public while contributing to their bottom line. There are many opportunities to leverage this, from online fundraising to virtual classes and summer camps to online art exhibitions. However, this success depends mainly on using a good online ticketing platform.
FAQs: How Museums Can Make Money Online
How do museums increase revenue?
Museums can generate revenue through digital content and virtual experiences. They can charge admission for special events online. They can also introduce a virtual membership level, hold digital fundraising events, and many more alternatives. 
How are museums making money online?
Museums make money through several channels, including virtual events, exhibitions, donations, and selling tickets online, but mostly advertising. With many museums fortunate enough to attract a large number of visitors to their website, this can translate into ongoing revenue for museums, who can either seek out local advertisers or sign up on a platform like Mediavine to connect them with companies looking to advertise.
Why are virtual museums better?
Virtual museums are better because visitors are not limited by location. Museums worldwide that offer digital tours, performances, and exhibits allow visitors to immerse themselves in their collections regardless of location and geographic boundaries.
What is the purpose of a virtual museum?
A virtual museum is a digital entity that draws on the characteristics of a museum, aiming to complement, improve or increase the museum experience through personalization, interactivity, and content richness.