We warned everyone a few months back to get started with holiday preparation. Now it's October and they really are right around the corner. This happens every year! Hopefully, you've optimized your website, improved your product pages, planned promotions, conducted market research, and began inventory management with your retail POS system.
With everything set in place, you're in good shape to get a slice of the over $700 billion national shopping spree (just check out the chart below from the National Retail Federation!). But what about when the gears start turning next month and you're suddenly bombarded by eager shoppers and long orders? Christmas is a hard deadline, and one that you can't afford to miss. But one of the most common issues for retailers is managing shipping and logistics. So let's look at these 8, holiday shipping tips for retailers to keep in mind this year.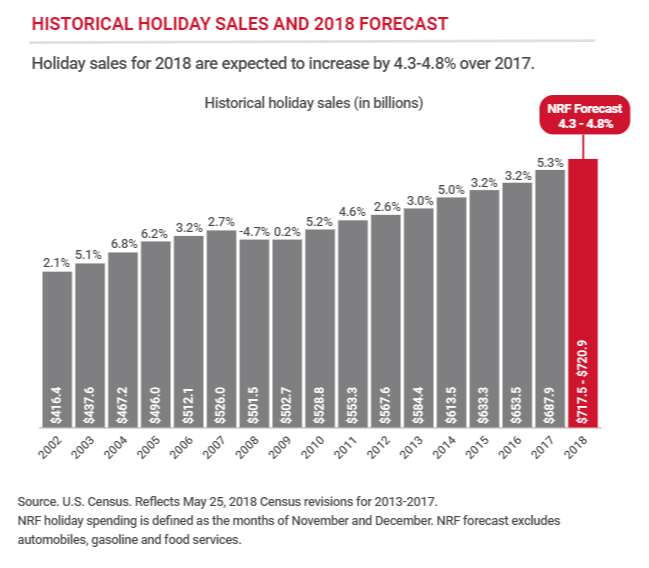 1. Use Multiple Shipping Carriers
Different shipping companies have different strength. FedEx is great for rush delivery, UPS has offices in nearly every country and can go just about anywhere, DHL is generally the cheapest for international travel.
Break down your orders into different types and determine which carrier you'll use for each. This helps to accelerate the process and ensures faster delivery. Each of the carriers will release a holiday schedule with clear deadlines given, like this one from UPS.
More delivery options also allow you to offer your customers more options. You can change the price based on destination, timeframe, and weight. And the more carriers you can ship through, the more choices you can offer your customers.
2. Set Your Customers' Expectations and Communicate Well
Just like the carriers are clear with their deadlines, you should be with yours, too. Make it clear before a purchase is made. Order deadlines and shipping times should be all over your product pages and checkout page. You don't want a slew of angry customers' returns because a package was delivered later than they assumed. Just remember, your customers probably don't know how busy you are during this season or the work it takes to run the operation smoothly.
Most consumers also expect eCommerce orders to arrive within 3-4 business days at the most. Be especially careful to notify them if it will be longer than this.
The same goes for pricing. Don't leave any room for surprises. High shipping rates or additional fees account for the vast majority of abandoned carts. And you don't even want to know how much is left in carts each year. Too bad, I'll tell you anyway: over $4 trillion in 2017. Even if retailers recovered a fraction of this, it would make a huge difference.
3. Offer Free Shipping If Possible
It's impossible for all retailers to offer free shipping. That's one the biggest challenges most eCommerce stores face in competing with Amazon Prime. Now other giant retail stores, like Walmart and Target are jumping on the bandwagon.
What's not necessary for most small businesses is offering free shipping across the board. While this would surely attract new customers, it's most likely not profitable for you. Instead, offer select products with free shipping. Or come up with a minimum dollar amount each order must meet in order to qualify for free shipping. Consumers are more than likely to add a few extra items to their cart in order to save on shipping.
You can also soften the shipping cost blow by offering other promotions, discounts, or small gifts. It's a great way to make your customers feel important during the holiday season.
4. Communicate with Staff, Especially If They're Seasonal
Your holiday staff might be seasonal. They don't have the luxury of training over a quiet, lazy summer. Instead, they're thrown immediately into the mix during the most stressful time of the year. Make sure you have a great training schedule and program in place and that your veteran staff is great at showing new employees the ropes.
This goes for both eCommerce and brick and mortar retailers. You can't let any orders fall through the cracks. One misstep can mean a lot of angry customers and crippling reviews.
5. Build a Good Relationship with Suppliers/Manufacturers
This is important for any time of the year, but the stakes are even higher in November and December.
Communication with all involved in your supply chain is also critical. They are also hectic during the holiday season, so the more heads-up you can give them, the better. Choose companies that are within your budget, deliver a great product, and can always be counted on.
6. Manage Your Retail Inventory
Planning for your holiday shipping and logistics means forecasting your inventory needs and planning your budget accordingly. Once you have these locked down, discuss your suppliers. Also, make sure you check about reorders in case you run out of stock. Some might be able to send additional products or supplies midway through the season.
Additionally, invest in an advanced point of sale system that makes inventory a breeze. Pull reports from years past so that you can see your historical trend of orders and better anticipate this year. You can't afford to be understocked over overstocked. Overstock means your taking up precious storage space prior to shipping and understocked means you'll have nothing to ship anyway.
See Also:
7. Make Returns Easy
Ship all products with easy return labels, rules, and instructions. Most consumers look into a return policy prior to making a purchase. Ordering online, after all, can make some people a little uneasy, especially when you're sending a gift.
Add branded packaging and a small gift or coupon and you'll look even better. Again, small gestures like this can go a long way. And if you're feeling particularly festive you might even think about offering wrapped packages.
8. Ship All Products As Fast As Possible
However you get to the final shipment, just make sure you get it done fast. You don't want your suppliers sitting on an order you placed for several days. So don't expect that your customers will be okay with it either. For most industries, experts recommend shipping within 12 hours of the order being placed.
Keep a clean and organized packaging and shipment area. Order volume can soar quickly and boxes can pile up. Be prepared for this surge.
You can also pre-package certain top sellers so that all they need is a quick label slapped on before you send them out.
Finally, you can schedule package pickups with your carriers. This keeps the operation more organized and helps prevent more from slipping between the cracks. The video below covers a few more specific tips on how to best ship packages.
Holiday Shipping Tips for Retailers with KORONA POS
Whatever you do, just plan ahead in whatever way makes the most sense for your business. It may not be all of these things, and the holiday season is bound to be stressful no matter how much you do. But try not to miss out on making these holidays the best that your business has seen. We at KORONA POS know how important it is. Our point of sale software can help maximize these sales. Click on the button underneath to find out more about how KORONA POS can help your small business.
Get Started with KORONA POS today!
Tell us a little bit about your business and explore all features that KORONA POS has to offer. And there's no commitment or credit card required.