Last Updated: May 4, 2022
Holiday retail sales during November and December accounted for about 20% of total annual sales in the U.S. 2021 saw a 5.9% increase from the previous year, reaching nearly $886 billion in holiday retail sales. 2023 is expected to be even better (plus, there's an extra day between Thanksgiving and Christmas this year!). A great season can make up for a slow start and a bad one can absolutely ruin year-end goals. So it's important to start thinking about a holiday retail plan before your customers, and even better, your competition.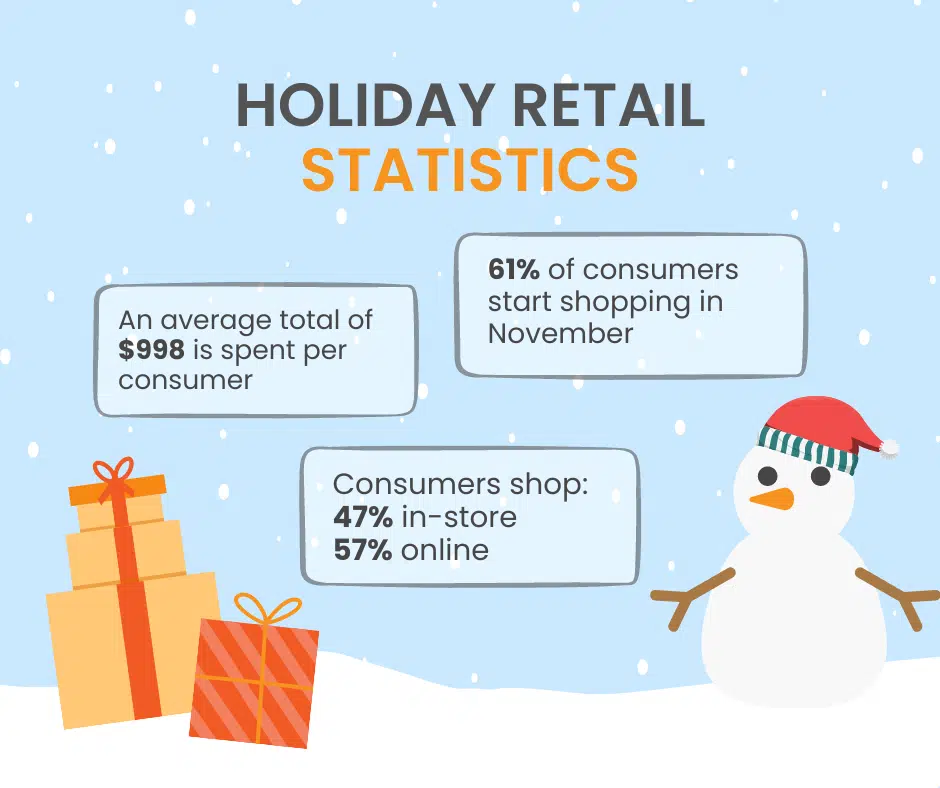 Source: National Retail Federation
Get Inspired and Create a Plan
Many major retailers are planning for this time of year by the first of January. For most, this isn't necessary. But early planning is still essential. Start thinking about your plan for ordering, promotions, displays, events, milestone dates (like Black Friday) and staffing by the end of the summer or early fall.
Don't be afraid to mix it up from recent years. It's good to redefine your brand and surprise your customers with exciting items each holiday season. Get your staff involved as well. It's a fun time of year and there is plenty of room for creativity with window displays, your in-store experience, and product promotions.
Do Your Research on Inventory, Sales History, and Reporting
Using your retail POS system, pull up sales reports from the past several years. Identify relevant trends from your advanced sales reporting to give you more direction with your ordering and inventory. Once you compile the data, create a SWOT analysis or something similar. This is meant to identify your Strengths, Weaknesses, Opportunities, and Threats. You can come up with variations that are useful as well; it's simply a good starting point for business planning.
You can also measure foot traffic by the hour and day through your POS. This easily shows you the busiest times of the day and days of the week, information that can help guide your staffing decisions. If you want to get even more advanced, use applications with your security cameras to see patterns in what parts of your floor customers were most attracted to. Identifying prime real estate will allow you to optimize your displays and overall layout.
Anticipate the Market for the Season
Research upcoming trends for the holiday season. You don't want to miss out on the next Tickle Me Elmo. Ordering too little of a popular item can frustrate customers if it's unavailable. Most first time customers will never return, meaning that they're bringing their business to a competitor. Overstocking can leave you with burdensome, unsellable merchandise, especially when it comes to seasonal items. Both are frustrating situations that will hurt your bottom line.
Plan Holiday Sales and Promotions
Deals, Deals, Deals! Holiday deals are the most competitive part of the holiday retail season. Cyber Monday now follows Black Friday and consumers expect at least some deals to last through the entire season. People are ready to spend, but they want to feel a little better about it. So plan what products to highlight, how you'll advertise, and design displays and in-store marketing. This is more strategically done following careful analysis of the previous two steps. Understanding what your retail store has done well in the past, as well as what customers want this particular year will make your promotional planning a cinch.
Get Your eCommerce Platform Running Smoothly
Though consumers still love brick and mortar stores, eCommerce continues to grow at an incredible rate, especially during the holiday season. November and December e-retail sales were up 11% in 2021, and much of that rise was due to online purchases. Millennials are getting older and spending more, so the rise will only get more dramatic. Amazon, of course, has set the standard, but it doesn't mean that your store can't compete. A small piece of that multi-billion dollar pie is still worth pursuing. After all, Amazon only accounted for 37% of all eCommerce sales last holiday season.
Your eCommerce store must operate without major hiccups. Customers are more likely to leave if they experience lag time, a lengthy checkout process, or long/expensive shipping times. In fact, last year, free shipping was the most common reason consumers were convinced to finalize a purchase. Online ordering with in-store pickup has also become increasingly popular so people can avoid holiday lines.
Use your customer resource management in unison with your eCommerce store. Online wish lists and personalized suggestions and order histories are a great way to beat the competition. Only a quarter of retailers offer these, yet the vast majority of consumers would love to have them.
Strength Your Website, Social Media Profiles, and Online Reviews
Organic searches are still the number one driver of traffic to web pages. Optimize your website and SEO to boost your number of visitors. Email marketing is still the surest marketing investment for most retailers. At a time when consumers are bombarded with ads, be sure to remind your past customers that you're still there and that you care about them. Keep up with your social media profiles as well. Start early so you're on more people's radars well before the season hits.
It's critical to manage your presence on review sites as well. 66% of shoppers research reviews for a holiday purchase for anything under $50. That jumps to 85% for products $50-100. Respond to any negative reviews and rectify the situation promptly and publicly.
Source: National Retail Federation, 2017 Holiday Planning Book
Plan for the Post-Holiday Season As Well
Most importantly, you must plan your return policy. Gift returns are inevitable, no matter how great your product is. Offer a generous policy that is within reason for your retail store. 60% of consumers are unlikely to return if they've had a troublesome return experience. Zappos has defined itself with its amazing return policy – anything can be returned for any reason within a year of purchase. This is more generous than most retailers could possibly be, but it's a model still worth emulating. The post-holiday season is always a bit of a let-down, but use it wisely to continue to build your brand.
Finally, though you hopefully optimized your pre-holiday ordering, have a plan for any excess stock. If you have adequate storage for the next 10 months, great. If not, run a sale to liquidate your leftovers.
Don't let your holiday season disappoint. End the year by hitting your target numbers. Just start early and follow these simple steps, and click below to find out more about KORONA's POS solution:
Get Started with KORONA POS today!
Tell us a little bit about your business and explore all features that KORONA POS has to offer. And there's no commitment or credit card required.