The holiday shopping season is just around the corner. The competition to attract customers during the holidays will be stronger than ever, and this is your chance to get creative with your holiday marketing ideas. A well-thought-out holiday marketing strategy can help to boost sales significantly and build customer loyalty by strengthening relationships with them.
U.S. holiday retail sales were projected to be about $950 billion in 2022. So it's crucial to consider your holiday promotions carefully. Ensure you communicate the right messages, set the right discounts, and sell on the right channels. This article will share some holiday marketing ideas to make your holiday promotions successful.
Table of Contents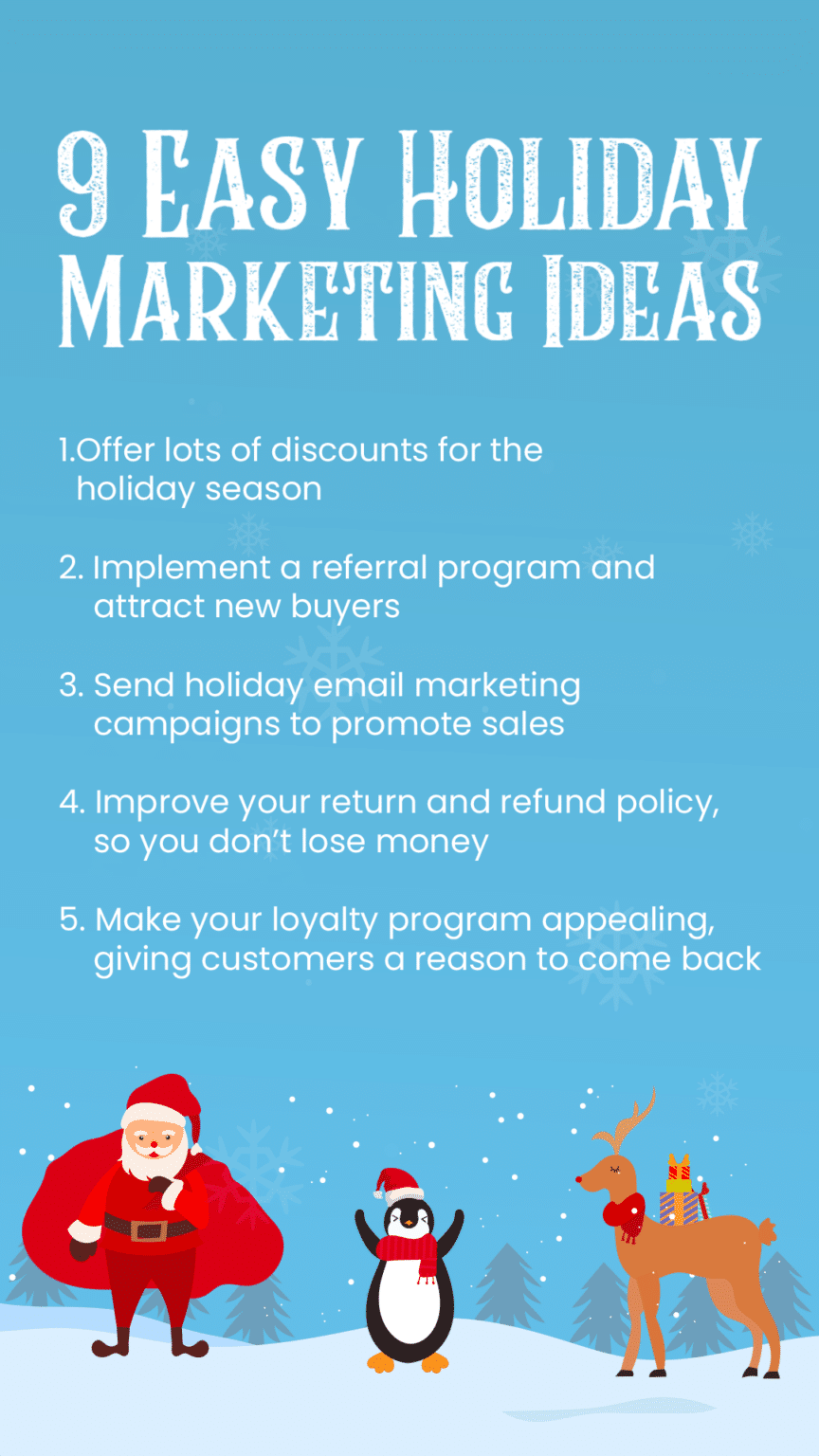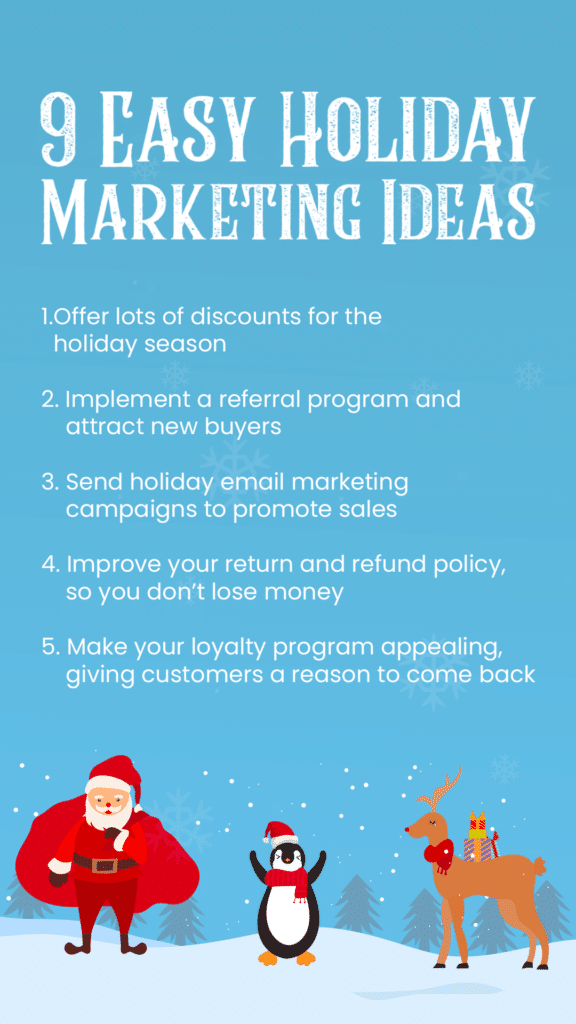 Offer Discounts For The Holiday Season
Many people make more purchases during the holiday season, and discounts are a great way to attract consumers to your store. No one likes to miss out on something important.
You can offer special discounts only if the order reaches a certain amount, such as $10 off for a purchase of $100 or more. Or a percentage, for example, if you spend over $100, you save 15%.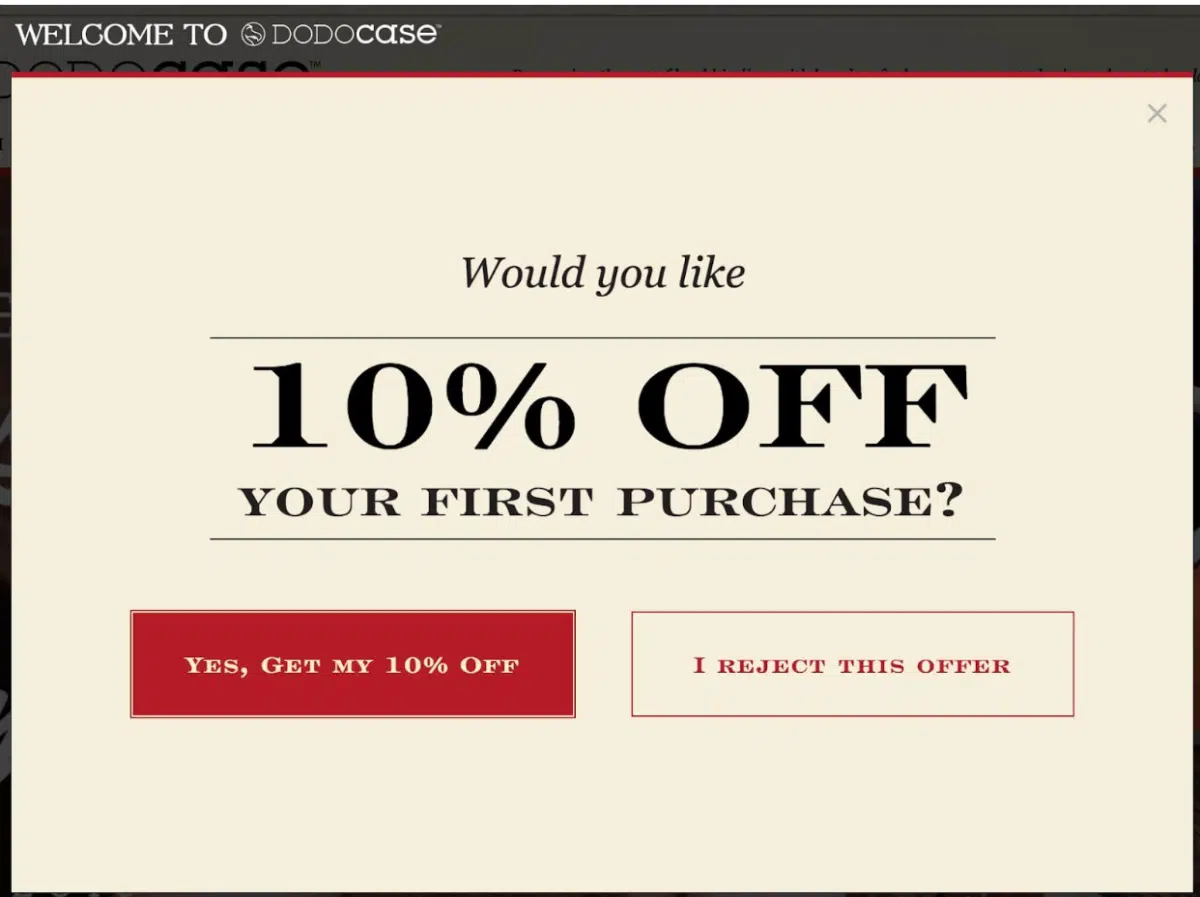 You can also offer a "buy one, get one free" or "two for one" promos, a common sales promotion form. You often see this around the holidays: buy this handbag and get this purse for free!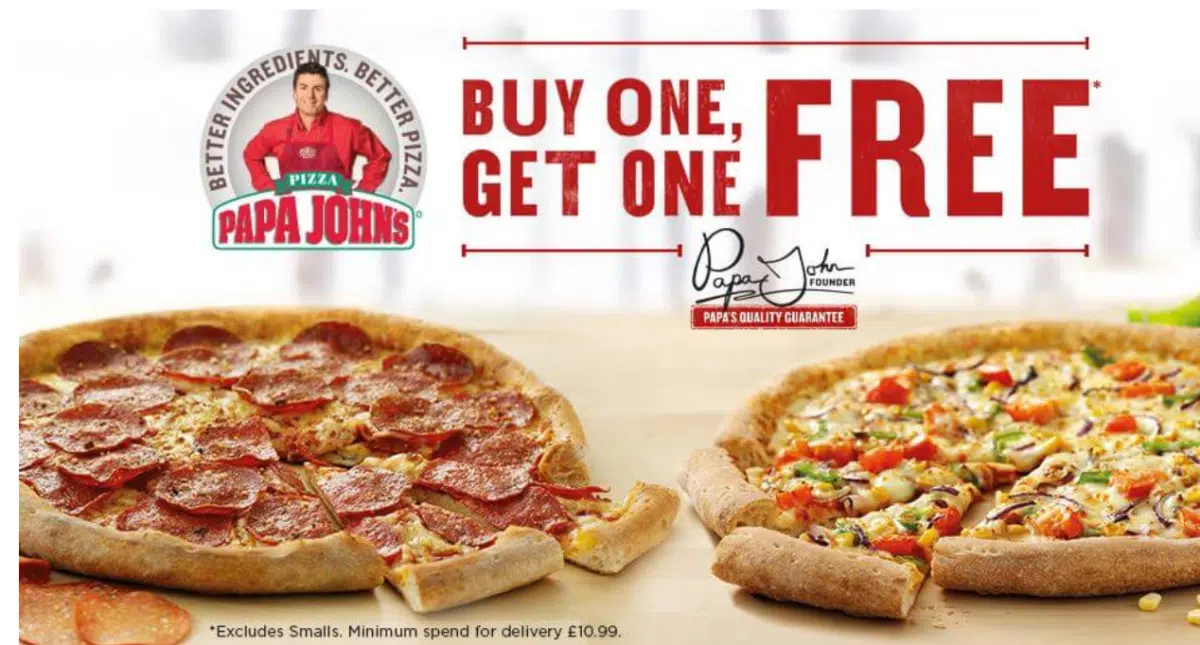 Product bundles are also a great marketing idea for the holidays. Bundles are discounts that don't appear as discounts. They play on the psychological principle of getting something rather than avoiding losing it. Therefore, bundles are the most effective way to get buyers to take advantage of an offer. Also, rewarding your customers for buying in bulk is a smart way to offer discounts on your products.
Just be careful not to over-discount and always consider the potentially higher costs of shipping a larger order. An effective discount strategy can help your business make the most of its unique value proposition.
In some instances, sales increased by over 70% when retailers offer bonus packs or bundles. The psychology here is very simple: bonus packs or bundles work well because they make consumers feel they're getting extra value for the same price.
Implement a Referral Program
Word-of-mouth marketing is one of the most effective forms of marketing available. A referral program is a deliberate and systematic way to get people to refer your business. Referral programs are often called word-of-mouth marketing because they reward existing customers for sharing and encourage new customers to try your brand. When you have a strong referral marketing program, you enable your existing customers to attract new buyers to your brand. This significantly reduces the expense of acquiring new customers and increases customer retention.
Must-Read: What Is Referral Marketing? 6 Ways for Retailers to Grow Their Business
Send Holiday Email Marketing Campaigns
Holiday email marketing is the perfect way to reach your audience directly. Send email campaigns to promote holiday sales. Check out the example below of a vacation marketing campaign from Deep Steep.
You Might Also Want To Read: Holiday Email Marketing Ideas: How to Keep Customers Engaged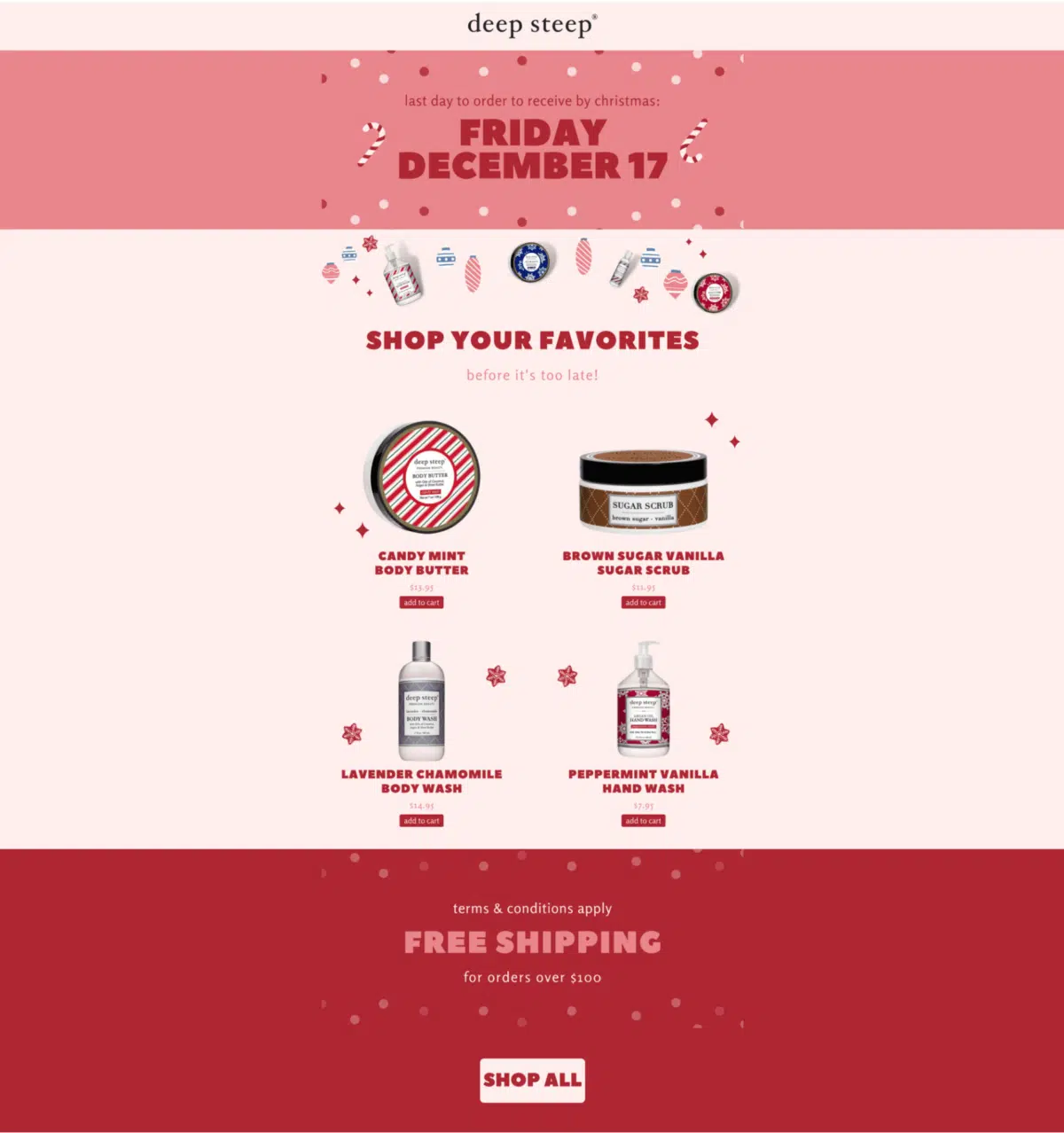 However, remember that not all holiday shoppers are the same, so make sure you tailor your emails to the type of customer you hope to reach. This is why you should create a loyalty program if you don't have one yet. One common method you could consider is to segment your customers into three distinct groups:
New customers – Send them an email designed to build loyalty. Consider offering them a discount for signing up for your loyalty program.

VIP customers – These are customers with a high average order value. Send them an email with an exclusive discount code to thank them.

Recent customers – Anyone who has visited you in the last two weeks and doesn't fit into one of the previous segments. Offer them a small discount to bring them back for their next holiday shopping trip.
Improve Your Return And Refund Policy
A lenient return policy can lead to more returns, but it also correlates to more purchases. A strong return or exchange program can mean the difference between winning and losing customers, mainly if you sell online. Be careful not to be too generous with your policies; there's no point in losing money instead of increasing sales. If you don't have a return and refund policy, you should consider writing it up. It will be of great help to you even after the holiday season.
Must-Read: 5 Clauses for a Retail Store Return Policy and Why They're Important
Make Your Loyalty Program Is Attractive
Everyone is running promotional offers these days. But not every business offers a loyalty program. If you have one, increase the rewards shoppers receive this holiday season. If you don't have one, now is the time to start one. Getting more rewards during the holidays means an added benefit to shopping with you instead of a competitor. And all those extra loyalty dollars can be used in the new year, giving holiday shoppers a reason to come back during the January sales slump.
As a bonus, a good loyalty program also serves as a marketing tool, allowing you to send out all those holiday promotion emails you write. KORONA POS provides promotional tools to create discounts for customers. Use these tools to create discounts just for your loyalty program members.
For stronger loyalty programs, KORONA POS integrates with several leading loyalty software programs, including bLoyal, spingbig, and Bottlecapps. In addition, KORONA POS allows you to create your loyalty point system and conditions to fit your business.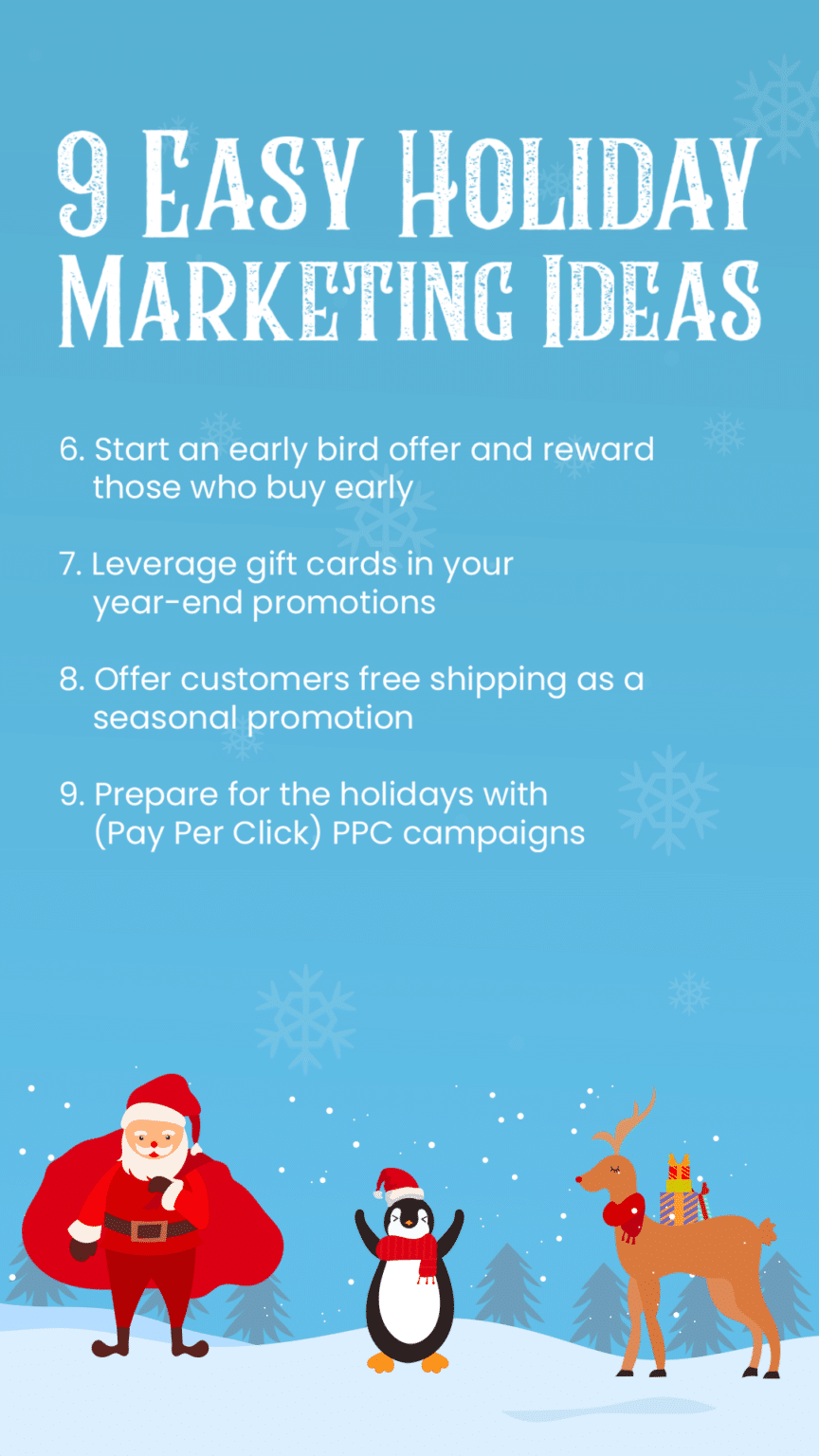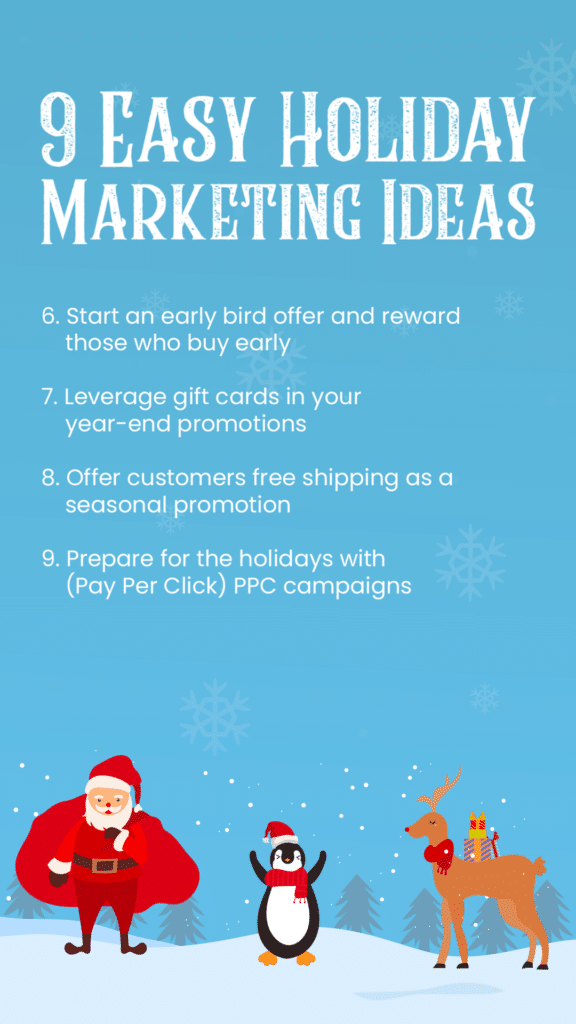 Try Out An Early Bird Offer And Reward Those Who Buy Early
According to the National Retail Federation, 49% of holiday shoppers will start browsing and buying before November. With more and more people doing their holiday shopping sooner rather than later, you need to get in front of their radar as early as possible.
Getting the attention of holiday shoppers early in the season gives you a chance to get them back later in the season. So don't wait until the last few minutes to launch your campaigns and promotions. Start sending out Christmas-related messages weeks before the actual day and launch early bird campaigns to entice customers to buy.
Leverage Gift Cards In Your Year-End Promotions
Gift cards are highly successful during the holidays. Gift card sales were up 114% year-over-year in 2021. Owing to the popularity of gift cards, make them prominently available for sale this season. There are two promotional ideas you can consider for your gift cards:
Offer a discount or loyalty reward for using the gift cards after the holiday season. You can ensure that the recipients of the gift cards use them by offering a discount when they come to you to use them. The discount can be small – 5% should be enough. And with 65% of gift card holders spending 38% more than the card's value, you have a good chance of making more than the card's value.

Offer a discount on gift cards if they are purchased with other items. An extra discount on a gift card can mean the difference between getting one and not getting one. Remember, many people spend more than the amount of the gift card, so you are investing in a future sale.
Offer Customer Free Shipping as a Seasonal Promotion
Free shipping is a term that sends shivers down the spine of any retailer. As the holiday season nears, it will be more critical than ever for merchants to provide free holiday delivery to gain a competitive leg up. Ongoing inflation and consumers' desire to save money will spur online shopping to new heights this year. That means free shipping offers will play a key role in retailers' ability to attract shoppers.
However, free shipping during the holiday season has significant drawbacks for online stores. With shipping costs only increasing as the peak season approaches, free holiday shipping offers can seriously affect your bottom line. However, here are some free shipping strategies to consider for the holidays.
Set a specific minimum order value: Setting a free shipping threshold is a great way to keep shipping and fulfillment costs from cutting into your profit margins too much. Your minimum order value will depend on parameters such as your average order value, shipping costs per order, and whether you can use higher volumes during the holiday season to make your threshold more generous.
Offer free shipping on exchanges: If free return shipping is too costly for your business, consider offering free shipping for exchanges only. Exchanges are a valuable opportunity to keep revenue from flying out the door once the holiday season is over. Free shipping is a form of positive reinforcement that makes exchanges much more attractive, which shapes customer behavior.
Provide free shipping as a special limited-time offer: Increasing buyer urgency with a promotion for free two-day shipping or free express shipping is a great way to boost sales during the holiday season. It's also a powerful marketing tool for your social media channels to highlight your value proposition and increase customer sales. Creating dedicated free shipping coupon codes is the easiest way to offer this benefit.
Make free shipping a paid loyalty reward: Customers love loyalty programs, especially when they offer valuable benefits. 64% of premium loyalty program members say they would pay for benefits, including expedited shipping.
Prepare for the Holidays With PPC Campaigns
Paid search advertising can significantly assist your eCommerce business during the holiday shopping season. But it can be challenging to know exactly where to put your money and how much to invest to stay ahead of your competitors and increase customer purchases. If you're new to PPC, focus on knowing Google's ad network and only one or two social media sites. To make your PPC campaign a success, you can do the following:
Start with a low daily budget and gradually increase it based on your results. Also, since holiday ads usually cost more per click, you'll need a little more budget than usual for your campaigns. So take the time to review your maximum bids and spend, so you don't get capped unexpectedly. Set up a few different ads to see what buyers respond to and what isn't worth it. Consider setting up a promotional ad schedule. Make it your top priority. Based on the holiday schedule, decide which products you will promote and when.
Use conversion tracking codes. These help you track the origin of online sales to determine where your customers are most likely to be. The ad platform you choose should give you more information about its tracking codes, such as the Google Ads Tag or Facebook Pixel. Set up your promotions in the Google Merchant Center and ensure your promotion extensions are active. You can also outsource your PPC campaign to a digital marketing agency. Just make sure you find the right agency.
Wrapping Up
The holiday season can be incredibly competitive. However, there are enough holiday marketing ideas out there. Browse the tips above and see how you can implement them in your business over the next few weeks.
Get Started with KORONA POS today!
Tell us a little bit about your business and explore all features that KORONA POS has to offer. And there's no commitment or credit card required.
FAQs: Holiday Marketing Ideas
1. What is the best form of marketing for the holiday?
There are many forms of holiday marketing. However, partnering with influencers is many brands' number one holiday marketing strategy. 17% of companies spend more than half of their marketing budget on influencers. This generates buzz around your brand, as influencers post a lot on their social channels about upcoming holiday shopping events. 
2. How do you attract customers on holidays?
Here are some tips to help you attract more customers during the holidays and boost sales: get your social media game on, use the Fear Of Missing Out (FOMO) strategy, create a referral program, offer your customers free shipping, partner up with influencers if possible, and make your loyalty program more attractive.
3. What makes a great holiday marketing strategy?
The key to a successful holiday marketing campaign is knowing your target audience and what products they have more interest in. If you have younger customers, such as Gen Z or Millennials, consider ramping up your social selling efforts to share special offers or holiday-themed promotions.
4. What states have the strictest liquor laws?
The strictest states on alcohol are Pennsylvania, Utah and North Carolina. For example, in North Carolina, drink offers such as "buy one get one free" are completely prohibited.