Now that we're most of the way through January, it's time to remind ourselves of all the resolutions you made, especially those you've already forgotten about. Just because you haven't been as diligent in your resolutions as you originally intended doesn't mean that it's too late to still make some changes.
For small business owners, you've probably made resolutions both personal and professional. Each new year brings the opportunity to make big changes to your business to help you flourish and grow. So what are some ways to make 2020 a great year for your store? Let's check out these retail success tips to see how you can make this year even better than 2019.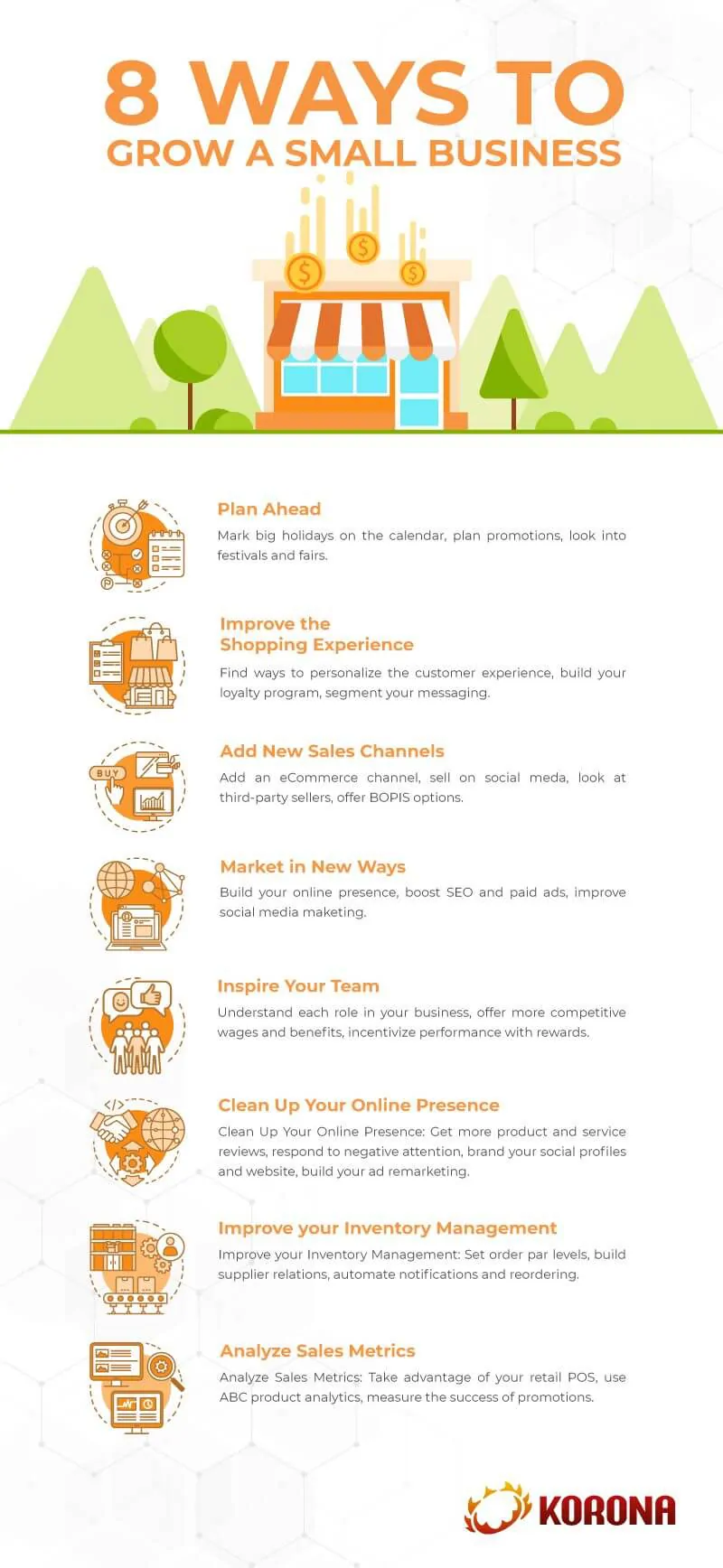 1. Start Planning Ahead More
We're all guilty of it. Procrastinating on tasks that are a pain or simply overwhelming is a common misery on which we can all commiserate together. And though it might be unlikely that you'll be able to completely eliminate it (running your own business makes it impossible to stay on top of everything), there is probably room to improve on this end of things.
Start by making a calendar of all big events for the year. Map out all major holidays and start your promotional planning with plenty of time to make adjustments and give your shoppers advanced warning of any sales or in-store events.
Also consider all community events for the year. Look at parades, festivals, fairs, and charitable organizations that your business would be a good fit to attend. Sign up early to ensure your spot.
Some retailers might also be planning on attending trade shows around the country. These, too, require advanced planning. It's important to make sure you reserve your space and leave your business with plenty of time to prepare materials for the show and any marketing that you'd like to do leading up to the event.
There are plenty of other items on any small business agenda that will go a lot more smoothly with proper planning ahead of time, but these are some of the most common to consider. And some of the most common to be forgotten about. Think about other ways that you could plan ahead.
2. Improve Your Customer Experience
Your average shopper in 2020 is expecting a whole lot more from their in-store shopping experience than they did ten years ago. Or even 5 years ago, for that matter. So it's critical that retailers respond accordingly.
Perhaps the most important way that businesses must respond is by adding more personalization to the shopping experience. With so much competition in the retail space, it's imperative to find ways to get your business to stand out from the rest of the pack. Wowing a shopper with a more integrated and seamless shopping experience catered to their needs and preferences is the easiest way to do so.
Get in touch with consumers who shopped with you for the first time in 2019. Use email marketing to let them know you're thinking about them to offer a discount or promotion. You could also suggest products similar to those that they purchased the prior year. Direct, personalized marketing such as this has proven to have substantial return on investment by making casual shoppers into regulars.
Whatever you do, it's time to leave the massive email blasts to your entire subscriber list behind. Shoppers don't appreciate it and it converts at a far lesser clip. Instead, take the time to segment your audiences so that your message is more targeted and relevant to each reader. It will add more time to the process, but will certainly pay off in the end.
The same goes for your loyalty program. For coffee shops or bakeries, a simple point-based system is just fine. But for bigger operations that offer more complex benefits and experiences through their loyalty program, it's important to find ways to customize the process.
3. Add New Sales Avenues
There's a reason you've probably been hearing a lot about omnichannel selling in the past few years. The buzzword has been everywhere as new sales channels crop up all the time.
Like most things in life, it's a double-edged sword for business owners. Omnichannel retailing has opened up entirely new audiences and potential new shoppers but it also comes with more work to manage your operations and sales.
The best place to start is to add an eCommerce channel. If you haven't already moved your brick and mortar shop to the web, there's no better time to start. Online shopping grows rapidly each year, and that trend is sure to continue in 2020. Luckily, starting a basic eCommerce shop is pretty simple. There are many easy-to-use sales platforms. Just make sure that it integrates with your point of sale (like KORONA does with WooCommerce :)). This keeps your inventory and sales reporting in one system, helping you to streamline your entire operations.
Once you have your eCommerce channels set up, spend some time optimizing product pages and descriptions, expediting the checkout process and making sure that it's thoroughly protected against fraud opportunities.
You can also think about adding buy online pick-up in store (BOPIS) options. Under this system, shoppers can make the purchase on your website, but retrieve the item in your brick and mortar store. This has become an increasingly popular hybrid option of the two sales channels.
Lastly, you may want to consider selling on social media or other third-party sales platforms. There are a lot of options available right now so just choose a few that fit your brand. Few retailers need to sell across all channels.
4. Look at Different Marketing Channels
Likewise, 2020 offers a wide range of potential marketing channels for small businesses. And most of them have moved to the digital space. After all, the average consumer spends hours every day in front of their phone, computer, or tablet, so it's important to reach people at these points of contact.
First, think about SEO and generating more organic traffic to your store. Creating a website that demonstrates what your business is and offers products for sale is the first step. SEO helps increase your visibility so that more people visit your store. There are some simple best practices that any business can take to get started.
Paid advertising online is another great resource for many small businesses. It need not be outrageously expensive. In fact, there are many opportunities that get your business's name and logo in front of thousands of people multiple times for a small amount of money. Like any new marketing venture, it's important to try out different strategies but increasing your exposure to target audiences with paid ads is a great way to build a bigger base.
Social media advertising is also a growing marketing opportunity for small businesses. Social marketing is easy to implement and another way to affordably reach large audiences. Like Google Ads, most social media platforms have made it easy to segment audiences so that retailers can reach a narrowed and targeted group easily. Of course, this means that each dollar spent is more productive towards converting a sale.
Remarketing campaigns through social media or search engines also help target past shoppers or past visitors to your site. Remarketing tags users who spent time shopping with you and show them ads for your store on various other sites that they visit in the future. This is great for lower abandoned cart rates and bringing back shoppers who were on the fence about making a certain purchase.
5. Inspire Your Employees
Your team is an integral part of any retail operation and it's important to keep them happy and motivated. The post-holiday lull in business and the start of the new year means that it's a good time to reinvigorate your team.
Start by reminding them of your business's mission and the passion behind what you sell. Hopefully, you've already hired a great team that shares your commitments and goals. If so, inspire them with your own hard work and determination.
You can also add new incentives to start the year. Offer rewards and prizes, like cash bonuses, extra time off, or free products for your best staff members. Come up with fun contests to create competition – just don't make it too fierce.
Finally, this might be a good opportunity to change the structure of your business to offer more commission incentives. Commission isn't a good fit for just any retail business, but there are many that would benefit from directly incentivizing more sales. Consider the pros and cons of commission in your business and think about trying it out this year.
6. Clean Up Your Online Presence and Digital Marketing
The internet has provided businesses with a wide array of new digital marketing opportunities with search engines, social media, and review sites. Though these new channels are handy, they also require more work. It's critical that businesses carefully monitor their image on each of these sites.
First, spruce up all pages of your social media. You want to be consistent with branding and tone on each of your platforms. It helps solidify your brand authority and identity for those users who follow your store on multiple social media sites. Social media marketing grows in reach and influence each year so continue taking steps to optimize it.
Next, look into all paid ad accounts and think about ways to improve your strategy in 2020. Again, there are more paid digital advertising options out there than ever before. No small business can afford to advertise on all of them. So you must determine which will be the most productive and offer the highest conversion rate at the lowest price.
Finally, investigate all review sites to determine if there are any issues that need to be addressed. It's important to stay active on all review sites to show the audience that you value customer service. Thank your shoppers who took the time to leave you a great review and address any negative reviews politely with an offer of remedying the situation and maintaining a positive reputation. Dealing with upset shoppers is never fun, but there are several easy ways to turn a negative experience into a positive one. Look at Yelp, Google Reviews, and any industry-specific sites that would apply to your business.
7. Stay on Top of Inventory
Improving inventory management is one of the most popular business resolutions for the New Year. Managing a large inventory is tough for any type of retailer, but it's one of the most critical operations for long-term success.
Start with a full-scale audit of your current inventory to get an accurate picture of your current state. Look for products that have stopped selling well or anything seasonal.
Use a product analysis tool, like ABC retail analytics to grade each product in your catalog. This helps you break down each item so that you can determine which products contribute the most to both revenue and profits.
Setting up perpetual counts, stock par levels, and automated reordering will keep your business more organized and ensure that you always have the optimal amount of each product on hand.
8. Utilize Your Sales Metrics and Reports
In addition to your inventory management, you'll also want to have a great sales reporting system. Your sales analytics and inventory management must work hand-in-hand.
Your sales reporting should also be convenient to interpret and understand. Metrics and data analysis are only useful for businesses if it's understandable and digestible. Vast insight into the business makes your decision-making easier and leaves you with a more thorough understanding of your entire operation.
Sales metrics should come with custom KPI reports to help you measure individual product performance, staff productivity, seasonal sales, the best times of day for sales, and a whole lot more.
If you're using an old POS system, consider upgrading your retail software this year. Learn more about how to use a point of sale and why it will improve your business. Click below to sign up for a free trial and learn more!