Retailers have to constantly worry about making sure their store is running smoothly and efficiently. You need to plan promotions, manage your team, optimize inventory, design your store, update your eCommerce shop, maintain supplier relations, and so much more.
During the holidays, each of these tasks carries even more weight. The holiday season is the time that can decide the fate of your year, so it's critical that it goes well.
But few retailers have the luxury of the holidays going as planned. While this doesn't mean that they won't be successful, of course, it does mean that you should be ready to call some audibles.
So it's important to plan how to get your store ready for the holidays. They're around the corner, but it's not too late to make some adjustments to get your store in order before the biggest time of the year.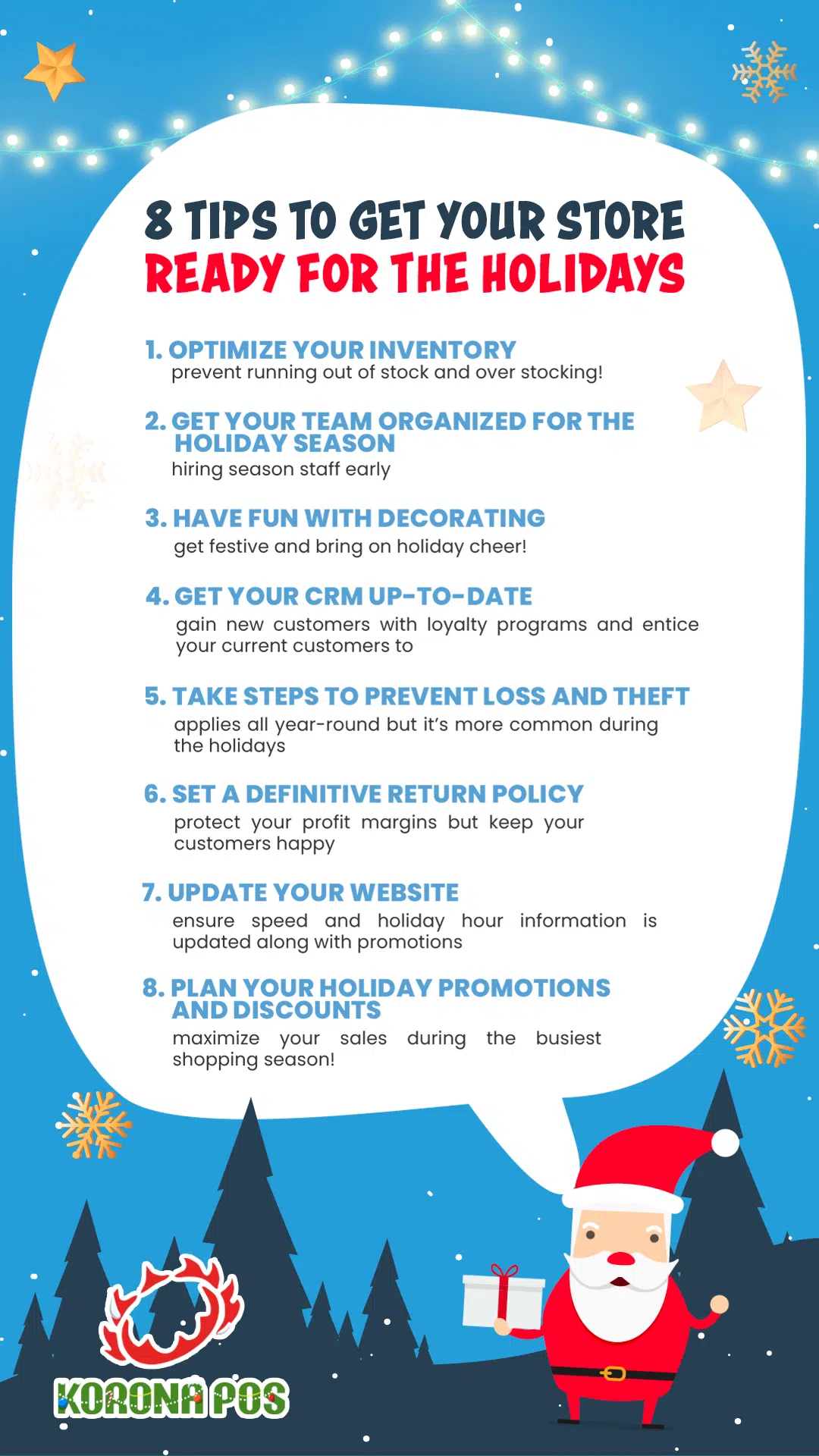 1. Optimize Your Inventory
Managing your retail inventory is the biggest first step to take in this process. Optimizing your product ordering and vendor relations is an important goal for any point in the year, but at no time is it more crucial than during the holiday season.
Finding the right balance with your inventory is imperative because a mistake either direction will be costly to your business:
Running out of stock of a certain item means that you can't sell it, so your overall sales will be diminished. Plus, frustrated shoppers are unlikely to return, instead opting to shop somewhere that carries the item they are looking forward.
Likewise, overstocking a product means that you'll be left with another tough situation. Precious storage and shelf space is taken up by a glut of inventory that will take too long to move. Additionally, over-ordering leaves you with less capital to use for other product orders or other aspects of your business.
To find ideal inventory levels, it's necessary to get a powerful inventory management system with your retail POS software. This type of solution will have a lasting impact on your business. It's simple to maintain supplier relations, set up automatic ordering, and create stock notifications. Together, the software offers deep insight into your business, allowing you to take any necessary action to improve.
2. Get Your Team Organized for the Holiday Season
A cohesive and passionate team is the most important part of your floor and customer relations strategy. They serve as the face of your store and have the most direct interaction with your shoppers, so it's important to take your time with the hiring process and making sure you have a great team.
Advertise job postings online and in your store.
Make it easy to contact your store or H.R. department.
Make positions and job descriptions clear.
Prepare for interviews.
Be clear with your business's culture.
Don't compromise.
Stay up front and honest.
Offer good benefits and flexibility.
Hiring for the holidays is a tough item on most retailers' agendas. Most of your regular staff want some time off to be with their families, while part-time staff typically have little experience and less product knowledge.
3. Have Fun With Decorating
One of the best things about the retail holiday season are the cheery displays and, depending on who you're talking to, holiday music. Either way, getting in the festive mood will help your store stand out and increase your foot traffic.
Window and sidewalk displays are a great way to get started. You want to be recognizable for people passing by your store, but also eye-catching enough to draw in new shoppers. You can let your team get creative and make something truly unique. Or, if you want to keep it more simple, even just adding a few digital signs, sidewalk art, or Christmas lights will help draw in more shoppers.

On your retail floor, add festive displays that feature holiday promotions. Your holiday promotions should be a major aspect of your retail planning. Displaying bundled deals, gift sets, or other in-store promotions is important. So take the time to make it look nice and improve the success of the promo.

Add last minute gift ideas and gift cards to the

area around your point of sale

. Let's be honest, we're all a bit frazzled around the holidays trying to get last minute gifts for all of our family and friends. And it's easy to forget a lot. Remind your customers what they might be forgetting about and boost your average transaction value with last-minute sales. Gift cards are another easy, impulse purchase that shoppers love to make. Just be sure that they're visible and simple to buy.
4. Get Your CRM Up to Date
There's no point in your year where your customer relationship management system is more important than around the holidays. A CRM is built to help both the retailer and the consumer. On the retailer side, It increases loyalty, frequency of visits, and average transaction spends, while also providing valuable data on customer information and shopping habits. For consumers, CRM systems reward patronage with discounts, free items, or cashback.
Ideally, you've had a CRM running all year or longer. This provides you with a snapshot of the habits of each shopper and what they prefer. Retailers can then use this information to better cater promotional offers or benefits to each shopper. By anticipating the needs of each shopper and personalizing the experience, you'll create a more memorable time in your store.
A great loyalty program will also help with your holiday marketing. Email and social media marketing are great ways to touch base with past shoppers and remind them to come by your store. Just make sure your CRM can be built into your point of sale.
5. Take Steps to Prevent Loss and Theft
Like most of these tips, this applies to year-round policies, but is especially critical during the holiday season. Retail theft is a major problem and it's most prevalent during this time.
Your first step is improving your inventory to minimize spoilage or waste. If you have perishables, inventory management is critical for keeping each product level optimized.
Additionally, you need to be sure that you take the requisite steps to prevent theft from shoppers:
Add warning signs near your doors or in corners.
Mirrors and basic cameras go a lot in deterring theft.
Put small, expensive items in glass cases.
Hire security guards or secret shoppers to keep an eye out.
Attach security devices to commonly stolen items.
Keep your entrance and exit near your point of purchase area.
You'll also need to watch out for internal theft. While it's important to trust your staff members, internal theft is sadly all too common:
Get a point of sale with custom permission levels.
Keep a hierarchy of available allowances for voids, comps, no sales, etc.
Print itemized sales shift reports.
Implement standard drawer counts.
Theft is probably one of the last things you want to worry about during the holidays. But you'll be distracted and busy with so much else so it's important to be prepared. For small businesses, even minimal theft can prove to be extremely costly. Just follow some basic best practices to protect yourself.
6. Set a Definitive Return Policy
No retailer likes it, but you'll inevitably have to deal with product returns. And over the holiday season, you'll likely have to deal with a lot. No matter how good your product or service is, some shoppers will want to shop elsewhere. So it's important to be prepared.
Remember first, that retail returns are not as costly as they seem. Sure, you lost a sale, but it's important to consider that a smooth return process is more likely to lead to returning shoppers. So rather than focus on the frustrating aspects of returns and refunds, turn your attention to the policy. Make it fair and friendly, and leave room for your shoppers to happily come back in the future.
Let shoppers try the product first with samples.
Make product descriptions clear and detailed.
Allow customers to leave feedback so others can get more clarification.
Clearly state your return policy on receipts, at the checkout, or even on the product tags.
Train staff to handle return questions quickly and efficiently.
Focus on excellent customer service even if it's frustrating.
A great return policy will be fair to your store and protect your profit margins, but also friendly to your customers. With the rise of eCommerce, shoppers expect more favorable return policies. Accommodate this trend as best as you can.
7. Update Your Website
If you have an eCommerce side of business, don't forget to update and optimize your website for a boost of traffic and sales.
If you don't already have it set up, make sure that your eCommerce store is fully integrated with your brick and mortar store. It's critical that you use a single inventory system through your POS software.
Test your website for traffic and speed. You can't afford for it to crash or malfunction during the holidays.
Keep branding online the same as in person.
Advertise all the big sales. Again, consumers have come to expect BIG sales throughout November and December.
Improve your navigation and make it intuitive so shoppers can find what they're looking for.
Add holiday categories, such as "Gifts for Him" or Black Friday Deals."
Keep active on social media and advertise your sales and discounts.
Make the checkout process clean and easy. Don't require registration or additional personal information.
Build out your blog and content marketing to improve your SEO and online traffic.
Add a live chat and FAQ to help answer questions quickly.
Offer free shipping if possible! It's another thing shoppers have just come to expect.
8. Plan Your Holiday Promotions and Discounts
Don't let your promotion planning wait until the last minute. Retailers must plan ahead to prepare their inventory, ordering, talk to vendors, and advertise. Planning a successful promotion takes a lot of preparation and it comes with a lot of risks. Retailers can't afford to make a mistake with their inventory, ordering, or pricing. You never want to have to end a promotion early because you're out of stock, but businesses also can't afford to order an unlimited amount of any item. And if your pricing is set too low, a holiday promotion can be absolutely catastrophic to your bottom line.
At the same time, you need to make it memorable for shoppers. Like we mentioned above, the average holiday shopper has come to expect big deals so it's important to find a way to draw in more traffic in such a competitive market.
Finding the balance between the two can be tricky and requires advanced planning. So don't wait! Start getting your store ready for the 2022 holidays. If you currently have KORONA POS, let us know if you have any questions on our features and tools. They're built to make running your business more automated and simpler. And if you're shopping for a new POS system, sign up for a free trial! There are no commitments or contracts, and you're free to use it for as long as you'd like.
Get Started with KORONA POS today!
Tell us a little bit about your business and explore all features that KORONA POS has to offer. And there's no commitment or credit card required.