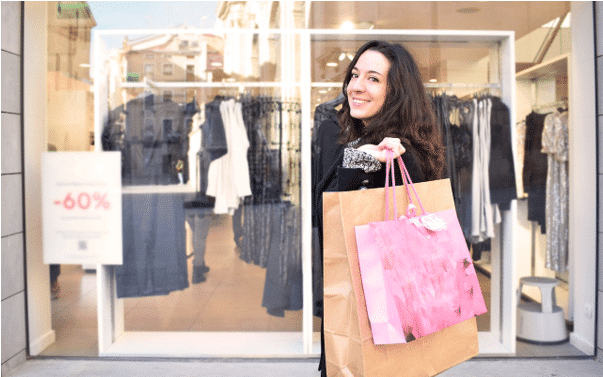 Every effort a business makes is with its customers in mind. The reputation and profits of your brand depend on the clients. But sometimes businesses stagnate, or worse, lose customers because of mistakes they have made.
Failing to acquire new clients is frustrating and can leave you feeling defeated. Do you identify with this situation and want to reach a bigger audience? In this article, you will read some ideas about making your business more attractive to engage new customers.
Table of Contents
The First Step: Get to Know Your Customers
The most important rule of marketing is to identify the buyer persona. Buyer persona refers to a person or concept representing the type of customer who will benefit from your products or services and from whom you want brand engagement. These personas vary greatly, with different ages, locations, and interests. Essentially, you want to get to know them as well as someone in your family.
To identify buyer persona, you must interview as many clients as possible to find out their tastes in addition to capturing basic demographic data, such as their age and profession. This way, you can create long-term connections with people who have the potential to become repeat clients. Utilizing sales data analytics, and customer purchase history will add even more accuracy to these personas.
By knowing your clients, you will know what kind of promotions and advertisements to run. Your customer demographics will even give you insight into what kind of products to put on sale or what new services you might consider offering.
Use Social Networks
With millions of active users on many social networks, it would be silly to refrain from taking advantage of this channel to gain more customers. Social networks have an excellent segmentation capacity, so you can cater your message to reach a certain type of audience. Here, you can directly sell your products, grow your content strategy, and win over new customers.
The four most important social channels for businesses consider are Facebook, Instagram, Twitter, and Tik Tok. Start by choosing one (or several if you're feeling bold) social networks to focus your presence based on your ideal audience. Then, identify what type of content is most attractive to your followers and create a publication calendar to plan your posts.
But paying for advertising is just one of many ways to attract customers on social networks. Try to produce content that new customers find attractive. Show the best face of your business and increase your brand awareness.
Success in social networks, especially on Instagram and Facebook, is achieved with perseverance, creativity, and content that adds value to the customer. If you neglect your profiles, you will be at a clear disadvantage compared to your competition.
Data will also be essential to define your strategy. You can use on the Facebook and Instagram statistics tools to find the optimal days and times to make a post, the best formats, and the most relevant topics for your audience.
You must have a commercial page (Facebook) and a company profile (Instagram) to both show brand authenticity as well as access these networks' tools, such as their shops, advertising, statistics, and more.
Provide a Great Service
The best way to attract the attention of new customers is to offer a quality service or product. When a customer is satisfied, spread the good word about your product. That word-of-mouth sharing will attract new people.
It's not just about the services or products you offer; every process in your store has an impact. For example, you can optimize your shipments using a service like Firstmile. With this platform, your customers will receive their purchases much faster and at a better price.
If you have a store, teach your workers how to serve shoppers correctly. Providing fast and efficient customer service will make your clientele feel appreciated. These details will make your business stand out, undoubtedly making customers prefer you over the competition.
Host Giveaways
One marketing idea that has gained recent popularity is the giveaway. Many companies have set up contests or raffles with clear calls-to-action. These actions range from commenting on a publication or tagging friends to becoming brand followers. These giveaways can be handy to attract customers to your business.
From the day you publish the giveaway until the day of the draw, you should show the most polished side of your brand. You will be interacting with a new audience. As such, you should work to turn these contest participants into lifelong clients.
Send a Newsletter
A newsletter is one of the best-known formats of email marketing. This strategy refuses to die and remains an excellent option for generating leads and building long-lasting relationships. The main advantage of this strategy is that the economic investment is minimal to null. The path will be even easier if you rely on tools that offer free plans.
Having customers opt-in to your email list is one of the most essential steps in customer relationship management. To get started, set up an option on your website checkout (if you have one) that asks your current customers if they want to receive your emails. Thus, you will have their consent and will not be in danger of emails getting flagged or being marked as spam.
Create compelling content for your recipients, such as valuable tips and questions that drive engagement. Include your blog posts to amplify messaging. By sending newsletters, you will let your customers know that even if they last purchased from your store a long time ago, you still remember and value them.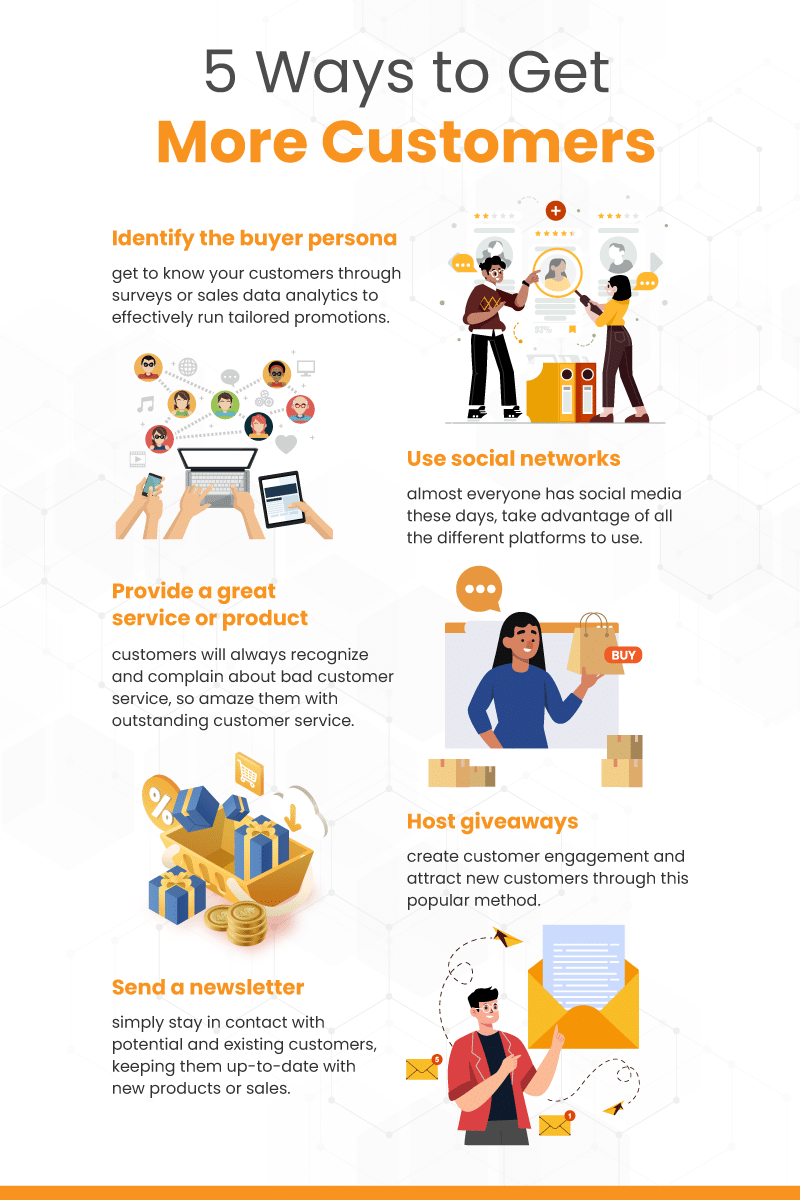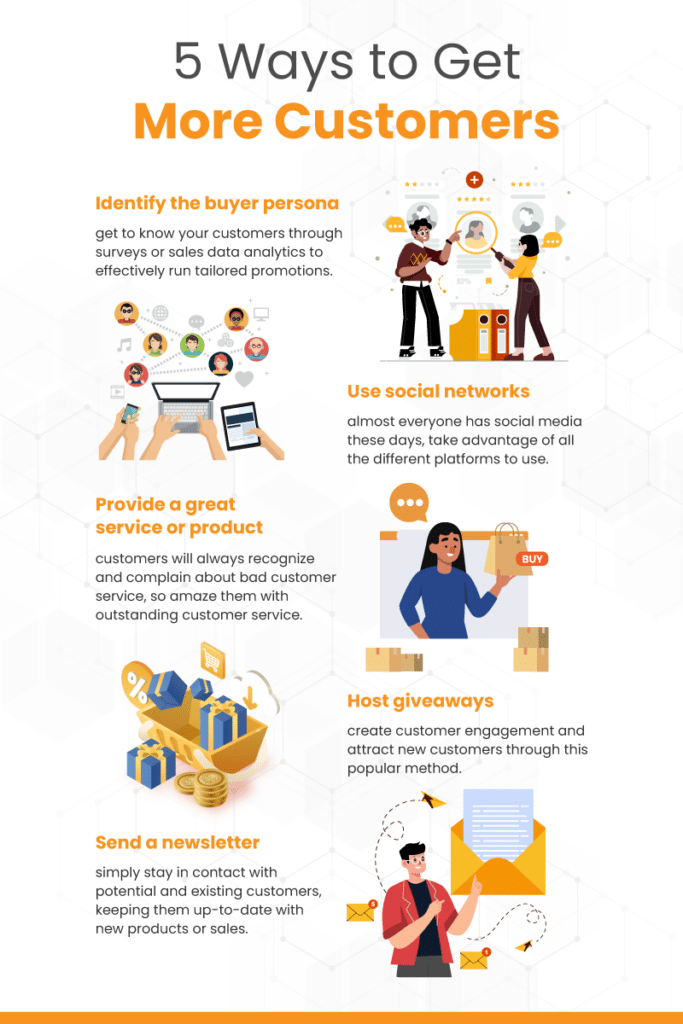 Conclusion
For a business, gaining customers is the equivalent of scaling your operations. While growing is never easy, these strategies will help you reach your target customer, turning them into lifelong clientele.
You must invest time and effort into advertising, social media management, and market research strategies. Plus, you will need to provide an efficient and quality service. If you constantly work on each of these aspects of your business, you will get new clients and increase your revenue.