If 2019's Black Friday was any indication, this year's holiday season is going to be wild. Sales from Black Friday were up nearly 20% from last year, with retailers bringing in almost $8 billion, the second largest single-day sales in retail ever (it only trails the 2018 Cyber Monday).
Just because we're past Black Friday, however, doesn't mean that you should expect sales to slow down too much. Increasingly, shoppers are spending big during the entire month of December. And they're doing a lot of it online.
Online sales for Cyber Monday are expected to clear $9 billion with billions more to follow over the coming weeks. With that in mind, it might be time to get your eCommerce ready for the holidays. Here are some key areas to focus on with some ideas for changes that won't cost you too much time or money.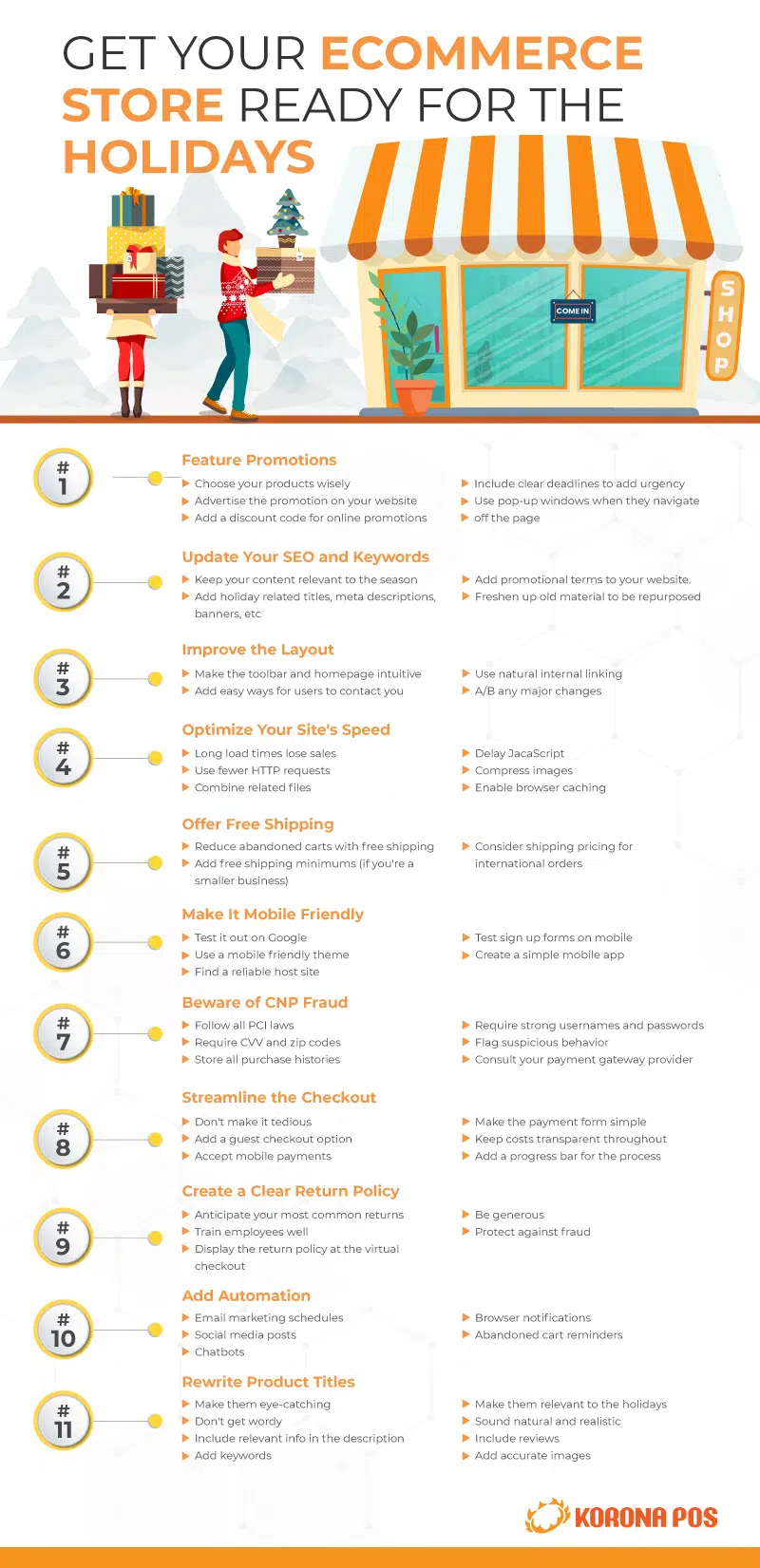 1. Make Promotions Prominent
Let's start with an obvious one: make sure that your customers know all about your promotions. Consumers have come to expect serious sales throughout the entire holiday season. This doesn't mean that you have to put everything on sale, but finding a few good items to promote will certainly bring in more shoppers.
Place ads for your sale on each page of your eCommerce store. You don't want shoppers to be able to miss it. Advertise the percent discount or discount code to add more eye-catching information. Shoppers are more likely to respond to codes since it adds a level of exclusivity.
Include deadlines on your sales to create a sense of urgency behind your promotion.
Many online retailers also add pop-up windows that remind shoppers of the promotion before they navigate off the page or website.
2. Update Your Keyword Strategy and SEO
To drive more organic traffic to your store, it's important to keep your content relevant to the current season. While SEO changes can take months to really have an impact, there are some small changes you can make that may have a more immediate effect on your rankings.
Optimize your landing pages and products with promotional terms, like "sale," "discount," "cheap,", etc. Look at your competitors to see what they're targeting and tweak yours a bit to compete.
Add holiday-related titles and meta descriptions. Again, it's important to make your promotion clear. In this case, it will increase the click-through rate from search engine users. Ranking higher is important, but only if users will actually click on your link.
Reuse past URLs and pages if available. Let your holiday landing pages stay live all year to help them improve in ranking.
Spruce up your old gift-giving or other holiday guides. If other publishers have spotlighted your products in the past, make sure that they have up-to-date information and remind them to feature you again this year.
None of these should take retailers too long, but they will have a positive impact on your traffic and conversion rates. Targeting the right keywords to reach your optimal audience will guarantee you more sales this holiday season.
3. Improve Site Layout and Infrastructure
Just like a brick and mortar retail store, you want your website's users to be able to find what they're looking for. This means that it might be time to reevaluate your site layout and navigation.
Start with your toolbar and homepage. Users will go here by default to find what they're looking for, so make sure that they can do so.
Include easy options for contacting you, registering for a service, or navigating to specific product pages.
You don't want anything in your store to be more than a few clicks away, so make sure that your internal linking makes sense and adds to the user experience.
A/B test some changes to see how they perform differently and monitor clicks and any points of confusion. You might also consider bringing in some people unfamiliar with the site to play around with it and identify any pain points.
4. Optimize Your Online Store's Speed
Website speed is more important than ever. According to the BBC, about half of all online shoppers won't wait even 3 seconds to wait for a page to load. So even a site that slightly lags will leave you with half of the audience that a quicker website would provide. Additionally, a site that loses just a half second on its average load time will result in a 10% loss in conversions.
To check your website's speed, start with a free service, like Pingdom or GTmetrix. These give you a broad picture of your site's speed and help identify any problem areas. There are a lot of different areas that you can use to increase your site's speed. Below are a handful of the most common:
Use fewer HTTP requests
Combine related files
Delay JavaScript
Compress images
Enable caching in browsers
5. Offer Free Shipping
Many consumers have also come to expect free shipping with their purchases. While this might be hard for some retailers, it's a great way to reduce abandoned carts and get shoppers to finalize their purchases.
When online merchants charge for shipping there is always an increase of abandoned carts and fewer sales. Many eCommerce shops have taken the middle ground by offering free shipping for purchases over a certain amount.
For retailers with expensive items and higher margins, free shipping is a great idea. For those of you who don't consider building it into your price, or advertise the increasingly popular buy online pick up in store options.
See Also: Holiday Shipping Tips for Retailers: 8 Retail Shipping Strategies
6. Make Sure Your eCommerce Store Is Mobile-Friendly
Not only are shoppers spending a lot more money every year on eCommerce sites, but they're doing so with mobile devices more frequently. So it's crucial that your webstore is optimized for mobile.
Most eCommerce platforms have default settings to ensure that your site has optimal settings for mobile users:
Test your site's mobile-friendliness on Google
Use a mobile-friendly theme
Find a reliable host for your site
See #4 and improve site speed
Redesign busy pages for mobile
Test pop-ups and sign-up forms on mobile
Create a simple mobile app
Use mobile-first indexing
Again, there are many areas to focus on when it comes to mobile usability, but starting with the basics will make your site easier to navigate and increase your conversion rates. Plus, an eCommerce store that is optimized for mobile will also improve your SEO.
7. Watch Out for CNP Fraud
eCommerce fraud is remarkably prevalent, especially around the holidays. Take some simple steps to reduce fraud so you can focus on having a successful holiday retail season.
Follow all PCI compliance laws through your credit card processor.
Require additional card info, like CVV or zip codes.
Keep all purchases histories.
Require strong passwords.
Update all software often.
Screen and flag suspicious behavior.
Card-not-present fraud is expected to cost retailers over $7 billion annually by 2020. With new channels for fraudulent activity emerging, it's critical that retailers react now to protect their business.
8. Streamline the Checkout Process
Most retailers focus on making the brick and mortar checkout process fast, so why would you make your eCommerce checkout tedious? Unfortunately, too many online retailers are not prioritizing this.
The biggest mistake retailers make is to require too much information at the point of purchase. Requiring email, phone number, or other personal information is a good way to capture personal data for future marketing efforts, but it will leave you with far too many abandoned carts. Shoppers typically don't like divulging too much information, and requiring a login makes the process more inconvenient.
Be sure to also carefully monitor the checkout page for speed and reliability. Even small delays that may seem inconsequential can result in a costly loss in sales. Below is a simple checklist for your payment page:
Don't require login info and allow guest checkout.
Accept mobile payments, such as Apple or Android Pay.
Clean up the page and make the payment form simple.
Don't add extra fees at the end of the process. Stay transparent, especially with shipping costs.
If payment is multiple steps, add a progress bar so shoppers know how far along they are.
9. Establish a Smart Return Policy
Returns are inevitable. Especially during the holiday season. Many shoppers are buying gifts, and many gifts will be returned, so your store needs to be ready to handle it.
The most important step is figuring out a thorough plan beforehand. Your team needs to be able to promptly address the circumstances of each return. Consumers are concerned about the convenience of shopping and making returns easy is a key step in this process.
Anticipate the most common types of returns and devise a plan of action for these cases.
Train each employee on how to proceed with various scenarios.
Stay friendly no matter the complaint.
Display the return policy at the checkout process and on emailed receipts to avoid confusion.
Be generous with your policy. Let your product speak for itself and be confident that you won't get too many returns.
Protect yourself against return fraud, however.
10. Implement Automation
The holiday season will likely leave you with much less time than any other point of the year. So it's advantageous to automate whatever tasks you can. There are several easy areas to get started:
Email Marketing – Software allows you to easily compile email lists, schedule future emails, and automate email responses for new leads, customer queries, confirmed purchases, etc.
Social Media – There are plenty of tools available that make it easy to schedule social media posts on various platforms.
Chatbots – Capture shopper information and questions with a chatbot on your eCommerce site.
Browser Notifications – Schedule updates for subscribers' browsers to notify them of new sales or product listings.
11. Rewrite Product Titles and Descriptions
Great titles and descriptions are one of the most important steps in bridging the gap between you and the customer. The biggest hurdle for online retailers is to reach the customer in a meaningful way since they can't physically interact with the product.
Make titles eye-catching and bold.
Be to the point and avoid wordiness.
Include all relevant details and specs in the description.
Add keywords to both the title and description.
Make the keywords relevant to the holiday season.
Sound natural and don't over-hype.
Include reviews, star ratings, or customer stories.
Add professional, accurate images.
Test out different titles and descriptions to see which converts best.
Improved copy on your product pages will increase conversions, lower return rates, and abandoned carts, and improve your overall customer satisfaction. It's an easy step to take to build a better eCommerce store this holiday season.