Inflation has significantly changed consumer buying behavior. Whether it's online or in-store, customers are always on the lookout for any opportunity to save a few dollars. And especially during the holiday season, free shipping is undoubtedly a great hook to convert visitors into customers. This strategy will allow you to attract new customers and retain old ones.
However, we understand that inflation and supply chain issues are hitting everyone hard. Rising prices and lack of availability impact everything from groceries to clothing. While offering free shipping to your customers may be difficult, let's go over all the benefits of free shipping. Even if you cannot apply it to every order, this blog will help you know how to offer free shipping for the holidays without putting your margins at risk. Read on to learn more.
Table of Contents
Why Offering Free Shipping Is So Important During Holidays
A holiday survey by Shopkick revealed that 94% of customers said free shipping was the benefit they most wanted when shopping online this holiday season, followed closely by fast delivery (60%). In-store pickup (BOPIS) and "buy now, pay later" were a distant third at 19%.
Also, in these inflationary times, it's no surprise that free shipping is a primary concern for those who don't want to or can't get to the store. Offering a free service for the holidays comes with many benefits. Below are some reasons why you should consider offering it to your customers: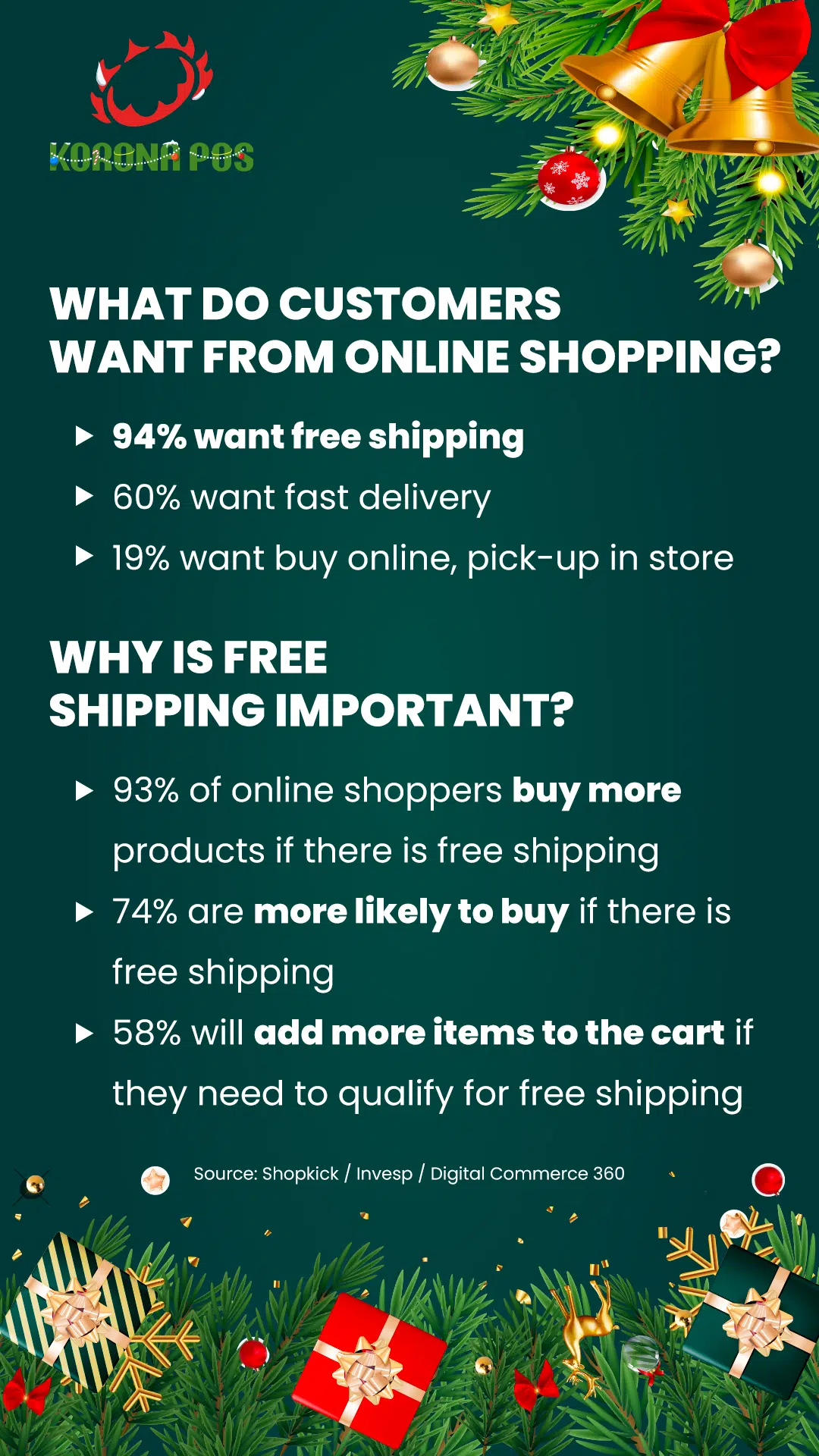 More consumers will want to buy from your store
.
This is the most apparent reason why offering free shipping this holiday season is a benefit. It will help you increase your conversion rate and bring more foot traffic to your store. 93% of online shoppers are encouraged to buy more products if free shipping options are available, while 58% of consumers add more items to the basket to qualify for free shipping. While it may seem like everyone is offering free shipping these days, it's less widespread than you might think.
In fact, only 65.4% of eCommerce stores offer free shipping at least some of the time, while only 17.5% offer free shipping on all orders. The latter category is dominated by large retailers such as Walmart, Amazon, and Target, who can soak up the delivery cost much more easily than independent online sellers. But if you're in the former group, offering free shipping selectively will give you a valuable competitive advantage this holiday season.
Read also: 12 Ways to Reduce eCommerce Shipping Costs: Optimize Retail Shipping
Improve the consumer's shopping experience
Free product shipping has a direct impact on customer satisfaction. This is because additional costs, such as shipping, are a significant barrier to the online shopping experience. By offering free shipping, you remove this hurdle and increase the chances that your customers will enjoy shopping with your brand and return to shop with you in the future. 74% of consumers say they are likely to buy based solely on their experience, making free shipping a key element in determining whether the experience is positive.
New customers are more likely to convert if returns are free
Retailers know from experience that buying from an unfamiliar brand is a crapshoot for consumers. However, during the pandemic, consumers showed a greater willingness to experiment with new brands, with 46% of U.S. consumers switching brands or retailers at some point.
Thus, implementing a policy such as free returns reassures the customer that they are not losing anything in return if the purchase is not suitable, so much so that many consumers are unwilling to make purchases without this guarantee. A survey of Shopify returns management apps reveals that 83% of consumers read a merchant's return policy before purchasing, while 71% say restocking or shipping fees are barriers that keep them from buying from a retailer.
Reducing the number of abandoned carts
One aspect that slows consumers' eagerness to buy from a store is the lack of clarity about the final cost of their order. Surprising shipping costs during the checkout process are almost guaranteed to steer customers away from finalizing their purchases. In fact, unexpected shipping costs are the number one cause of cart abandonment in eCommerce.
Waiting until the end to consider shipping costs makes a retailer look dishonest and makes their products seem cheaper than they are, which can only hurt your brand. By communicating a free shipping offer during the holiday season, consumers can shop confidently without worrying about additional costs.
You Might Want To Read: Holiday Retail Planning: Get an Early Start for the 2022 Holiday Season
Free Shipping Strategies To Consider This Holiday Season
Shipping rates spike during the holiday season, which can strain your budget if you send a lot of packages. However, there are a few solutions to make shipping costs more affordable.
Offer free delivery with a subscription. This can be an annual subscription to your store or a one-time holiday subscription. Customers can sign up for the subscription anytime, and they will automatically receive free shipping on all holiday orders. It's a simple way to encourage customers to shop more and take advantage of free shipping.
Offer free shipping on select items. One way to save on shipping costs is to offer free shipping on some products. This can be a great way to encourage customers to buy more from your online store. You can also offer discounts to customers who use your preferred shipping method or ship to multiple addresses. Make sure that the products you choose are products on which you can earn a fairly substantial markup.
Provide free shipping as a limited-time special offer. Giving shoppers a sense of urgency by offering a promotion for free 24-hour delivery or free express delivery is a great way to generate sales during the holiday season.
Free shipping on exchanges. If free return shipping is too costly for your business, consider offering free shipping for exchanges only. Exchanges are a valuable opportunity to keep revenue from flying out the door once the holiday season is over. Free shipping is a positive reinforcement that makes exchanges much more attractive, influencing customer behavior.
Set a minimum order value. Developing a free shipping cusp is a great way to prevent shipping and fulfillment costs from squeezing your profit margins. Parameters such as your average order value and shipping costs per order should be considered when setting your minimum order value, as well as the possibility of using higher volumes during the holiday season to make your threshold more generous.
Free shipping for new customers only. Many companies offer free shipping for new customers to make holiday delivery more affordable. This is a great way to get new customers to try your products and services, and it can also help build brand loyalty.
Other Holiday Shipping Tips For 2022
Leveraging omnichannel shipping: Keeping the optimal balance between free and fast shipping with one standard shipping option is extremely difficult for merchants. While many shoppers will be happy to wait a few extra days as long as shipping is free, others who are less patient may choose to shop elsewhere. Therefore, offering one or more expedited shipping options in addition to free economy shipping is important to provide more flexibility.
Keep track of holiday shipping deadlines and communicate them to your customers: Leading carriers set a holiday shipping deadline, after which they can no longer guarantee on-time delivery. Retailers should review the carriers' holiday shipping pages to help them set their own store shipping deadlines to avoid shipping delays.
Provide your customers with delivery estimates: Shoppers are more likely to worry about delivery delays during the holidays. No matter what type of delivery they've opted for, express or standard, be sure to give all customers an estimated arrival date. An estimated delivery date saves customers the hassle of constantly checking with your customer service department.
Consider a multi-node execution strategy to reduce shipments across the country: Shipping costs will be higher if you ship from one location during the holiday season, especially if it's a cross-country shipment. Adopting a decentralized fulfillment strategy increases the proportion of short-haul shipments that cross fewer zones, saving your company money.
You Might Also Want To Read: Holiday Shipping Tips for Retailers: 8 Retail Shipping Strategies
How To Offer Free Holiday Shipping: Wrapping Up
There are many creative ways to increase your company's sales during the holiday season. And among them, free shipping is one of the surest ways to turn dubious consumers into your brand ambassadors. Although supply chain issues will persist throughout 2022 due to the pandemic, you can work to overcome these challenges to make this holiday season the most memorable.
Additionally, partnering with an experienced online fulfillment provider will give you great wholesale shipping rates with major and regional carriers, meaning you no longer have to choose between free shipping offers and profitability this holiday season. This is an option you can consider as well.
Free shipping isn't the only value proposition to offer your customers. Shoppers are looking for the perfect gifts. They will shop in-store, online, and across all channels. Make it easy for them to buy what they want. Optimizing the checkout process saves customers a lot of frustration during the shopping season. Most online shoppers in the U.S. abandon their baskets due to a lengthy, complicated, and not transparent enough checkout process.
By keeping the process simple, fast, and reliable, your business won't be bogged down by complaints about checkout. A better checkout experience, whether online or in a physical store, requires sophisticated point-of-sale software to synchronize data between your stores. Should you wish to upgrade your POS system, click on the button below to learn more about KORONA POS.