Any franchise or retail chain knows how difficult it is to run such an intricate operation. There are so many pieces to figure out to create an efficient and smooth operation. For multi-store retail operations like franchises, the list is seemingly endless – inventory, sales metrics, promotions, employee management, pricing, loyalty programs, marketing, and more.
But we'll focus on just one critical area today: improving franchise brand consistency. With independent store owners, it's hard to make sure everyone is on the same page and in harmony. But strong brand identity is the core of any business's marketing strategy. Here are some ways to create a unified brand presence across your franchisees.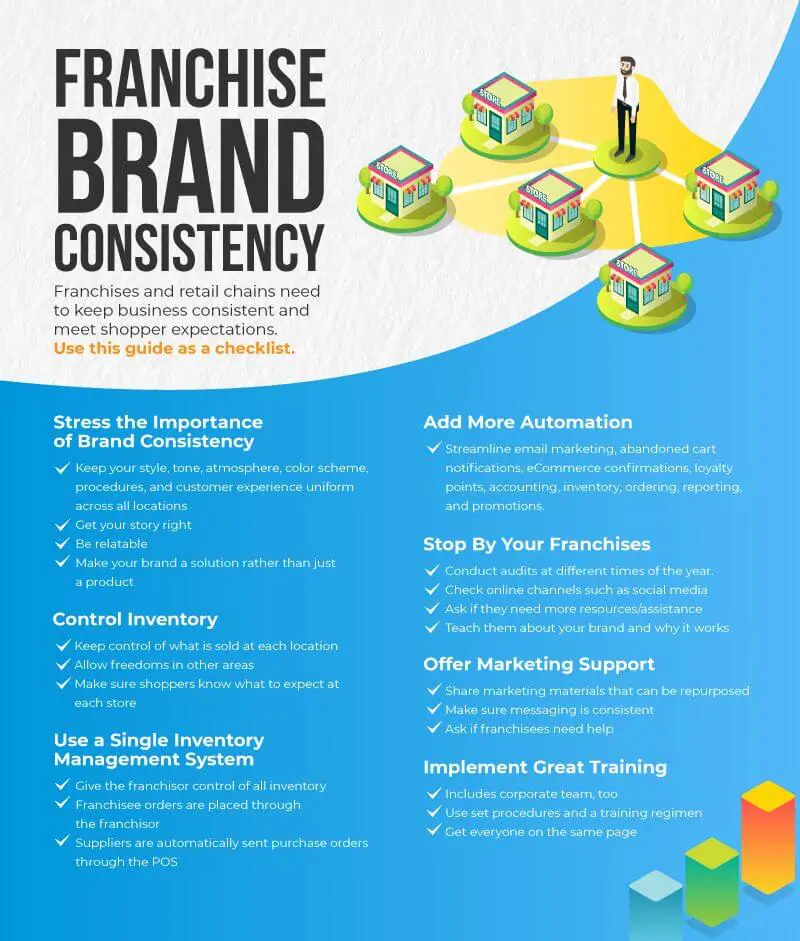 1. Stress How Important Franchise Brand Consistency Is
Again, a strong brand identity is at the heart of running a successful franchise business. You need your style, tone, atmosphere, color scheme, procedures, and customer experience to be universal across all locations. Easier said than done, but absolutely essential to stress the importance of each of your franchises.
See related: Define Your Brand's Tone of Voice: 4 Items for SMBs to Consider
Get your story right, whatever that may be. The brands that we all talk about are relevant and successful because they've carved out a niche in the retail space that consumers remember. Get your message clear and make sure shoppers understand exactly who you are and what you sell.
Branding makes your franchises a destination. Get the right message across, and your brand becomes a solution rather than just a product.
Consistent franchise branding makes your business more relatable, too. Franchises have the luxury of creating a more local experience for customers. There are certain guidelines and conditions that each franchise has, but they can also take the time to make it their own and appeal to a local audience.
See also: A Guide For Entrepreneurs Who Want To Open A Franchise
2. Control Inventory as the Franchisor
Franchise owners are in the unique position of being able to control certain aspects of the business while also giving each franchisee a certain amount of freedom.
And while some freedoms for allowing locations to better cater to local audiences, there is plenty you want to keep under your control as the franchisor.
Your product inventory is perhaps the most critical. There are some notable exceptions, but most franchises should offer a uniform set of products. It's important that shoppers know exactly what they can get at any given franchise. Keeping the inventory supply from a single source ensures that each location has the exact same items on hand at all times.

3. Keep Your Franchise Inventory Under a Single System
If you do decide to keep your franchise inventory uniform throughout each location, you'll also need to consider your inventory management software. A common franchise model gives the franchisor control of the entire product inventory. This means that each franchise orders products through a common supplier: the franchisor. The franchisee, meanwhile, sources products from a variety of sellers.
In order to make this a seamless operation, it's important that franchisees can place orders through their franchise POS system that get sent through the franchisor and eventually to the direct suppliers. A great ordering and inventory software makes this easy to set up and fulfill. Franchisees need only place an order through the order management software. All orders are sent to the franchisor where invoices are automatically created and sent out for all respective suppliers.
4. Create More Automation for Uniform Procedures
Automation in business is the wave of the future. Just as retailers are working to create an omnichannel shopping experience for their customers, B2B software developers are doing just the same for the retailers they service (that includes us here at KORONA!).
And there's a good reason for this: it just makes life a whole lot easier. So look at various ways you can implement automated procedures at your franchises. It will guarantee more brand consistency and an orderly way of completing day-to-day tasks.
Below are a few of the items that franchises can think about automating:
Email marketing

Abandoned cart notifications

eCommerce confirmations

Loyalty

Accounting

Inventory

Ordering

Reporting

Promotions
There are so many possibilities for retailers to streamline their operational processes. Think about what your business would most benefit from and start from there.
See related: The Benefits and Features of Automated Inventory Management for Retailers
5. Stop By Your Franchise Locations to Ensure Brand Consistency
You don't have to try to catch someone by surprise or surveil them, but a few check-ins each year is a good idea. Field audits let you get your franchise team out to the actual locations and bring back meaningful insight into how you run your business.
This is also a great way to keep in close contact with each of your franchisees and make sure they have the support that they need. Again, this is not an opportunity to catch them in the act of anything.
Conduct audits at different times throughout the year. If you can only do it annually, do so at different times of the year to make sure things are running smoothly no matter the season.

Don't forget to check out online presence, too. Make sure you have a consistent brand across all social media channels and each franchise website.

Follow up with each franchise right after your audit to address any issues you noticed and to respond to any assistance that they requested. Asking for feedback is a great way to take the pressure off the individual franchisee and allow them to be honest with you.

Use on-site visits as an opportunity to teach them about your brand and why it works, rather than try to simply force them into compliance. It's important to have franchisees who genuinely believe in your brand instead of just selling it for the sake for selling it.
6. Give Each Franchise Marketing Support
Keep your franchisees on the same page by giving them adequate marketing materials and resources. You've already invested in all the materials for your marketing efforts, so don't be afraid to pass those along to all new locations. It helps out the franchisee and keeps your branding on par.
It's a great opportunity to keep control of some of the more important pieces of your operation, too. By creating a uniform marketing approach, franchisees know exactly where they can and can't stray from the overall franchise marketing strategy.
7. Implement Great Franchise Training
Finally, train all staff consistently. This includes your corporate team down to each individual employee. A franchise business only operates well if everyone is on the same page. Start with your corporate training. A great corporate team will be more successful if they know what each role in the company entails. Many successful franchises ask their employees to work each role within the business so they can better manage each element.
Likewise, your training is an opportunity to get everyone on the same page with your branding and franchise story. Implement a training regimen for each franchisee so that they know exactly what they're representing before they open their doors.
Get Brand Consistency With Your Inventory Management Software
The right multi-store retail software can make all the difference. To learn more about how KORONA can help franchises succeed, set up your free trial account. KORONA is built to automate processes, implement uniformity, and help businesses scale. Click below to get started.