There are nearly 800,000 franchise businesses in the US alone. Chances are, you've walked or driven by a dozen of them just this week. The reason you see franchise businesses everywhere is because they tend to be quite popular amongst consumers. In addition, their formula is proven and reliable one for many operators. Therefore, there is a whole lot of promise for entrepreneurs who want to open a franchise business.
Nonetheless, opening a franchise requires substantial planning. Prospective franchisees must thoroughly scrutinize and evaluate the positives and negatives involved with opening a franchise location. Here are some things to consider when thinking about starting a franchise business.
Table of Contents
What Is A Franchise?
A franchise is a type of business venture between a franchisee and a franchisor. The franchisor is the parent corporation, and the franchisee is the owner of a specific business location. The franchisee buys a license from the franchisor in order to gain access to proprietary industry expertise, products, branding, and marketing.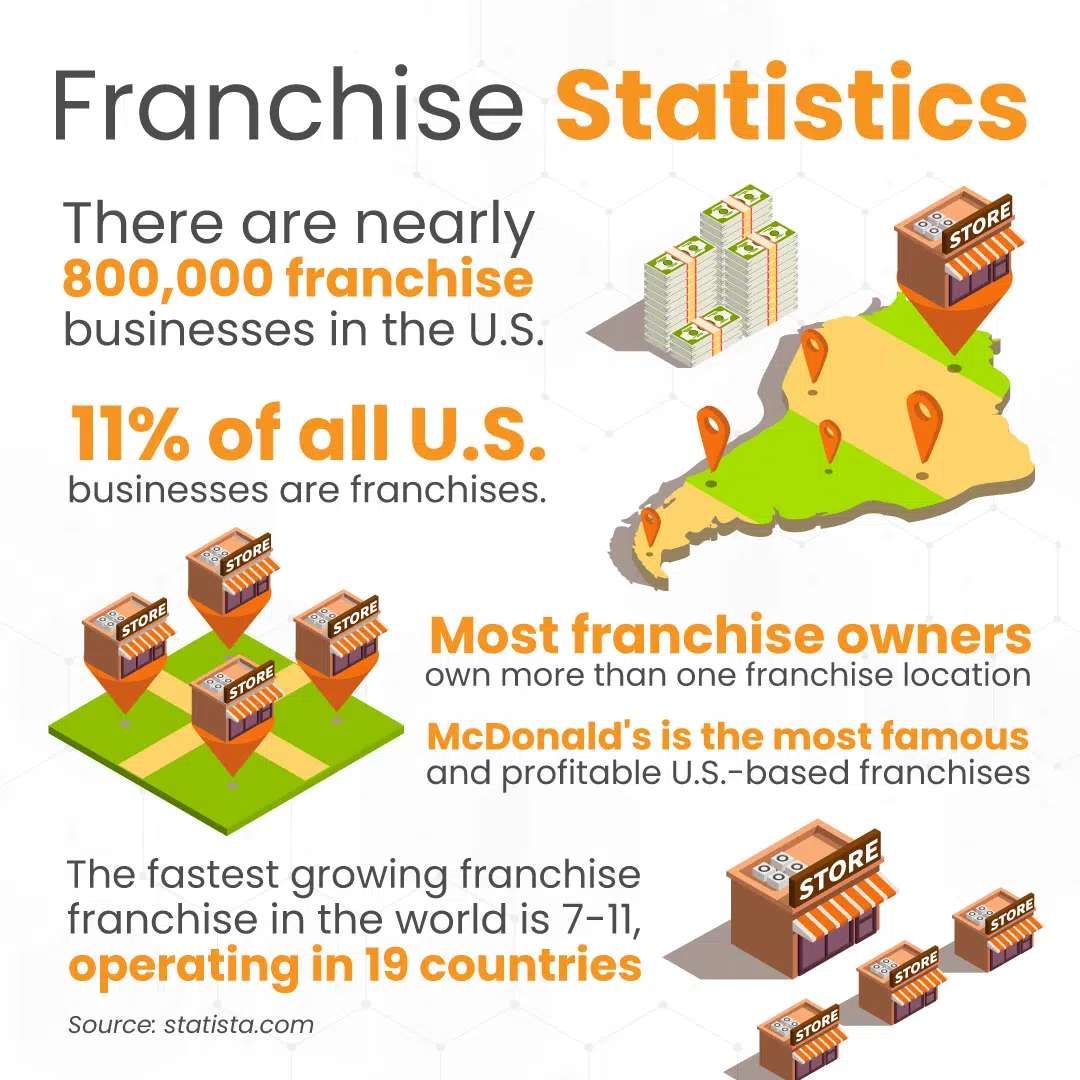 Some examples of franchises:
There are countless types of franchises in the US and across the world. These businesses range from retail shops to restaurants, and even services. In fact, 11% of all businesses in the US are franchises. Here are some examples of well known franchise companies:
Retail: Ace Hardware, 7-11, vomFASS, GNC
Fast Food: McDonalds, Wendys, Krispy Kreme
Hospitality: Hilton, Windom, Marriott, Hyatt
Services: Mathnasium, Orangetheory Fitness, UPS Store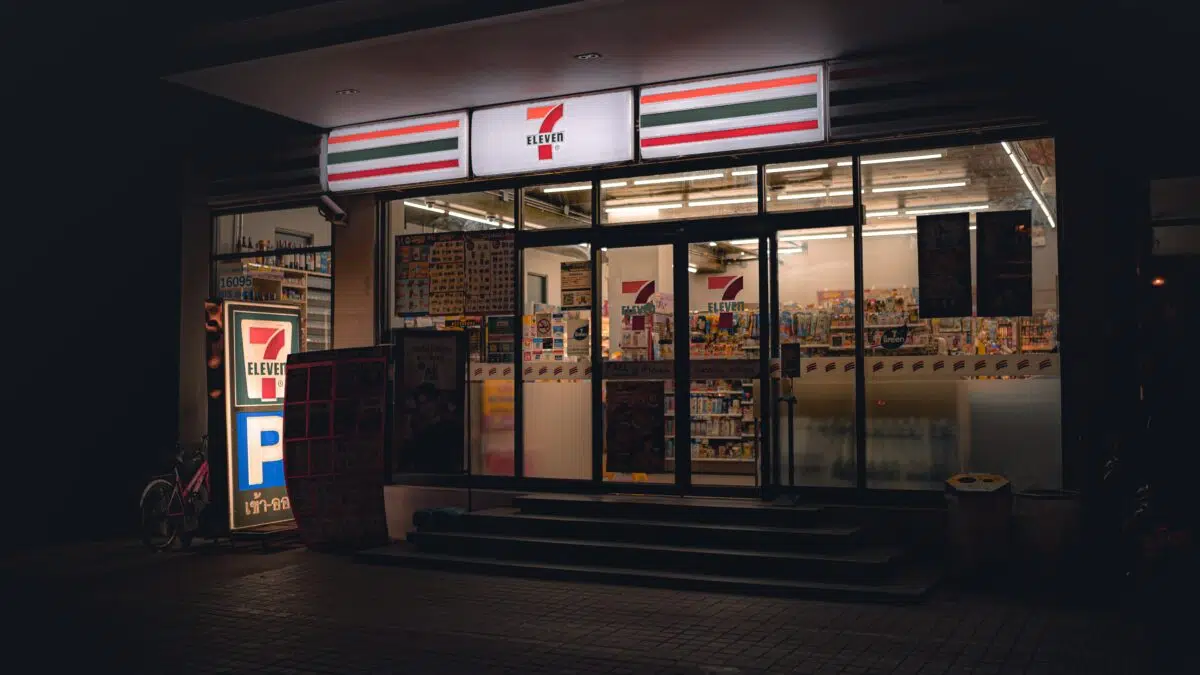 What Makes Work Different For Entrepreneurs Who Want To Open A Franchise?
For entrepreneurs who choose to open a franchise, many of the aspects of running the business will be supported by the franchisor as part of your initiation fee. Generally, franchisees pay dues in order to receive comprehensive training and proprietary industry support. The amount of help that franchise owners receive from their franchisors varies greatly depending on the company. Sometimes, though less frequently, corporate franchisors offer more in-depth support, such as financing or real estate location assistance.
However, because franchises work with national corporate entities, they get a running start with all of the branding, marketing, and advertising they need to succeed. Let's say you own a Wendy's franchise, for example. Your individual location will benefit from nationally televised commercials advertising a new product or promotion.
Obviously, though, this advertising comes at a cost, which we will talk about later in this post.
Is A Franchise Owner An Entrepreneur?
A franchise owner is certainly still an entrepreneur. As the proprietor of a franchise location, owners often have many of the same responsibilities and daily routines as running any type of small business. Possessing the wherewithal to procure financing, plan a budget, and problem-solve on the go is hugely beneficial.
Franchise owners will also need to thrive as leaders. This involves properly and thoughtfully orchestrating hiring and managing a great team of staff members. In addition, franchise operators will need to stay on top of building inspections, permits, and proper licensing.
The Costs Of Opening A Franchise
Unsurprisingly, the support and expertise that franchisees receive from the franchisor comes at a price. All entrepreneurs who want to open a franchise will have to pay an initial "franchise fee." This fee typically ranges from between $20,000 to $50,000.
On top of that, franchises will have to pay a royalty fee for each transaction made. Generally, these fees range from 4%-12% of gross monthly sales. Taking into account all of these immediate and long-term costs is essential to successfully planning the opening of a franchise location.
Franchise Entrepreneurs Must Do Extensive Research
If you're looking to join a franchise, computing the franchise and royalty fees is just one of the many aspects of researching and planning for entrepreneurs. It's crucial to figure out as much as you can about the corporation before you make any decisions or investments. Take a deep dive into analyzing the success and sales data not only of the corporation but of individual franchises in different locations. Which ones do better than others? What kind of margins do they operate with?
Franchise Disclosure Document
Thankfully for entrepreneurs who want to open a franchise, there are protections put in place by the Federal Trade Commission. Namely, all franchisors must provide potential franchisees with a Franchise Disclosure Document (FDD). The FDD gives prospective franchisees a glimpse into what exactly will be offered by the franchisor, as well as what the franchisor expects from the franchisee.
This document includes 23 sections covering general business history, information on any litigation, previous bankruptcies (if applicable), franchise fees, restrictions, financial statements, and more. The FDD should be analyzed in conjunction with all of the market research, business plans, and financing arrangements that the inquiring entrepreneur has.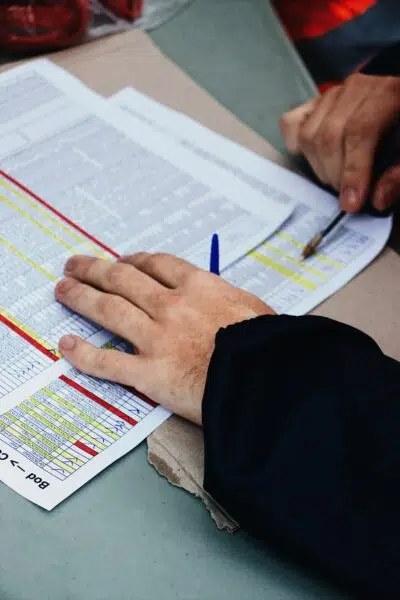 Entrepreneurs That Want To Open A Franchise Must Make Sure Values Align
When deciding on a franchise to open, make sure that your values align with those of the franchisor. You can foster your own workplace environment, and even create local marketing strategies and management philosophies. But at the end of the day, you are selling a brand with an established and somewhat rigid way of operating. It helps immensely if you actually believe in the product you are selling. Will you be able to wholeheartedly work through their principles and brand identity? If not, you might want to consider another business.
Choose Something That Works For You And Your Business
Finding something that you actually care about will ensure long-term success. For example, if you've already worked as an employee or manager for a franchise in the same company, you will most likely be equipped with a lot of the skills and know-how to open your own location. While experience is a plus, it's not a must. Many entrepreneurs who wish to open a franchise choose something they are interested in, and work hard towards learning more and more as they go along.
Most importantly, entrepreneurs should open a franchise they feel confident will succeed in a specific location. Many franchise restaurants and retail shops will fail because of a lack of traffic or an oversaturation of competition. Performing market research, carefully planning, and putting in the hard work of running a smooth operation will increase your chances of franchise success.
Use A Great Franchise Point Of Sale
Finally, you can't run a successful franchise business without a great point of sale system. KORONA POS offers franchise and multi-location point of sale technology to keep your lines moving fast. Our industry-leading POS guarantees minimal down times and 24/7 customer service technician support.
Best of all, we offer built in franchise royalty payment automation and a seamless process of opening a new location. Simplify your workflow and reduce time and labor costs. Give us a call today and schedule a demo to learn more about our franchise point of sale!
FAQs: Entrepreneurs Who Want To Open A Franchise
Can an entrepreneur buy a franchise?
Yes, an entrepreneur can certainly buy or open a franchise. Franchisees take on significant financial risks, organize the opening of a business, and oversee its operation. In this regard, they carry out the same functions and responsibilities as an entrepreneur who creates an original  business concept. 
Is a franchise a good way to start a business?
A franchise is a promising business to start for certain types of entrepreneurs. Franchises come with operating procedures, branding, and product distribution already set in place. Thus, if you are an entrepreneur that is willing to work within and learn the philosophy of the greater corporate entity, it can be a great way to start a business. 
How profitable is opening a franchise?
If planned and operated correctly, opening a franchise can be very profitable. The average income for a franchise owner is about $80,000. However, some of the more successful franchise owners earn over $250,000. Remember that many franchisees own more than one location. 
What is the fastest growing franchise in the world?
The fastest growing franchise in the world is 7-11. There are currently over seventy-thousand 7-11s open worldwide. The retail store operates in 19 countries.