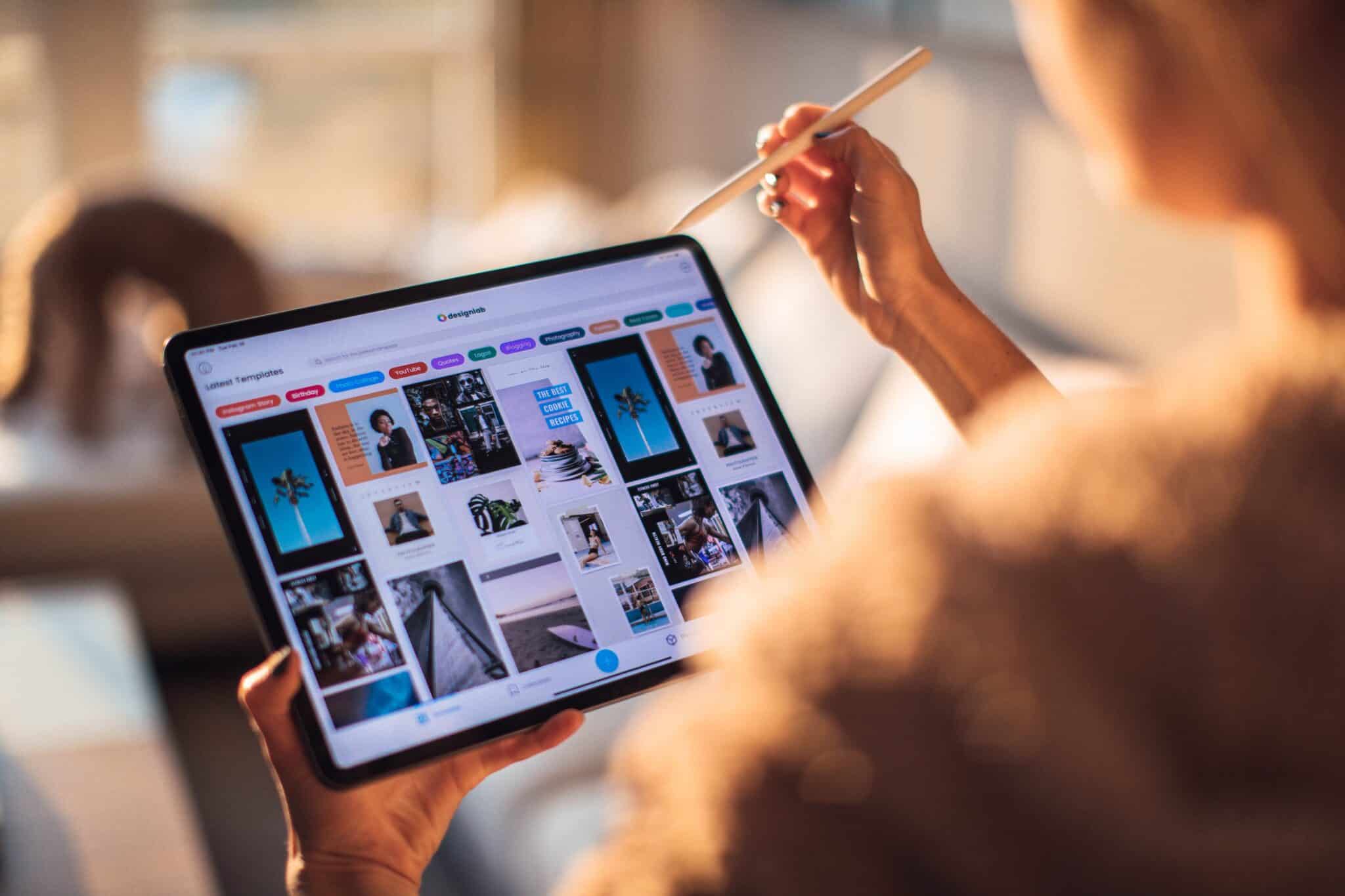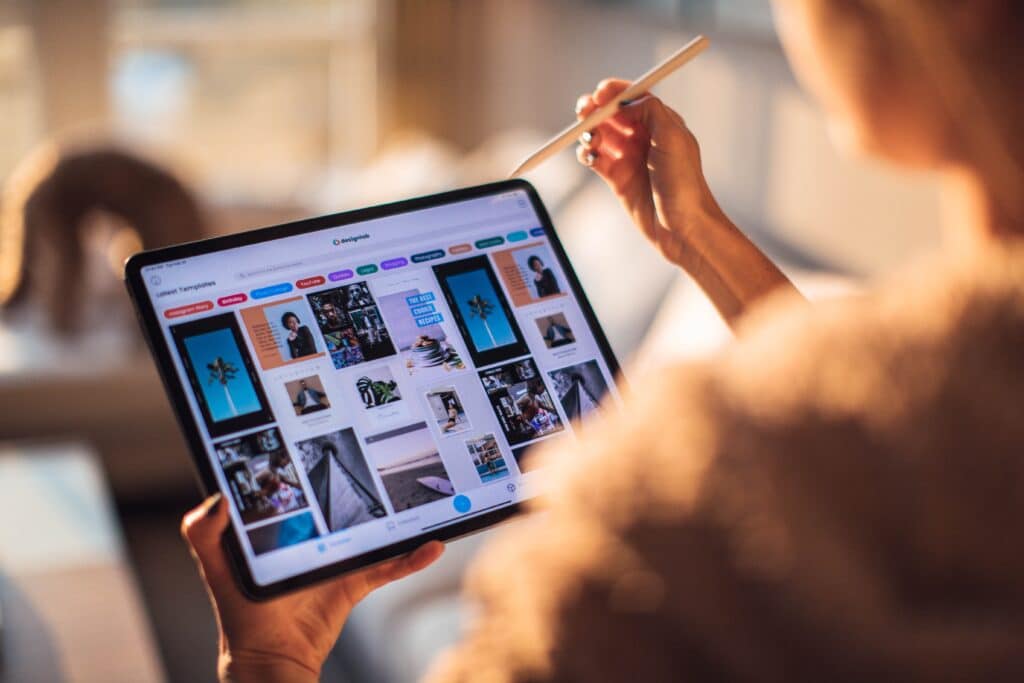 Online shopping has become increasingly popular in recent years thanks to its convenience, increased security, and prevalence. From clothing and electronics to groceries and subscription vitamins, an endless array of products are available for purchase from the comfort of shoppers' homes. In fact, by 2026, it's predicted that 24% of all retail purchases will be through eCommerce.
Online shopping saves consumers time and money. It's also a great way to discover new products and brands. Nevertheless, there is a considerable amount of competition for online retailers.
Designing great eCommerce merchandising can help you stand out from your competitors. Optimizing user experience while strategically presenting your products is more important than ever. In addition, it will impact your ability to convert sales and acquire new customers.
But how do you go about designing innovative and effective eCommerce merchandising? Read on for a detailed guide.
What is eCommerce Merchandising?
eCommerce merchandising refers to how you select, display, and promote your products on your website and app. First and foremost, retailers should display their merchandise attractively and compellingly, just as you would find in a brick and mortar location.
Another significant aspect of eCommerce merchandising is improving search and navigation capabilities. You want your customers to have the most seamless and effortless experience while looking through your products.
Finally, how will you tell the story of our brand? How you present your products should match your brand identity and philosophy. We'll go into more detail about this later.
Why Care About eCommerce Merchandising Strategy?
Optimizing and improving your eCommerce merchandising will increase conversion rates and revenue. In addition, better merchandising will drive more visitors to your store, encourage more browsing once in your store, and reduce your bounce rate.
As previously mentioned, eCommerce has a whole lot of competition. Creating an online shopping experience that is enjoyable and compelling will ensure that your retail business can compete and thrive.
The idea is to increase ease of use and product placement to encourage more sales. Strive to design a consistent user experience and shopping style across your sales channels. Consistency is critical in retaining customers.
6 Essential eCommerce Merchandising Practices For Retailers
1. Create a User-Friendly eCommerce Site
Remember that the most important aspect of eCommerce merchandising is creating an enjoyable user experience. Help people find the merchandise they want as quickly as possible. Keep unnecessary content off of your merchandise page and make navigation simple and intuitive.
Searching And Filters
A highly functional eCommerce website should provide advanced browser search and filter capabilities. Allow potential customers to find what they're looking for quickly.
Autocomplete Suggestions
When a browser puts a query into your search bar, you can autosuggest items that begin with that name. For example, let's say you sell coffee online. When a shopper types "French" into the search, your site can suggest "French Press," "French Roasts," and any other related merchandise.
These suggestions point shoppers in the right direction. They can even nudge prospective buyers toward a product they didn't even realize they wanted.
Optimize for Mobile
More and more shoppers are using their smartphones to make eCommerce purchases.
Economists expect mobile commerce in the U.S. to double between 2020 and 2025, reaching half a trillion dollars in sales.
Optimizing your eCommerce merchandising for mobile is vital. Run tests to ensure your home page, product pages, and checkout operate smoothly on desktops, tablets, and smartphones.
2. Emphasize Brand Identity When Merchandising in eCommerce
Just like designing a brick and mortar window display, eCommerce merchandising involves curation. Your merchandising is part of your brand identity. The way in which you display your products allows you to tell that story.
Everything from colors and fonts to images and spacing is part of digital merchandising. Think about how you want consumers to view your company and concept. Establishing repeated and strongly recognizable themes will increase brand awareness and recognition.
Take the example of the Cariuma sneaker company. A central part of their brand identity is sustainability. They plant two trees for every pair of shoes sold.
The brand incorporates this identity into its visual merchandising. Nearly every product picture and website design has an image of a plant, flower, or tree.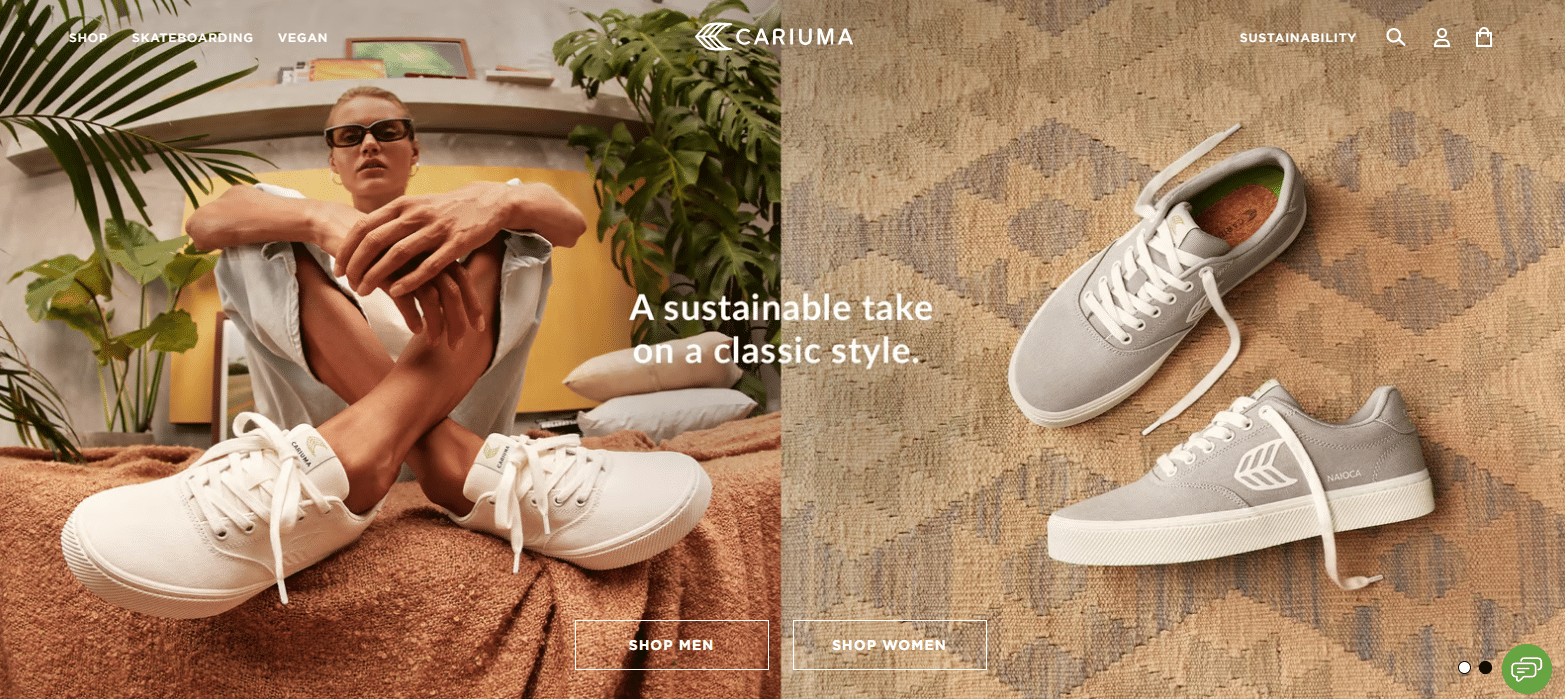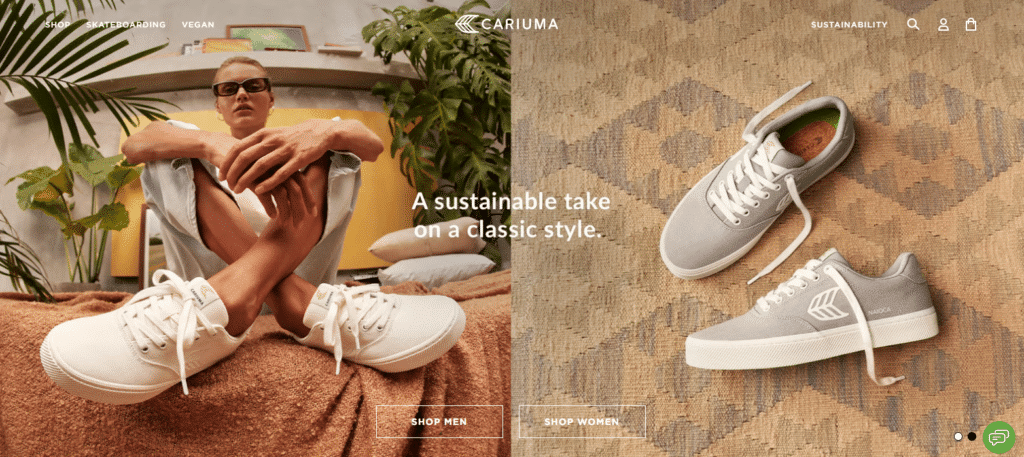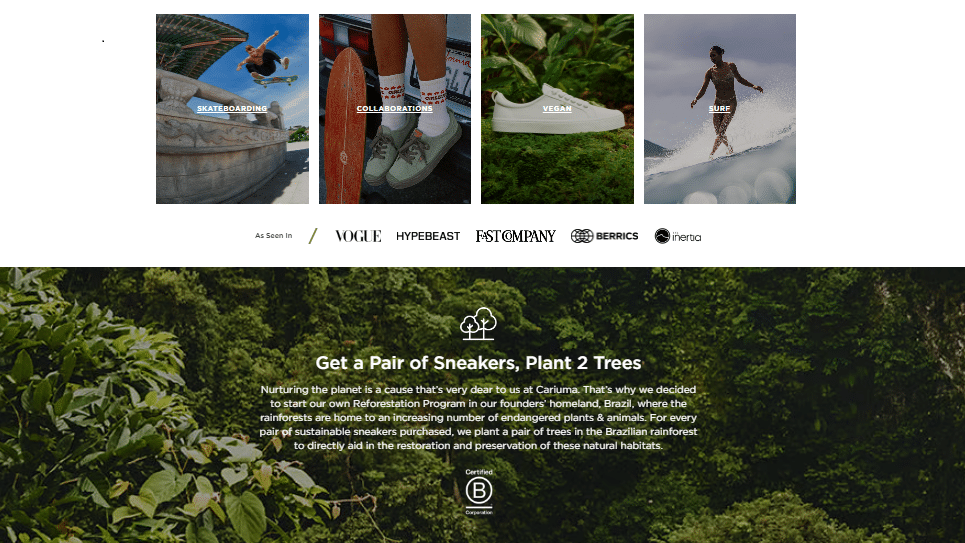 3. Homepages That Push Shoppers to Make Purchases
Your merchandising should start right from your home page. Showcase the products that will have the best chance of converting. Try pushing products that are trending or otherwise highly popular.
Curate a design that tells your story and highlights your core product(s) without overwhelming the shopper or crowding the page. Empty space is a good thing! Leave enough open background to emphasize the pictures that you choose to display.
Be sure to provide easy navigation from your home page. Give customers the option to look at more related products with just one click.
4. High-Quality Product Pages
Specific product pages should be descriptive and thorough. Shoppers want to know everything about items without contacting an admin. As a result, many eCommerce merchandisers have begun including videos and 360-degree images to show customers products in greater detail.
Grouping Products
Cross-suggesting and bundling are classic strategies in brick and mortar retail. Nonetheless, retailers can utilize these same concepts in eCommerce merchandising. For example, offer similar product suggestions and easy navigation so that customers can browse related items.
Check out the apparel retailer Pacsun for a great instance of this. When a shopper reaches a product page for a Yankees hat, they are shown other similar options at the bottom.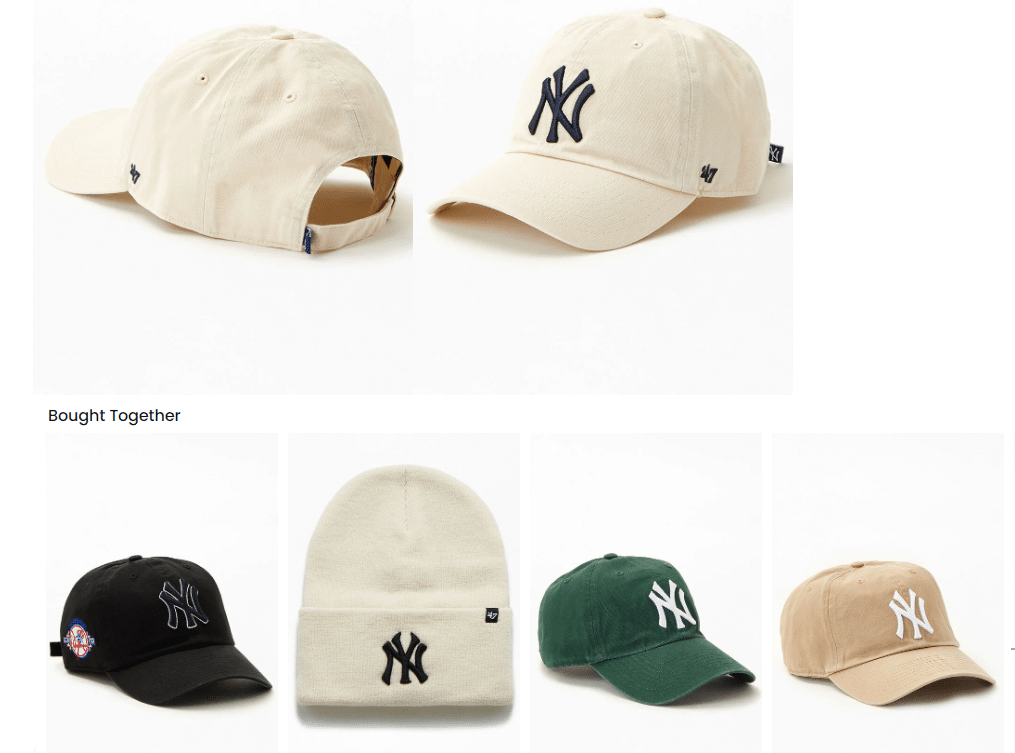 Product pages should display the categories associated with that item so customers can navigate to other products effortlessly.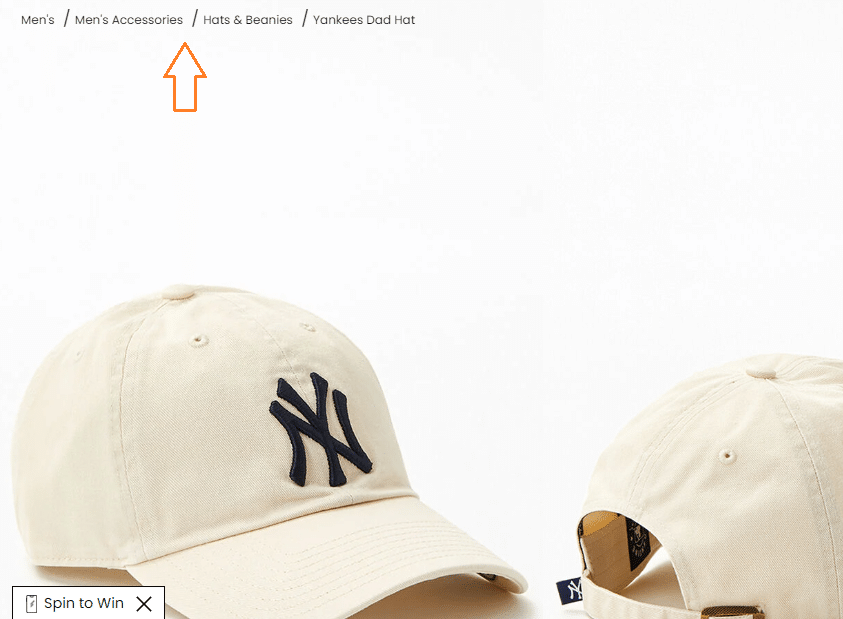 5. Merchandise for eCommerce With SEO
All businesses should be thinking about search engine optimization (SEO). If you want to sell merchandise online then SEO should be a high priority.
Nearly half of the people who find your products will do so through a Google search. Thus, its imperative to write strategic copy in order to come up in search results.
Tweak your product descriptions to correlate with keyword searches in your niche. Consider using a tool like SEMrush to do keyword research. This tool will also tell you what trends are currently occurring on Google searches.
See what people are searching for in your industry. Then, adjust your merchandise copy accordingly, and you will see more traffic and revenue.
6. Merchandising Segmentation and Suggestions
Try to utilize as much data as you can from your website guests to personalize their shopping experience. In particular, purchase history, browser history, and location data can help power more accurate and segmented eCommerce merchandising.
This type of personalization is beneficial for eCommerce sites with many different products. Tapering and targeting merchandise to individual tastes is highly effective.
Customer Profiles
The best option is to have customers log into their accounts. Then retailers can build complete customer profiles with highly informed preferences and tastes.
Rewards programs are a great way to encourage customers to stay signed in and engaged with your brand. Retail loyalty programs and CRM integrations provide powerful tools to segment and personalize product suggestions.
You can also incentivize shoppers to create and sign into these profiles with discount codes and free shipping. Many bigger-name eCommerce retailers now have smartphone apps encouraging customers to sign into their profile when shopping. Retailers can use this profile data to power more intelligent promotions, merchandising, and messaging.
KORONA POS Custom eCommerce
Modern retailers need solutions that support omnichannel retail. KORONA POS has you covered. Get custom eCommerce buildouts that feed data into your retail point of sale.
Centralize your inventory management, CRM, loyalty, and promotions through one back-office interface. KORONA POS also offers 24/7 customer support, so you never have to worry about downtimes or troubleshooting. Give us a call today to schedule a demo and learn more about our eCommerce integrations.
FAQs: eCommerce Merchandising
1. What is eCommerce merchandising?
 eCommerce merchandising refers to how you select, display, and promote your products on your website and app. Retailers should strive to make their goods appealing and exciting to their target customers. Great eCommerce merchandising will also provide tools to simplify browsing and locating products.
2. What is the role of eCommerce merchandising?
The role of eCommerce merchandising is to present products so that they appeal to customers. Ideally, an eCommerce merchandiser will enhance the shopping experience with innovative displays, engaging branding, and segmented suggestions. However, The main purpose of this is to convert browsers into customers and make sales.
3. What are the different types of e-merchandising?
Retailers should merchandise their home page to suggest their core products. They can also create product categories so shoppers can easily browse similar merchandise. Finally, search and filter capabilities can help customers quickly find the right merchandise.