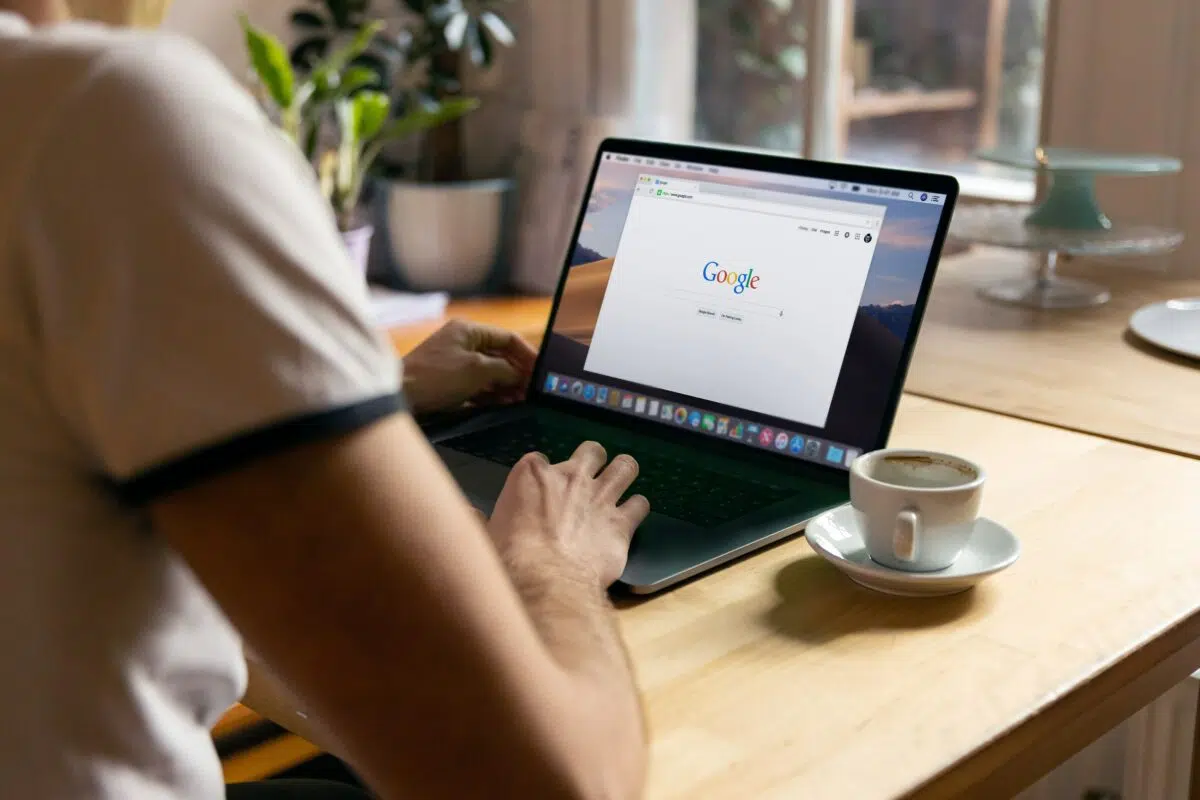 Having your dispensary website show up at the top of Google's results has a huge impact on exposing your storefront to new customers. An extremely low amount of internet users actually click through websites beyond the first search engine return page.
Thus, using search engine optimization (SEO) strategies to increase traffic towards your marijuana dispensary eCommerce website is a must for all retail businesses. After all, more traffic means more potential cannabis sales, especially for certain searches with high purchase intent.
Read on to learn more about dispensary SEO best practices and how to rank higher on Google.
Table of Contents
Why Care About SEO
SEO helps increase your exposure. Many businesses use both paid advertising as well as SEO techniques to increase organic traffic to their websites and landing pages. However, marijuana-related companies are actually not allowed to pay for advertising on search engines.
Hence, dispensaries must do everything they can to boost their presence and optimize their searchability. With increased exposure and higher Google search engine rankings, traffic to your business will grow exponentially. And more traffic means more sales.
Types of SEO
There are actually three distinct types of SEO. It's worth noting the differences between them in order to fully understand how to reach maximum potential for each.
Technical SEO
This is the backend functionality of your website. Start by optimizing your crawlability, making your domain easy to navigate and scour by both search engines and users. Equally important is indexability, or the ability for the search engine to display information from your website right onto the search engine results page (SERP).
On-Page SEO
Your cannabis content, copy, keywords, tags, alt-text, and internal linking are what factor into your on-page SEO. Paying attention to targeting specific dispensary keywords and keeping all of the aforementioned strategies can greatly help your online presence and rankability.
Off-Page SEO
Off-page SEO includes your cannabis shop's social media page, mentions, backlinks, and your dispensary profile on Google Maps and Yelp. This secondary presence fortifies and enhances your company's searchability and social authority, which we will touch on more later.
Dispensary Local SEO – Google Businesses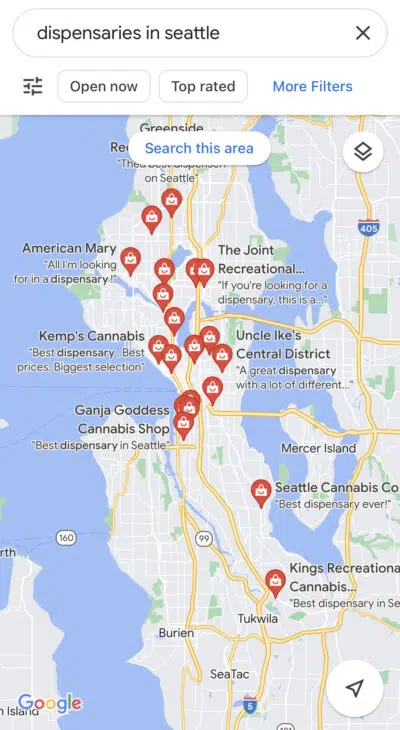 Much like finding a cup of coffee or a slice of pizza, shoppers go to Google to find cannabis products and dispensaries. Thus, polishing up your Google presence is the most important strategy for location-based SEO. In fact, this should be one of the first steps you should take to enhance your company's searchability.
Register your marijuana dispensary locations so that they are fully searchable on Google Maps. Ensure that your addresses, contact information, and business hours are correct and up to date. Keep everything entirely consistent, avoiding variations such as addresses with "northwest" in one website, and "NW" on another, for example. Don't forget to add photographs to highlight what your store sells.
Use relevant keywords in your business description so that your shop comes up when people search for specific products or descriptions. Ideally, your goal is to have your business appear in the Google Maps Pack. This is essentially Google Maps featured stores and pops up at the top of the SERP, highlighting businesses that are most relevant or top rated.
See also: for liquor store and smoke shops, merchants can use mapAds to automatically upload their entire product catalog to Google for free. This increases digital exposure and brings in more customers to your dispensary. mapAds can also run automated location-based ad campaigns through Facebook and Instagram.
Product Reviews Are Critical
Considering how much consumers check online information before making purchases or visiting stores, customer reviews are remarkably important. Google's algorithm operates in a similar way, bumping up businesses that have better customer feedback. In fact, having positive customer reviews mention specific marijuana products that they purchased from you will help your dispensary show up in search results for that particular product
The first step to generating positive reviews is fairly obvious: you need a great staff! That's right, having budtenders that are knowledgeable, personable, listen to your customers, and make great suggestions will ensure that your clientele leaves your store with a smile on their face. In turn, that positive energy will increase your positive reviews and boost your SEO.
In addition to better reviews, Google's search engine likes to see more reviews. Offer your dispensary customers a reward like a discounted 1/8th or a free pre-roll for writing a review online. Higher volume means greater customer engagement as well as increased established authority on Google.
Social Media Presence
There are many different opinions on whether having a high amount of followers, likes, and views will send "social signals" to Google's algorithm. That's why it's important that your dispensary has an established social media presence and substantial number of unique, real followers. Still, this correlation between the two remains unclear.
Either way, dispensary social media pages can help drive people towards your landing pages, eCommerce store, and blog. Keep in mind that while Instagram isn't a "search engine", so to speak, more followers on their platform means more exposure and engagement when you post updates and content about your dispensary. Some cannabis retail companies have tens of thousands of followers who are reminded about great products and promotional campaigns, which drive up traffic and sales.
Marijuana SEO With Keywords And Content
Researching relevant keywords that help you rank on Google while simultaneously targeting high intent customers is well worth it. Utilize a keyword tool like SEMrush or Ahrefs to see what people are searching for, and how hard it is to rank for those keywords. Make sure to add questions and topics that are relevant to your dispensary products and locale.
You can use landing pages, eCommerce menus, and blogs and "news" posts to bolster your website content and provide useful information for Google searches.
For example, let's say you own a dispensary in Las Vegas. Using SEMrush, you can see that the keyword "vegan edibles las vegas" gets about 40 searches per month with a 13 percent difficulty in ranking. While 40 individual searches isn't an astronomical number, a 13 percent difficulty almost guarantees being able to land on the first SERP.
Write a blog post providing useful educational information about vegan edibles. Add information about what your dispensary offers in that category, profiling flavors and brands. Next time a vegan cannabis user lands in Vegas and searches for edibles in town, your page will come up first, making it far more likely that that individual will be in your store at some point.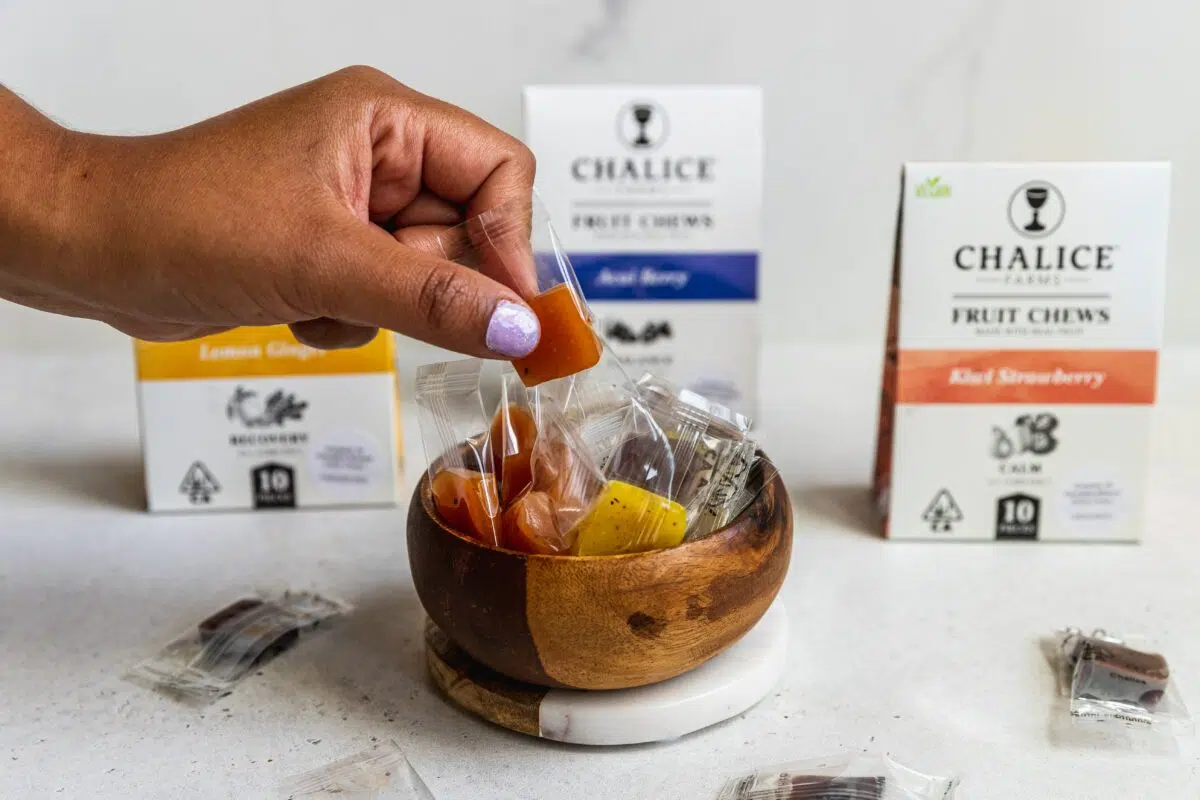 External Links, Internal Links, And Backlinks
When building up the content on your cannabis retail related blog, be sure to include some external links. This type of linking creates a page authority infrastructure to indicate to Google that the information you're providing is related to and rooted in other articles and studies. As you create more and more posts, you can internally link relevant content within your own domain. This helps build a scaffolding for website architecture, legitimacy, and authority.
Ideally, your article can be referenced or reposted by a separate marijuana industry-related website with a "backlink," which adds even more credibility and visibility to your blog. Some blogs will offer guest contributions through which both parties can generate backlinks. All of these types of links help optimize your SEO and should be continuously worked on and updated to ensure that they still function correctly.
Product Based SEO
Ensure that your products are correctly listed and described on your menu so they are easily findable by search engines. Some of the most popular marijuana related searches are product based, as customers look for their favorite edibles, strains, and vape cartridges. Having all of your correctly described and listed inventory will assure that your dispensary comes up in the SERP for local consumers. Pay close attention to eliminating duplicate listings. In addition, allow for customers to add reviews directly on your eCommerce platform to boost your site integrity.
Use Cannabis Menu Maps
A Google search for "dispensaries in los angeles" shows Leafly and Weedmaps on the first SERP. There are now MANY cannabis menus (think Yelp for cannabis) that dispensaries can use to reach customers.
Leafly, for instance, is more specifically a cannabis strain profiling page that connects customers with local retailers who carry whichever strain you're looking for. Weedmaps, on the other hand, started out as a dispensary review page and now allows users to buy cannabis straight through their website or app.
This is essentially the contemporary version of getting your retail business on a business directory. Whether you choose to use Weedmaps, Leafly, or any of the other cannabis menu apps, their platforms will greatly increase your exposure to cannabis consumers with a high purchase intent.
Optimize For Mobile
In 2021, 59% of Google searches were made from mobile devices. Remember that a fair share of the people that are looking up your dispensary will be on the go. On top of that, nearly 60% of your potential dispensary customers will be under forty years old. Thus, many of these searchers will be using their smartphones to look up cannabis shops.
Be sure to optimize all of your dispensary website content so that it is easily readable on mobile devices. Building a site that causes problems and glitches on people's phones is a guaranteed way to get them to quickly bounce towards your competitors. Keeping your site sleek and fast on mobile will increase your eCommerce sales and customer engagement.
Audit Your Website And Frequently Check Analytics
To optimize your technical SEO, keep checking to make sure that your cannabis dispensary website is running smoothly and quickly. Having glitches, unnecessarily burdensome image sizes, duplicate content, and unstructured data will signal to Google that your website is not worth suggesting to search engine users.
In addition, use Google Analytics to see how your SEO is actually performing. These types of rankings change over time. Therefore it can be very advantageous to go back and see which areas of your domain might be falling behind. While the analytical data takes a bit of time to learn, proficiency can prove to pay big SEO dividends down the line.
Cannabis SEO Experts
For bigger operations and multi-location dispensaries, owners will consider using professional digital marketing firms who specialize in search engine optimization. While this option might seem costly up front, many of these third-party firms offer guarantees in increased traffic, both to your website and in-store. A couple of options for this type of work in the cannabis industry are marketing and branding company Canna Planners, as well as the SEO-specific agency Avalanche Creative.
KORONA POS For Dispensaries
Optimizing your searchability is a great way to increase traffic and sales for your cannabis eCommerce website and retail location. However, keep in mind that your marijuana dispensary can only be as great as the point of sale that you choose. KORONA POS for dispensaries is the most efficient, powerful, and robust point of sale in the business. We offer enhanced cash security features, and all of the integrations your cannabis retail business needs to compete in the industry. Give us a call today to speak to our wonderful support team and request a demo!
FAQs: Dispensary SEO
What does SEO stand for in marketing?
SEO stands for search engine optimization. It refers to the ways in which you drive traffic by  helping search engine users find your website or business. You do this by strategically using keywords, tags, and domain enhancement to rank higher in search engine return pages (SERPs).
What does SEO do?
SEO, or search engine optimization, drives more traffic to your website. Improving your searchability means ranking higher on search engine return pages (SERPs) like Google. This exposes search engine users and potential customers to your business, thereby increasing traffic, sales, and market share. It is a form of digital marketing.
Can you advertise a dispensary on Google?
Cannabis-related businesses like dispensaries are not allowed to advertise on Google. While this might change in the future, for now dispensaries must rely on organic traffic through improved SEO. There are many ways to improve cannabis retail SEO, including polishing your Google business presence, encouraging customer reviews, posting on social media, conducting keyword research, blogging, and more.
How can I promote my dispensary?
Promoting your dispensary should be a multifaceted process. First, you can improve SEO by brushing up on all of your searchability online. Next, you can regularly post on social media to generate followers that will be exposed to your products and promos. Finally, you can use fulfillment and menu apps like Eaze and Weedmaps, so that consumers will easily find your shop and product list, and, if legal in your city, order directly online for delivery.