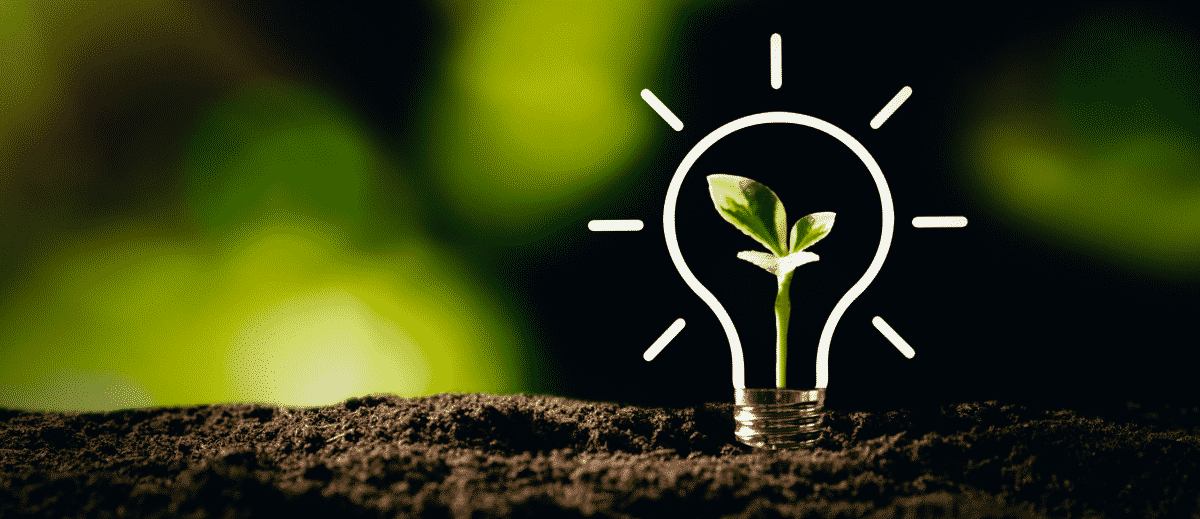 If your company's mission is sustainability, it should be reflected in all aspects of the business. And one of the most important aspects of your move towards sustainability is your store. Its appearance is the first impression of your business a customer gets.
The question is, does your shop's interior design accurately represent your company? If not, it's time to reconsider your approach and make eco-friendly improvements. Here are some ways to incorporate green design into your store to reduce your carbon footprint and broadcast an eco-conscious message.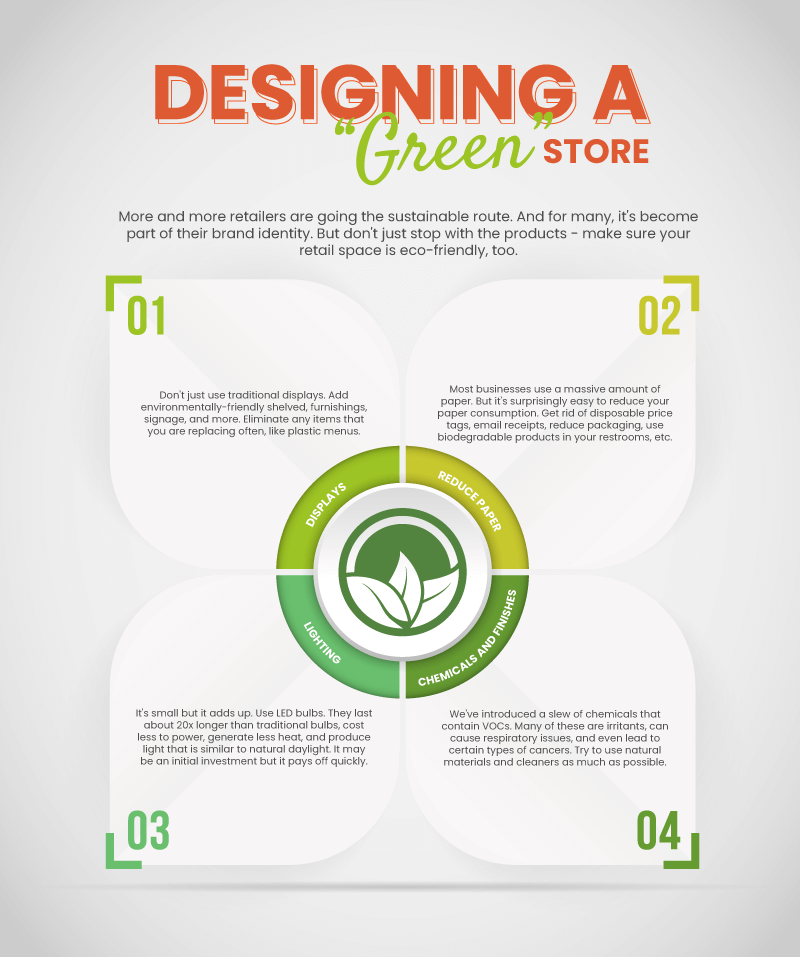 1. Displays
What messages do your store's displays send? Depending on what you sell, reinforce your eco-friendly commitment by showcasing and selling your products in fresh new ways.
Consider replacing the standard, corporate displays, and racks with styles that are recycled or eco-friendly. Shelves made of earth-friendly bamboo, repurposing recycled and vintage furnishings, using old wine barrels as bins, or converting wood pallets into display furniture are some good ways.
2. Reduce Paper Usage
Many businesses use a large amount of paper. Store packaging, shipping supplies, receipts, reports and copies, and paper towels are just some examples. Reducing or eliminating paper and packaging can help your company create less trash and landfill contributions. Review how much your business relies on paper products and find creative ways to reduce your business use of the material. There are a few ways your business can achieve this.
Price Tags and Receipts
Forego paper price tags and use small reusable signs to reduce the amount of printing and paper your business uses. If you want to be extra innovative, add small signs with QR codes next to every item. The QR code is a square barcode that smartphones can scan to obtain information. A customer could scan a QR code and receive pricing, technical data, and even reviews.
If your retail store still prints customer receipts, consider training your employees to ask a customer if they'd like a printed receipt first. It may help your business cut down on the number of receipts you print. A better alternative is to go digital — ask customers for their email addresses and email them a digital copy of their receipt.
There's an added benefit to emailing customers their receipts — you can build your customer marketing database to notify them of future sales or promotions if they opt-in for other notifications.
Packaging
Another way to reduce your company's dependence on paper is the amount of packaging your store uses. Switch to eco-friendly packaging and shopping bags that are recyclable or biodegradable. Encourage customers to bring their own bags or packaging for a small discount. Many coffee shops incentivize this practice — customers who bring their own mug or tumbler receive a discount on their order and waste one less paper cup.
Bathroom Supplies
The bathroom may be another area where a large amount of paper is used. Replace paper towels with hand dryers. And consider using toilet paper alternatives, such as bio-degradable or recyclable toilet paper, or install a bidet or bidet attachment to your company toilets to reduce the amount of paper needed.
These types of details may be small, but they create a large impact on customer impressions, as well as help your company make positive contributions to the environment.
3. Lighting
Only 100 companies are responsible for 71% of the world's emissions. If this figure has your attention, you're ready to make changes to how your company does business when it comes to energy use.
Start by making small changes to the amount of energy your company uses. Your company may not have the budget of a multinational corporation, but it can still contribute to sustainability. You may find that one of the largest contributors to your commercial electric bill is lighting. You can't go without good lighting — your employees need quality lighting for maximum productivity. But you could make some changes that may not affect the quality.
Start by switching all lightbulbs with more energy-efficient versions. LED bulbs have several advantages:
They last longer than an incandescent bulb

: A traditional incandescent bulb has about 1,200 hours of light available. An LED lasts for 25,000 hours.

They consume less power

: A 9W bulb costs $1.26 per year to power, compared to a comparable halogen bulb, which costs $6.02 per year.

They don't generate as much heat as a traditional light bulb

: An incandescent bulb emits 90% of the heat it generates, making LEDs cooler to operate. If you have a large location with many lightbulbs, the heat savings of switching to LEDs can also contribute to needing less air conditioning to keep a room cool.

The light emission is closer to natural daylight

: LEDs come in your choice of color temperature to adjust the quality and color tone of the light. You can buy daylight-temperature bulbs that are closer to daylight.
4. Chemicals and Finishes
Another important factor to address when redesigning the store is the type of chemicals used and how they affect air quality. Many products, including paints, coatings, adhesives, and even fragrances, contain volatile organic compounds (VOCs) that may be harmful to others. VOCs may cause irritation, respiratory issues, and even cancer.
When choosing building materials and finishes, look for low to no VOC versions. Natural materials that require little care or maintenance are the best way to protect indoor air quality.
In most cases, water-based paints, coatings, and varnishes have lower VOCs than solvents or oil-based products.
Choose natural stone, bamboo, or recycled wood products for flooring or counters instead of Formica or laminate flooring. They won't require as much adhesive or sealants for installation and maintenance. Metal cabinets are better than pressboard or laminated versions, which were manufactured with large amounts of adhesive. Be mindful of what type of cleaning materials you use — many of the store-bought chemicals can also affect your store's indoor air quality.
Green Store, More Green in Your Pocket
Many green design upgrades not only create a more unique business interior, but they also save you money in the long run. Be mindful of how your company contributes to the environmental problems the world faces and make small changes to do something about it.
For more business advice, check out the rest of our blog! And to learn more about how KORONA can change your retail business, click below to learn more.