As a retailer or small business owner, knowing the best Christmas marketing campaigns is a must if you want to increase your sales during the holiday season. In fact, between November and December, holiday sales have averaged 19% of annual retail sales over the past five years.
However, for some retailers, it may be an even bigger percentage than that. Holiday sales, of course, are the most profitable because purchase volume increases without a significant increase in retailers' fixed costs.
Over the years, most brands have taken advantage of this festive season to boost their sales by increasing and improving their online, TV, social media, and other forms of digital advertising. And they've seen the difference. Holiday sales continue to improve year-over-year.
As Christmas and New Year's quickly approaches, it is crucial to think and prepare your Christmas marketing campaign strategies. And although there are many types of Christmas marketing campaigns, we have compiled six tried-and-tested Christmas marketing ideas to help you double your sales.
Top 6 Christmas Marketing Campaigns
1. Gain Maximum Reach With a Multi-Channel Gift
One of the best and most effective channels that you can use to boost your sales from your Christmas marketing campaigns is social media.
The most popular network you can start your Christmas marketing with is Facebook. Facebook remains an indisputable platform to promote products with almost two billion active users. Other social networks that you should consider for your Christmas marketing campaigns are Instagram and TikTok.
These social networks are similar and have about one billion active users each. This indicates the potential of these social media platforms. Now, how to get maximum reach with a multi-network giveaway?
It's simple! Organize a contest on these platforms, and announce the winners' rewards. With social media giveaways, you have a great chance to expand your brand and awareness. They drive more engagement and help expand your followers and audience.
However, make sure that the reward aligns with your brand and that it is well fitted to your prospects. This kind of strategy works when your social media accounts have a lot of followers. Therefore, spend some time trying to optimize your profiles and build a broader following. If not, you can partner with well-known influencers, too.
This will help your product gain more reach. Mention the giveaway rules on social media in very clear and straightforward language.
Example
Oak Bookshop used Instagram to run a social media giveaway. The contest asked their customers to share and comment on their favorite Christmas stories.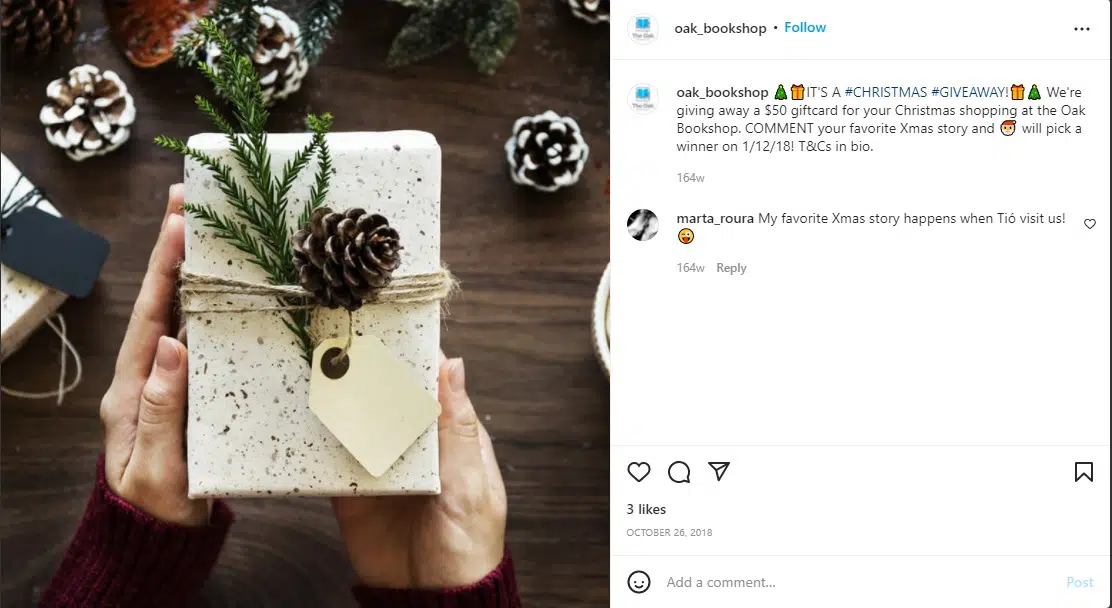 2. Generate Leads With Email Marketing
You will often hear that email marketing is dead and is not effective enough anymore. Well, it's not true! According to a McKinsey & Company study, email marketing is up to 40 times more effective than social media.
In addition, the report published by AWeber on email marketing statistics for small businesses proves that 66% of companies surveyed use email marketing to promote their business or communicate with prospects and/or customers.
Learn More about Holiday Email Marketing Ideas to Keep Customers Engaged
If you're one of those who haven't harnessed the power of email marketing, it's time you did it, especially for your Christmas marketing. But how can you use email marketing to boost Christmas sales during this period?
First of all, it is essential to remember that a good Christmas email campaign depends on the pre-established relationship with your customers. Set up your e-mail marketing campaign in three distinct stages to hope to generate leads:
Pre-Christmas email campaign: A few weeks before the Christmas period.
Christmas email campaign: Christmas and the days surrounding it.
Post-Christmas campaign: A few days or weeks after Christmas.
Pre-Christmas email campaign
The first and second weeks of November are considered the most favorable time to send your Christmas email campaigns. Pre-Christmas emails are a way to highlight gift ideas and prepare your shoppers for upcoming Christmas promos.
It's a subtle technique to keep your brand and your products in the minds of your subscribers. It is not advisable to sell your products directly through a single e-mail. So, pre-Christmas emails are meant to prepare the emails you will send at Christmas. Typically, businesses can break these emails into two distinct types: wish lists and gift guides.
Wish lists: Wish list emails are all about presenting your customers with different products that they might be interested in so that they can add them to their Christmas wish list.
Gift guides: Another form of pre-Christmas email is the gift guide. You use this form of email when you know your customers' preferences better. It consists of making suggestions of relevant products that match their preferences.
Christmas email campaign
Since you've already nurtured your subscribers with your emails before Christmas, the next step is to sell your products. As you have already presented your subscribers with products that might interest them through personalized content, they most likely already have some of your products in mind. This is when you start selling.
To further encourage them to buy, you can offer discounts on products they have already shown interest in. Allow them to share these discounts with their friends and family members. This will allow your product to have more visibility and effectiveness.
Post-Christmas email campaign
Christmas may be over, but that doesn't mean you have to stop your marketing campaign. The post-Christmas email campaign is a way to set the tone for the rest of the year.
Here are some tips on how to start your post-Christmas email campaign.
Discounts
Just as you offered discounts on certain products at Christmas, it is advisable to continue the same momentum until the beginning of the following year. Offer more discounts to consumers who bought during your Christmas promotions.
They may have enjoyed a product or service enough to rebuy it. Or they may be interested in other products from your brand that they didn't get at Christmas. This is the best time to encourage them to make additional purchases because consumers are more focused on items/services that would be useful after the festive period.
Show your gratitude
Send emails to thank your customers for their support and trust in your products. You can tell them what you have planned for the coming year and include gifts to show them how much you appreciate their business.
Share useful content
Your subscribers are valuable treasures for the Christmas marketing campaign and any other marketing campaign you will run throughout the year. So offer them uplifting content that brings value. Share with them content that can improve their lives or their business. Think of something outside the box that they'll like.
3. Personalize Your Christmas Gift Wrap
Another Christmas marketing campaign idea you should consider to improve your Christmas sales is the customization of Christmas gift packaging.
Personalizing gifts is a way to make your brand more festive and create excitement and Christmas spirit among your customers.
Make the Christmas packaging of your products unique during the Christmas season. This can help create a sense of exclusivity around your product, while also providing a valuable service and added convenience to the shopping experience.
You may also like 8 Easy Techniques on How to Sell More Gift Cards at Your Retail Store
4. Make Your Landing Page More Attractive
During the holiday season, consumers don't only buy in physical stores. A large volume of Christmas orders and sales occurs online. Moreover, with the advent of the COVID-19 crisis, people are more inclined to buy products online. That's why you need to have the most attractive landing page possible to catch the attention of your potential customers and convert them into customers.
The landing page is an essential marketing element of your website. Make your landing page more attractive, engaging, and interactive than usual. Add personalized videos with seasonal Christmas messages. There are many ways to boost conversion rates through holiday landing pages: great page design and site structure, fast checkout process, removing log-in requirements, adding urgency, creating enticing promotions, improved product images, and more.
5. Offer Free Shipping
Today, buyers expect free delivery, especially during the holiday season. Did you know that 93% of online shoppers are motivated to buy more products if free shipping options are available? A recent study revealed that more than 78% of U.S. Amazon Prime customers have signed up for the Amazon Prime loyalty program because of free shipping. When building your landing page, offer free shipping to see what impact it could have on your sales.
Make sure that the shipping is free, even if it requires you to raise the price of your products to cover the shipping costs. This slight price increase may seem risky, but your customers often overlook it when they read the words "free worldwide shipping."
You may also like: 12 Ways to Reduce eCommerce Shipping Costs
Another tip for knowing how to go about it is to visit your competitors' websites to see how they proceed. This will give you more ideas on how to increase the price of products while staying within a reasonable margin.
See related: Holiday Shipping Tips for Retailers
6. Invest in a Better POS system
Yes, you may not see the importance of a POS system right away, but you should know that it plays a vital role in managing your business, especially during the holiday season. You likely have several critical products on your shelves that are in high demand during the holiday season. It's imperative that you don't run out during the holidays. The last thing you want is to have frustrated shoppers and lost sales. During such an important time of the year, it's so important that you maximize your sales.
To avoid such a scenario, you need to have an inventory management tool capable of informing you about the stock level of your products, which will allow you to make the right decisions before it gets too late.
A retail POS system will help you better manage your inventory. It can also be handy during your email campaigns. KORONA POS is a cloud-based system that allows you to have a holistic view of your business during and after the holidays. It provides you with analytics and all the metrics you need to better manage and optimize your Christmas marketing campaigns.
You can use this stock data to create a sense of urgency. According to Matt Warren, CEO, and founder of Veeqo, "Having a real-time stock figure clearly indicated for each product can be a huge advantage. It's a great way to be transparent and give customers more information. But it also creates a sense of urgency and can encourage shoppers to make their purchase decision now – especially if they think stock might be running out as Christmas approaches.
Get Started with KORONA POS today!
Tell us a little bit about your business and explore all features that KORONA POS has to offer. And there's no commitment or credit card required.
FAQs: Chrismas Marketing Campaigns
1. When should I start a Christmas marketing campaign?
The ideal time to start holiday marketing is 2-3 months in advance, i.e., between September or October, though many people start much earlier. This allows you to prepare an email list of your potential customers and your online presence on social media. You need to spend time explaining and showing your customers why they should buy from you before they are ready to do so and accompany them throughout the sales process. It's also essential to start your Christmas marketing campaign early because it gives you an idea of what products are most in-demand and allows you to prepare your stock accordingly.
2. How Can I Increase My Christmas Sales?
There are several ways to increase your Christmas sales. It is up to you to choose the ones that suit you best depending on the type of business. The first way is to offer special discounts to loyal customers. The second one is to run an email campaign and personalize the emails of your potential customers. The third way is to organize a contest on your social platforms and, in return, offer gifts to the winners. This will create a buzz around your brand. You can reach out to influencers to help you. The fourth option to increase your Christmas sales is to offer free shipping to your customers if you have an online store. The fifth strategy of the Christmas marketing campaign idea is to personalize the gifts of your customers. The last approach is to get a good point of sale system to keep track of your inventory, so you don't run out of stock in the middle of a Christmas sale.