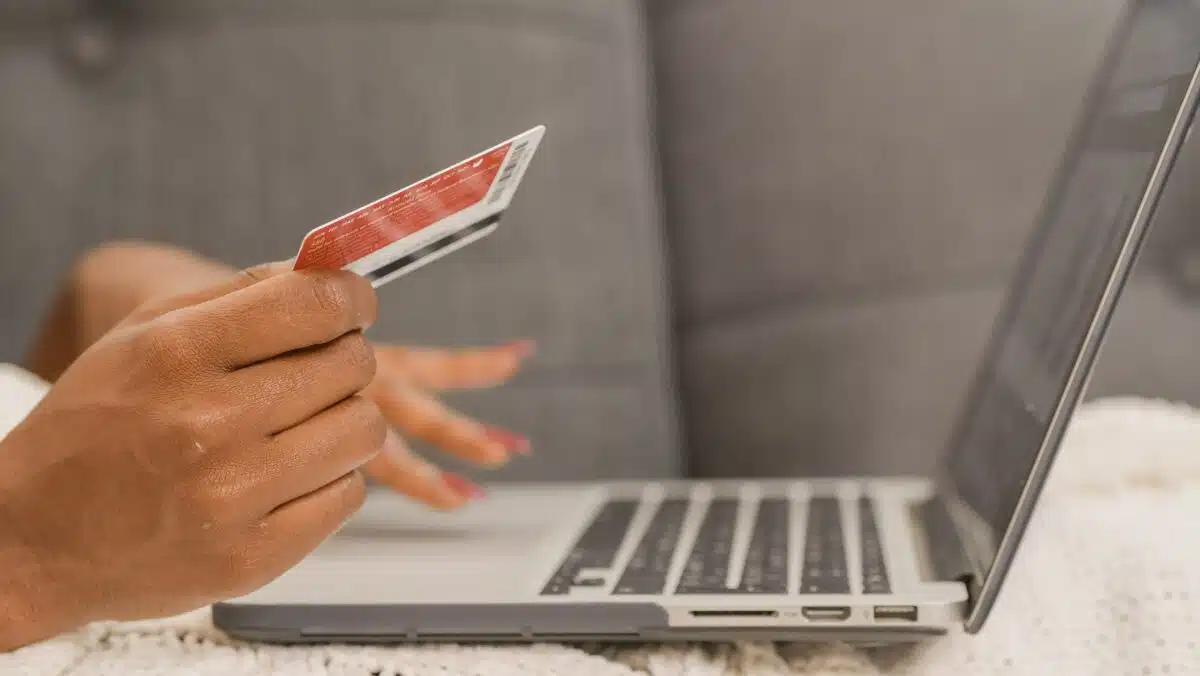 Ten years ago, online shopping accounted for less than 6% of retail commerce. Since then, eCommerce has increased every year, and in 2023, that number is expected to reach well over 15%. In fact, 2022 saw over a trillion dollars of online shopping in the United States alone.
There are millions of eCommerce sites, with fierce competition for certain niches and product types. As such, businesses must constantly work on rising above their competitors. Part of this involves checkout optimization.
Optimizing your checkout means a better user experience, which, in turn, increases conversion rates and customer retention. But how exactly do you go about improving your eCommerce checkout flow? Keep reading to find out.
Table of Contents
Defining Checkout Optimization
Creating a smooth, appealing, and fast checkout is essential for every eCommerce business. Optimizing your checkout really means constantly fine-tuning your purchase flow while simultaneously getting the most out of each transaction.
In other words, your checkout process should be updated, tested, and polished to work great for both your website and your customers. Establishing trust, displaying information prominently, and eliminating unnecessary distractions is a must. The idea is to design a sleek and efficient checkout while maximizing conversions and customer acquisition.
Checkout Process Optimization: Why Is It Important?
It's no great secret that there is a ton of competition when it comes to online shopping. So, of course, it's important to keep up with the latest technology and offer the most comprehensive eCommerce checkout. After all, studies show that customers are quick to abandon a retailer or purchase if they're not happy with their checkout experience.
To put it frankly, shoppers don't want to deal with poorly designed or archaic websites. And your competitors are constantly working on their eCommerce checkout processes. Though Amazon still dominates the eCommerce world, there is plenty for smaller retailers to think about in order to stay competitive and relevant, even though it may seem like a daunting task.
Improve the Checkout Process With Streamlining and Accessibility
Most importantly, your checkout flow should be streamlined and intuitive. Make the process as efficient and navigable as possible while also providing all of the necessary options and flexibility. Think about including these features:
Guest Checkout
Allow customers to make purchases as guests. Many online shoppers don't want to go through the process of making a profile or account for every eCommerce business. Consequently, it can be hugely beneficial to give the option of making purchases as a guest. You can still ask for some basic information, like an email address for correspondence, but there's no need to require that users create a full profile.
While you might not be able to collect as much information about customers for marketing purposes, you will considerably increase your conversion rate. If the shopper is happy with your brand or product, they will likely be back for more. Plus, in the future, you can entice them to create an official account with promotions and discounts.
Allow Multiple Payment Options
These days it's imperative that you give online shoppers the choice of as many payment methods as possible. Offering an array of options opens up your sales to more types of customers, and helps encourage your website guests to go through with making purchases. Consider adding these methods:
Credit and Debit

Paypal

Google Pay

, Apple Pay, Samsung Pay

Buy Now Pay Later services like Klarna and Afterpay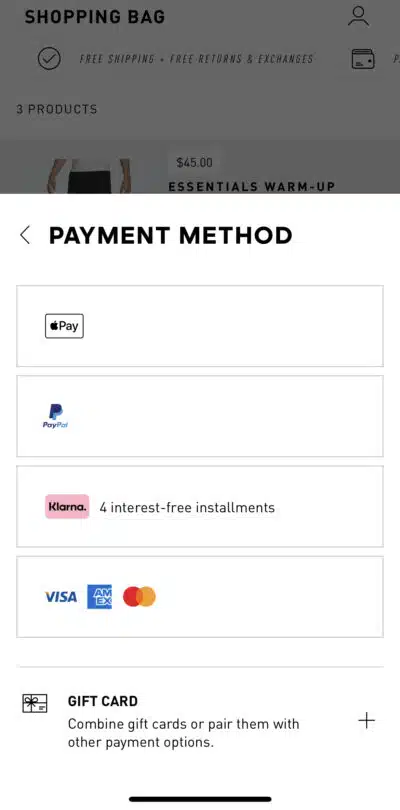 1-Click Checkout
Once you have your customers signed into their accounts on your eCommerce website or smartphone app, you can enable 1-click checkout. Adding 1-click checkout will further reduce the dropoff in retention between shoppers who are browsing for items to buy and shoppers who actually make a purchase. If customers have items in their shopping cart or bring up a product that they need at that moment, they can finish their checkout process within seconds.
1-click checkout can be a great asset for certain types of retailers, especially ones with lower-priced items and recurring customers. Nonetheless, expensive one-time purchases for specialty items are less likely to be bought with a 1-click checkout. Thus, they don't make sense for every type of business.
Add A Chat Bot
Give your customers the ability to ask questions through a chat support plug-in. These chatbots can answer questions related to shipping, sizing, availability, and more. Include an option to request help from actual customer service representatives, if needed.
Providing quick responses about products is the goal. And adding this type of feature can be the difference between acquiring a new customer and losing one to your competition.
Display Useful Information Prominently
Your shoppers must always feel confident in your website's functionality and security. Certain website certifications and processes should be displayed to ensure customer trust:
Security Badges
Safe websites offer certifications and official badges. Show your customers that your website is legitimate by displaying these badges prominently. Remember to include the following:
SSL certificates

– proving that your website is actually what it says it is, as well as ensuring proper encryptions.

Payment processor

– display your

payment processor

logo or badge to indicate that you are using a trusted company or brand.

Antivirus logos

– any antivirus software that you use can be featured as a logo to show added security.

Customer satisfaction guarantees – tell shoppers that their purchases are risk-free.
Show Checkout Process Progress
eCommerce shoppers want to know where they stand at all times of the checkout process. Put a progress tracker at the bottom of your checkout screen to show all of the steps of the checkout flow. Providing a visual roadmap of your eCommerce checkout keeps them in the loop about where they stand in the purchasing journey and what more is needed before they're finished.
Be Transparent with Costs Up Front
Be as forthright as possible about the costs of products and shopping carts. Being sneaky about price increases will only dissuade your clientele from shopping at your eCommerce store. People want to know what items cost and how much they will be spending before reaching the final payment page. Make sure to have a neat and organized itemization and cost display.
Prominently Display Customer Reviews
Customers are much more likely to purchase products with positive reviews. Therefore, eCommerce websites should display both written and starred reviews prominently across your website. Let your customers search, filter, and read these reviews without ever leaving the product page. Having previous clientele discuss your items increases transparency and honest dialogue about your company or brands. Below is an example from Red Bay Coffee's product page showing customer reviews. You can click on the stars to see written customer reviews at the bottom of the page.
For more info on generating customer reviews, check out this article: How to Get More Customer Reviews: 6 Tips for SMB Retailers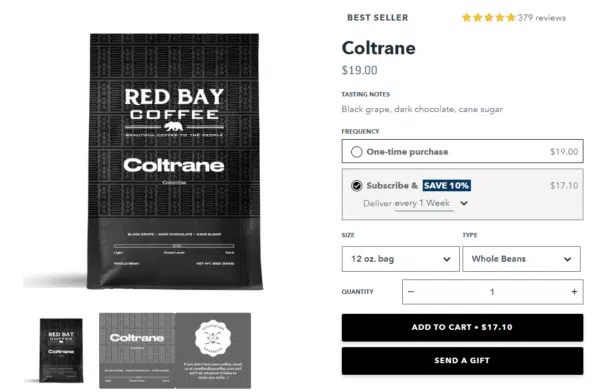 Checkout Page Optimization With Automated Suggestive Selling
eCommerce companies use many tactics to maximize their sales once they get a customer to visit their website. Whether this means following up on abandoned shopping carts or cross-selling related products, checkout optimization should both improve your customer experience and increase your sales.
Follow Up Abandoned Carts
Three out of four shopping carts are abandoned in eCommerce retail. This happens for many reasons, such as shipping costs, slow-loading websites, and, unsurprisingly, poor checkout experiences. To remedy this phenomenon, eCommerce platforms have implemented specific "abandoned cart recovery" tactics.
For example, if a guest is signed into their account on your website and abandons their cart, you can consider reaching out with an email. Remind them that they have left unpurchased items. Better yet, entice them with a discount code or a free shipping option. Adding these reminders and marketing efforts will help bring potential customers back into the fold.
Some retail companies have even used what are called "exit intent popups" to reduce cart abandonment. By using a website plugin, retailers prompt browsers with a popup window if they move their cursor toward the "x" button on the top right corner of their screen. Pop-ups offering free trials, promotions, or new shopper discounts are all great ways to convert that customer.
Here is an example of an exit intent pop-up discount offer from Skullcandy. The headphones brand uses this "Before you go!" messaging to reduce cart abandonment, enticing shoppers with a 20% discount for signing up for SMS marketing.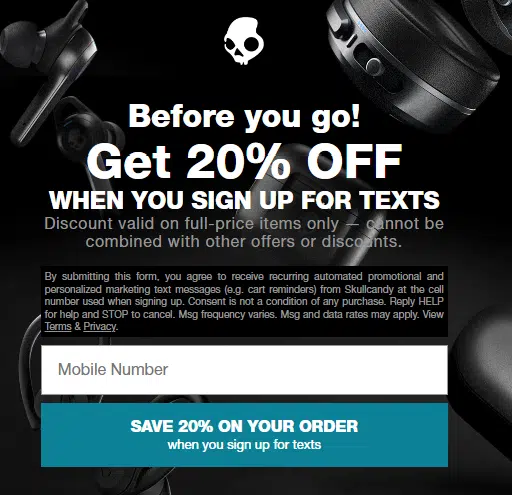 Cross-Sell And Bundle
Another way to increase your cart size and bottom line is to recommend products that are similar to or complement items in a customer's cart. For example, if you sell vinyl records, you can recommend other records from the same artist or other artists from the same genre. You often see this on Amazon through the "customers who bought this item often bought…" feature.
Utilizing suggestions is a great way to increase your sales. Just remember to do so in a tasteful and subtle fashion. Keep your recommendations neat and clearly separated from cluttering the cart or checkout flow process.
Optimize Your eCommerce Checkout For Smooth Browsing
Just like running any website or blog, eCommerce companies should constantly optimize their checkout processes for browsing. Consistently test your site to root out any glitches, irregularities, or problems.
Pay special attention to provide a mobile-friendly experience. Over 40% of eCommerce purchases are now made from smartphones, and this number is only likely to increase. Run tests to ensure that the mobile experience is aligned with your online shopping.
For more on omnichannel shopping click here: Navigating Retailing Channels: A Complete Guide to Multi-Channel Selling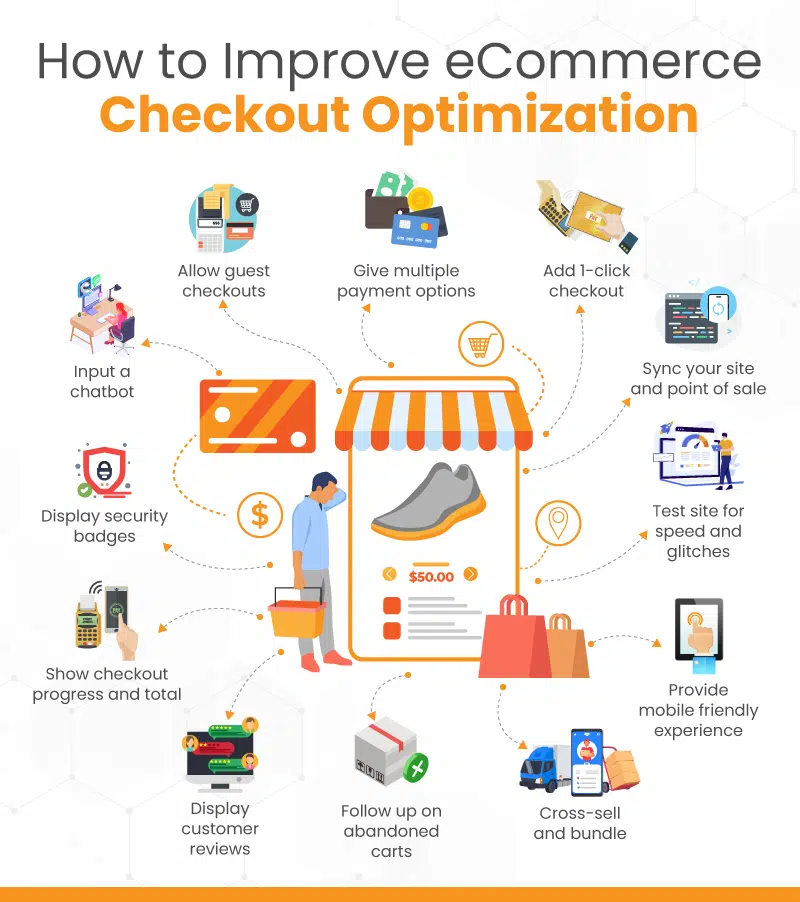 Synch Up Your eCommerce And Point Of Sale
If you run brick-and-mortar locations as well as an eCommerce platform, then you need a system that centralizes all of your sales data, inventory, and customer relationships. KORONA POS offers custom eCommerce build-outs to cater to your clientele, accentuate your branding, and feed data directly into your cloud-based point of sale software.
With an intuitive design, customizable dashboards, and lightning-fast checkout speeds, KORONA POS is the best point of sale system in the industry. Plus, the software comes with 24/7 customer support from highly trained in-house technicians. Give us a call today to schedule a demo and learn more!
FAQs: Checkout Optimization for eCommerce Retailers
1. How do you optimize the checkout?
Optimize checkout processes by creating a smooth, intuitive flow. Allow guest checkout, and multiple payment options that speed up the purchase process. In addition, make sure you optimize for mobile devices, and display badges that guarantee your website is safe and secure.
2. What is the best eCommerce checkout optimization tip?
The best eCommerce checkout optimization tip is to provide clear and organized information. Show the real prices prominently, and allow customers to see where they are in the checkout process. In addition, reducing the amount of steps or clicks to streamline the process will increase conversion rates. 
3. How do I make the checkout easy?
In some control states, the government intervenes at the distribution level to select brands and set prices. Other controlled states exercise power at the retail level by limiting sales to ABC outlets.