The fastest-growing trend in retail and restaurants since 2010 has been customer loyalty programs. Customer relationship management (CRM) has exploded, as companies realize how important these tools are; it is absolutely essential for any SMB to build their customer retention.
As important as bringing new customers to your business is, retaining them is even more critical and can affect profits significantly. Businesses that increase customer retention rates by 5% can increase profits by 25% to 95%! In addition, creating regular clients means you save money on marketing, receive word-of-mouth advertising, and create an avenue of valuable customer feedback.
How Do You Grow Customer Loyalty?
In addition to your amazing product and customer service, the best way to build a loyal base of customers is through a great retail loyalty program.
Like most things, there is a wide range of loyalty programs available. At the most rudimentary level, a business can create its own loyalty program through punch cards or stamps. Many other businesses are successful with simple point loyalty programs offered directly through their point of sale software. These solutions usually offer a loyalty point or a basic discount structure. More recently, however, loyalty programs have assumed an entirely new kind of power. How does Target send you a coupon for exactly what you want to buy? Or does Amazon offer you a discount on a product related to something you bought six months ago?
They do it by collecting advanced metrics and data from you and then using it to advertise, well, back to you! While these types of loyalty tools are cutting-edge, they're surprisingly accessible for small and mid-sized businesses. And that's the kind of loyalty program you want.
Can You Get These Types of Loyalty Programs Directly Through Your POS Software?
Likely not. Most points of sale systems offer basic loyalty solutions. These can be sufficient for some businesses. But for a more robust option, you need to look for software that specializes exclusively in loyalty programs. What's important to keep in mind, though, is if these loyalty programs can integrate with your POS system.
What Are Some Examples of the Actionable Data a Loyalty Program Can Provide?
From the customer's perspective, a loyalty program is great if it provides a tangible reward and a sense of appreciation. And your best customers certainly deserve this.
But exceptional CRM must also benefit you, the business owner. Of course, retaining your existing customers is part of the benefit, but collecting valuable customer data through your loyalty program is an added advantage.
This is where the actionable data comes in. Simply put, actionable data is some sort of information collected during the shopping experience that provides clear direction or insight into future decisions for your business.
And with more data comes a clearer picture of how to operate certain aspects of your business. That's why you want every single customer to sign up for your loyalty program. Once registered with your advanced loyalty system, every future transaction is saved, allowing retailers to analyze a variety of critical factors:
Customer Loyalty Data
How often do they visit my business?
Do they take advantage of discounts/coupons?
What's their average purchase?
Do they buy the same products or try new ones?
Do they buy for their friends and family?
Product Loyalty Data
You'll also get information about the individual products you sell:
Are people buying a certain product?
Do my regular customers buy it?
Do people often purchase this item with another item?
What colors, sizes, or models do people like for this item?
Do I sell this item at full price or discount price?
What time of year do people buy this item?
These data points can help you focus not only on your customer but on the products you carry.
Imagine knowing what your customers want all the time. Imagine buying inventory for your business knowing that it will be successful. These things are possible with the analytics that come with modern customer loyalty solutions.
Build Customer Loyalty with bLoyal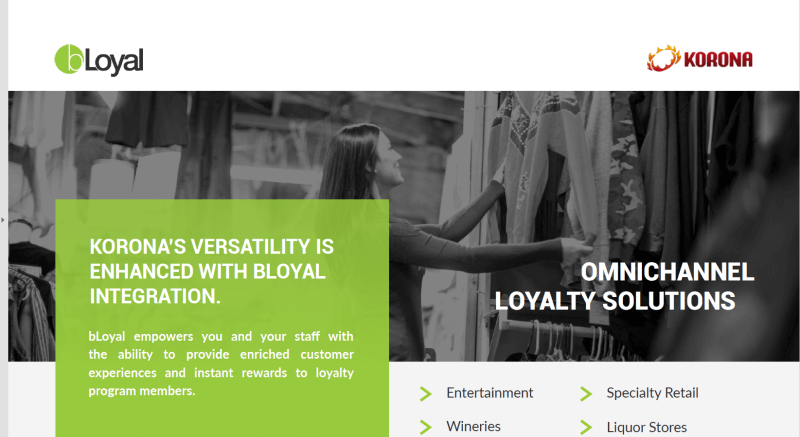 bLoyal offers robust integration with an array of features:
bLoyal also extends retailers the ability to offer custom promotions across their sales channels. It integrates with KORONA's POS platform, offers a customized account management page, and, like Como Sense, their team helps you set up your program for success.
One of the biggest advantages of bLoyal is its eCommerce features. It allows your customers the same loyalty experience online as it does in your brick and mortar store. Furthermore, you are able to develop one consolidated customer record from all your sales channels for your marketing purposes. This can be a powerful tool if you're a retailer looking to increase your digital footprint and compete in the modern retail ecosystem. bLoyal also offers plastic and digital gift card options.
bLoyal touches a number of industries as well. Whereas other loyalty programs focus on retail and restaurant, bLoyal also focuses on hospitality, travel, health & wellness, and service-based businesses. Traditionally, these are businesses that have had trouble finding POS-integrated loyalty solutions. But bLoyal's robust loyalty engine supports customized programs that can help all retail sales models.
Como Sense for a Customer Engagement Solution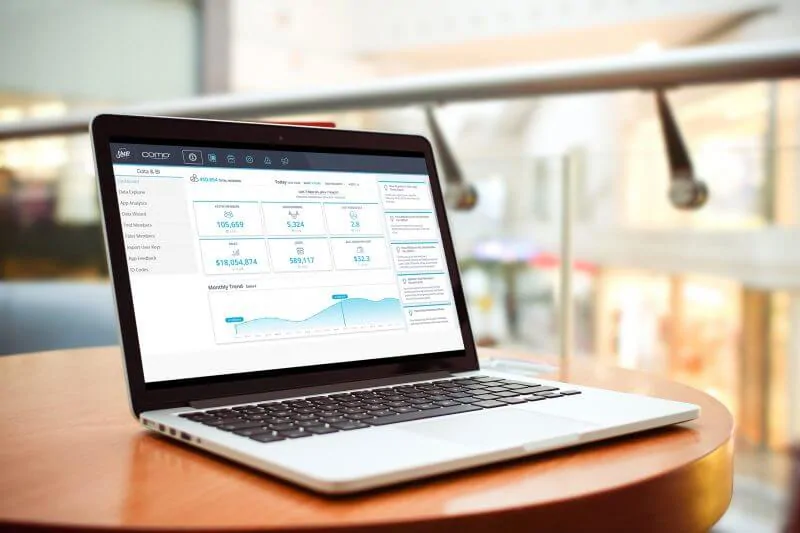 Como Sense offers some remarkable features:
Customer relationship management
Flexible loyalty program types
Actionable data & business intelligence
Custom mobile app with ordering and mobile payments
Communications through various channels (email, business app, SMS etc.)
Personalized campaigns
Como also uses metrics that help you understand your customers by analyzing their purchase behavior. After collecting the data, they produce automated insights that allow you to launch effective marketing campaigns. Como Sense also gives you a dedicated account manager to help you get set up.
Additionally, they will create a custom app for iPhone and Android that contains your business info, menu, reviews, etc. that can also integrate to your eCommerce and mobile payments. This way, your clients can track and redeem their loyalty benefits online or with a traditional loyalty card.
Como Sense does a great job of offering you all the features you need and scaling back the features you don't. They offer complete customer engagement solutions so you have everything you need in one place.
But most importantly, Como Sense seamlessly plugs into KORONA. Installation is a breeze and once up and running, the data is automatically captured and easy to access.
Digital Points and CRM with Loopy Loyalty
Starting at only $15/month Loopy Loyalty is very affordable and designed for small businesses. Businesses can design their own digital stamp card that can be saved on a customer's Apple Wallet or Android Pay to track their rewards points. The program also allows sending push messages to customers, viewing customer insights, and capturing transaction history. With stamps created and tracked digitally, customers don't have to worry about losing their cards and stamps can be issued via a scanner or even remotely from anywhere in the world.
Kangaroo for Marketing and Customer Loyalty
Kangaroo is a marketing, rewards, and customer retention program that aims to minimize effort and cost in retaining customers. It's known for its simplicity and customizable program that can be matched to each brand. Business owners can reward customers by "visit" or "spend" as well as adjust the program based on how customers react to it. Their feature "A la Carte Rewards" allows promoting specific products while their CRM feature includes insights regarding shopping behavior and trends. They also have an auto-marketing engine where you can send relevant offers, attract nearby customers with geo-location, and communicate via sms, email, and push campaigns.
Start Your Integrated POS Loyalty Program Today
Start using your loyalty program to its fullest potential and focus on how it can grow your business. Why not compete in the same space as the big box retailers and national chains? The technology is there for businesses of all sizes.
These integrations offer you so many opportunities to increase revenue with existing customers and begin the conversation with new clients. To find out more, check out Como Sense and bLoyal.
Get Started with KORONA POS today!
Tell us a little bit about your business and explore all features that KORONA POS has to offer. And there's no commitment or credit card required.