The demand for online advertising has grown exponentially over the past several years. Businesses of all sizes have consistently increased their annual marketing allocations to online resources.
Search engine ads, of course, play a large part in this field. Though Google doesn't release the total amount businesses spend on search ads, we can safely assume it's astronomical. And though Google gets the lion's share of searches and paid ad revenue, Bing is not a platform to be ignored. With nearly 3% of the market share and growing (Bing also owns Yahoo and AOL search for an additional 2% of the market), Bing gets approximately 13.7 billion searches each month.
So let's get into the benefits of Bing Ads, how it compares to Google, and how your business can invest in Bing advertising.
Bing Ads vs. Google Ads
Though completely separate platforms, the concept and execution of paid advertising on each is quite comparable.
Both offer custom solutions for businesses to reach targeted audiences, bring in more traffic, and increase total sales.
Google Ads
Google offers two distinct networks for business advertising:
Search Network: Businesses create ads that appear at the top and bottom of the search engine results page (SERP). There are now commonly 2-4 ads above all organic results on any given competitive search on Google.
Display Network: Display ads are more dynamic and can appear on various websites across the internet. Display ads track users to reach a relevant audience even when they're not making a search on Google.
Bing Ads
Owned by Microsoft, Bing offers three unique search engines: Bing, Yahoo, and AOL. Structurally, the advertising platform offers similar features to Google's.
They've recently added display ads in addition to simple text-based ads, and Bing now offers various ad types:
Expanded Text
Dynamic Search
Product Ads
Audience Ads
Smart Search
App Installs
Responsive
More on these in a minute.
Bing by the Numbers
While 3% of the market may seem like not a whole lot, you might be forgetting just how many people use the internet and search engines on a daily basis. 3% of a whole lot is still a whole lot.
As of late 2020, Bing has some rather amazing statistics for U.S. traffic:
7.4 billion monthly Bing searches

129 million unique PC users

36.9% of PC market share

Older users prefer Bing – 71% of users are 35 or older
More wealthy users prefer Bing – 55% of users make more than $75,000 annually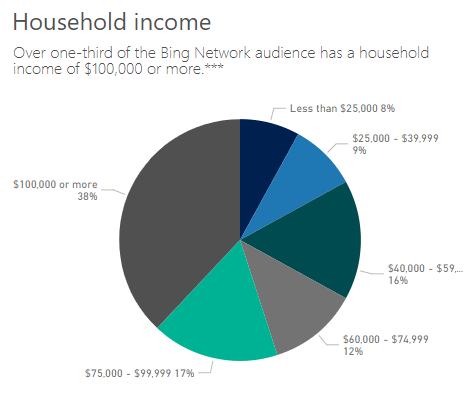 So if you run a small business that markets to an older, more wealthy audience Bing is a critical ad space in which to market.
The 7 Main Benefits of Bing Ads
Aside from the numbers listed above, Bing also offers businesses a few more significant advantages over its competitors, particularly Google.
1. It's Growing
While Google's market share is actually diminishing, Bing is growing at a pretty astounding clip.
2. There Is Less Competition
There are still far fewer businesses advertising on Bing than on Google, so competition is much less.
3. It's Cheaper
Because of the lower competition, it's also cheaper to market on Bing. Though hard to nail down just how much cheaper Bing is, it seems that it's significantly so for more queries. Users report an average decrease in cost per click of about 35%. Plus, it's easier to get in top positions on the results.
4. You Have More Control
Ad scheduling is far easier and more customizable by allowing different campaigns to run in different time zones or languages within an ad group level. Simply put, it saves you a ton of time and headaches in restructuring ad campaigns.
5. It Offers More Transparency
With paid search partner advertising (advertising with Bing on third-party affiliates), Bing allows businesses to see which search partners are sending traffic to your site. Additionally, their reporting allows you to identify unproductive or inappropriate search partnerships. Any that you'd like to remove, you can.
6. You Can Do an Exact Keyword Match
Google changed their exact keyword matches to include slight variations and misspellings. Most users reported a negative impact on the quality of their traffic. Bing still allows exclusive exact keyword match options.
7. There Are More Demographic Options
Bing allows search ads to be more distinctly filtered by specific demographics. You can also decrease or increase the bidding based on age, gender, or location.
7 Types of Bing Ads
One of the main benefits of Bing Ads is that it offers a more custom option for its advertising users. Below are the various types of ads they offer and how each works.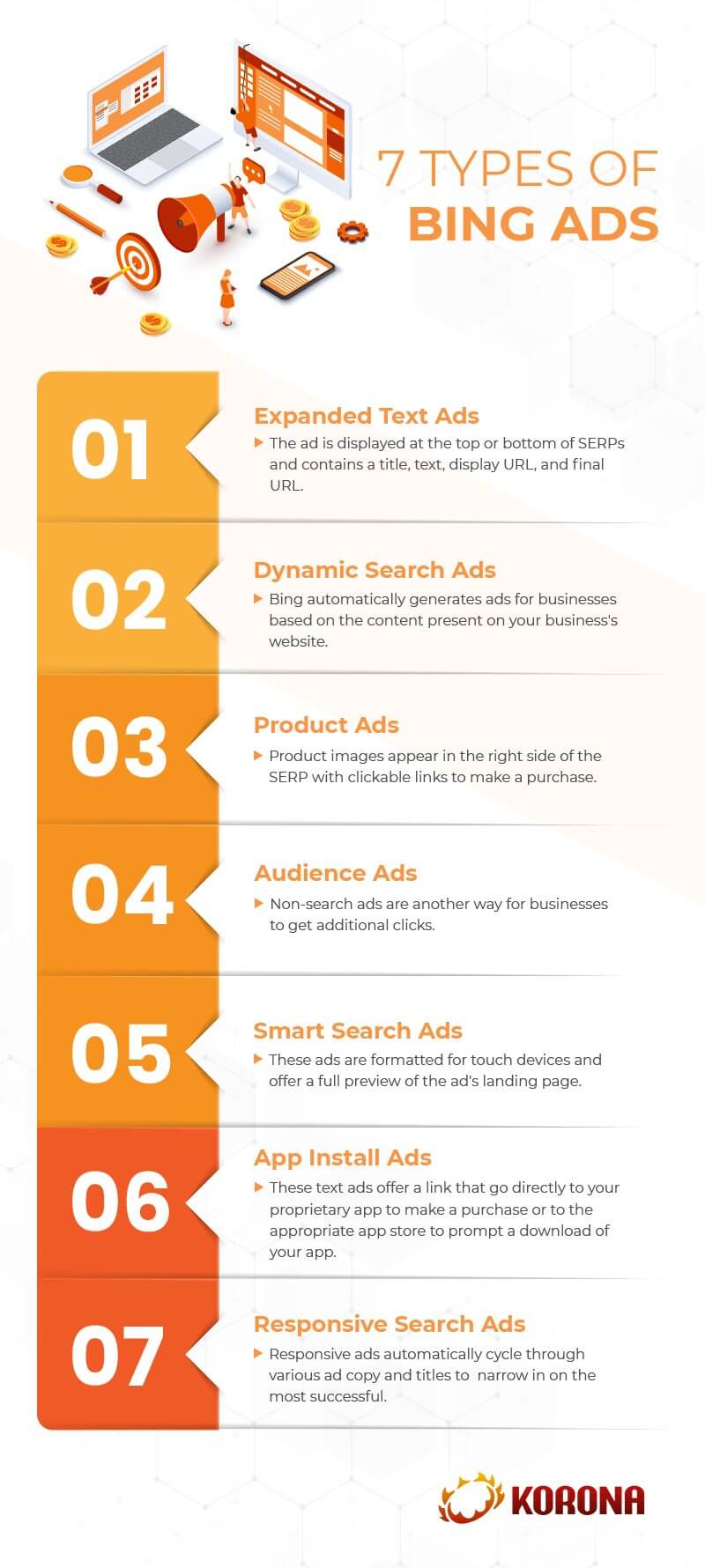 1. Expanded Text Ads
This ad is made up of four parts: title, text, display URL, and final URL. The title can be up ot 30 characters and text up to 90 characters. These can be previewed for desktop, mobile and tablets.
2. Dynamic Search Ads
As of 2020 limited to only certain countries (including the U.S.), dynamic searches look the same as expanded text ads, but are automatically created to target users based on the content of your business's website. These help reduce time spent creating ad content and help users identify missed opportunities.
3. Product Ads
In addition to text ads at the top of SERPs, product ads appear as images on the right side of SERPs. Product ads are also only available in limited locales and in English only.
4. Audience Ads
This new feature allows businesses to get high-quality traffic from non-search advertisements. These ads are integrated into articles and other online content and offer more visually appealing images. A common location for these is in Microsoft's browser, Edge. When a user opens a new tab they're likely to see a list of various articles including some sponsored Audience Ads
5. Smart Search Ads
Another newer addition, Smart Search is formatted for touch navigation and offer a full preview of the destined landing page.
6. App Install Ads
These are similar to text ads but feature a link that goes directly to your business app. If the user already has the app the button will automatically open the app for continued use. If they don't, the link will take them to the app store. The ads also automatically detect the users operating system so it can direct them to the appropriate app store.
7. Responsive Search Ads
Part of the challenge of navigating a successful ad campaign is the trial and error and A/B testing. It's hard to narrow in on a single best ad. Responsive ads do this for you by cycling through various headlines and descriptions as the ad runs. After a while, you're able to see the results and determine which option converted the best. Keep your top performers running and pause those that weren't converting.
For more advice on digital marketing, check out the rest of the blog for articles on social media marketing, Google My Business marketing, small business SEO, ranking your business on Amazon, and a whole lot more. And if you're interested in finding a better POS system, give KORONA a try. It's easy to set up a trial accounts, and it comes with no strings attached or credit card required. Click below to learn more.