The continuation of the COVID-19 pandemic has resulted in an unprecedented number of people working from home. For online retailers and eCommerce businesses, this may be a bittersweet situation. For many web-based stores, order volume has skyrocketed over the past month. Meanwhile, however, many are struggling to keep their operation costs down with such an unprecedented rise in business.
Whether you are a logistics manager supervising order deliveries from home or an eCommerce operations manager connecting data from disparate systems to bring down the costs, automation is the key to maintaining a reasonable operational budget.
Below we'll cover the top 5 ways to lower your automated shipping costs and how to better manage your eCommerce shipping process.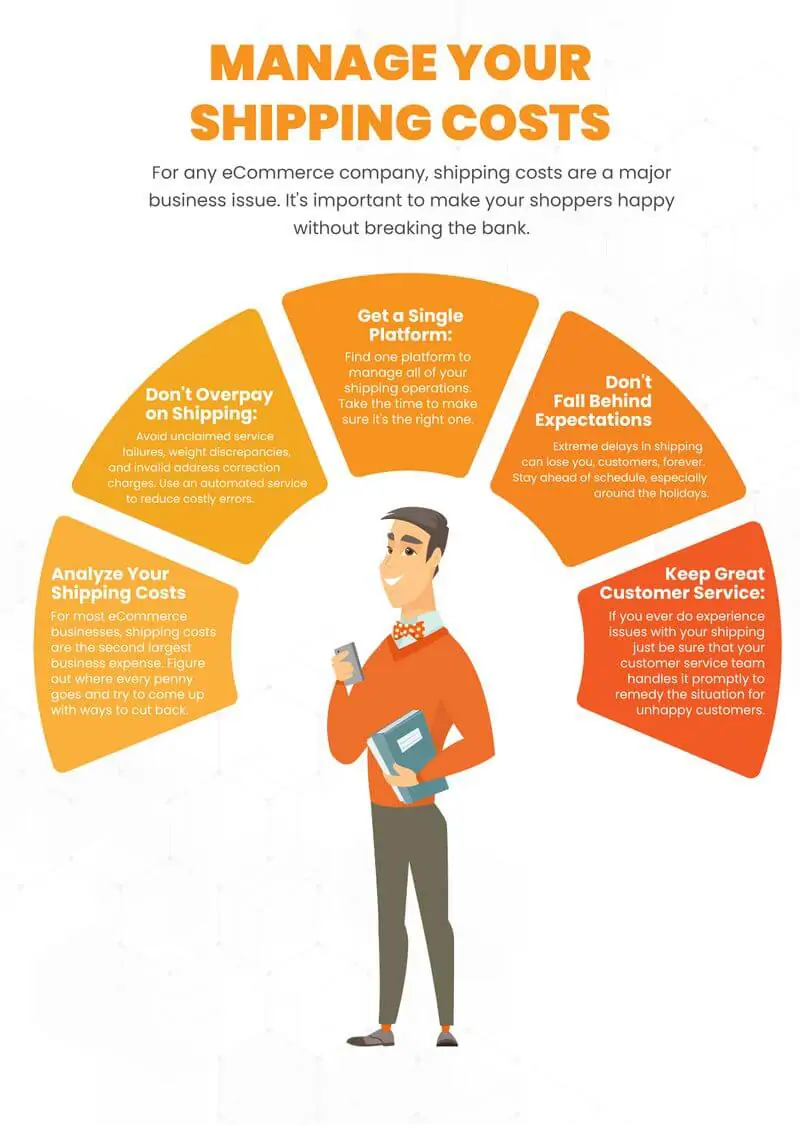 1. Analyze Your Shipping Spend
The sudden downturn in the economy has every business scrambling, and many are slashing their operating costs by 25% or more. For eCommerce businesses, shipping costs are the second largest operational expenditure.
The first step towards reducing your shipping costs is to track the minutia. Start by recording and processing every single shipping invoice. Break them down into categories of average, high and below average shipping spend. Dive deeper and correlate the costs with order volume, package weight and consignment destination. In short, look at every expense as an individual cost entity.
There is no way you have the time or resources to navigate through scores of shipping invoices. Instead, use a cloud-based shipping intelligence platform, and simply link your shipping data. Total cost analysis can be generated in a matter of only minutes. Use pre-built contextual reports and KPI-focused analytics to refine your spending strategy.
2. Don't Overpay on Your Shipping Invoices
There are more than 50 possible errors on any given shipping invoice. These errors range from unclaimed service failures and weight discrepancies to incorrect surcharge application and invalid address correction charges.
If you are not auditing your invoices for errors, you're missing out on a significant cost-saving opportunity. And manual audits just don't cut it. Most online businesses need an automated invoice audit software that powers through your invoices and identifies every single discrepancy. Businesses that have implemented this have saved significantly on shipping costs. It is time to toss out the spreadsheets and embrace automation.
3. Get a Single Platform to Manage Your Shipping Expenses
Shipping tariff rate agreements are complex and confusing. There are so many factors, such as package weight, shipping volume, and shipping zone, that contribute towards the final shipping charge of one item. Multiply that by a thousand packages and you have millions of possibilities. The only way to ensure that the right charge is applied is by verifying the underlying variables. It is impossible to manually undertake such a task.
With the help of API integration connecting your store to shipping software, you can simply plug in your tariff rate and actual rate to a platform that can perform the validation for you. Moreover, you can even collate shipping data from multiple carriers across different geographies on a single platform.
See related: A Retailer's Guide to Tariffs: What a Trade War Means for Retail SMBs
4. Stay Ahead of Delivery Expectations 
On-time delivery is still relevant, especially when your customers are cooped up at home all day. The best way to track your order fulfillment status is with a real-time shipment tracker. Trace the course of your order shipment activity so you can proactively handle delivery issues such as delays, losses, and delivery attempts.
Most importantly, empower your customer support team with real-time data to manage frantic calls. Enable superior customer service with the knowledge of real-time movement of your package at all times.
5. Your Customer Relationship Should Outlast the Current Pandemic
Your customer relationship team is fundamental to scaling any eCommerce business. In order to retain your customers, you must build transparency into your order fulfillment process.
Letting your customers know of their order delivery status is critical. The majority of consumers stated that a lack of communication or delivery delays (even those due to COVID-19) will negatively impact their perception of a certain brand. Better engage with your customers using personalized notes for every potential delivery issue. Anticipate delivery issues and communicate effectively to your buyers.
This is a guest post from AuditShipment. Their range of shipping cost management services helps businesses more efficiently manage their costs, order deliveries, and customers during this pandemic. Their suite of automation tools is set up for businesses to streamline their shipping costs and establish shipping expense predictability during this crisis.