Last Updated: January 27, 2023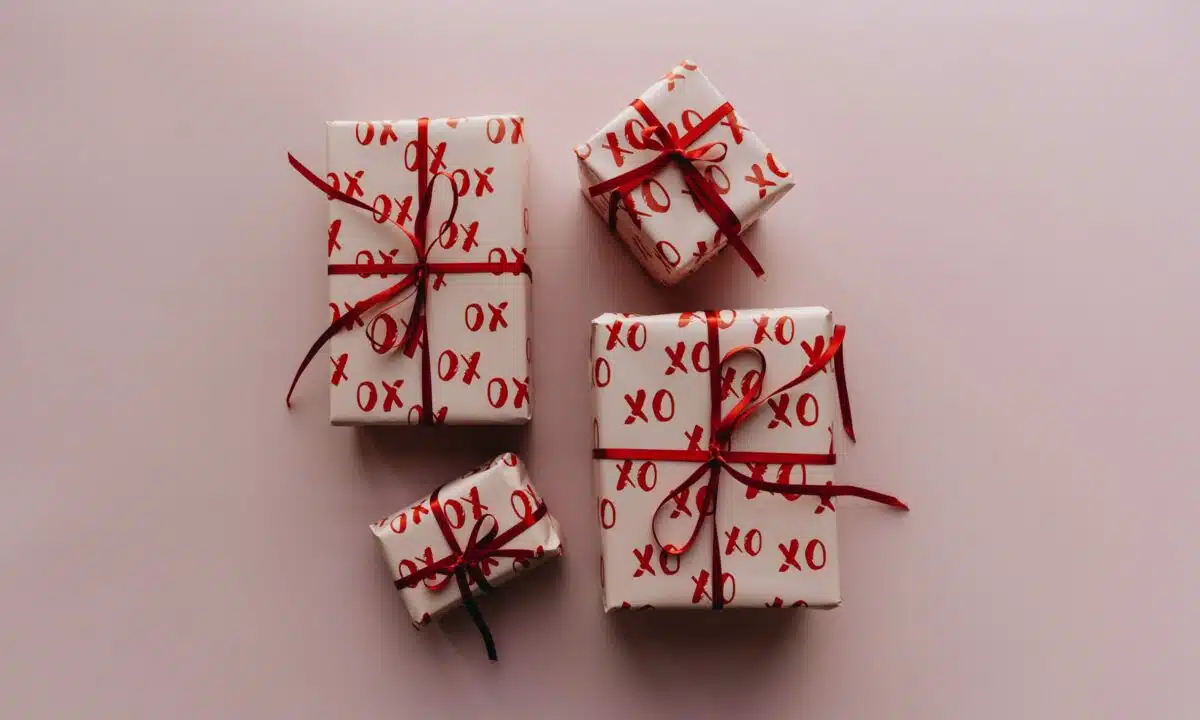 The Valentine's Day shopping season is one of the most lucrative periods for retail and SMB Owners. For many small businesses, January and early February are slow times of the year. As such, it's important that your retail store is ready to take advantage of the day with some strong Valentine's Day sale ideas.
And even though it's around the corner, it's not too late to get your store ready! Many Valentine's Day shoppers wait until the last week to do their gift shopping, and some even wait until the day itself. So check out these great V-day ideas for your retail business: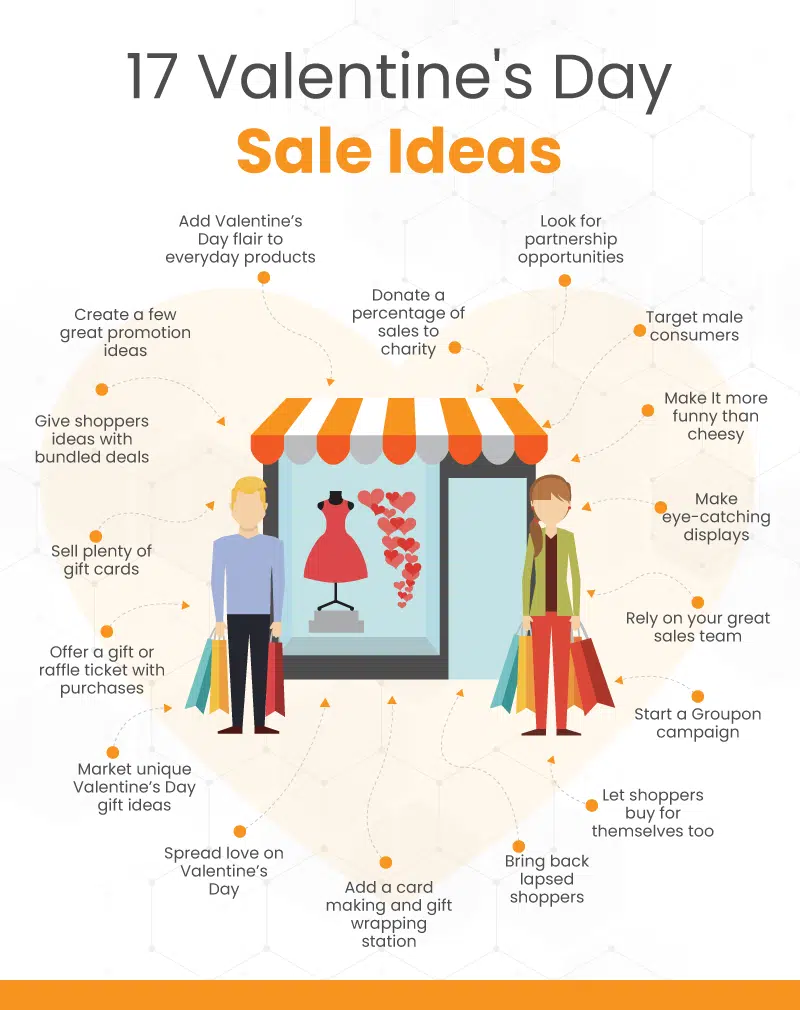 1. Create a Few Great Promotions
Most importantly, retailers must come up with a few great Valentine's Day promotion ideas. Promotions are important to build brand awareness, bring in new customers, and reward your long-term shoppers. And there is no better occasion to implement them than during a lead up to a holiday.
For 2023, the National Retail Foundation estimates that Americans will spend nearly $26 billion, making it the second-highest V-Day spending year in history after 2020's record-breaking $27.4 billion. With such a big day of revenue, you can be assured that retailers will be spending a lot of time and money planning for the lead up to the holiday. It's important you do the same to make sure that you get a piece of the pie, too.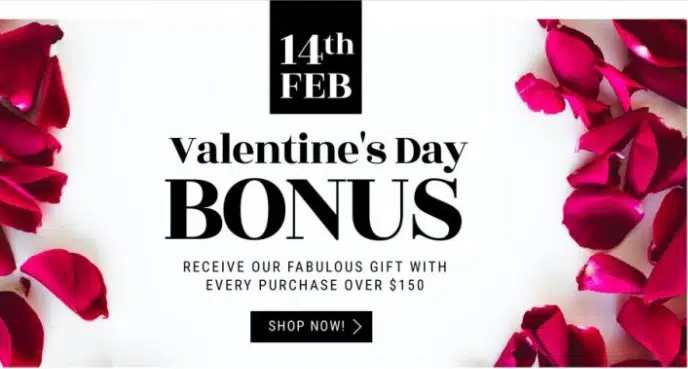 2. Give Shoppers Ideas
Shopping for gifts is stressful! It's not easy to find the perfect item for a friend, family member, or partner. Consumers appreciate it when stores help them out a bit with some great gift ideas. Put together bundled deals or pre-packaged gift sets that offer shoppers a sigh of relief during the shopping experience. After all, as the retailer, you're the expert.
Providing ideas and inspiration also allows you to better manage your inventory. Use it as an opportunity to move through slow sellers, get rid of seasonal items, or low-margin products.
3. Sell Plenty of Gift Cards
For the particularly uninspired, gift cards are a great option! Retailers should offer and promote gift cards year-round. They provide several critical benefits for business including word of mouth marketing, passive branded marketing, and increased average transaction. Plus they attract new customers.
Around holidays, they'll be in even higher demand. Create a few nice designs and place them in conspicuous areas around your store to remind shoppers that they're available. Add a few racks of gift cards near your checkout area for last-minute or impulse purchases.
Learn more about: Last-Minute Marketing Tips For Valentine's Day.
4. Offer a Gift or Raffle Ticket With Purchases
Shoppers love free stuff. Offering items on the house will increase your store's foot traffic and can even boost your sales. Similar to your promotions and bundles, you can use this as a way to get rid of slow-moving stock. However, be careful. While you don't want to give away the farm, you also don't want to be giving away products that appear to be garbage. Make sure that shoppers will still find value in what you're offering.
Try hosting a raffle for a more valuable item(s) since you'll only be giving away a handful, instead of hundreds. This might provide more incentive than giving away a larger quantity of smaller items. Be sure to prominently post this raffle info in your marketing emails, on your social media platform, and at your storefront.
5. Market Unique Valentine's Day Gift Ideas
Even though Valentine's Day is still a huge retail holiday, a lot of consumers are fed up with the same old trends and products. So take some time to come up with more unique product offerings for your shoppers. Don't focus so much on making everything heart themed and painfully romantic. Chocolates, roses, and sweetheart candies are just not that exciting to everyone anymore.
Plus, don't forget to market to all the people who aren't celebrating Valentine's Day. Some stores even have anti-Valentine's Day marketing campaigns. Depending on your customer base, you could even run a promotion all week except Valentine's Day.
6. Add Valentine's Day Flair to Everyday Products
As we mentioned above, you don't only need to sell traditional Valentine's Day items. And, for many stores, doing so just doesn't make sense brand wise. Instead, market a segment of products towards Valentine's Day shoppers.
Encourage certain items to be bought as gifts, prepare several products together in a Valentine's-themed package, or just add some pink or red to a few things. If you own a liquor store, you can highlight your selection of sparkling rosé. Put up some signage or send a marketing email reminding customers about your great selection of festive and pink colored bubbly. There you go, you added Valentine's day flair without needing to change your inventory at all!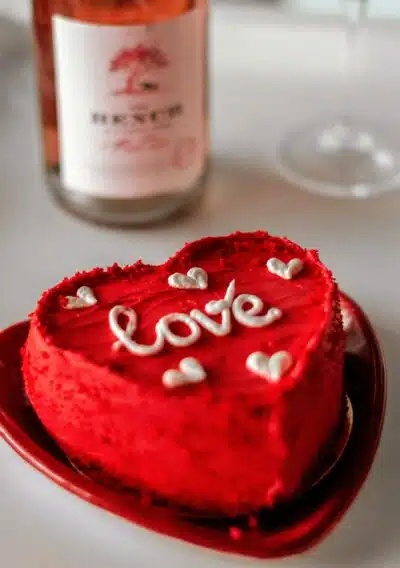 7. Donate a Percentage of Sales to Charity
Any time of the year is a good time to donate items or a percentage of proceeds to a few charities. But doing so during a holiday shopping season will grab more shoppers' attention and work to build a positive brand image.
Giving back to the community or a charitable organization is a great way to build trust among your shoppers and also inspire people to do more of the same. During a time when people are buying so many new things, it's important to step back and remember to offer others some help, too.
8. Look for Partnership Opportunities
Partnerships with other local businesses are a great way to become a stronger part of the community and build great relationships with your neighbors.
Look for businesses that share your convictions and ethos. You don't want to partner with direct competitors, of course, but you do want to find businesses that your shoppers are also likely to shop with. Community retailers with different type of products could present a great opportunity to put together a little Valentine's Day sale sample package.
Come up with great cross-promotions that will help draw in new shoppers. Ideally, the partnership will bring your regulars to the other business and theirs to yours.
9. Target Male Consumers
Male consumers are far likelier to spend more money on Valentine's Day than females. Whatever the reasons for this, it's been true for many years. So consider spend more time marketing toward males and potential gifts for their partners.
Many men shopping for Valentine's Day gifts have no idea what they're doing. Consequently this can be opportunity to offer some suggestions and respectfully upsell.
10. Make It More Funny Than Cheesy
As we mentioned earlier, most people are tired of the Valentine staples. To be sure, it takes some brainstorming to come up with original Valentine's Day sale ideas. Try not to be boring and generic. Instead, focus on making it unique and even funny.
Buying gifts for your partner is hard so offer up some room to make it a bit humorous to make the process more light-hearted. Bring in some ridiculous cards or adult-themed items, depending on your type of business of course! Importantly, get feedback from your clientele so you can tweak your approach next year.
11. Valentine's Day Sale Idea: Make Eye-Catching Displays
Displays are always important to consider. You want displays to be in your prime real estate and high traffic areas and draw people into the products on them.
Use your inventory management system to determine which products should be featured, whether it be best sellers or must-move items. Have your most creative team members help with the design to encourage more participation and play to each person's strengths.
For more on this topic check out: Visual Merchandising Techniques: A Guide For Retailers
12. Rely on Your Great Sales Team
Depending on the type of retail business you have, you might heavily rely on your sales team to bring in the sales. Prepare them for Valentine's Day by making sure they are solidly familiar with all relevant products and are able to discuss each and make comparable suggestions if the shopper is looking for something else.
Remember, in such a competitive retail environment, more than half the battle is getting the shoppers through your doors. So it's important to convert a high percentage of them. Use your POS sales reporting to measure the success of each member of your sales team.
13. Start a Groupon Campaign
While Groupon might not be as popular as it once was, a lot of consumers still use it. So for many retailers, it's still advantageous to offer deals through the discount program, especially during ultra-competitive times of the year. Using a platform like Groupon can expose your business and promotions to customers who would have otherwise never seen them.
But first, measure your margins. It's easy for retailers to offer a deal that simply is too good. You need to make sure that every promotion you run will still be in the black.
14. Let Shoppers Buy for Themselves, Too
Market towards those looking to treat themselves in addition to those shopping for others. Not everyone is looking for gifts for Valentine's Day and you don't want to leave out those who aren't. Put up a "treat yourself" display for those that want to just buy a few things for themselves and not for a significant other. This can go hand-in-hand with the anti-Valentine's marketing that we mentioned earlier.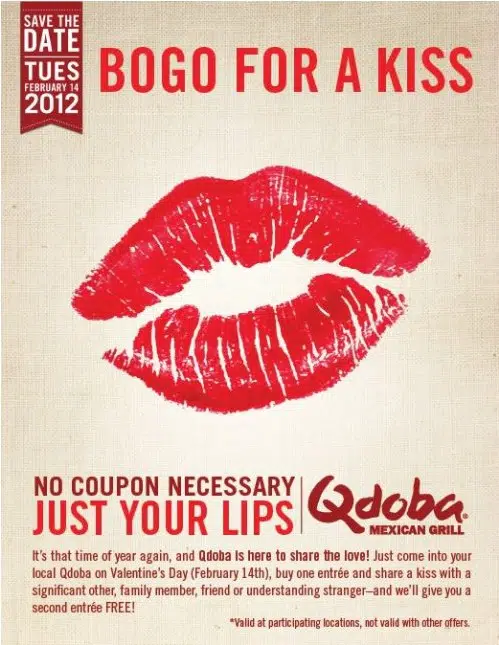 15. Bring Back Lapsed Shoppers
Lapsed shoppers are an easy target during the holiday season. Hopefully you already have a solid loyalty program in place so you can see who your previous clients were and how they've shopped with you over the past year.
Even better, look at those who visited your store leading up to last year's Valentine's Day. If they haven't been back since then, find a way to reach out to them with a special offer or a simple reminder. Use SMS and email marketing. Though simple, it's one of the best ways of remarketing to past customers.
16. Add a Card Making and Gift Wrapping Station
Adding a service to your product offerings is a great way to go the extra mile towards improving your shopping experience and bringing in new shoppers.
For Valentine's Day, a personalized card making station or gift wrapping set up is a great way to provide some extra convenience and attraction. It's a pain to make multiple stops for small items and gift wrapping is low on most people's list of fun activities. So make it easy for them by making your store into more of a one-stop shop.
17. Spread Love on Valentine's Day
Create discounts involving all customer groups. Many people are buying gifts for their siblings, parents, kids, friends, and pets. So promote a variety of products that caters to a wide audience. You can even set up a promotion that will motivate customers to buy an item for themselves in addition to their Valentine's gift. Let them take 50% off an item of their choice when they purchase 2 gifts for example. Spread the love and make your customers feel included.
For more retail advice, check out the rest of our blog! And if you need a new inventory management, loyalty, analytics, or any other aspect of a point of sale system, click below to find out more about KORONA. Sign up for our unlimited free trial to see how it works and how it'll make your business a whole lot easier to run.