The world of social media has allowed even the smallest businesses to proliferate in a highly-competitive eCommerce industry. An eCommerce business can generate thousands or more customers with just one viral post on any platform.
The growth of popular social media platforms, like Facebook, Twitter, Instagram, and TikTok, has allowed brands all over the world creatively showcase their products and services to reach more people and turn them to become loyal customers. Effectively marketing their products in the social media landscape can result in enough increase in sales and profits to transform a business.
This article will introduce you to 10 eCommerce social media marketing case studies that involve brands that have successfully utilized social media for greater brand awareness and increased sales.
The Impact of Social Media Marketing on Brands
According to Datareportal, there are 4.7 billion social media users globally, which is more than half of the world's population. With such a massive potential audience, brands are highly motivated to advertise their products in a compelling and captivating way.
In its simplest essence, social media marketing involves using social media platforms to promote a product or service. This type of marketing has become even more popular in recent years because of the rise of dozens of social media channels, some of which are specialized for particular demographics or industries.
eCommerce social media marketing has several advantages:
Efficiently create more awareness of your brand

Highly cost-effective and accessible

Create communities for your customers

Communicate with your customers and get feedback quickly and directly from them

Avenue to show your creativity

Potential to help your search engine optimization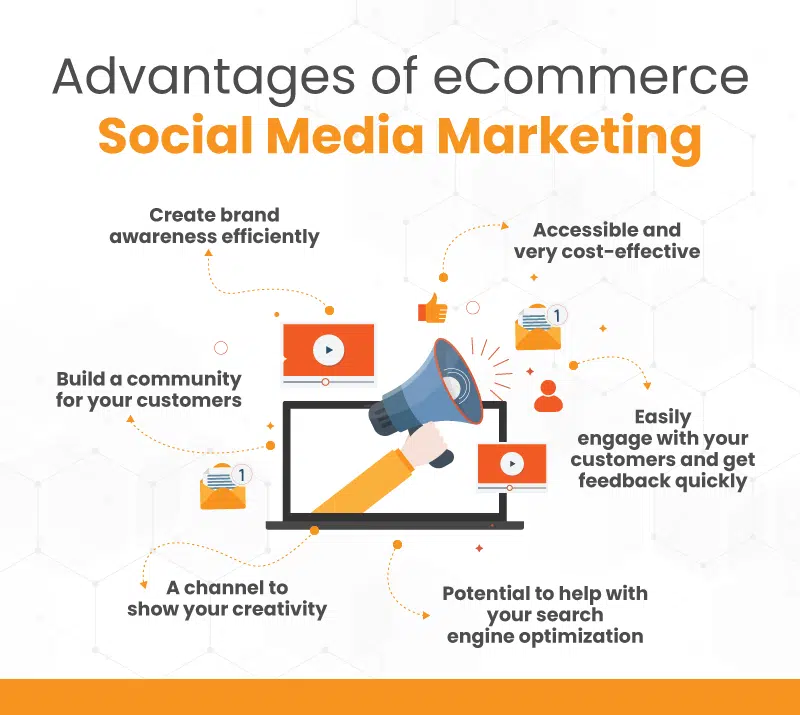 10 Successful eCommerce Social Media Marketing Case Studies
Here are the ten successful case studies of social media marketing for eCommerce businesses. Take inspiration from them with your own brand:
1. Mercedes Benz
Mercedes Benz is a luxury and commercial automotive brand founded in Germany in 1926. Despite being an already established brand, Mercedes Benz actively expands their reach by conducting various high-profile social media campaigns.
One great example of theirs came in 2013 when they created one of their best Instagram marketing campaigns. The brand collaborated with several of the most noteworthy Instagram photographers at the time in order to reach younger audiences. They let the five photographers each try the new Mercedes CLA, and whoever got the most likes was given the new car. As a result, the five photographers did their best to get as many likes and win the prize.
At the end of the campaign, Mercedes Benz was able to gather 87 million organic Instagram impressions, 2 million Instagram likes, and 150 stunning photographs that have become new marketing assets. This campaign teaches us that social media competitions actually work and are worth trying. You can get a lot of people to join and many more to be aware of your product.
2. Dove
Dove is an American personal care brand. It is known for its marketing campaigns that always elicit emotions, just like its Real Beauty Sketches campaign. Its mission is to make people feel good about themselves. They know how to reach their target market and create compelling stories that are relatable to them.
Dove conducted research and found that 80% of women came across negative comments on social media. They wanted to shift this by giving women a more positive experience in social media. This resulted in their #SpeakBeautiful campaign, where they teamed up with Twitter to build a tool and launch the campaign. The #SpeakBeautiful effect breaks down which body-related words are used by most people online when negative chatter appears on a given day. According to Dove, women get inspired by the messaging of their campaign. Ultimately, their #SpeakBeautiful hashtag was used more than 168,000 times and drove 800 million social media impressions.
We can learn about Dove's marketing: give utmost importance to knowing and understanding our target audience. Brands should be able to communicate and engage with them meaningfully to create a deep connection.
3. Nutella
Nutella is a sweetened hazelnut cocoa spread brand. Their social media marketing campaigns always involve making you crave Nutella. Like everyone who likes to take pictures of their delicious food before eating it, Nutella does the same, and it always works. They are not afraid to be fun and creative with their different ingredients.
Nutella encourages its followers to share their experiences with Nutella by posting them on social media. In turn, they get thousands of mentions and tags which organically promote their product—having breakfast with Nutella? Post it and let your followers feel hungry.
4. Oreo
The iconic sandwich cookie brand, like Nutella, is known for its creative social media marketing. Oreo is consistent with its branding and up-to-date with current trends. For instance, when there was a half-hour blackout at the Superbowl, Oreo was quick to tweet about it. Their tweet was retweeted more than 15,000 times. This innovative content planning and timely delivery work for every brand.
That is why just like Oreo, brands should learn to prepare their content ahead of time and be ready for significant upcoming events. This way, your brand can create a relevant campaign or promotion to get many people hooked.
5. Airbnb
Airbnb is an online marketplace service focused on short-term rents and experiences. Their social media campaigns usually involve aesthetic photographs that look like they're straight out of a high-quality travel blog. Their social media content fascinates followers with their captivating posts.
On the social media platform Instagram they post user-generated pictures from its guests and hosts. The content highlights their campaign, "Don't just go there, live there," which is captured through real photographs. Every post has high engagement, usually between 3,000 to 14,000 Instagram likes.
Airbnb's marketing teaches us that we should think outside the box. Even when the brand itself is all about accommodation, they don't just publish pictures of their guest's homes. Instead, they reflect the place's culture and spread the positive words of its guests that will surely attract other people. They tell a story through visually captivating photos.
6. The Charles
Sixth on the list is The Charles. The Charles is a creative, full-service digital agency specializing in marketing, digital design, and strategic campaigns. The main goal of The Charles is to create a flawless experience in shopping for customers on any device.
Petite Studio, a direct-to-consumer online womenswear brand, created a wide-ranging digital marketing strategy that involved rendering a new logo and eCommerce website. Furthermore, they made a visual narrative for the brand that is very true to its branding and content strategy. They polished the existing logo of Petite Studio by giving it a personality with a button and icon and utilizing the "i"s in the word "petite" to highlight the brand. This move is significantly responsible for the growth in sales for Petite Studio.
7. Major Tom
Like The Charles, Major Tom helps businesses succeed in their industry as a full-service digital agency. Major Tom brings multi-disciplinary experience to the eCommerce side of the business, not just advertising.
In one instance of success, Rabbit Roller partnered with Major Tom to make possible an effective digital strategy that will create brand awareness and grow revenue for their business. According to Rabbit Roller, their partnership with Major Tom has been significant to their success. Major Tom has highlighted the brand's image while creating an impactful digital campaign.
8. Massive Media
Massive Media is a design agency that focuses on branding and experience. They partner with companies to achieve clarity, messaging, and technologies. Their partnership with the GSC team has allowed Massive Media to introduce a new, consumer-facing brand.
Massive Media also delivered a new site with creative visuals for various online shops that have dramatically helped these businesses acquire new customers.
9. Isadora Agency
One of the greatest eCommerce social media marketing agencies is Isadora Agency, which specializes in brand strategy, visual identity, high-end development, and digital marketing.
One prominent example of a company that the Isadora Agency has helped is Razor, an American designer and manufacturer of manual and electric scooters and bicycles. Due to the lack of a complete catalog on their eCommerce website to support direct sales, customers complained that they had a poor shopping experience. With an effective game plan, Isadora managed to change everything, including the foundation of Razor's new eCommerce website design became the new product page. Now visitors can find details about the brand easily.
10. Emote Digital
Emote Digital are experts at delivering practical work. They provide integrated digital marketing services and website builds for WordPress, WooCommerce, and Shopify. An Australian-based active outdoor brand, Bluey Merino, approached them for an eCommerce experience. Emote Digital created an eCommerce website for the brand that allowed its customers to shop anywhere and anytime quickly and efficiently.
eCommerce Social Media Marketing in Conclusion
The 10 case studies discussed above teach brands that social media marketing is a critical tool to increase your brand awareness and spur organic growth. It is accessible and easy to use for anyone with an internet connection. Even the smallest businesses can leverage their products and services with just one effective post on social media.
Social media marketing has been growing continuously throughout the years and is expected to grow at an even faster rate in the coming years. This is why brands must learn to take risks, be creative in their content, stay updated with the current happenings and trends, get well-versed with newer social media platforms, and be open to change.
eCommerce businesses should hire competent and talented social media managers and marketers to ensure that their brands can be seen by many people. These social media professionals must also know how to utilize different platforms to edit and make fascinating photos to publish on your official social media pages, such as a remove background tool to quickly remove the unwanted background in your photos and the like.
All in all, remember the lessons that these case studies have taught us because if you apply them accordingly and efficiently to your own business, it is guaranteed that you will receive the same or even greater success.