Retailers of all types are finding ways to reach broader audiences. Digital channels and the ability to keep in constant and instant communication with shoppers have made this easier than ever.
Unfortunately, that also means that it's highly competitive. As a bunch, business owners are hardworking, inventive, and quick to adapt. And most are always working to make the most of every opportunity they have to grow their business.
You should be no different! There are different retailing channels for any type of business. And no single small business should feel the need to use all of them. Instead, focus on a few areas where you can increase your omnichannel marketing and grow your presence.
Below, we'll look at why multi-channel retailing is so important and how any small business can take advantage of new opportunities and continue to grow.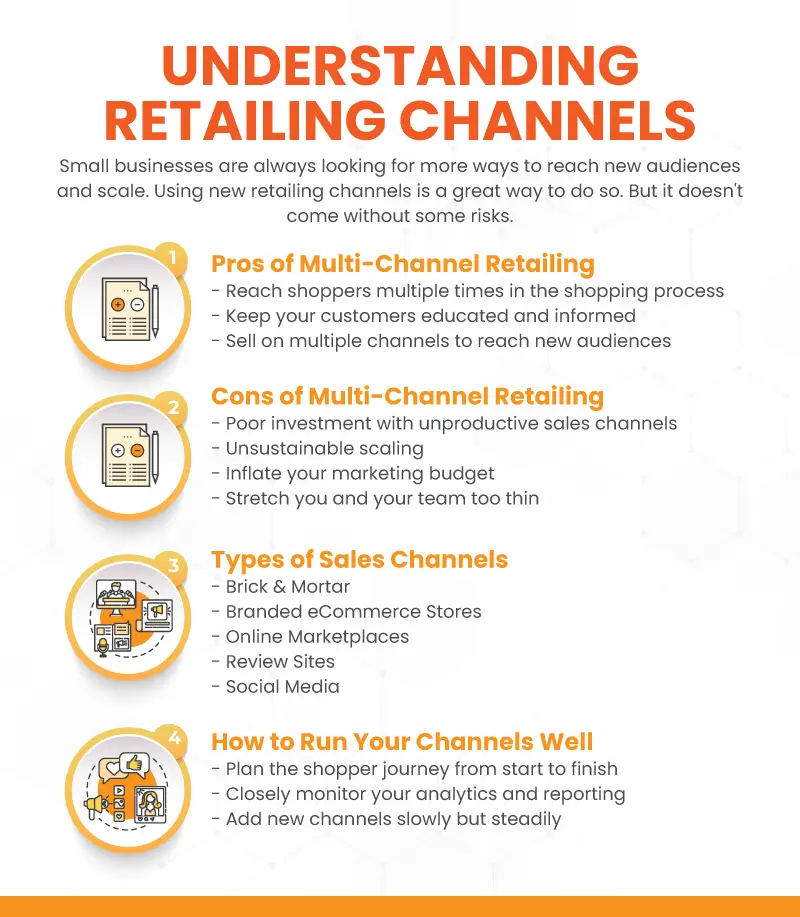 Why Are Multiple Retailing Channels So Important?
Simply put, multi-channel selling lets retailers reach a broader audience and increase their sales. Plus, it helps businesses grow their brand awareness.
Shoppers, too, are now using multiple channels in the buying process. Few are relying on a staple channel as they did in the past.
Consumers are now using eCommerce marketplaces, brand-specific web stores, brick and mortar shopping, social media channels, and more.
What Are the Pros of Multi-Channeling Selling?
Omni-channel selling helps grow your brand's presence and allows shoppers to find your products anywhere they look. In turn, your sales will grow and your business will scale.
Reach buyers at multiple points
Few shoppers will decide to buy something the first time they see it. That's especially the case for products that they haven't purchased before.
Advertising on multiple channels means that you're reaching customers on different platforms and improving the chances that they remember your brand and product.
Educate your shoppers
Reaching shoppers at different points of the buying process allows you to start early. Rather than simply targeting the highest-intent buyers, teach people about your product with good advice. Gain new shoppers by adding value and improving your brand's image.
Take advantage of marketplaces
One of the most important retailing channels to consider is through various online marketplaces. Shoppers with high intent are more likely to go directly to these channels anyway.
Like it or not, more and more consumers are using Amazon, Etsy, eBay, and other branded big-box retailers. Consumers appreciate the convenience, flexibility, and reliability of these outlets.
Retailers should spend time optimizing their product pages and bringing more traffic to these sales channels.
What Are the Cons of Omnichannel Selling?
While the pros certainly outweigh the cons of adding more retailing channels, there are still some things to watch out for. Most importantly, small businesses don't want to spread themselves too thin or try to scale too quickly.
Using unproductive channels
Not all sales channels are created equally for each seller. Your business will be better suited for some more than others. And while there will always be some trial and error involved, it doesn't mean that you can afford to use unproductive sales channels for too long.
Closely monitor each channel's performance to make sure it's maintaining an adequate level of productivity. Don't be afraid to cut off some channels that are performing poorly.
Scaling too quickly
Adding new channels to your sales can lead to rapid growth in your business. While growth is the ultimate goal, it's all too possible to scale too quickly.
This can leave businesses scrambling to catch up. Unsustainable scaling means overworked employees, a drop in product/service quality, poor inventory management, and a lack of customer service, to name a few potential consequences.
Be careful to only add new channels that you're ready for, and focus on maintaining a healthy level of growth.
Increased marketing costs
Expanding to new sales channels can come with a big boost in marketing costs. It might mean adding new SEO specialists, creative teams, or advanced software to your operations.
It could also mean a greater spend on digital ads to increase your presence on these channels.
Either way, be careful not to overspend and, again, grow sustainably.
Ignore the details
Likewise, running a multi-channel sales operation can be overwhelming to handle. A lot of the processes are intuitive, but that doesn't mean that they don't require a ton of work.
Pay attention to the details to make sure that you're making the most out of every channel you use.
What Are the Types of Sales Channels for Retailers?
The number of ways that small business retail operations can reach their customer base is growing every year. That goes for both the marketing as well as the sales department. For now, we'll stick to several of the most popular.
Brick & Mortar Stores
Don't forget about the tried and true. As much as Amazon tries, brick & mortar retailing is here to stay. In fact, not even a global pandemic can stop physical shopping. And if those two forces aren't enough to end it, it's unlikely to change anytime soon.
Keep your store filled with customers by continuing to market your physical location (if you have one, that is!). Keep up with your Google My Business and all local SEO to make sure people see your store and are able to access basic information quickly.
Run special events and promotions at your retail shop to make it stand out from your other sales channels. Your customers are likely to still appreciate in-person shopping.
eCommerce Stores
Most retailers have already added an eCommerce store, and many others only have an eCommerce store. But if you're one of those that hasn't made the plunge, it's probably time to get started.
It's easier than ever to set up a web store that is easy to navigate, full personalized, and sells your products. Take advantage of the many templates available and start selling online.
Down the road, focus on growing this channel by improving your SEO and bringing in more shoppers. Organic visitors are free and often convert just as well as a guest who entered through a paid ad.
Online Retail Marketplaces
As we discussed above, it's also wise for most retailers to bring a presence to various online marketplaces. Consumers are shopping on them at prolific rates, easily bringing you more sales. Plus, it helps improve your brand's trust and awareness.
Beware of the third-party fees on these sales channels. They can eat into your profits. And if you run a business with thin margins, even eliminate profits entirely.
Take time to optimize your listings on these channels just as you would with your own website. The better managed your presence is on these sites, the better your results will be. There are some key ways to sell better on these third-party channels.
Review and Comparison Sites
In addition to the third-party marketplaces, review sites are now a selling opportunity. Some of them are evolving into sales platforms themselves. Others, though, still point shoppers in the right direction and will eventually lead to sales.
Find review and comparison sites that fit your retail niche. There are many sites specifically dedicated to certain verticals, such as pet shops, wine stores, or jewelers. Leverage any opportunity that's out there!
Social Media Channels
While social media has always been a key resource for branding, most major social channels now have marketplaces, too. Again, these will depend on what you sell.
Facebook, Instagram, and Pinterest all have active shopping communities. You can start selling on each very easily. These are the simplest to set up and start small with.
How Do I Run Multiple Retailing Channels Well?
If you've taken the time and money to create an omnichannel shopping experience for your customers, it's critical that you've done it well. No small business can afford to do so poorly – at least not for long.
Plan Out the Customer's Path
Make sure that whatever sales channel you have set up that it's convenient, simple, and intuitive for the shopper. From the moment they start their search to the point of checking out, it's important that you've created a seamless shopping experience.
Plus, you can use your shoppers to get feedback on how they found your store, what they were looking for, what they ended up buying, and how you can contact them in the future.
Monitor Each Retail Channel Closely
Equally important is knowing exactly how each sales channel performs. Small business retailers need to make sure that every platform they use for selling is productive and profitable.
Though online selling brings your products to a much larger market, it usually comes at the cost of reduced profits.
You must monitor both your traffic and your sales to zero in on the right channels, pricing, promotions, advertising spend, and more.
Adopt New Channels
Be proactive and try out new channels as they emerge. It's important to be innovative and stay up to date with the latest technology. Keep an eye out for new platforms that might be a good fit and try them out early.
It's always easier to drop unproductive channels than it is to try to catch up to your competitors.
Multi-Channel Selling with Your POS
However you're selling your products, you need to have a powerful point of sale to manage your sales, track your ordering and inventory, produce product reports, plan promotions, and more.
Plus, you'll need a POS built for multiple locations. All product and sales information must be kept under one system.
To learn more, click below to get a free trial started. We'll show you how to get your eCommerce side of things set up, too.