Retailers across the country know how dire the labor shortage is at the moment. Job openings reached record levels in the spring of 2021, nearly eclipsing 10 million. And a whole lot of these jobs are in the retail sector. In fact, 1.3 million of these were in the food service/accommodation industry and nearly 1 million in retail.
Various factors have combined to create the massive labor shortage in the industry: COVID fears, expanded unemployment and underemployment benefits, wage increases across other industries, lack of childcare options, and general discontent with the state of wages. Workers are demanding more and doing so in record numbers – enough that they're starting to control the labor market more than they have in decades.
Such a movement is long overdue. But what does it mean for retailers? And how can you put together and maintain a strong team? With the summer season being a slower one for most retailers, it's important to act now before the fall and holiday seasons are upon us.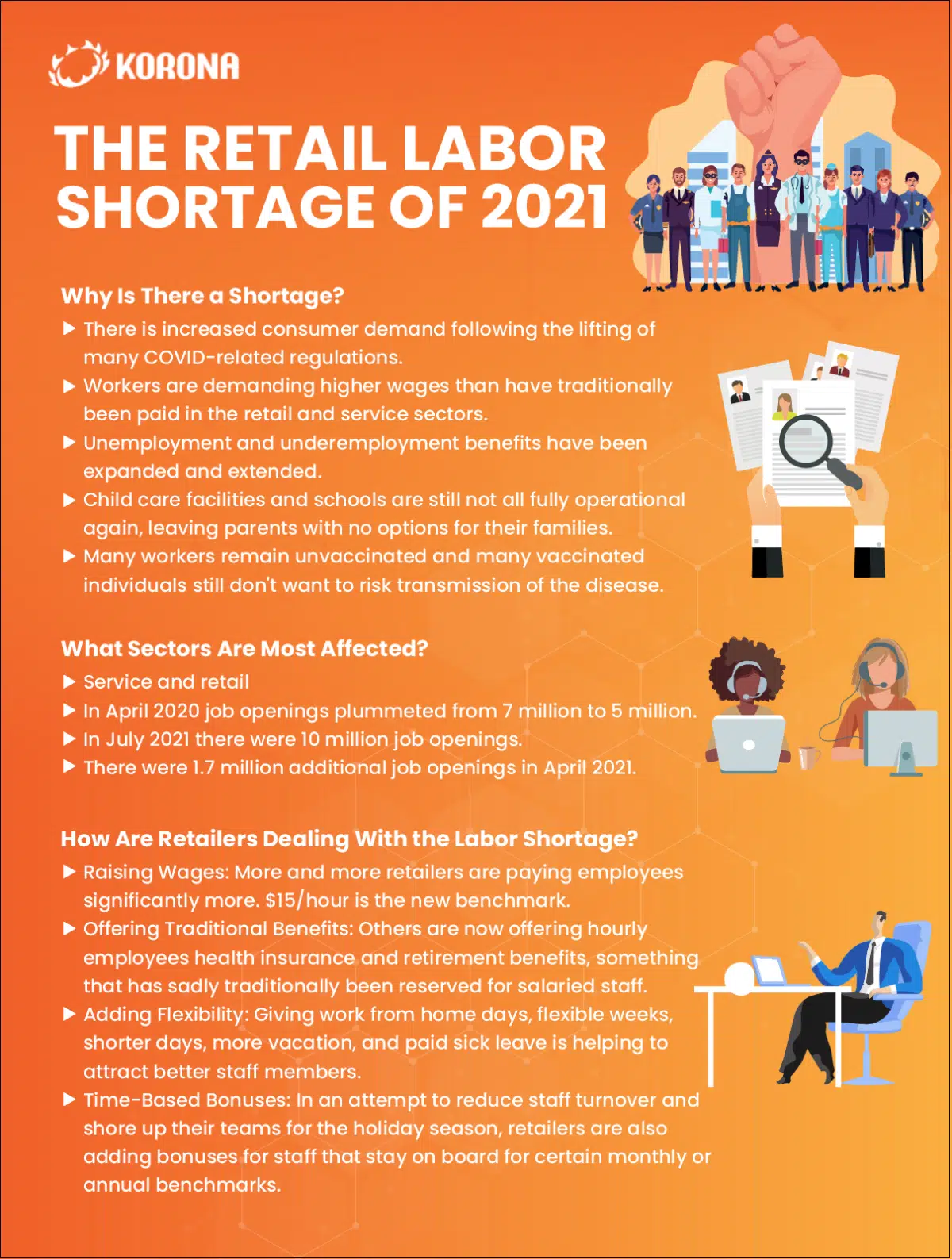 Why Is There a Labor Shortage in the U.S.?
As we mentioned above, there are several reasons that have likely contributed to this labor crunch. All together, they've created a perfect storm of sorts, leaving retailers scrambling to keep up with increased consumer demand.
And it's the increased consumer demand that is the primary reason for this labor shortage. With COVID regulations being lifted and a significant portion of the population vaccinated, consumers are out in droves to catch up on the year of shopping that they've missed. Retailers, on the whole, were woefully unprepared for the surge in demand.
But traditionally low wages are another major factor here. In the midst of nationwide calls to raise the federal minimum wage and pay retail workers a more livable wage, many people have left their jobs or decided not to return post-COVID.
The current system of unemployment and underemployment benefits are yet another factor. Some people are more financially comfortable with their unemployment benefits than they were when employed.
With more child care facilities and schools closed due to COVID, retail workers with children now have fewer options than ever. Many cannot afford private child care and therefore are unable to return to work until schools reopen.
Finally, COVID isn't gone. As of the summer of 2021, there are still thousands of people dying from the disease each week. Many workers still fear returning to a job that requires constant close interaction with strangers.
What Sectors Are Most Affected by the Labor Shortage?
Job openings across most sectors have increased since the financial crisis of 2008. At the start of the pandemic, however, total job openings plummeted from about 7 million to less than 5 million. Since then, and especially since the release of the COVID vaccines, the number of job openings has soared to nearly 10 million.
Many of these are in the service and retail industries. The former because they're starting to rehire now that business has largely gone back to normal; the latter because consumers are out and about shopping like crazy again. April 2021 alone saw a rise of 1.7 million more job openings than any other high from this century.
The labor shortage is nearly ubiquitous across all industries, but there are a few notable exceptions. Construction, for instance, is starting to level back to its pre-pandemic norms. This is encouraging since the industry was one of the first to be shut down at the beginning of the pandemic, and one of the first to ramp back up once vaccines hit the market. Retailers are hopeful that their industry isn't far behind the trend of those that are quickly returning to normal.
How Are Retailers Dealing with the Labor Shortage?
For many, there have been a lot of long and stressful days recently. The labor shortage has meant that small business owners themselves are picking up shifts and performing duties normally reserved for their employees. The consumer demand is simply increasing faster than retailers can hire.
Some retailers are simply opting to wait it out, hoping that the end of long-term unemployment benefits and the increased distribution and administration of the vaccines will spell an end to the shortage. Still, many experts predict otherwise, and it seems overly optimistic to think that this problem will come to an end anytime soon.
But others are taking a more nuanced long-term approach, changing the way they do business. Success in business has long relied on resiliency and the ability to adapt. This situation should be no different. And while taking the "waiting it out" route might work out in the end, it's better to take advantage of this strange time to try some new things.
Raising Wages
Don't simply bemoan calls for wage hikes. Do the math and figure out exactly how a wage hike will affect your bottom line. A nationwide $15 minimum wage does not appear imminent. But you can stay ahead of the curve and offer more competitive wages for your team now to stand out from your competitors and get the best employees.
Offer Traditional Benefits
Another way to woo new team members is by offering benefits that have traditionally been reserved for salaried positions. Remember that offering benefits such as health insurance and matching retirement funds will also benefit you in the long term. You'll attract stronger candidates and reduce your turnover rates. Treat this as you would any other investment.
Give People More Flexibility
One great thing to come out of the post-pandemic world is an increased awareness of having a nice balance between work and the rest of life. People now expect to spend more time with their family, work remotely, set their own hours, and have a bit more vacation. In a country that produces such an outrageous amount of wealth, it's been a long time coming!
Though some of these may be more challenging to accommodate for retailers, there are ways to get creative. Anyone in management or with administrative duties can likely work remotely; 4-day work weeks are suddenly trending; paid time off is gaining traction among hourly workers, too.
Add Time-Based Bonuses
A lot of retailers have begun implementing bonuses at certain time-based benchmarks of employment. Again, this is something that a lot of salaried workers have long enjoyed by way of vested stock options, so the idea is hardly revolutionary.
Set up 3-month, 6-month, and 1-year bonuses to encourage employees to stick around and show them your appreciation.
Overall, it's important not to simply follow any single narrative with this story. It's remarkably convoluted and we still have years to wait to see how certain aspects play out. As an apt anecdote, take Target. They've completely avoided the entire labor shortage by investing more into their employees. Shortly after the pandemic began they decided to raise their minimum wage to $15/hour and offer all employees bonuses and more extensive benefits. Turning around and directly investing in their employees has proven to be remarkably successful.
Think about how your store can adapt to the quickly changing world of retail. And if you haven't gotten started already, don't wait.
Get Started with KORONA POS today!
Tell us a little bit about your business and explore all features that KORONA POS has to offer. And there's no commitment or credit card required.