Last Updated: January 12, 2021
Brick and mortar retailers deal with shopping cart abandonment all the time. Shoppers pick up an item to purchase and decide to put it back on the shelf (hopefully, where they picked it up!) or change their minds at the checkout counter.
But there's something more painful about eCommerce abandoned carts. In part, it's more gut-wrenching because you can see exactly how much was lost on any given abandoned cart. Plus, your shoppers have gotten so close to completing the purchase – just a click or two away. To top it off, it just kinda hurts!
So eCommerce retailers should prioritize efforts to reduce abandoned carts at their store. Like most problems in life, it's first important to understand the reasons for abandoned carts. Once you identify the issue, converting more sales will be much easier. So let's take a look at why shoppers are leaving and how to convert more abandoned carts.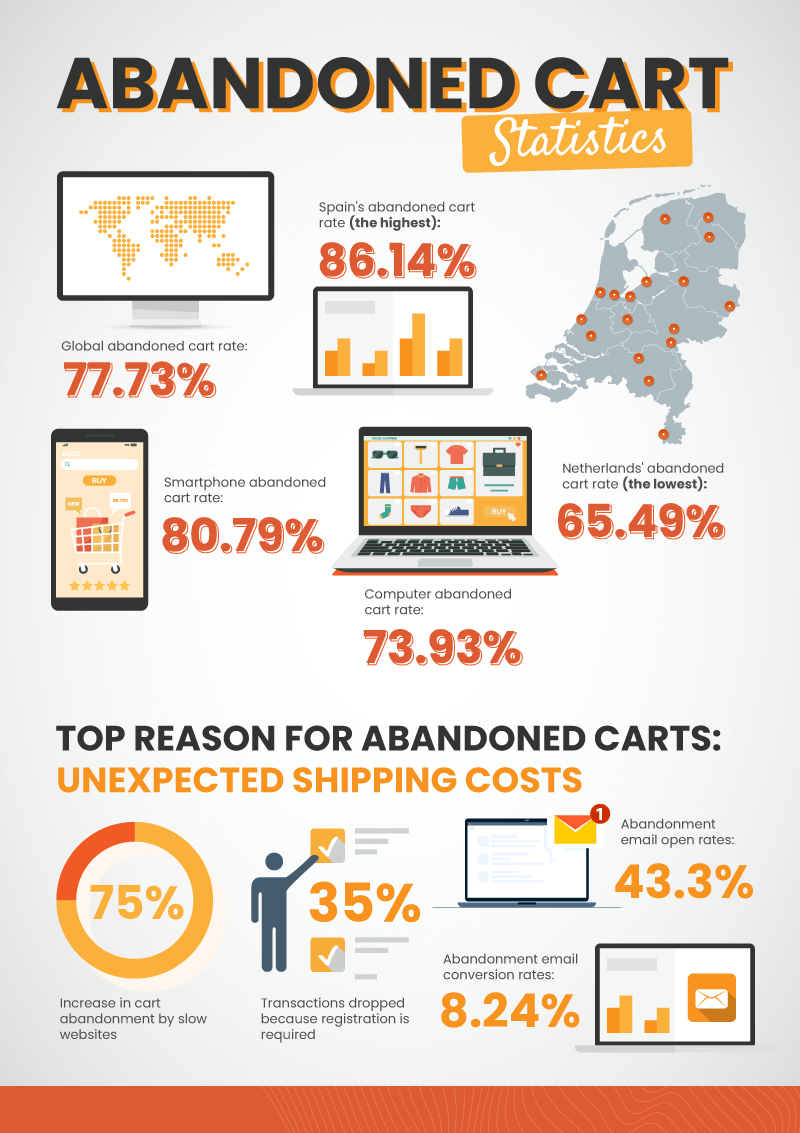 Shopping Cart Abandonment and Its Wild Statistics
Abandoned carts online occur when a shopper drops items into their digital cart but ends their session prior to completing the purchase. Carts may sit idle for some time or simply be removed/deleted altogether.
Calculating the rate of abandonment is simple: just divide the total number of finalized transactions by the total number of carts started. This will show your conversion percentage. Of course, simply subtract that percentage from 100 to find your abandonment percentage.
This percentage is alarmingly high according to most sources. While the exact rate of abandoned carts is impossible to determine, the average in the United States comes to about 72%. This varies between types of online retailers but no matter how you cut it, there is a lot of room to reduce the rate and increase sales. Here are a few more disagreeable statistics on abandoned carts:
Read more about improving your cart design here: Shopping Cart Optimization: A Guide For eCommerce Retailers
9 Reasons for Cart Abandonment
There are many factors that go into the fact that 70% of online shopping carts are left idle. And some of them you just can't control. But there are a handful of common causes that every retailer should stay aware of and try to minimize. Below are 9 of the most ubiquitous across many consumer polls. Take some time to think about how you can change your store for the better.

1. The Checkout Process Is Too Complicated
Remember that every click you require towards a completed purchase means a decrease in conversion percentage. Adding steps to the process leaves more room for the shopper to get annoyed or distracted and decide to move on.
These can include forms, separate billing and shipping address pages, offers for add-ons, and more.
How to Reduce: Keep it as simple as possible. Don't add steps that make it more complicated, even if you think it might increase sales. Offers for extra features or similar products can be a more of a nuisance than benefit.
Make your forms sleek and simple with as few requirements as possible. If a password is required to complete a purchase, make it simple for users to retrieve forgotten IDs and passwords.
Keep clicks and additional pages to an absolute minimum.
2. There Are Additional Shipping Fees
According to most research, this is the leading cause of abandoned carts. And it makes sense; hidden costs or fees that show up at the end of a transaction are remarkably frustrating. While you'll make some extra money from the customers who go through with the purchase anyway, think about all the potential sales that you're missing. Plus, added fees seem deceitful and shoppers are less likely to return to your eCommerce store in the future.
Look out for other added costs, too. Taxes or handling fees that pop up on the total right before purchase can also lead to an increase in cart abandonment.
How to Reduce: Be transparent. One way is to build the fees into your prices. While higher prices are far from ideal, they are much less irksome than various fees.
Retailers can also alert shoppers that prices don't include shipping and taxes from the beginning of the shopping experience. Small notifications make additional fees seem less scheming.
Another common solution is to offer free shipping for carts that reach a certain benchmark value. If you have to eat the costs of shipping but a shopper spent an additional $50 they would not have otherwise, it's worth it.
3. An Account Is Required to Complete the Purchase
Many online retailers ask shoppers to create an account. These vary in levels of displeasure. Some only require a name and email while others have steps of verification that can take several extra minutes. Web retailers encourage these for good reason: it's a great way to build your CRM and increase loyalty. But they come at the cost of a sharp increase of cart abandonment.
How to Reduce: Well, don't require it! Use other techniques to grow your customer database such as email marketing, special promotions, and social media.
Some opt to take a middle ground. Encourage shoppers to create an account but don't require it for checkout. While this is better, too often the page appears to require an account because the "Continue checkout without an account" link is too small or ill-placed. Instead, encourage new accounts by incentivizing them with a special offer.
4. There Aren't Enough Delivery Options
With Amazon Prime setting the shipping standard, more consumers have remarkably high expectations of shipping time. Added costs on shipping are a major reason for abandoned carts, but a lack of shipping options is another significant factor. This is particularly the case around holidays and for purchases made for birthdays, anniversaries, weddings, or other time-sensitive days. Customers will move to quicker options or find a brick and mortar store nearby.
How to Reduce: Add more options to your shipping. It doesn't mean that express shipping needs to be free. In fact, many retailers charge a lot for it. Customers are willing to pay a lot for extreme convenience. Still, make sure that no costs are hidden and that there is a free or cheap standard shipping option.
Amazon has started offering small amounts of credit for those who opt for slower shipping options. While this is not possible for small business owners, eCommerce retailers who do a lot of shipping may be able to implement this as a purchase incentive.
5. The Website It Too Slow or Glitchy at Checkout
The internet has made us even more impatient than we already were. Just like our shipping demands, we expect websites to operate without interruption or delay. Even the slightest holdup in page load time of a few seconds can result in a lost customer. Larger issues of errors and crashes are even worse.
How to Reduce: Make sure that your website is optimized for page speed and load time. You can use free ping services to test response rates.
Check your website for any errors or dead pages and fix them immediately, especially if they are integral to your checkout or cart process.
Finally, check for mobile optimization. More and more shoppers are completing purchases from their phones so it's important that your eCommerce site works just as well on mobile as it does elsewhere.
6. Your eCommerce Store Doesn't Appear To Be Secure
Online fraud is always evolving to find new ways to steal personal information. And consumers are well aware of the risks. So if your online store leaves any room for concern, shoppers will be likely to shop elsewhere. The risk may be low, but the threat of money being stolen, invasion of privacy, and long legal battles means that may consumers will not accept any risk.
How to Reduce: Start by making reviews accessible and apparent on the website. Showing signs of trust will put many shoppers at ease. Encourage past customers to leave reviews, testimonials, or endorsements. You can even take some time to highlight a few of your favorites.
Advertise your great team by adding pictures and personalized bios to show that there are real people behind your operation.
You can also add "trust badges" issued by online security companies, though these are becoming less valuable.
Check out our blog on protecting your business against online fraud for some more info.
7. The Return Process Is Inconvenient
A strict return process can be a significant factor in abandoned carts, especially for more expensive purchases. Unless a shopper has tested out the product at a brick and mortar store, an online purchase is still somewhat blind – customers don't entirely know what they're getting. No amount of product images, descriptions, or reviews can compensate for the fact that it's all digital. So if your return policy is unfriendly or difficult you'll likely lose shoppers who were even slightly on the fence about making a purchase.
How to Reduce: To lessen your abandoned carts, give customers a peace of mind that they can get their money back if they don't like the product. An easy return policy will mean that you lose more sales and pay for additional shipping, but it also makes the shopping experience much more comfortable. Rather than focus on the money lost to returns, think about the money gained with more sales.
Be careful not to get too friendly with returns, though, or you'll have people taking advantage of it. Run different tests on various policies to see what works best.
8. They Shoppers Are Just Webrooming
We've written about the problems of showrooming for brick and mortar retailers, but webrooming, the online equivalent, is becoming increasingly problematic.
Here, consumers are just window shopping and saving items in your store's cart to view later or purchase elsewhere. The cart serves as a bookmark or list while the customer never had any intention of completing the purchase.
How to Reduce: There are some issues as a business owner that you just really can't control. This is one of them. There are, however, a few techniques to make it a little better.
If you notice a trend in this, try to offer price matching on certain items. Notify shoppers who abandon a cart with a reminder email or pop-up modal.
Add product combos, promotions, and similar item suggestions to the shopping experience to introduce new ideas to these shoppers.
9. You Don't Have Enough Payment Options
The past decade has brought consumers an array of new payment options. And more of us are using them than ever. Again, shoppers expect the convenience of using a payment method of their choice. Modern payments are meant to be more secure and convenient so expect your shoppers to use them.
How to Reduce: Find out how to integrate all payment methods into your eCommerce store. Accept all major card networks in debit and credit and offer at least a few options for alternative payments such as PayPal, Venmo, Bitcoin, Facebook, etc.
Reduce Abandoned Carts for Your eCommerce Store with KORONA POS
KORONA point of sale integrates with the top eCommerce platforms in the industry, keeping your sales and inventory between brick and mortar and website under on umbrella. With the right eCommerce platform and POS system, your business can take big steps toward lowering your rate of abandoned carts and increasing your online sales. To find out more, check out the link below and try out KORONA for yourself.
Get Started with KORONA POS today!
Tell us a little bit about your business and explore all features that KORONA POS has to offer. And there's no commitment or credit card required.