QR codes have seen quite a renaissance over the past few years. We've written extensively about QR code use in retail and how it's transformed the industry. But it's more recently had an even bigger impact on QSR, retail and restaurant businesses.
Following the reopening of retail and restaurant operations across the country, business owners were still eager to provide the safest possible environment for their customers. Eliminating physical menus was one of the most popular ways of doing so, replacing them instead with digital menus accessible by a simple QR code scan. But there are actually many other great uses of QR codes worth considering, too.
So if your business has a menu and hasn't yet adopted QR codes, use this simple guide to get started. Doing so will improve your customer experience and bring your business more sales.
What Is a QR Code?
Invented by a Japanese car manufacturer in 1994, QR codes (standing for quick response) are used to hold scannable information. Much like a barcode, a QR can be scanned to release information about a product or service.
But unlike a barcode, QR codes can contain a comparative wealth of information. Bar codes are composed of a combination of lines and a set of numbers below them. QR codes, on the other hand, are composed of a combination of boxes. The number of possible combinations is much greater than those for barcodes, allowing the user to add a much greater amount of information. They can also be read in multiple directions, allowing even more versatility.
How Do QR Codes Work?
Typically, a user will use a smartphone camera to instantly read the QR code. The camera will read a combination of different factors and then automatically pull up the information in an app or browser on the phone.
Though there are several different types of QR codes, the standard version has 7 unique parts. Each of these parts conveys specific information: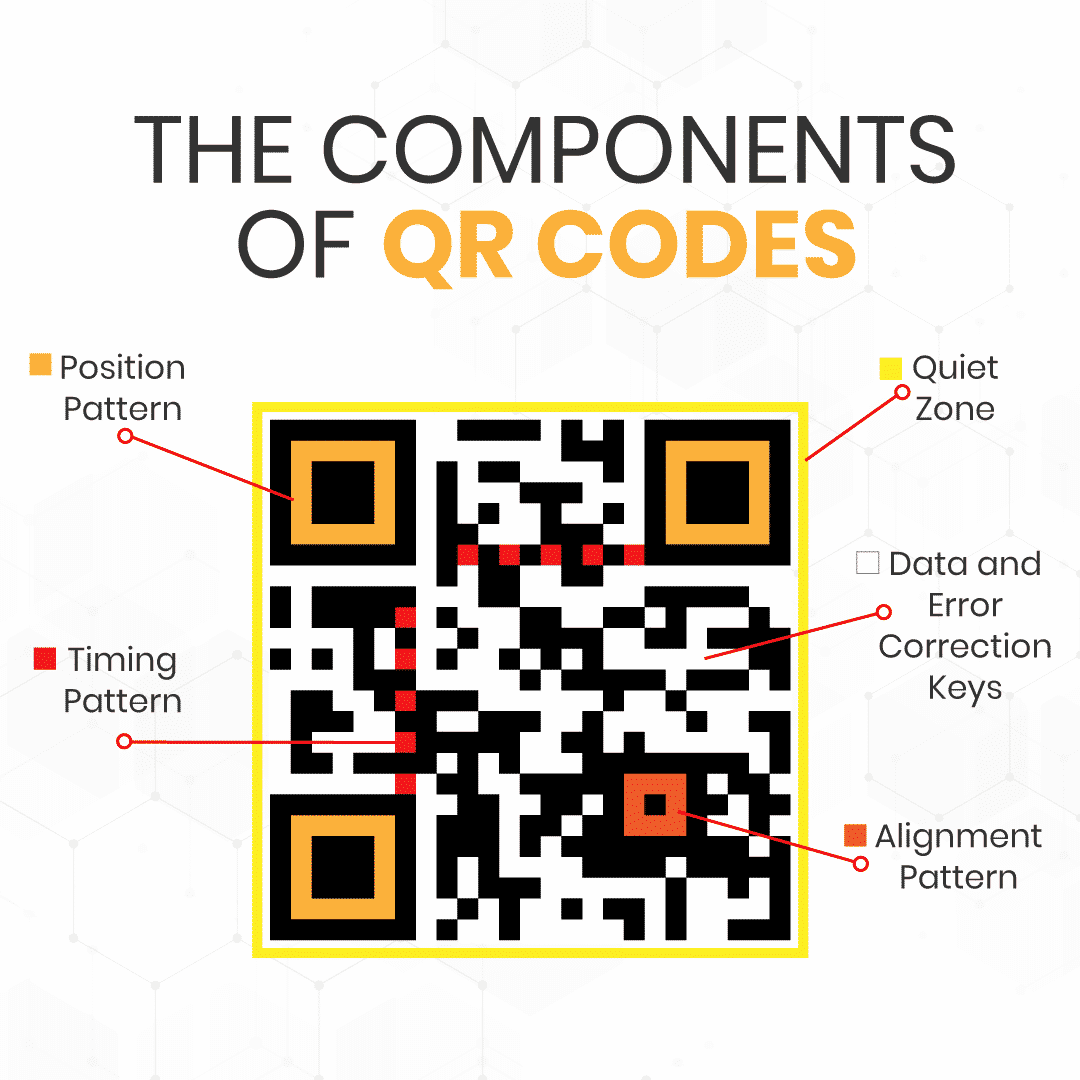 Position markings
The corners of each code show the scanner which direction the code should be read.
Alignment markings
Alignment markings help straighten the information of the code when it's placed on curved surfaces.
Timing pattern
Using black and white lines and blocks helps the scanner determine the constraints of the data and breaks the code into various sections.
Version
There are over 40 different types of QR codes. These markings show the scanner which one is being used.
Format
Formatting information helps the scanner read the code easier and helps prevent it from reading information incorrectly.
Error correction
These blocks help scanners read the code even if up to 30% of the physical image has been destroyed or tainted.
Quiet zone
This blank space allows the scanner to differentiate between different aspects of the code and read the information more clearly.
What's the Difference Between a Static and a Dynamic QR Code?
This difference can be important for businesses using QR codes for multiple purposes, though typically dynamic codes are preferred for non-personal use.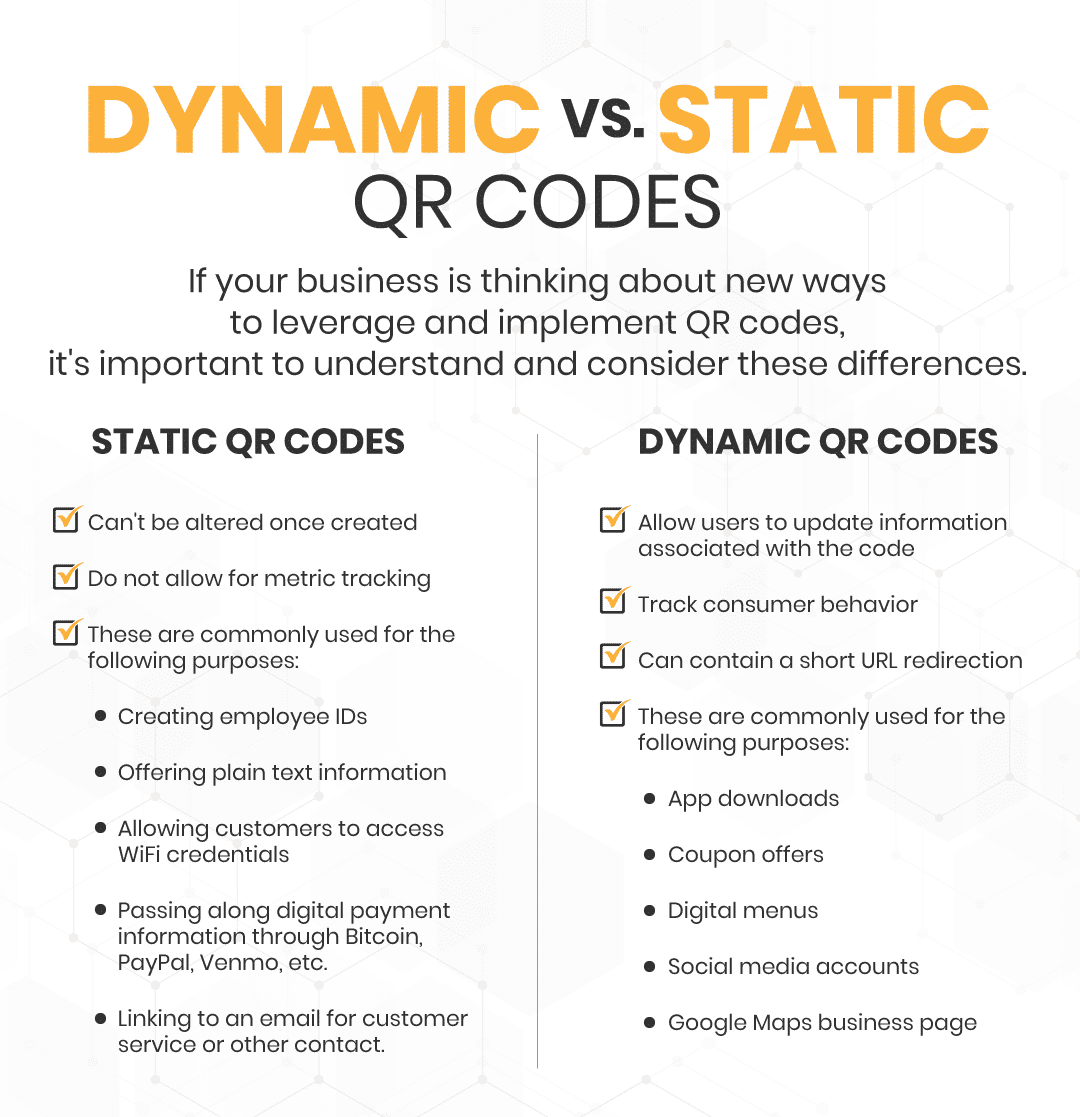 Static QR Codes
A static code contains information that can't be altered once the code is created. They do not allow metric tracking or any edits down the road.
Still, there are some great uses for static QR codes:
Creating employee IDs

Offering plain text information

Allowing customers to access WiFi credentials

Passing along digital payment information through Bitcoin, PayPal, Venmo, etc.

Linking to an email for customer service or other contact.
Dynamic QR Codes
These, on the other hand, allow users to update information, change the type of code they're using, and track customer behavior while using the code.
And while a static code can contain a significant amount of information, a dynamic code can contain a redirected short URL. Adding a UTM code to that URL allows you to track how successful any QR code campaign actually is.
Use dynamic codes for the following types of business activities:
App downloads

Coupon offers

Digital menus

Social media accounts

Google Maps business page
What Can QR Codes Be Used For in Retail or QSRs?
We've already touched on a few of the ways that retailers, restaurants, and QSRs can use QR codes to help improve their business operations. And these largely apply to other business types, too.
QR Code Menus
Most importantly, businesses can use QR codes to display their online menus. These can be placed around the POS checkout area, at tables, near the front door, on receipts, on physical flyers, or at any stores that you partner with.
This allows your customers to access the menu conveniently and quickly and, if using a dynamic code, allows you to make adjustments as your menu or pricing changes.
You can always keep a few physical menus on hand in case you have a shopper that doesn't have a smartphone, but advertising a digital menu is a great way to keep interactions more contactless.
QR Codes for Waitlists
Whether you have a restaurant, jazz bar, museum, water park, or any other type of business that might have a wait, QR codes can also be used to allow guests to check-in and get in a virtual line.
Configured correctly, this system will also notify the guest when it's their turn to enter, creating a more seamless experience and taking some of the burden off of your employees.
Coupons on QR Codes
Businesses can also attach QR to receipts with coupons that can be redeemed upon returning to your store. These can be used to reward loyal customers and turn new customers into repeat shoppers.
Businesses can create any promotion through the back-end of their POS system. The promotion will be automatically reflected as the transaction is rung up and in the reporting and metrics.
Use QR Codes for Payment
Many small businesses will accept payment by PayPal, Venmo, or other forms of electronic payment. To add convenience to this process they can add a copy of their payment QR codes to the checkout area through which customers can quickly scan and pay.
QR Codes for App Downloads
Another popular way to take advantage of QR codes is for seamless app download. It's easier than ever to create a custom app and even single-location coffee shops and liquor stores now use their own proprietary apps.
In order to drive more engagement among your shoppers, add QR codes around your store that can be used to automatically download your app. This will make it easy for your shoppers and highlight the benefits of using your business's app.
Link Your Social Media Accounts to QR Codes
Drive more loyalty and increase your branding strategies by connecting your social media and Google Maps profiles to a QR code. You can incentivize likes and follows by offering coupons or free items and make it easy at the same time.
Get a POS That Makes It Easy
There are a lot of ways that businesses can take advantage of QR codes. And none of it is hard or expensive to implement. Just make sure you have a POS system that can print, track, and allow redemption of QR codes.
To learn more about KORONA POS can help, click below to set up a free trial. We'll walk you through the steps of setting up our QR code features so you can get started right away.