Last Updated: March 5, 2021
Humans are more conscious of their health than any time in history. With medical advancements, we know more about what is unhealthy and what can help us live long and prosperous lives. Instead of a soda and a Marlboro red for breakfast, Americans are now treating their bodies with respect. Soda has turned to tea, and cigarettes to avocados.
With this enlightenment of overwhelming health in the 21st century, the demand for shops that carry healthy and delicious products has grown exponentially. Small business owners have taken notice, and are beginning a push to supply people with healthier products for a healthier life.
So what if you're one of those people looking to start a new health shop in your hometown? How do you start? What do you need? What supplies are best? Do you need business insurance? The questions don't stop there, and it won't be easy, but we've come up with some tips to help your company succeed and bring a healthier life to people in your area.
1. Plan Everything Ahead of Time
You've got the business all figured out. The idea has been overtaking your mind like you just thought of the cure for cancer. But there's more to a company than the concept. There are a million things you will need to take care of. Planning is essential to assuring your business will not be open for three months and call it quits. Plan everything from costs to credit card machines and POS systems.
Having a plan in life is essential, but for a small business owner, it can mean everything. If your health shop succeeds and becomes the talk of the town, your future will be fantastic. Your kids' future will be altered, and even your grandchildren could have a bright future.
Plan how much you'll be charging customers. Will your health shop be more affordable than any other? Or will it be a bit pricey because you order the best products on the market? For a small business in the holiday season, it's especially important to have an action plan. Be sure to create a system to tend to all the customers that will be flooding your website and store. Plan every detail, and you will not fail.
2. Come Up With a Catchy Name
The name is everything. Your brand can make or break you. A proper and catchy name will catch the attention of people on your mass marketing emails, your coupons, and your storefront. If you end up with a name like Bob's Health Market, you may not be taken seriously. Invest time in finding a name worth all the hard work you put into the business.
For small business owners, a name can mean the difference between success and hardship. The locals will want something fresh and exciting. A dull name just won't do, so pick out a few and break them down from there. Many marketing experts believe alliteration seems to catch many consumers' eyes–think the "Heartland Health Hut." Come up with as many as you can and start narrowing them down as you get closer to making your idea a reality.
3. Form an Online Presence with Digital Marketing
In 2021, technology will be more prevalent than any other year in American civilization. Companies like Walmart and Target have even begun "online grocery shopping" for customers. The online presence of your business is extremely important. Brush up on your marketing skills and know what kind of people you want to target your product towards.
The best marketing strategies range from mass emails that contain some coupons for online shopping, or advertising in small local magazines that are delivered to front doors. Do all the marketing you can–any online presence is better than none.
Online reviews are essential as well. Websites like Yelp and Facebook contain millions of reviews about millions of companies. Great Yelp reviews help your business like nothing else. So before you open your doors, make sure you have a solid foundation for those reviews to build on. This will help you build an online presence and draw crowds of consumers into your health store.
4. Establish an LLC and All Legal Necessities

Establishing legality is the most crucial step in beginning your health store journey. You cannot just rent out a store and start making money. There are licenses, forms, and registrations around every corner. Go to your local chamber of commerce, and they will tell you everything you need to do and take care of in the future.
You can choose to be a corporation, LLC, sole proprietorship, partnership, or DBA. For the most part, establishing an LLC is what most small businesses will aim for. Most small business operations do not turn into corporations, but it's never a bad thing to dream. Establishing your business as an LLC will assure you that if your company gets sued, you will not be liable personally.
5. Implement Operational Systems at Your Health Store
Before you open those doors and become an asset to the town, and before you create a friendly and fun atmosphere and form relationships with other businesses, you will need a reliable system behind the scenes. A credit card system that works and doesn't cost a fortune is vital. A point of sale (POS) system will help you run your business in a smoother manner.
Remember, POS software is meant to handle a wide range of business operations, including the following:
Inventory management
Product ordering
Vendor relations
CRM and loyalty
Payments
Employee Permissions
Theft prevention
Sales reporting
Product Analysis
Promotions and Special Pricing
Don't buy just any POS system. There are many options for POS systems, and they're not all the same. Know what your business will need and know what fits you best. KORONA's small business POS system is one of the best on the market. It's fast, smart, and intuitive to your specific needs.
6. Buy Quality Health Products from the Right Vendors
Above all else, buying products that are worth the money will create a business worth working for. Health food junkies know what they are looking at, so don't cut corners. Find local health products from other companies in the area and expand your connections. Buy produce from local farmers and support the home you love. Consumers will notice, and your business will be known for how great the product is.
Start by investigating your vendor options prior to opening. You want to be sure that your area even has availability for the health products that you envision being on your shelves. Forming relationships with your suppliers from an early stage is vital for future success. They'll help ensure you're always in stock and successful.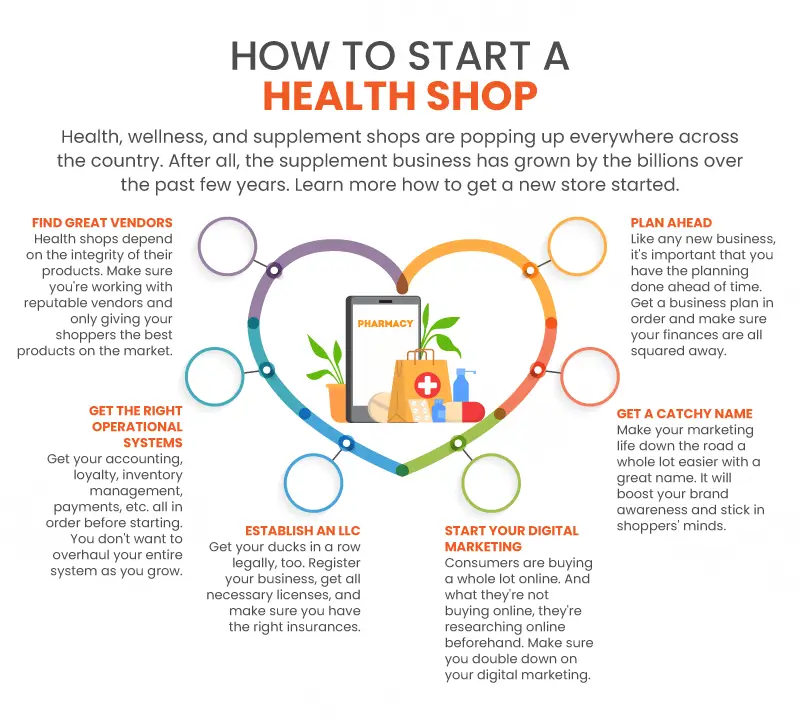 How to Open a Health Shop in 2021
Whether it's just a thought in your head or you're on the verge of establishing your LLC, opening a health shop is going to be a lot of work. This guide will show you the way and help you in your future endeavors. Remember to buy the best product available, develop an online presence, and watch your small business grow to new heights. And don't forget to check out our other guides to starting a new small business!
Get Started with KORONA today!
Tell us a little bit about your business and explore all features that KORONA has to offer. And there's no commitment or credit card required.
About the Author:
This is a guest post from Ethan Lichtenberg. Ethan is a writer for USInsuranceAgents.com and other top car insurance comparison sites. He enjoys reading Fredrik Backman and sneaking off to the beach every chance he gets.