Setting up an LLC is a process that varies from state to state, and it is imperative that you are well versed in your state's laws before you get started. Starting an LLC basically comes down to naming your LLC, selecting a registered agent, filing the certificate of formation or article of organization, and getting an operating agreement.
Choosing the right business structure is one of the most essential steps in establishing and running your business. Many retail and small business owners decide to set up an LLC for the liability protection it offers.
An LLC, or limited liability company, combines the best aspects of corporations, sole proprietorships, and partnerships into a single business structure that provides business owners with liability protection, a flexible management structure, and many tax advantages.
While the exact requirements for setting up an LLC differ from one state to another, there is some general information about what you can expect during the process. In this guide, you will learn the basic steps necessary to start an LLC wherever your business is located.
Table of Contents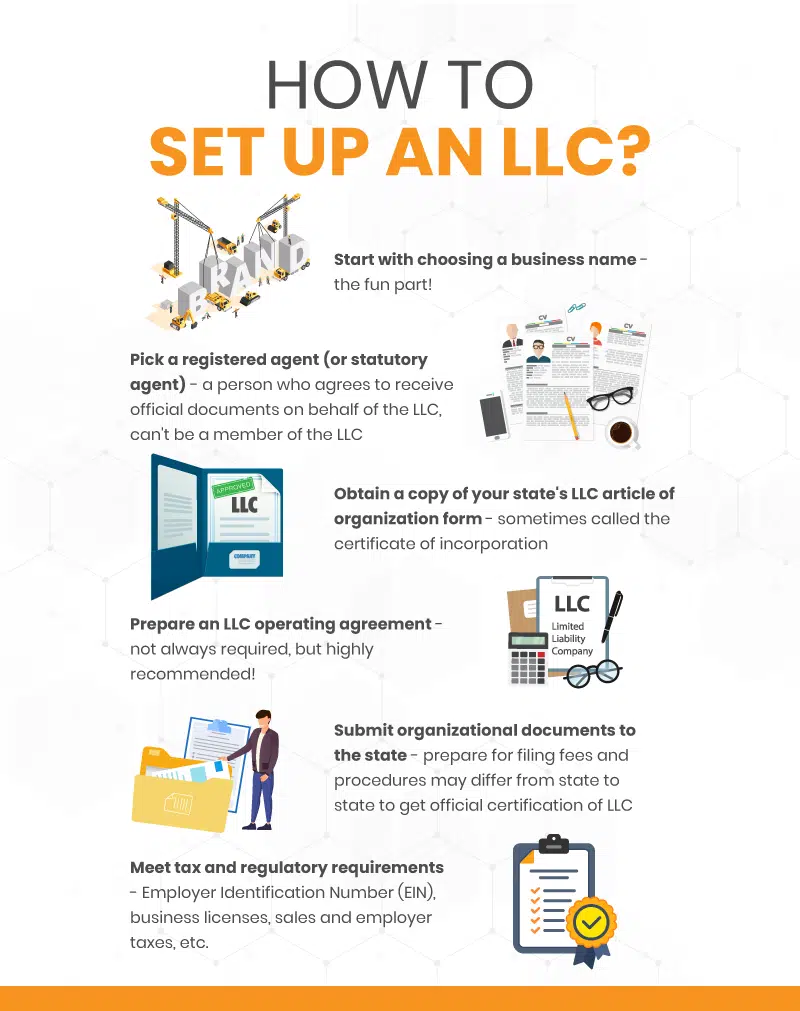 1. Find a Business Name For Your LLC
The first step in setting up an LLC is to name your business. In most states, you cannot have two different business structures with the same name. For example, you cannot have "Frank's Donuts, LLC" and "Joe's Frank, Inc." even though the two businesses are operating in different cities. In addition, many states do not allow businesses to use certain words in their name, such as "bank or "assurance". Plus, you will probably need to add a version of "LLC" or "limited liability company" to the end of your business name.
To ensure another business has not selected the LLC name you choose, you can search online for existing business names in many states. In most cases, it is advisable to perform this preliminary search in the Patent Office's electronic trademark search system to find existing trademarks similar to the desired name.
Always check the availability of names in your state before completing the LLC paperwork. Other than restrictions imposed by state law, it is advisable to check whether other similar businesses in your area are using the same or a similar name.
To better understand your state's requirements for limited liability company names and whether the name you want is available, check your state agency's website responsible for business registrations. The Secretary of State is responsible for business registration in most states.
Related: How To Legally Trademark Your Business Name
2. Pick a Registered Agent
LLCs must name a Registered Agent (sometimes also called a Statutory Agent). A registered agent is a person who agrees to receive lawsuits, subpoenas, and other official documents on behalf of the LLC and forward them to the person in charge of the LLC.
Most states allow anyone over the age of 18 who resides in the state to serve as a registered agent, including a member or officer of the LLC. Some companies provide registered agent services for a fee. The registered agent will need a physical address in the state where the LLC is registered. Most states have a list of private service companies (registered sales agents) that will act as an agent for processing the service for a fee. In addition, a member of the LLC may act as a registered agent for the LLC.
3. Obtain a Copy of Your State's LLC Article of Organization Form
Before you establish your LLC, you must submit a document to the state agency that handles business registrations in your state. This document is called the Articles of Organization in most states, but some states use a different name, such as the certificate of incorporation. Each state has a form you can use.
4. Prepare an LLC Operating Agreement
The LLC operating agreement is a legal document that describes the ownership and obligations of your limited liability company members. This document outlines members' ownership and voting rights, profit and loss sharing, meeting procedures, corporate governance, members' rights if one of them passes away or leaves the company, and how the company will shut down if it ceases operations.
It should be noted that the operating agreement is a document that is often not required by the state or directly included in the LLC establishment process. However, business owners need to define their rights and responsibilities and thus minimize future disagreements.
5. Submit Organizational Documents To The State
The form and procedure for forming an LLC differ from state to state. However, the essential information you need is as follows:
The name of the company

The address of your business location

The duration of its existence

The name and address of the registered agent

The purpose for which the LLC is formed and how the business will be managed
Once all of the documents have been collected, the form must be signed by one or more owners or organizers of the business. You will often file the LLC creation documents with the Secretary of State, but some states have a different department that handles business registrations. Be prepared to pay a filing fee. These fees also vary from state to state. Once the LLC formation documents have been filed and approved, the state issues a certificate or other document that confirms the official existence of your LLC.
Note
In some states, such as Nebraska and New York, it is necessary to publish a notice in the newspaper announcing your intention to register your LLC. This must be done prior to filing the articles of organization.
6. Meet Tax and Regulatory Requirements
Once you have received the certificate, you can proceed with other important requirements, such as obtaining a tax identification number and business licenses and setting up a commercial bank account.
EIN
If the LLC has more than one member, it is required to obtain its own Employer Identification Number (EIN), even if it has no employees. If you form a single-member LLC, you are only required to obtain an EIN if the LLC has employees or if you file to tax it as a corporation instead of a sole proprietorship. You can apply for an EIN by completing an online EIN application on the IRS website.
Business Licenses
Business licenses are documents that each state requires depending on the type of business your company conducts and where it is located. Therefore, it is essential to check with the appropriate state agencies to ensure that you are appropriately registered, licensed, and authorized to do business in your state. Consult an attorney for assistance.
Related: Types of Business Licenses for Small Businesses
Sales and employer taxes
If you sell goods and collect sales taxes or have employees, you will need to register with the appropriate state tax authority.
Setting Up an LLC is Good, But Not Enough
With the legal part of your business in the bag, it's time to think about its management. And as a retail and small business owner, investing in a point of sale system is essential as it represents the backbone of your store management.
From inventory management to payment processing, you need a point of sale system tailored to your needs and allows you to have a holistic view of your business operations. KORONA POS is the retail POS system designed for retailers, ticketing operations, and QSRs The cloud-based system allows you to track all operations and transactions taking place in your store in real-time without you being present. If you want to learn more about KORONA POS, click the button below for unlimited free trials.
FAQs: On How To Set Up An LLC
1. How much does it cost to form a U.S. LLC?
The cost of registering an LLC in the United States depends on state law but generally ranges from $40 to $500. In addition to filing the articles of organization, most states require companies to obtain a business license. The cost of this license ranges from $50 to $100 in most states.
2. What are the benefits of becoming an LLC?
Some of the advantages of an LLC include protection of personal assets, low taxation, credibility, and flexibility. Setting up your business as an LLC gives you a better chance of obtaining bank loans or other financing from financial institutions.
3. How do you start an LLC?
Starting an LLC is relatively straightforward. You file articles of organization or a similar document with the Secretary of State's office or any other registration agency and then provide some basic information about your business and its members.
4. Which is better, LLC or sole proprietorship?
The sole proprietor is personally liable for all debts and lawsuits of the business. This means creditors or claimants can seize the owner's personal assets to satisfy a debt or judgment. On the other hand, an LLC is a separate business structure. The members of the LLC are usually not personally liable for the debts and lawsuits of the LLC. Following this logic, the LLC is unarguably more advantageous than sole proprietorship.