Social media is one of the most important online consumer markets for eCommerce ventures. They are essential channels for building a relationship with consumers, but they're also important avenues for retail merchandising. And few people know how to use them to drive revenue.
In the age of social media, shoppers are constantly connected online. They are learning more about your business, offerings, and, of course, competitors. Leveraging SEO, great branding, word-of-mouth marketing, etc., are no longer enough to increase sales on your eCommerce site. Social selling offers you a unique opportunity to influence buyers. This article will explain how to sell on social media and the right platforms for social selling.
Table of Contents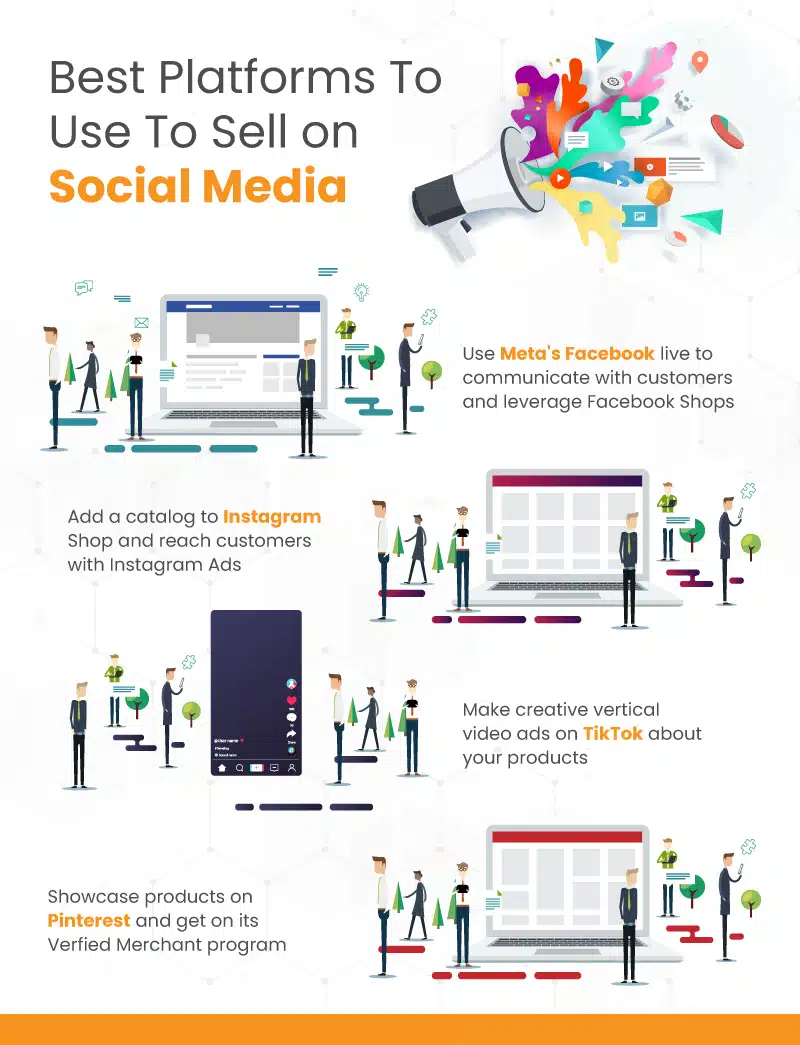 What Is Social Selling?
Social selling is a strategy based on leveraging social media outlets to develop contacts with potential new customers and expand your brand. You build authentic relationships with the ultimate goal of converting your viewers into paying customers.
By building strong connections with potential customers on social media, you can be the first brand a prospect thinks of when they are ready to make a purchase. Note that selling on social media will not be an overnight success. A truly effective social media retail outlet takes time and happens organically once trust is established.
Best Platforms To Use To Sell on Social Media
Knowing how to sell on social networks comes down to knowing which platforms best suit the type of products you want to sell. And when it comes to social selling, not all platforms are created equal. Some social media sites are more suited to selling products simply because they have invested heavily in social retail features or because they make it easier to attract your target audience.
While the order of importance among various social media channels may vary depending on daily active users (DAUs), overall influence on product purchase decisions and social commerce features, the general consensus for best social media platforms for selling products are Facebook, Instagram, TikTok, and Pinterest.
Read also: How To Find Trending Products to Sell in Your Online Retail Store
1. Social selling strategies for Meta (Facebook)
Selling products using Facebook live shopping
Facebook Live is a free tool that allows anyone on Facebook to broadcast live video from a mobile device or computer. It is also one of the leading live shopping platforms in the United States.
As a business owner, you can use Facebook Live to communicate with your customers while showcasing your products in a live video. You can show your items in real-life scenarios, highlight product details and interact directly with your potential customers.
Facebook allows you to tag products in your live streams. A product tag contains details and a link to your website. Customers can even purchase items directly from your live stream. Facebook Live streams generate 10x more engagement than standard videos, making them a great way to connect with potential customers and educate them on how to help them or provide value.
For instance, if you own a store that sells makeup products, you can regularly host live tutorials in which you demonstrate how to use your products or highlight new offers. This is a great way to get customers excited about the product while providing educational value.
Selling products using Facebook live shopping can be used for collaborations with influencers, too. You can co-host a live video with an influencer in your niche to share your expertise and introduce your brand to a new audience.
Leverage Facebook Shops
Facebook Shop is a virtual storefront integrated with the Facebook platform but can be customized to look like a standalone website. Facebook Shops can be an excellent tool for business owners looking for innovative online sales techniques. Make sure, however, that using Facebook as your primary platform for selling products online is the right choice for your brand.
To sum up, selling products through Facebook Shops has many advantages. First, creating a Facebook store is free and easy. In addition, the platform offers flexibility in the payment process and direct interaction with buyers.
2. Selling products through Instagram
Leverage your Instagram shop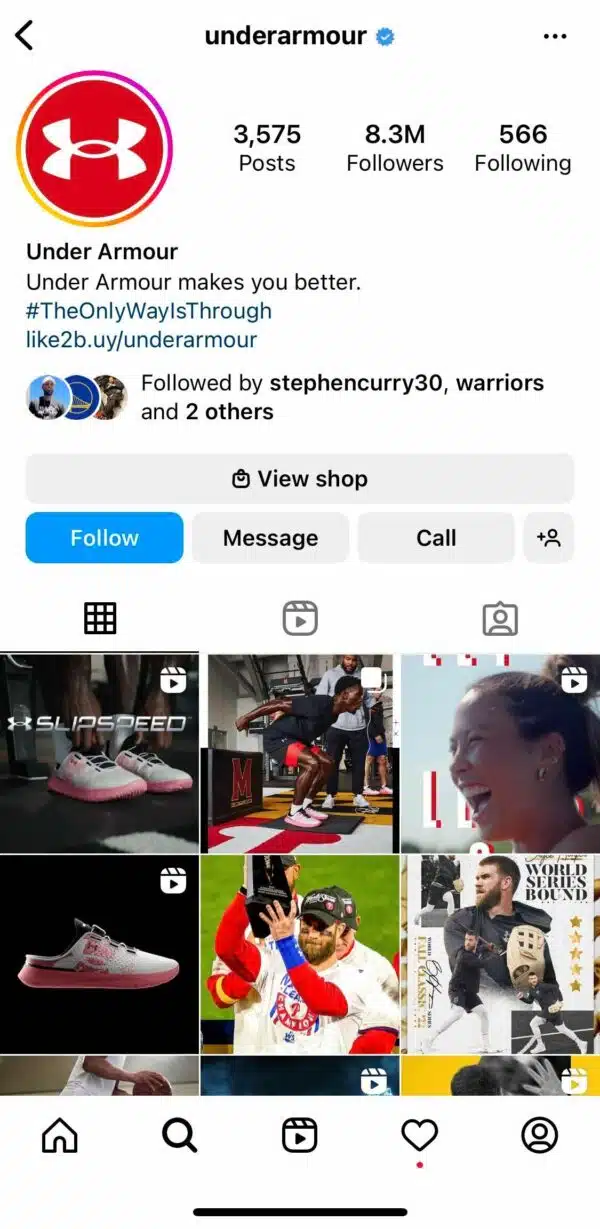 Instagram is part of the Meta brand family, alongside Facebook. Instagram Shop is a platform for businesses to showcase their product catalog and reach new customers on Instagram. Brands can build a list of products for purchase directly accessible via the "View Shop" button on their Instagram profile.
Setting up an Instagram Shop is easier than you might think. The first step is first to verify your eligibility. Then, convert to a business or designer account and connect to a Facebook page.
Setting up an Instagram store doesn't guarantee success. Once you set up the Shop, you can start tagging products in your feed posts, Instagram Stories, reels, guides, and live broadcasts, which will open up a ton of new eCommerce opportunities. In fact, Instagram Story receives 78% more clicks than ads shown in the timeline feed. Like any online selling, it's best to leverage different strategies on the platform.
Harnessing a social media management tool for Instagram can be one of the best ways to get ahead of your strategy, spot opportunities to make sales, and analyze your performance, all from one easy-to-use dashboard.
Reach your customers with Instagram ads
Meta's ad manager gives you the ability to purchase placements not only on Facebook but also on Instagram:
Instagram feeds in the mobile app

The Explore tab on Instagram

The Instagram Shop tab (the homepage, not the individual Instagram stores).

The Instagram Stories queues

Instagram's in-stream videos

The Instagram Reels tab
An underrated benefit of running Instagram ads is that they can effectively increase your follower count.
Must-read: Instagram Marketing for Retail Businesses
3. TikTok: Selling creatively on the vertical video app
TikTok ads were once the primary way for merchants to generate sales on the platform. However, the app has begun rolling out new product-specific ad formats( in addition to its existing ad types) to introduce social commerce to the platform:
In-feed ads display between the regular TikToks in your feed.

TopView ads appear as soon as you open the TikTok app.

Collection ads allow users to browse an entire collection of products in the app.

Dynamic Showcase ads (DSAs) are personalized based on a person's interests on the platform.
When you start posting videos on TikTok, the app doesn't tell you anything other than likes and views unless you ask it to. If you want a more in-depth analysis of how to use TikTok to track reach and engagement, you need to enable the analytics feature. Remember to have the right device to support it.
TikTok is, after all, a video-sharing app, which means that camera quality is vital if you want to vlog regularly. The best devices to use for TikTok are usually the latest iPhones or Androids. Still, either way, you need a smartphone capable of shooting at 30 frames per second or more in 1080p video quality for high-definition videos. iPhones are usually the first to have access to the latest TikTok features. Consider these things if you invest in the application and want to increase sales.
See related: 10 Winning TikTok Marketing Strategies: A Guide for Retailers and SMB Owners
4. Showcase your products through Pinterest
Pinterest users have more extensive baskets online. Shoppers on Pinterest have 85% larger baskets than shoppers on other platforms. Plus, they spend twice as much per month. And its users also have a lot of buying power, with 45% of U.S. households with incomes over $100,000 using the platform.
On the consumer end, this makes Pinterest a natural choice for product discovery and curation. And on the merchant end, the platform offers a range of features you can leverage to make selling products easier.
Selling products on Pinterest first requires that you create a business account. Brand your account, then link and verify your website. Since Pinterest is a visual platform, make sure your pins are visually appealing enough to make someone want to click. Below are a few common best practices for selling on Pinterest:
Create stunning visuals

Focus on Pinterest's SEO

Use rich and promoted pins

Organizing pins into catalogs

Tag products in "Shop the Look" pins

Share user-generated content (UGC)

Incorporate content marketing
What's also worth mentioning about Pinterest is its Verified Merchant program Here, approved sellers get a badge on their profile to help secure trust and gain more visibility in Pinterest's organic search results.
How To Sell Your Products On Social Media: Conclusion
Using social media to sell more should be an action point on every eCommerce company's to-do list. As social media platforms increasingly embrace social commerce over time, social media marketing will evolve from a channel focused on brand awareness and engagement to a valuable source of recurring sales for eCommerce brands.
And as long as you understand how your audience works and your chosen social media platforms operate, you can experiment until you find your business's best social selling strategy. Tools like Hootsuite, Buffer, and Sprout Social are also essential to creating and publishing content to analyze and report.
Get Started with KORONA POS today!
Tell us a little bit about your business and explore all features that KORONA POS has to offer. And there's no commitment or credit card required.
FAQs: How To Sell Your Products On Social Media in 2023
1. Which social media platform is best for Advertising in 2023?
The best social media platform for advertising depends primarily on the type of audience you want to reach with your products. However, In 2023, Facebook is the number one social media platform that marketers are focusing on, according to a study by the HubSpot blog. When asked which social media platform they plan to invest the most in for 2022, 25% said Facebook, 20% said YouTube, 16% said Twitter, and 15% said Instagram.
2. How do I sell my product on social media?
To sell your products on social media, first, determine the most appropriate platform for your business. Then create an account on the platforms you want to use. Bring value by sharing relevant content on the platforms. This will contribute to the conversation about your brand. Take advantage of your established audience to sell your products through the platform's features. 
3. How much does it cost to sell on social media?
You can advertise your business on most social media platforms for free, but more often, paying for ad space gets you sales faster. Expenses typically take into account advertising expenses, graphics, and expenses related to ad management and technological know-how.