Wine, beer, and liquor sales in the United States have seen an increase most years in the past few decades. There are many factors that may be at play here (currently it's likely just a general malaise), but the fact is we're drinking more.
With this, we've seen a surge in craft breweries, boutique wine and liquor shops, and small bars. Retailers across the country have responded to the demand. But with COVID-19 changing how we interact and consume, and the concurrent rise of eCommerce shopping, many liquor retailers are turning to the internet to boost their sales.
See related: 5 Ways to Sell on the Amazon eCommerce Platform
And there is a lot of opportunities out there. Bars are selling pre-batched cocktails to-go, wineries and distributors are offering new memberships and subscription plans for monthly wine shipments, and even bartenders are selling recipes and homemade drinks.
For anyone in the beer, wine, or liquor business, it's important to think about how to sell alcohol online. Below, we'll go over some basics, such as which apps and licensing you'll need. And as always, when it comes to the distribution of alcoholic beverages, consult your lawyer before making any big decisions.
How to Sell Alcohol Online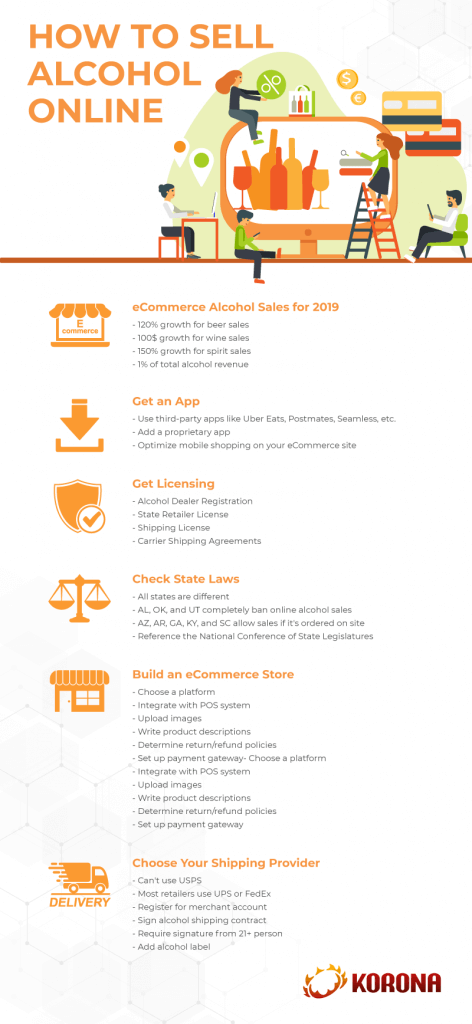 eCommerce Liquor Selling Was Already Growing
Well before COVID hit the world, alcohol sales were already rapidly growing in the eCommerce sector. 2019 saw remarkable growth in online alcohol sales:
120% growth in beer sales
100% growth in wine
150% in spirits
Still, alcohol beverages only account for 1% of online grocery revenue, while they are typically about 5-6% of brick and mortar grocery revenue. There is plenty of room for more growth.
We'll continue to see an increase in direct-to-consumer alcohol sales. In fact, the U.S. alcohol eCommerce market already witnessed a growth of over 80% in 2020. Plus, states are likely to lessen selling restrictions. The industry is still heavily regulated and can still be made more business-friendly in numerous sectors.
Get an App to Sell Alcohol
There are plenty of third-party apps that shoppers can use to buy alcohol online. Uber Eats, Postmates, Seamless, and a whole lot more will drop off local alcohol orders at your door.
The same goes for eCommerce shipped orders. Many wineries, breweries, and distilleries sell their products on third-party websites. While it's good to pursue multiple sales channels, building a proprietary app to sell alcohol is even better.
Development teams will build simple apps for small businesses that want to sell their products more efficiently. Though a simple eCommerce store can be optimized for mobile shopping, an app will drive more engagement and allow you to continue conversation with your customers more easily.
Apply for All Necessary Licenses
The proper documentation for selling alcohol is the area in which any business should consult a legal advisor. Alcohol sales face city, state, and federal laws, all of which the business must abide by. What's more, you must follow the laws of the state to which you're shipping.
To help with managing your shipping, KORONA integrates with bLoyal. Aside from being a powerful loyalty and CRM system, bLoyal automates interstate shipping, following all individual state shipping laws (most states have limits on single shipped quantities and total annual shipments).
Below is a basic list of common licenses that alcohol retailers will also need to apply for:
Alcohol Dealer Registration – Needs to be approved by the Alcohol and Tobacco Tax and Trade Bureau (TTB).
State Retailer License – Look at your specific state to see if you're able to sell online.
Shipping License – Alcohol retailers need to get separate licenses for each state that they plan on shipping to.
Carrier Shipping Agreements – Retailers must work out agreements with all shipping carriers that they plan on using.
Check With Your State Laws
Selling beer, wine, and liquor across state lines is especially tricky due to unique laws in each state. Some are certainly more strict than others. In fact, in some states, it's entirely illegal to sell any alcohol directly to consumers.
Most states allow some shipment of alcohol to individual consumers
Three states prohibit all direct-to-consumer alcohol sales – Alabama, Oklahoma, and Utah
Mississippi has no statute that directly allows direct shipments
Five states allow shipments if the beverage is purchased on the site of the winery, brewery, or distillery – Arizona, Arkansas, Georgia, Kentucky, and South Carolina
Five state and D.C. allow all shipments of spirits – Arizona, Florida, Hawaii, Nebraska, New Hampshire
For a more detailed look at specific laws and regulations by state, check out the National Conference of State Legislatures
Set Up a Basic eCommerce Store
Getting started with a retail eCommerce store has never been easier. And, of course, to sell something online, you'll first need an online shop. Luckily, it's easier than ever to open a web shop. Follow a few simple steps to get it off the ground:
Choose a platform to use
Make sure it integrates with your existing POS system
Upload great product images
Write product descriptions
Optimize pages for SEO purposes
Detail return and refund policies
Determine your shipping system
Speak with your credit card processing to implement a payment gateway
Start marketing your store!
Modern eCommerce platforms make building the "interior" of your store amazingly easy. It's simple to make the shopping experience pleasant and seamless.
Choose Your Shipping Provider
This is trickier than it first seems. Not all shipping carriers will ship alcohol, and those that do have specific requirements.
Due to a 1909 law, USPS cannot ship any alcohol. Most alcohol retailers will use FedEx or UPS. In order to do so, follow these steps:
Register with a merchant account
Fill out and sign a special alcohol shipping contract
Follow all packaging requirements
Require a signature from someone who is 21+
Add a special alcohol label
For a closer look, check out this article: How To Ship Alcohol: Some Tips For Shipping Alcoholic Beverages Across All The 50 States
Start Your Marketing for Selling Alcohol Online
Once you have your store set up, it's time to start bringing in shoppers. Your marketing efforts in the early stages of this process are vital to long-term success. Just as you did with your brick and mortar grand opening, it's important to draw in new shoppers during your online opening. There are many ways to bring in a larger audience right from the beginning:
Be friendly with returns
Offer free shipping
Give a generous introductory promotion
Send out coupons and other discount opportunities for new users
Email product suggestions
Use social media to connect with consumers
Educate your shoppers on the various types of alcohol you sell
Build package deals to cross-promote and add to orders
Check out your competitors for ideas
There are a LOT of companies now selling alcohol online. Use them as inspiration to get started. And remember that a great product and genuine customer service will go a long way.
For more information, sign up for our blog. And click below to try out KORONA. You can choose between our liquor store POS or Winery POS. Our point of sale integrates with some of the top eCommerce platforms, allowing our liquor store and winery customers to seamlessly open an online location. If you're an existing customer, we can get you started right away. Just give us a call!