Last Updated: December 15, 2020
With the rise of eCommerce retail/online shopping, many small businesses are putting the majority of their effort and focus into building their virtual presence. But, as we've discussed many times, brick and mortar retail is here to stay. In fact, physical retail sales are still growing each year; eCommerce still only accounts for about 14.3% of all retail sales in the U.S. But that doesn't mean that brick and mortar doesn't have to adapt to the evolving world of retail. Increasing foot traffic to your store is an important part of driving business. So how are retailers getting more shoppers in their doors? Let's take a look at how to drive in-store traffic and grow your SMB successfully.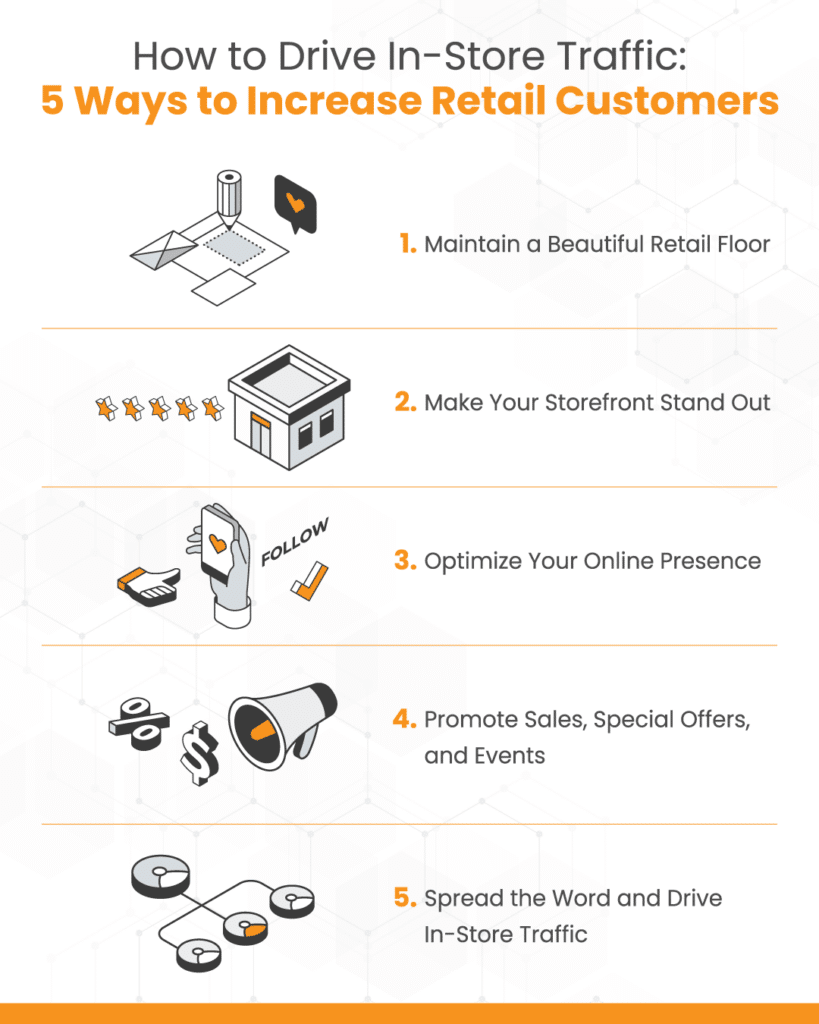 1. Maintain a Beautiful Retail Floor
First, remember to keep your space impeccably clean. This might be a bit obvious, but it's amazing how many retailers leave their store in relative disarray. This means constant vacuuming, dusting, mopping, polishing, or whatever other chore is necessary for your space.
Organization is imperative, too. Shelves should be fully stocked, faced, and folded, with proper labels and prices. It's important to make it easy for your shoppers to find what they're looking for and avoid confusion whenever possible.
Your retail layout is another area to focus on. The design and arrangement of products should be intuitive. You should be able to use your layout to direct traffic as you see fit while keeping the space as open and inviting as possible.
Finally, make sure that your retail POS area is clean, easy to find, and moves quickly. A long, annoying line will never drive foot traffic to your store.
2. Make Your Storefront Stand Out
The outside of your retail space also matters, of course.
Again, keeping a manicured space is of the utmost importance. Regular sweeping and washing go a long way. Keep up with other basic maintenance tasks, like window cleaning and touching up painted areas.
Plants or some kind of greenery will make your space more enticing. Depending on what you sell and the type of space you have, it might be nice to include some patio furniture – passersby who notice people relaxing and enjoying themselves at a shop will be much more likely to stop in.
Spend time with your logo and any other signage. Hopefully, you've chosen a great, eye-catching logo. Either way, let it really shine on the front of your store. Think about creative ways you can display it, like hanging signs, neon, or unique placement.
If local laws allow it, get a foldable sidewalk sign. Many people walk by while looking straight ahead at all times. This increases your branded visibility. Even if people don't walk in, your name and design will still have made an impression.
Invest in some great lighting. A beautifully lit space is especially welcoming before sunrise or after dark. Coffee shops or restaurants can lure in more foot traffic with an eye for light.
3. Increase Foot Traffic by Optimizing Your Online Presence
Even though you're a brick and mortar store, a great online presence is an important tool to drive more traffic.
As we've talked about recently,

set up your Google Business page

.

Manage and respond to all reviews on the most important platforms for your retail niche.

Keep your website fresh looking and up to date. Accurate hours and store information are critical.

Stay active on social media channels. Use them as a way to

increase brand awareness

and identity. Just be sure to stay consistent with your language and message.

Consider setting up an eCommerce store. A fully functioning web store will, of course,

increase your sales

, but it will also help with foot traffic. It allows customers to shop around a bit to see if it's worth stopping by your physical store. Convince them they should.

Offer "buy online, pick up in store" or "click and collect" services. This adds convenience to the brick and mortar shopping experience and might encourage additional shopping once they are in your store.
Work with influencers whose followers are your target customers. And use Pinterest to target high-intent shoppers. 49% of consumers are now relying on influencer recommendations so select some to partner with to better connect with your customers.
4. Promote Sales, Special Offers, and In-Store Events
Find different avenues to highlight any big sales or events. You always want to follow the crowd with holiday-based promotions, like Black Friday. But you can also stand out by running a big sale at an odd time. Increase physical visibility at your storefront, and decide which marketing channels would be best to promote it further. Facebook ads, email marketing, and even some print media are great ways to get the word out.
Make the offers in-store only to boost your foot traffic. These can target shoppers who haven't been in but have been thinking about it and give them that extra little push they needed to stop by.
Events are another great way to draw in new visitors. They are great for showing off new or exciting products. A bakery could offer a class on how to make croissants, liquor stores can bring in distributors or makers to talk about a few new wines, coffee shops might host a local book club. There are a lot of options and all of them will build a sense of community at your store.
Great loyalty programs will also attract more retail traffic. There are plenty of more basic solutions for that come built into a great retail point of sale. More advanced and niche solutions can be integrated into the POS system.
5. Spread the Word and Drive In-Store Traffic
Word of mouth advertising is still the most valuable form of marketing. Find ways to get people to talk about your brand and products.
Start by focusing on having something amazing and valuable to offer first. And then implement strategies such as incentivizing reviews focused around your customers' in-store experiences, or running a friends and family discount promotion.
Consumers are far more likely to try a new store or product if it comes recommended by a family member or friend.
Make this easy by simply thinking about what you love in a shopping experience. Take inspiration from others and run with it in your own way. Putting your love and passion into your business will be infectious for those around you and quickly get more people into your store.
Get Started with KORONA POS today!
Tell us a little bit about your business and explore all features that KORONA POS has to offer. And there's no commitment or credit card required.