The goal of any eCommerce website is, of course, to sell your products or services online. And the simplest way to do so is to ensure that it's easy to use. A glitchy or otherwise cumbersome website will turn away prospective customers and significantly impact your bottom line. Just like long lines at the checkout, no shopper wants to deal with an inconvenient eCommerce shopping experience.
And with online sales continuing to reach record levels (and with it, competition), it's more important than ever to create a customer-friendly eCommerce website. Doing so will maximize the value of your existing traffic as well as escalate the amount of traffic you receive.
There are many ways to improve the quality of your webstore. To get started on creating a great eCommerce site, follow these 10 tips.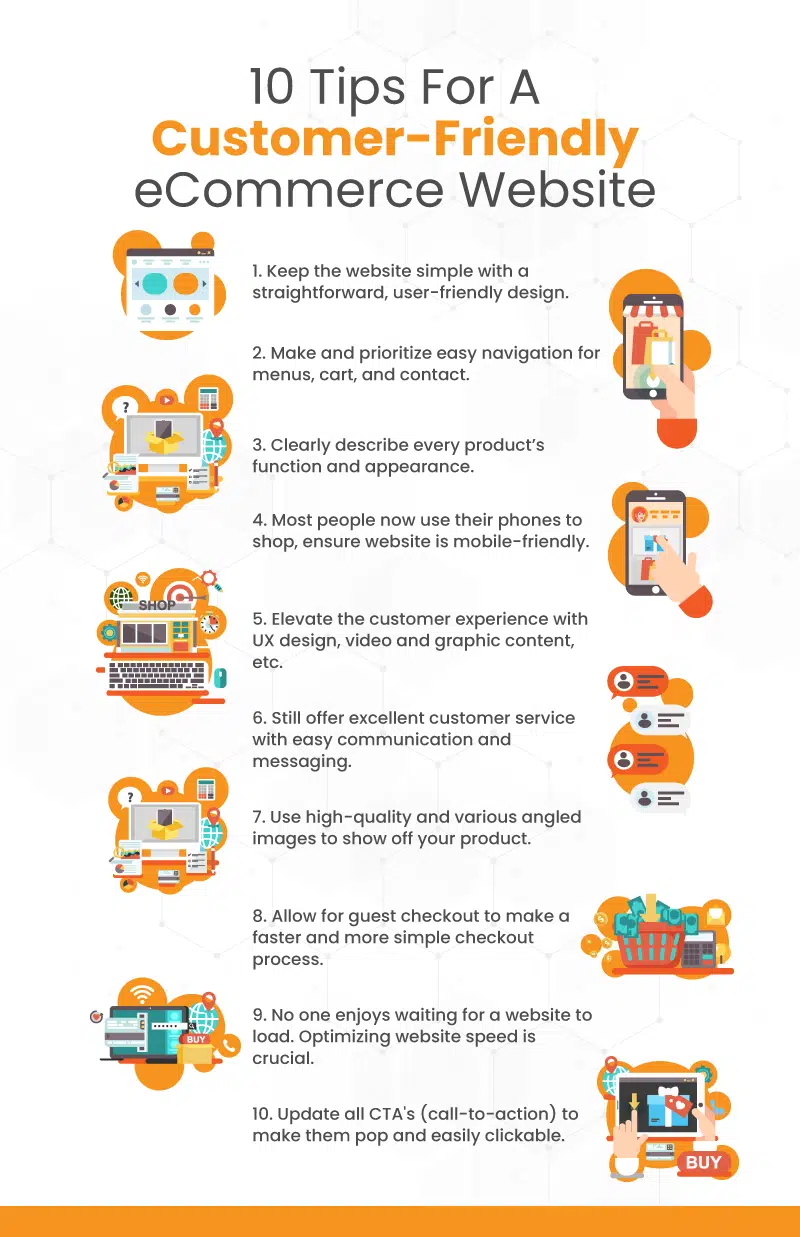 1. Keep It Simple
A straightforward, user-friendly design is absolutely key. From your landing pages to your checkout, it's vital that your visitors are able to find what they're looking for and be guided naturally through the process.
One thing to be sure to prioritize is your sitemap. You may be wondering what is a sitemap? It's a crucial piece of your eCommerce store's search engine optimization (SEO). It helps ensure that search engines correctly understand a site's hierarchy of pages, structure, content updates, and other factors which ensure that your website is indexed and crawled for maximum visibility.
Sitemaps are also important for ensuring that the buying journey is intuitive and seamless.
2. Prioritize Easy Navigation
Relatedly, keeping your navigation clear is another important factor. While it may be tempting to highlight how unique your store is through an intricate design and custom website, it's also important to keep your navigation very simple. After all, your users have to find what they're searching for as fast as possible.
It's helpful to include simple menus and categories as well as clear options for getting in contact with your business or navigating to their checkout cart.
You should also include a product search function, even if it's rudimentary. Some users are more likely to get frustrated and give up if it's hard for them to search for what they're looking for.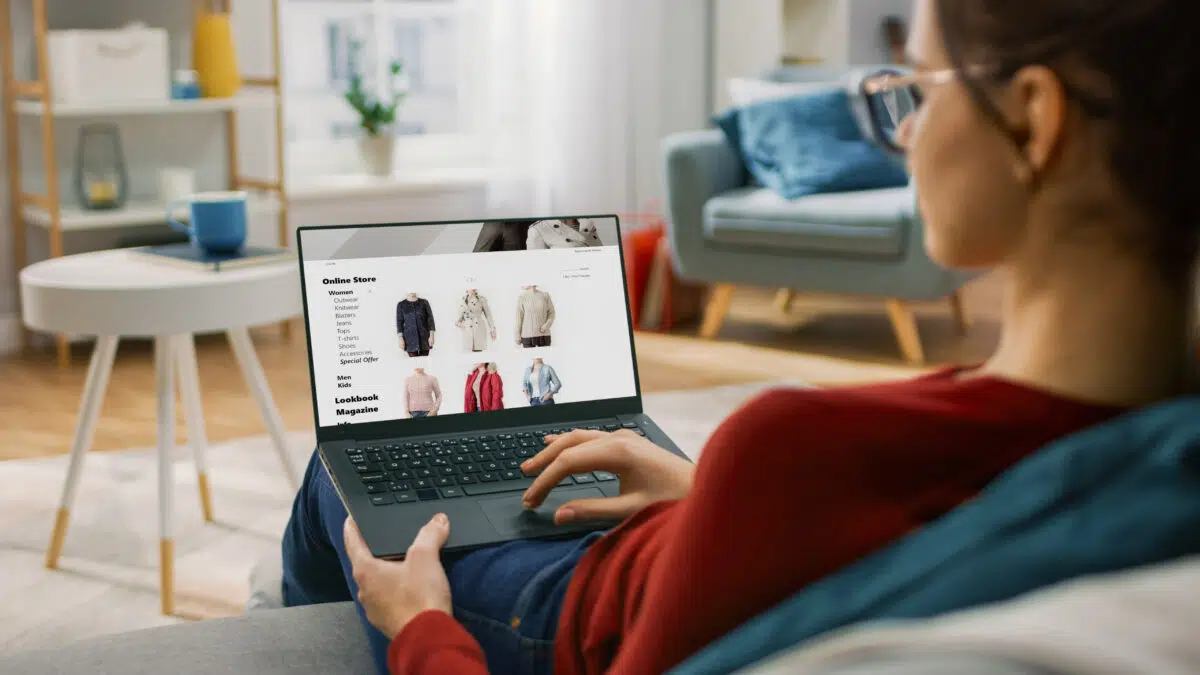 3. Use Clear Content
To run a successful eCommerce website, always remember that great product descriptions are as essential as great product images and videos. Be sure to carefully describe every product's function and appearance so that your customers know what you're selling.
To provide informative content, make sure to follow the tips below:
Keep the title as descriptive as possible

Add product descriptions with all relevant details

Use clear images

Add images from multiple angles and distances

Use photos of the product being modeled

Make buttons and prices easy to find
Remember, shopping online is very different from doing so in person. Shoppers don't have the luxury of interacting with the product in the same way. It's important to use descriptions and photos to try to bridge that divide as much as possible.
4. Make Your Site Mobile Friendly
People are spending a whole lot of time on their phones. In fact, in 2021 the average iPhone user was spending nearly 6 hours a day on their phone.
While this time isn't, of course, spent entirely shopping, consumers are conducting a lot more of their research and purchasing through their smartphones. This makes it vitally important to present a mobile-friendly site.
Doing so is typically pretty easy. Most eCommerce platforms offer users built-in features to optimize pages for mobile use. Plus, creating better mobile pages will help with your SEO efforts (Google places a high priority on mobile compatibility).
5. Keep Your Customers Top of Mind
When creating a customer-friendly eCommerce site, the most essential thing is to always prioritize your customers. One of the ways to do so is to build your site around them.
This refers to not only the navigation that we mentioned above but also a whole lot more.
Color scheme

UX design

Feedback surveys

Custom forms

Chat capabilities

Video and graphic content

Seamless checkout

User profile
6. Offer An Excellent Customer Service
Another way to make your eCommerce site customer-friendly is to provide valuable customer service channels. There are several ways of doing so, Remember, the easier you make communication, the more shoppers will engage with your team. This goes for prospective shoppers who will then be more likely to make a purchase as well as existing customers who will then be more likely to continue shopping with you and leave you a good review.
There are some common tools and features that businesses should use to improve their online customer service:
"About Us" page

Social media messaging

Live website chat

FAQ sections

Question forms

info@ or contact@ email address

Customer support phone line

Contact information page
You want your eCommerce site to provide the same customer service level and human interaction that physical stores offer. You'll drive more repeat customers and increase sales by giving your customers the confidence to shop on your eCommerce site.
7. Use Quality And Clear Images
Presenting your products with catchy descriptions is one thing, but if you want to make a customer-friendly eCommerce site, you need to use quality product images. It will not only help grab your visitors' attention, but it can also sway their purchasing decision.
To do so, use quality, high-resolution images with good lighting. If possible, add a gallery of pictures to show each product from multiple angles and highlight all features. Many eCommerce retailers also provide the ability to zoom in so visitors can get an up-close look at each item.
8. Allow Guest Checkout
Back to the checkout process for a minute. Not only should the checkout be easy to navigate to, but it should also be easy to complete a purchase.
While many eCommerce businesses want to collect shopper information for future marketing purposes, it's best to allow a guest checkout option at your store. Guest checkout streamlines the process and cuts several steps out of the buying journey, thereby reducing your abandoned carts and improving your conversion rates.
With that said, it's still a great idea to use some sort of CRM system to allow for membership or registration to your loyalty program. Gaining returning customers through this process is an important step in growing your brand.
9. Optimize Your Site Speed
People don't like to wait. Your eCommerce site's load speed time is critical. Typically, the average load time should be less than two seconds. A longer load time will leave you with more abandoned carts and more consumers choosing to shop with your competitors.
Making this even more critical is the fact that Google also doesn't like waiting. Slow page speed can have a dramatic impact on your SEO strategies and reduce the amount of traffic reaching your online store.
To track your website's speed, you can use page speed tools available online. These will give you insights into your current loading speed, enabling you to figure out which to improve or change for better optimization. Typically, you can boost your website speed with some simple fixes like optimizing image and file size, but some scenarios will require a bit of technical work from a developer.
10. Update Your Call-To-Action (CTAs)
Lastly, focus on your CTAs. CTAs are critical because good ones can turn shoppers into customers. Straightforward and precise CTAs can push shoppers over the edge to make the purchase. Stay away from wordy CTAs or using too many of them. It's important not to overwhelm the shopper.
Luckily, a good CTA strategy is pretty simple. Make them attention-grabbing, add bright colors, keep them simple, and make the action abundantly clear.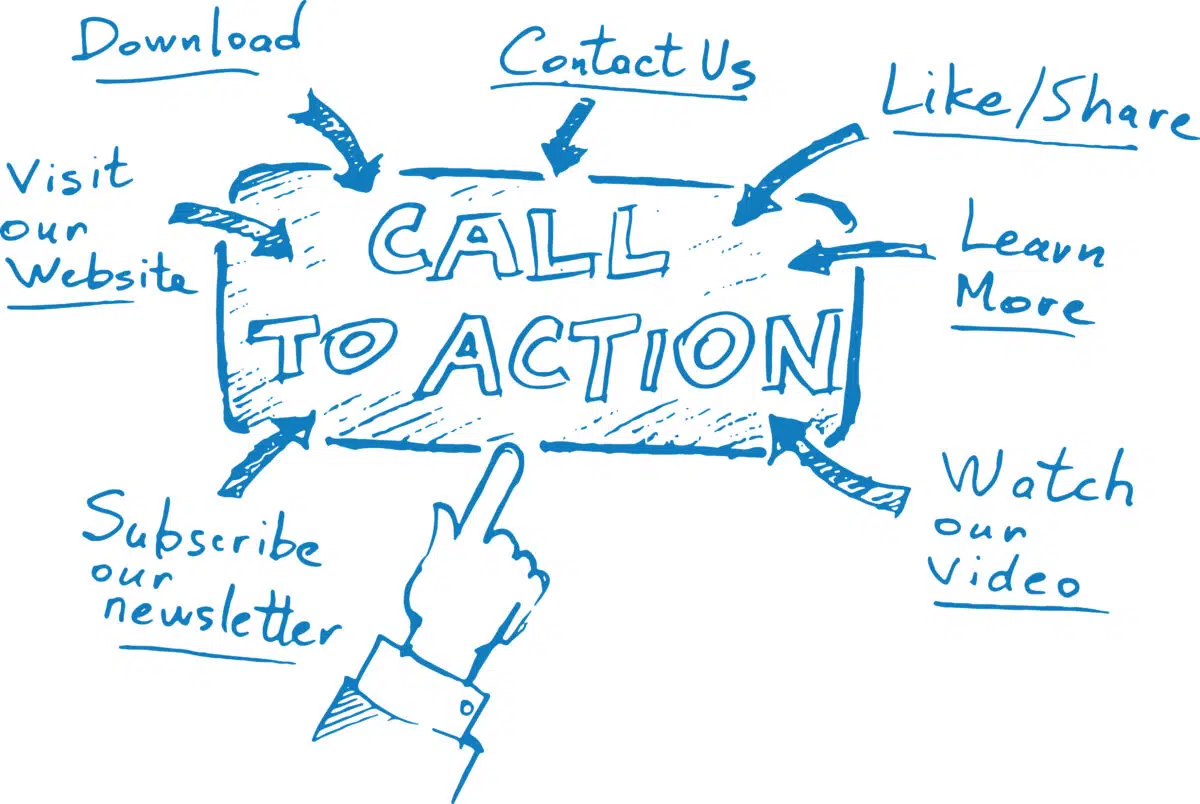 Conclusion
While running an eCommerce business is, in many ways, easier than ever, there are still a whole lot of factors to pay attention to. That doesn't mean they're overwhelming, though. Start with one or two and go from there.
For more information on how KORONA POS can help your eCommerce business, give us a call or click below. We offer our online retailers an amazing eCommerce integration through WooCommerce. Schedule a demo to see more.
Read More: How Much Does It Cost To Build an eCommerce Website?
Get Started with KORONA POS today!
Tell us a little bit about your business and explore all features that KORONA POS has to offer. And there's no commitment or credit card required.