As a retail business owner, there are certain features you look for when choosing the point of sale software that will be used to run your store. Inventory management, CRM, loyalty programs, accounting integration, transaction processing, and gift cards are all elements that you look for when shopping for a point of sale provider.
KORONA POS offers much more than the most common features. The software has the latest technology tools you won't spot in other POS vendors, making it seamless to manage and keep your organization running smoothly. This article rounds up the most outstanding functionalities that KORONA POS offers to retail stores. Read on to find out more.
Table of contents
Employee Permissions on the Cashier Point of Sale & KORONA Studio
The keypad is the first thing you see when you switch on the KORONA POS terminal. This keypad gives each cashier in your store their own login, but it is also tied to their own set of permissions.
A key feature of KORONA POS, which is significantly more customizable than most other POS software, is the employee permissions that we allow you to give both at the point of sale and in KORONA Studio.
KORONA POS allows cashiers to clock in and out of the system. The software then provides a time summary report that store owners can use and import into their payroll system to pay the correct amount to cashiers. The entire KORONA POS keypad is fully customizable, so you can configure it with your product specialist during your onboarding.
Ability to Change Item Details on Your Receipt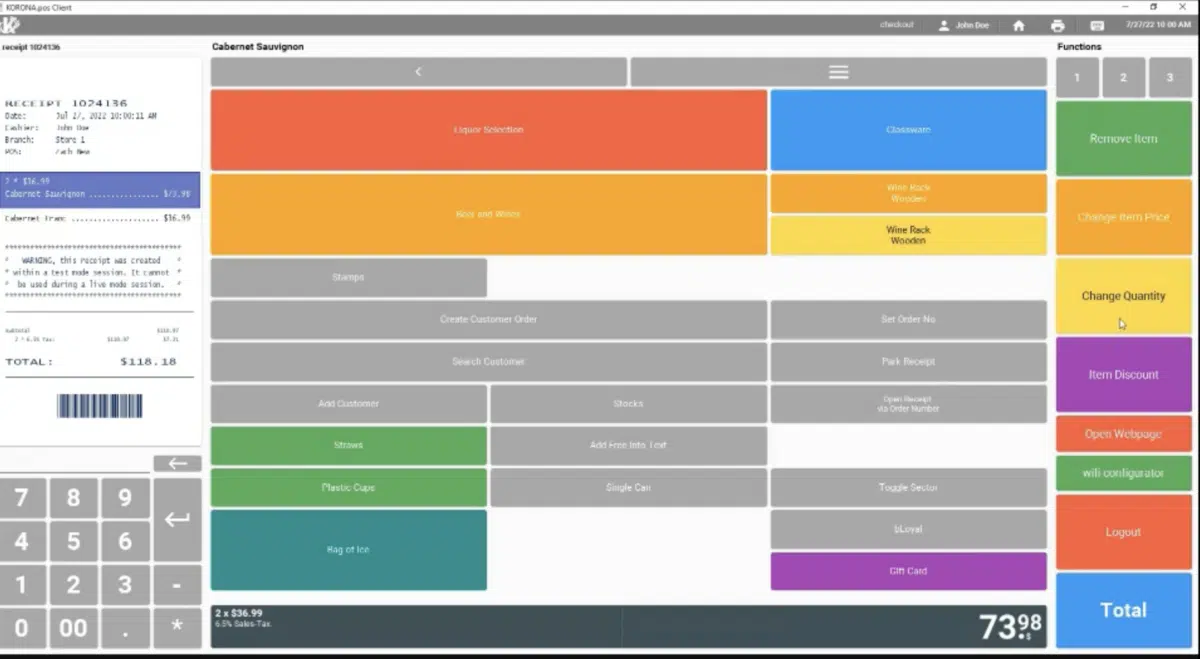 This feature sets KORONA POS as one of the fastest, easiest-to-use point-of-sale software. The receipt you see on the left side of your screen is an interactive receipt because it allows you to select product you want to edit.
Once the product is highlighted, you can, for example, hit three on the keypad and change the quantity on the right side. You also have the option to remove the product in question.
With KORONA POS, there are far fewer buttons to press, which speeds up the sales process and improves the customer's checkout experience. Once the customer is ready to checkout, simply press the total button on the bottom right, which takes you to the checkout screen. Sign up now for a free demo with one of our product specialists to further explore how this feature functions more tangibly.
Barcode on the Bottom of the KORONA POS Receipt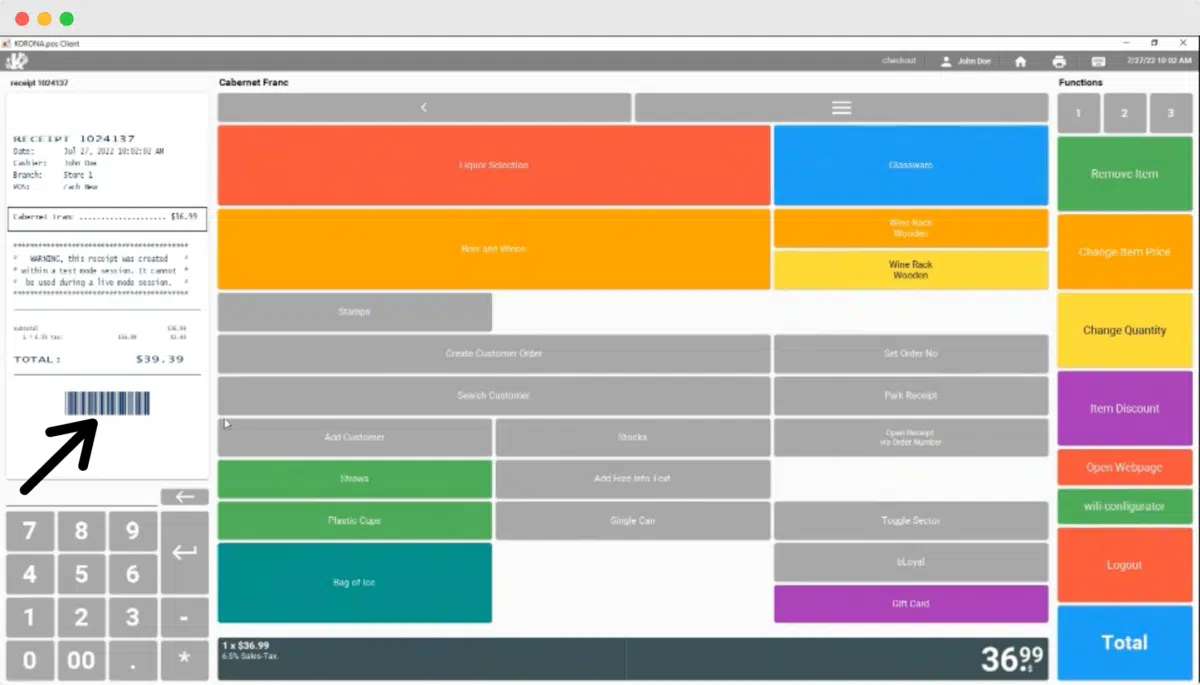 You are probably wondering what is so special about such a barcode. Every store has a barcode that comes up to the checkout counter and can be scanned. The barcode at the bottom of the KORONA POS receipt is a really helpful addition that most POS providers do not have.
So how is this barcode a game-changer? If a customer wants to make an exchange or a return, or if they have any discrepancies on the receipt, they can just scan that barcode. And when they do, it automatically brings up the receipt at the terminal. The receipt is placed in the receipt archive, where all the management functionality is, so you can print a copy of a receipt, print a gift receipt, process a return, reopen the receipt to change the payment method, or cancel the receipt.
Returns and exchanges are usually a sore point for store owners who use an older POS system because it's a manual process that requires them to find the receipt and reference it. Some of them can't even do that; they just have to create a new receipt with negative quantities. This feature is ground-breaking because it speeds up the exchange and return process.
Read also: How Do Barcodes Work? Barcodes, UPCs, and SKUs for Inventory Management
bLoyal Integration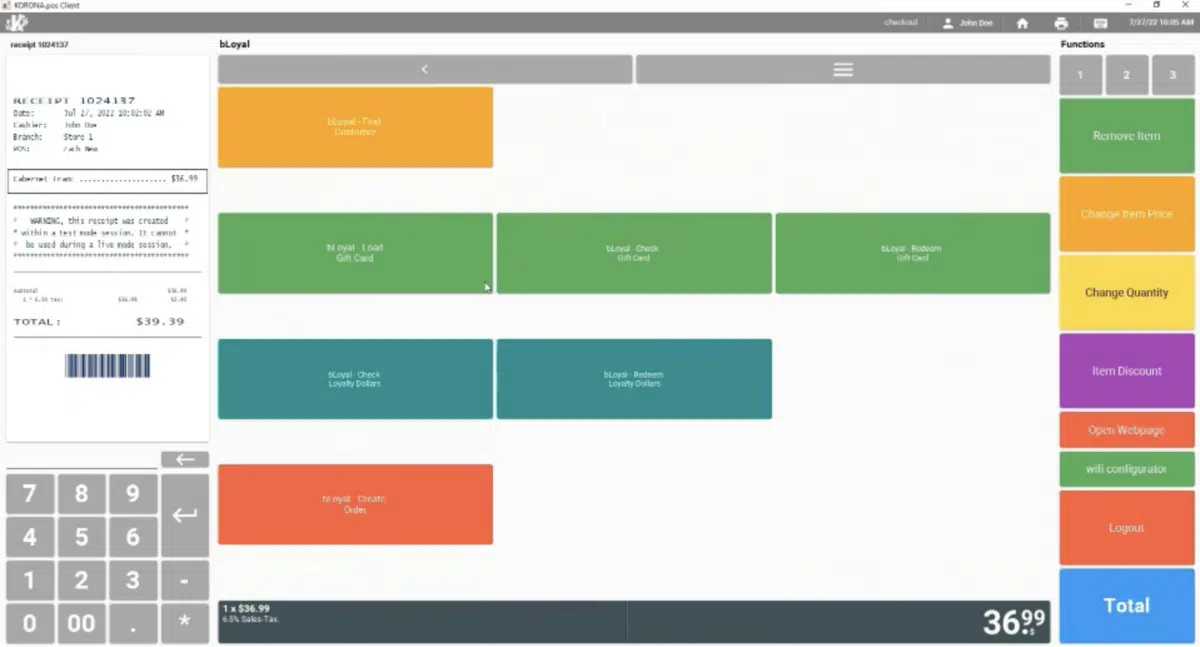 bLoyal is a full-featured loyalty and reward program for organizations at all stages of growth. The unique thing about the bLoyal integration with KORONA POS is that it can be used in real-time at the point of sale by cashiers. So it is not just an integration that synchronizes data in the background.
For example, when you hit the bLoyal button to find a customer, you'll notice that it will load a bLoyal web snippet, which allows you to search for a specific customer, load that customer, and bring them back to the receipt. And when they come back to the receipt, it also syncs all of their loyalty points and the purchases they've made in your store.
Read also: 7 Key Reasons to Get a Retail Point-Based Customer Loyalty Program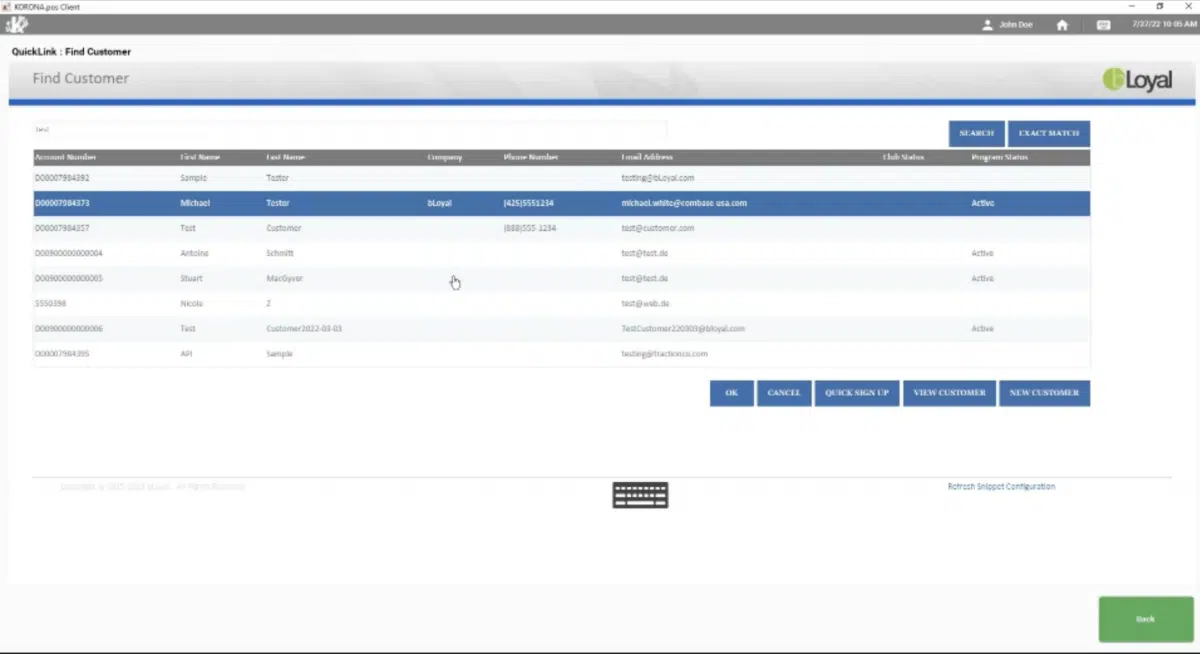 The bLoyal integration allows you to load gift cards, redeem loyalty orders, create a shipping order, and more. For any business like wineries that deals with shipping, maintaining loyality is usually a big problem. With the bLoyal integration, you make the shipping process less of a hassle and easier to complete.
No Fees for Your Gift Cards
Gift cards can be a major pain for some retail businesses. They're necessary to offer but sometimes cost businesses 2-5% for each one. Most POS systems integrated with one specific processor require you to use their gift card module, and they charge you money per gift card you use.
With KORONA POS, it's the complete opposite. Our gift card module is natively integrated into the solution. It is included in your subscription, and using these gift cards costs you absolutely nothing.
Multi-Store Management Features
Another distinguishing point of KORONA POS is its multi-store management features. Customers can view individual locations or all their stores simultaneously. If you have stores on the west coast and the east coast and want to see what works best in what location, you can even set this up to have multiple stores in a specific economic area. So you can customize the data that you see for that multi-store environment. Instead of having information for your entire organization at once, you only see information for the specific stores you select.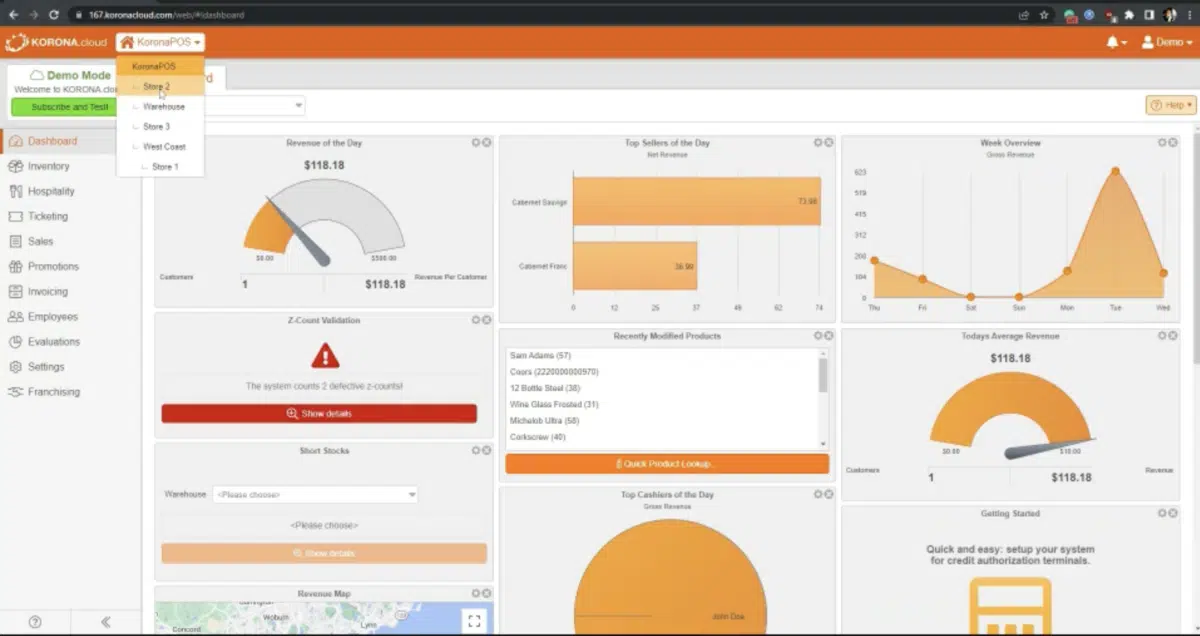 KORONA POS also comes with franchising features. These help both the franchisees and franchisor. Automated royalty payments help keep a strict royalty system in place. It ensures that the franchisor is always collecting the right amount of money from each franchisee and makes the process seamless and simple. Plus, franchisors can set up an inventory catalog in the event that franchisees order products through their warehouse.
Ability to Automatically Create Minimum and Maximum Levels of Your Inventory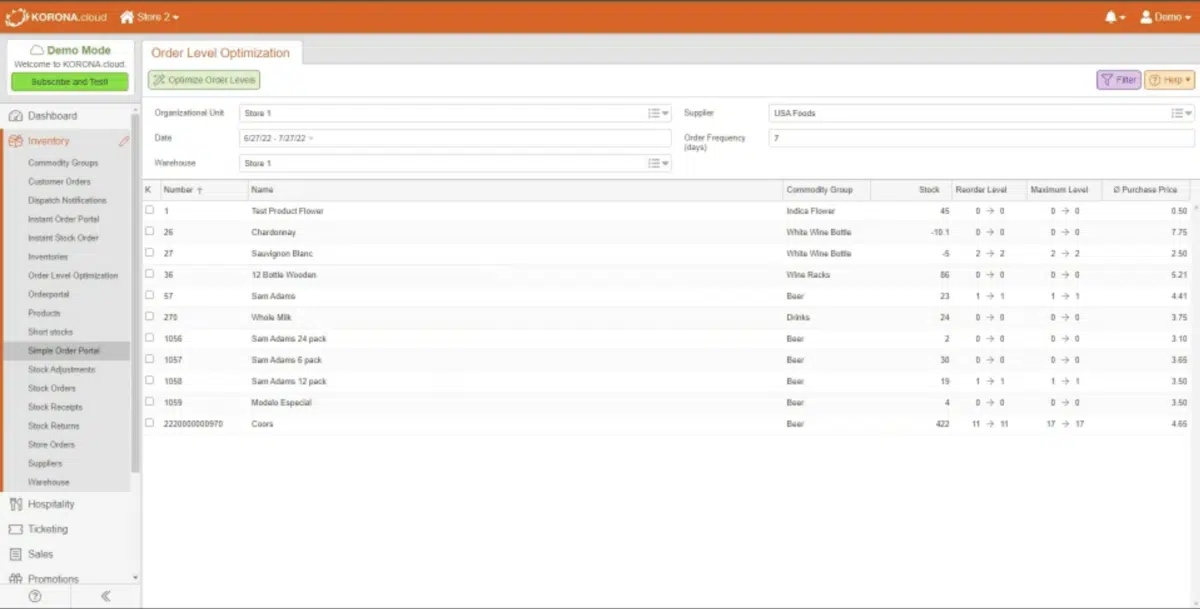 KORONA POS offers extensive inventory management tools from a multi-store perspective, but it does the same for an individual store owner of a small liquor store with one location and one terminal. Almost all POS software can have minimum and maximum levels for your products, so the system tells you when you're running low on a product.
KORONA POS has the ability to automatically create these minimum and maximum levels. And that's why we use order-level optimization. In simple terms, order level optimization analyzes the sales of any given date range and measures how often they order from their suppliers. Then, based off of this information, the software tells you what your minimum and maximum levels should be.
Most retail stores have to create these minimum and maximum levels manually. Consider running a convenience store with nearly 5,000 different products. Creating a minimum and maximum for your alert system for 5,000 products will take months and months of manual work. With order-level optimization, all this manual work is done for you in a matter of minutes, saving you precious hours that you can devote to other aspects of your business. If you would like a hands-on look at how this tool works, click on the link below to book a live demo with one of our product specialists.
More Advanced Promotion Tools
Most systems come with simple discount features. But they can't do advanced operations where you define discount calculations, ranges of amounts, and other sorts of sophisticated functions. KORONA POS can handle the most complex discounts based on what is entered on the receipt. Any discount you can think of, whether it's a mix-and-match deal for craft beers or a holiday bundled deal, is possible to do with KORONA POS.
For example, users can complete a dollar value threshold discount, like a 10% discount on a $100 purchase. You can also complete a quantity-based discount, like buy three and then get the fourth 5% off. Any discount you can think of can be set up as an automatic discount in KORONA POS without the need for cashiers to intervene. It may seem complicated or intimidating to set up the discounts yourself, but the KORONA POS support team will assist you during the onboarding process. Our product specialists will simply ask you what discounts you want and then help you build the discounts and promotions you want.
B2B Invoicing Simplicity
Retailers can complete billing in KORONA POS in a straightforward way. Billing is just a B2B transaction instead of a B2C transaction that you complete all day. So if you have a liquor store, for example, and they sell a lot of liquor to Joe's Bar down the street, they can create an official invoice for Joe's Bar. Once you create the estimate, you can turn that estimate into an invoice, and when you do that, you can mark the invoice as paid. And if you mark the invoice as paid, the inventory will be removed from the stock, the sale will be recorded, just like a normal receipt. Get more business functionality with this feature.
Ability to Restrict Any Part of the KORONA Studio You Want to a Specific Individual
The cashiers are the ones using the POS front end. The roles you assign to them might be extensive. For example, in the user roles section, one of the things that people like the most is that you can restrict every part of KORONA Studio that you want to a specific individual. So if an employee is only supposed to be dealing with orders and inventory receipts, they can't see anything else. If you don't want employees to see reports or numbers or any other tab, you can set it up so that when they log in. They only see the stock orders and what you give them access to. This feature helps keep your data and your finances safe.
Customizable Customer Displays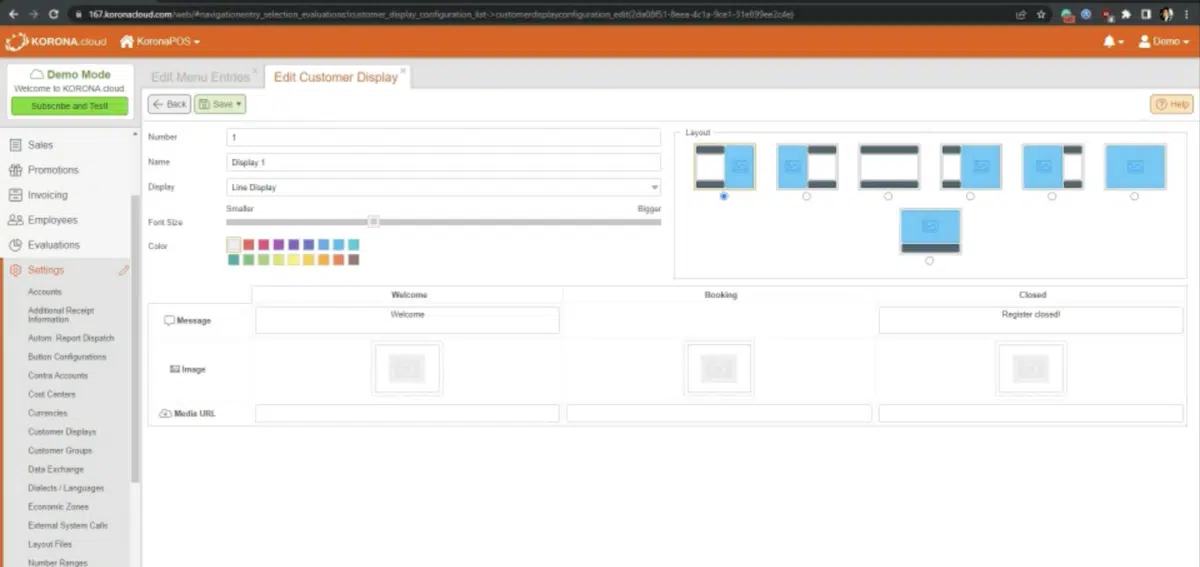 Almost all point of sale software offers customer display functionality. What makes KORONA POS exceptional is the possibility of customizing this display. So, for example, on the image you have above, you see the items being rung up on the receipt and the total on the left side, but on the right side, where that blue box is, you can put a looping video of the store and the products on sale, for example, or put a still image of the benefits of enrolling in your loyalty program. You can also put your company logo on it. Some stores use it to make full-blown video of advertisements. The importance of this marketing tool is to entice your customers to buy a little more or maybe check out the new liquor you had, for example.
Find a Better Kind of POS
KORONA POS offers a wide range of features to make managing your retail store easy. Some of these features are exceptional, make using KORONA POS even more enjoyable, and can make a big difference in the financial health of your business. If you want to learn more about how KORONA POS can benefit your business, click on the link below for a demo to explore the rest of the features we offer.
Related POS Software Resources