For so many retailers and small businesses, the point of sale is an overlooked component of business operations. To be fair, there are plenty of critical areas that businesses must focus on in order to be successful. But your retail POS is perhaps your most critical operational tool.
What's so often overlooked is that modern point of sale software does a whole lot more than simply ring up transactions. A great POS system offers inventory management, sales reporting and analytics, employee management, loyalty programs, promotions, and so much more. And for systems like KORONA, that start at just $49/month, businesses can get this for less than you pay for your internet.
So let's take a look at what goes into finding the right point of sale and how to set up a POS system. Remember that the solution only works if it's done properly.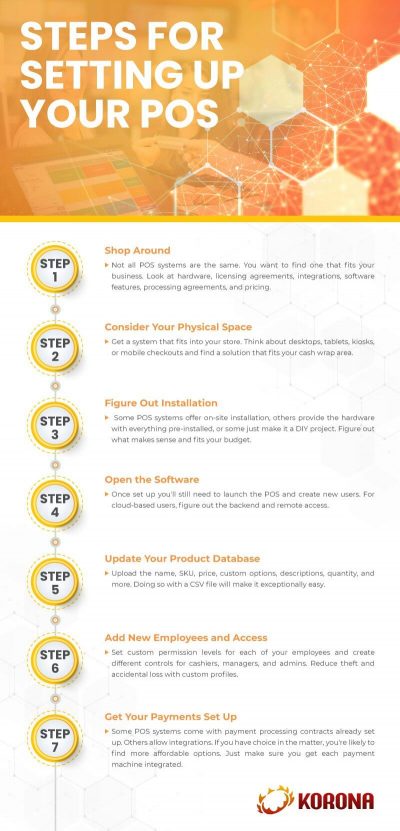 1. Shop Around for the Best Retail Software
Not all POS systems are made equal. And different solutions are built for different business types. For instance, KORONA POS offers custom software for various retail operations (like liquor stores, convenience shops, and pet stores), ticketing businesses, events, and wineries, but doesn't cater to full-service restaurants or apparel retailers. It's important to do some basic research off the bat to determine if a certain solution will provide the right tools and features.
Once you have that narrowed down there are a few additional items to consider as you go through the buying process:
Hardware
Most retailers will need to choose between POS desktops, tablets, or a combination of the two. Others might want self-checkout kiosks. Additionally, consider your peripherals, such as receipt and ticket printers, scanners, and credit card machines.
Licensing
Some software is offered for outright purchase, while others are cloud-based subscription services. Choose which is a better fit for your business. Owning the license is a long-term investment, while a monthly subscription includes updates and customer support throughout the duration of the use.
Integrations
Since POS software is the center of your business operations, it needs to integrate with other software to streamline your business. Such integrations might include CRM systems, accounting, scheduling, and eCommerce.
Features
Some of you might be looking for more niche features, like vendor relations, event management, or in-depth product analysis. Ask about these items as you shop around.
Processing
All credit and debit card sales must be completed through a processor. Inquire about any processing agreements or contracts attached to any point of sale solution.
Pricing and Structure
Lastly, consider the price and the structure of the arrangement. Look out for costly processing bundles, lengthy contracts, or additional fees. Keep it transparent with flat-rate payments and month-to-month subscriptions.
For a more in-depth look at finding the right POS, check out our guide to finding the right POS for your small business.
Read also: 10 Questions To Ask When Shopping For A New POS
2. Get the Right POS Setup for Your Retail Space
It's important to consider your store layout and space, too. For many businesses, space is a serious commodity. It's important to plan your checkout space accordingly.
If you have a clearly defined cashwrap area, a larger desktop solution will be more feasible.

For small spaces, you can mount a small tablet with a receipt printer.

Retailers that checkout shoppers on the floor will need unmounted tablets to facilitate this.

Determine how many dedicated lanes you'll have and get an adequate amount of hardware to go along with it.

Find the right payment devices based on what you want to accept – EMV, mobile payments, etc.
Remember that you don't want to let the space get too cramped or crowded. Keep the design simple and efficient to maximize your space.
3. Determine How Your POS Will Be Set Up
Getting the POS connected, operational, configured, and ready to be used is the next step. Again, this will vary based on your provider.
Some solutions ask that the users themselves conduct the POS set up. For rudimentary operations that only need to ring up sales, a "do-it-yourself" solution might be a decent option.
But for most, assistance from your point of sale team is recommended. Any store with a large product catalog, inventory management, sales analytics, multi-stores, or integrations, make sure you're looking at POS software that offers robust customer support.
Some point of sale businesses recommend that you hire an IT expert to install this for you. This process can be frustrating and will be costly. Instead, ask about "plug and play" solutions, like KORONA.
Here, your POS hardware will be shipped to your business with all products uploaded, settings configured, integrations completed, and custom features built. Don't waste your time and add to overall stress by trying to figure it out on your own, and don't spend an arm and leg to have someone else do it for you. Instead, rely on a great support team to help you out through the process.
KORONA also includes all product training in the subscription. Users can schedule personalized demos prior to going live, so you can see exactly how each feature works prior to final implementation.
4. How to Open the Software
POS setup should be fast and easy. With cloud-based solutions, all you need to do is log in to the backend with your personal, secure credentials. KORONA will come installed on our proprietary operating system, koronix, or can run on standard operating systems.
The login process will be the same for tablet users.
Additionally, users can access all data and reports remotely through any internet-connected device. This allows owners and managers to monitor sales at any time from any location.
5. Creating a Product Database
For new users, the software should come preloaded with all product information, including the following:
Name

SKU

Vendor price

Retail price

Size/color/type options

Description

Par levels

Quantity remaining
Plus, you can set up other custom information associated with each product. This will aid in your inventory, ordering, and sales.
New products can be added manually through the backend of the software, but more commonly, this information is uploaded through a CSV file. You can simply send it to your POS provider to upload for you.
6. Add New Employees to Your POS
It's important to allow various users on your POS account. Most retailers have many employees, managers, and owners. Since the software contains all or most of your business information, it's also important to allow varying levels of access.
Custom employee permissions give you this option. When setting up your POS, add different access to each team member. You can customize this for each employee or break it down into basic categories, like cashier and admin.
Permission levels protect your business from theft, costly errors, poor discretion, and negligence.
7. Set Up Your POS Payments
You'll need to decide on a few items related to payments connected to your point of sale.
First, determine what forms of payments you'll need. Most commonly, these are EMV chips, contactless mobile devices, and eCommerce payment gateway integrations.
Additionally, businesses need to set up the processing solution. Some POS providers are also processors, while others integrate with third-party processors. Typically, a point of sale business that is also a processor will require its users sign up for their merchant services. Third-party integrations offer businesses more choice, on the other hand.
Shop around for payment processors while you're shopping for your POS to find the best fit. When you do, your POS solution and merchant services provider should work together to configure all devices to communicate and properly process credit and debit transactions.
See Related: How to Get a Credit Card Processing Rate Comparison
How to Set Up Your KORONA POS
Click below to register for a free, no-commitment account with KORONA. Your trial account will look exactly like your real account. We'll even upload your product data for you and walk you through a personalized demo with each of the features you're looking for.
If you decide KORONA is a great fit for you, we'll configure your hardware, train your management team, set you up with a payment processor of your choice, and send you all devices ready to go live! It's that simple.