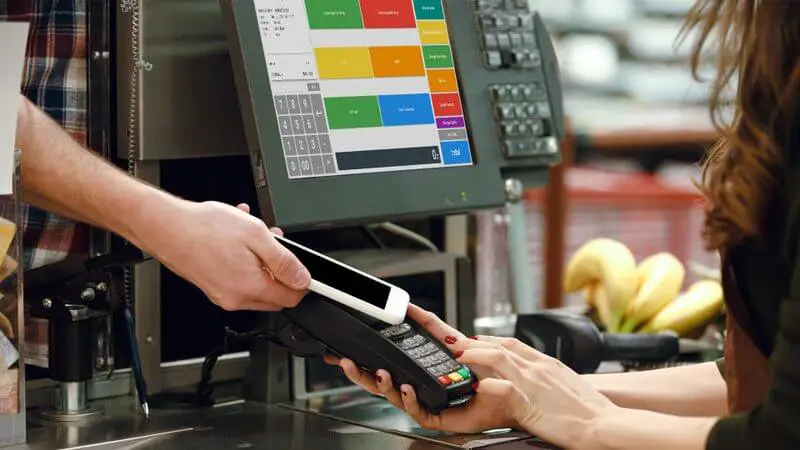 If you're on the hunt for a point of sale provider, chances are you have heard terms like payment gateway, merchant account providers, merchant acquirer, merchant services, and many more. The reality is that these terms are often used interchangeably and can sometimes be confusing to a retail store owner or manager.
Understanding these terms is essential to making the best choice in the type of POS system for your store, and that's what this blog will help you figure out. We'll walk you through the differences between merchant services and POS systems, other important terms you need to know about, and how all this information affects the choice of a POS system provider.
Table of Contents
What Does Merchant Services Mean?
The term "merchant services" is often simply called credit card processing. It refers primarily to the services and equipment that B2C businesses rely on to accept and process payments from their customers via credit cards, debit cards, and electronic payment methods.
Banks typically provide merchant services through an account that the merchant opens to facilitate credit card processing. Merchant services are required to set up point of sale (POS) systems, online payment gateways, and eCommerce platforms.
See also: How to Prevent Data Breach: A Guide For eCommerce Retailers
Merchant services also sometimes refer broadly to the businesses that facilitate the transactions. Again, these businesses are also often referred to as credit card processors, or, simply, processors. For their part, the processor is the business that takes a small percentage of each transaction.
What Is a POS System?
A point of sale system or POS system is a combination of software and hardware installed at the cash wrap counter (or digitally through an eCommerce checkout page) that allows businesses to accept payments from customers for goods and services.
Most modern POS systems do more than just record sales and process returns. They print receipts, track sales, keep track of your inventory, provide information about your business performance, and help you launch and manage a loyalty program. The majority of point of sale systems are now cloud-based, meaning you can access all transactions and operations in your store without being present at your premises.
You may also want to read How to Grow eCommerce Customer Loyalty: 7 Tips for Online Stores
What Does a Merchant Services Provider Do?
Merchant services facilitate the transaction of money from a customer's bank account or credit card account to your company's bank account. Here's what a merchant services provider typically does:
Authorizes (or denies) the transaction

Collects the funds from the issuing bank (the institution that issued the credit or debit card)

Sends the funds to the merchant – minus interchange and other fees
The acceptance of credit and debit cards follows the following process:
The customer gives their debit or credit card to the cashier or enters the payment information online

The payment details are sent to the acquiring bank (the merchant's financial institution)

The acquiring bank, in turn, sends the transaction to a payment processor through the appropriate card association (Visa, MasterCard, Discover, American Express)

The card association sends the transaction to the issuing bank (the financial institution that issued the credit card), then requests approval

The issuing bank, in turn, sends an approval code to the card association, if the transaction is approved

The card association sends the authorization code to the acquiring bank

The acquiring bank sends the approval code to the merchant's payment terminal

The terminal prints a receipt for the customer to sign

On the consumer side, at the end of the billing term, the issuing bank charges the customer for the fees incurred during the term

The customer pays the credit card bill to the issuing bank

On the merchant side, the money earned is typically batched at the end of each business day and the money deposited into the business bank account within 24-72 hours

All processing fees are deducted from this total by the merchant service provider prior to the money being deposited
What Kind Of Merchant Services Does Your Store Need?
When you turn to an experienced merchant services provider, you'll need to be supported every step of the way as you implement this integral part of your business into your operations.
A payment processor: A payment processor/merchant service provider handles the credit card transaction process by acting as an intermediary between the merchant and the financial institutions involved. The processor charges a small fee on each transaction. This cost varies between processing solution, so choosing a payment processor that is fair and transparent is imperative.
A merchant account: Simply put, a merchant account is a commercial bank account that allows a business to accept and process electronic payment card transactions. Merchant accounts require a business to partner with an acquiring bank that helps facilitate all communications in an electronic payment transaction. Merchant account partnerships are also critical for online businesses.
A payment gateway: Payment gateways read and transfer eCommerce payment information from a customer to a merchant's bank account. Its purpose is to capture the data, ensure that funds are available, and get the merchant paid. All online businesses must establish a reliable and secure payment gateway through their website.
A credit card processing terminal: The credit card processing terminal allows the merchant or customer to insert, swipe, or tap their payment method. They are typically connected to point of sale system through a simple integration.
Some businesses start by working first with a merchant service provider. In this case, they get the business set up with their credit card processing and find a compatible POS solution. In other cases, businesses start with a POS solution and then find an integrated merchant service provider afterward.
Today, many POS and merchant service providers have combined their operations into one solution. While it's perhaps more convenient to have a single system, this almost always comes at a premium: such solutions charge inflated processing rates, often costing business additionals thousands of dollars each month.
Understanding Interchange And Other Fees
Understanding commissions and other fees is important when choosing your merchant services provider. Interchange fees make up the majority of credit card processing fees. These are transaction fees that the merchant's bank account must pay when a customer uses a credit/debit card to make a purchase at their store. This fee is paid to the card-issuing bank to cover processing costs, fraud and bad debt costs, and payment approval risks. After all, if the consumer never pays the credit card bill or pays late for the goods purchased, the issuing bank will be deprived of those funds. The amount and types of fees you are charged as a merchant vary depending on several factors, including the following:
The type of business you run is generally determined by the merchant category code (MCC)

Card number swiped or keyed in

The riskiness of the business type

In-person retail sales (card present) or Internet, mail order, or telephone transactions (MOTO or card not present)

Credit score and merchant history
On top of the interchange fee, merchants must also pay all processing fees (going to the merchant service provider) and a minor fee for the card networks (VISA, Amex, etc.). There are also various one-time charges that some merchant service providers charge, such as cancellation fees, surcharges, and other avoidable costs. It's best to look for a solution that doesn't include these additional expenses.
Merchant Account Providers vs. Payment Service Providers
Merchant account providers are usually companies that enable you to open a merchant bank account. They can also help you accept payments, such as a credit card terminal, payment gateway, and point of sale system.
Payment service providers, on the other hand, operate differently. Rather than giving each company its own merchant account, payment service providers place the funds of all the companies they work with into a single merchant account and then allocate them accordingly to each company's bank account.
Choosing The Right POS System
There are a few things to consider when choosing your POS provider. Ultimately, the decision comes down to the features, service, and cost.
See also: How Does a POS System Work? 5 Common Point of Sale Questions
Various Payment Types
Contactless payments are possible via most credit and debit cards, Apple Pay, Android Pay, Google Pay, and other various devices that use near field communication (NFC) or radio frequency identification (RFID).
Mobile payments are payments made for a product or service through a portable electronic device such as a tablet or cell phone. Mobile payment technology can also be enabled through applications such as PayPal and Venmo.
A modern POS should accept a wide variety of payment methods in order to provide additional convenience for their customers.
Integrations
A good point of sale software should be able to offer you the integrations necessary for your specific business to function properly. Such POS integrations commonly enable eCommerce capabilities, accounting/payroll, scheduling, loyalty, and CRM solutions.
Still, there are a variety of more niche integrations that many retailers look for.
Features
Likewise, there is a wide range of POS features that businesses must consider when shopping for their point of sale. These often include inventory management, product and sales reporting, employee management, customer relationship management, and many more. Make a list of your most important features prior to starting the shopping process.
Cost
Finally, the price matters. POS hardware and software come in a wide price range. Determine your budget beforehand. Part of the cost will be your credit card processing. While there are some ways to lower your fees, the most important step is finding a fair and reliable merchant service provider. KORONA POS is one of the few remaining point of sale solutions that allow businesses to choose any major credit card processing solution. Having such a choice allows them to find more affordable options, avoid long-term contracts, and negotiate against fees and surcharges. Learn more about credit card processing cost comparison with KORONA POS in the video below.
Payment Processing Pricing
With that in mind, let's briefly go over how payment processing fees are typically broken down.
Interchange-plus pricing
Credit card issuers, such as Mastercard and Visa, charge specific interchange rates for each type of card based on the factors mentioned earlier. Interchange-plus pricing structure allows the processor to add a small margin to the interchange for each sale.
This model is the most transparent because it allows retailers to see exactly how much of their processing cost is going to the merchant service provider. All other plans bundle this cost with the interchange and network fees, thereby making it difficult to understand what they're paying for.
Because of its transparency, this pricing structure is almost universally the best option for businesses.
Flat rate
This pricing model is suitable for small retail businesses and startups with low sales volume. The flat rate is a fixed percentage based on each charge. It is quick and easy to set up and has the best ease of use, though the rate is typically slightly higher than the more transparent interchange-plus pricing.
Tiered rates
This option is not the most appropriate for small and medium-sized businesses because fees fluctuate. Tiered rates are grouped into different structures that separate each card type (Visa, Mastercard, Discover). In the end, merchants are left with little transparency and elevated rates.
Direct Interchange
With a direct interchange fee, the merchant charges a one-time monthly fee with no percentage with a direct interchange fee. This is rarely a wise solution, but may be a feasible option for businesses that have a high volume of low transactional values.
What Should You Look For In a Merchant Services Provider?
When searching for a merchant services provider, be sure to take note of their costs. Depending on the solution you need, you will most likely need to consider the following fees:
Installation fees

Equipment costs

Monthly fees/service charges

Transactional fees

Cancellation fees

Other surcharges
Let KORONA POS Help You Find The Right Solution For You
KORONA POS serves as a point of sale software for retail stores such as convenience stores, grocery stores, vape shops, coffee shops, museums, and many more.
The software integrates with any payment processor of your choice. Choosing the ideal POS system that can integrate with the payment processor or merchant services provider of your choice can be a time-consuming, stressful, and tiring process.
In addition to the product, KORONA POS provides you with all the information and the team you need to help make the whole process smooth and easy. Click on the button below to learn more.
FAQs: POS Systems vs Merchant Services
What is a POS merchant system?
A merchant point of sale system is a system that offers integrations with payment processors. These send the value of a purchase to your card reader when you click the "pay" button, so you don't have to enter it yourself. It quickly processes and completes transactions.
What is the difference between POS and terminal?
As opposed to a traditional terminal, a point of sale system can perform multiple tasks and improve the operation of your business. In addition, they offer a level of analysis that a regular terminal cannot. The effective use of a POS system enables your business to run smoothly, such as inventory control, loyalty programs, customers' checkout experience, etc.
What is the difference between a payment processor and a merchant account?
A payment processor and a merchant account are two different things. A payment processor facilitates online and in-person transactions, while a merchant account is a deposit account where those payments are first deposited into your regular bank account.
What is a POS transaction?
A point of sale transaction is the point at which a transaction is finalized or the point at which a customer makes a payment in exchange for goods and services. Any payment method can be used, such as cash, debit cards, credit cards, mobile payments, and even accumulated loyalty points to complete transactions.