Last Updated: December 16, 2020
It wasn't that long ago that retail rewards or loyalty programs simply consisted of punch cards that fit nicely in your purse or wallet. Typically, after a certain number of punches, you qualified for a free item, discount, or some other special perk. Over the past decade or so, loyalty programs have become much more nuanced and powerful, many of them moving to the digital realm. Customer relationship management (CRM) tools can be run through your point of sale, keeping personal information safe and order history accurate.
While many loyalty programs have become powerful tools used to drive more traffic and increase sales, a simple point-based customer loyalty program for retail is enough for many small businesses. Focusing on your returning customers is more valuable than trying to attract new ones. Better yet, it comes included in a great retail POS system. So let's take a look at the benefits of digital punch cards and simple retail loyalty programs.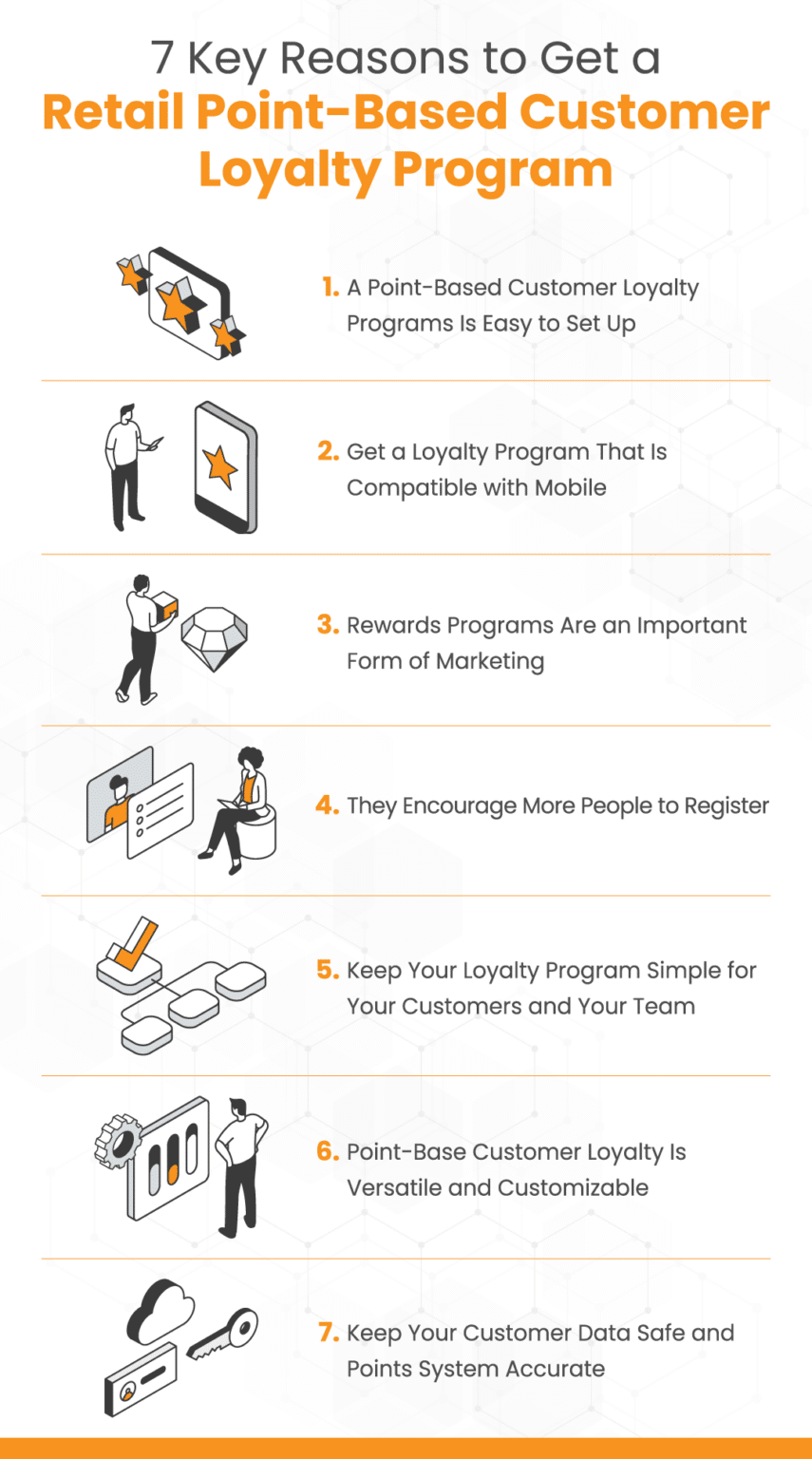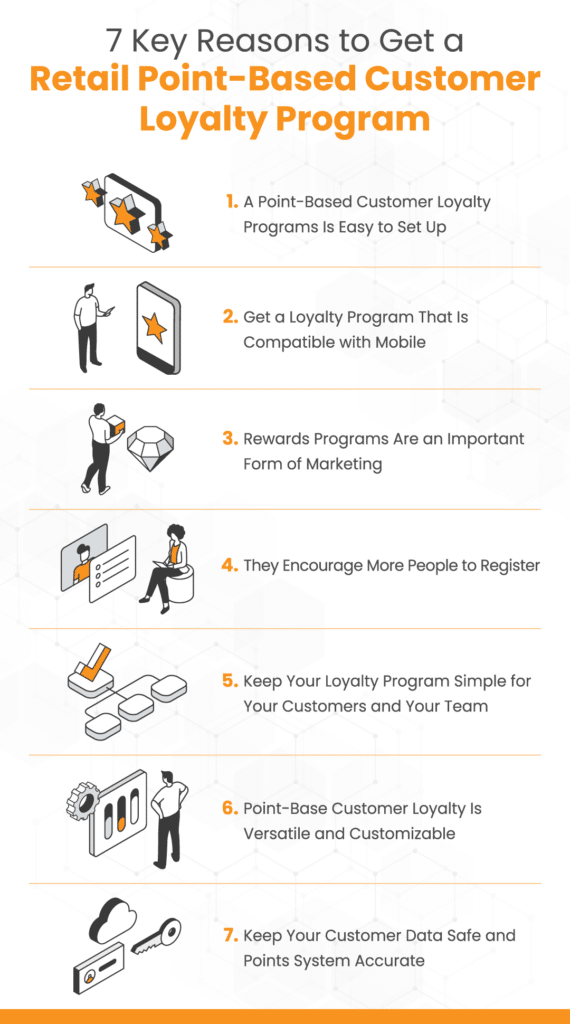 1. A Point-Based Customer Loyalty Program Is Easy to Set Up
Implementing this into your store is so easy, in fact, that about three-quarters of all retail loyalty programs out there are point systems.
As we mentioned above, starting a simple loyalty system can be done entirely through your retail point of sale. This makes it as easy to set up as it is running a discount or promotion. You customize the details of the system and it's good to go. Your cashiers don't have to do anything except ask customers to input an email or phone number or have them scan a card or QR code. The purchase will be recorded, points added to the account, and rewards redeemable, all automatically.
2. Get a Loyalty Program That Is Compatible with Mobile
More and more consumers are moving their loyalty programs to mobile apps. This adds another level of convenience to the customer experience and allows them access to their points and rewards levels.
While this is an unnecessary addition for some retailers, others would benefit from the increased loyalty such a service would provide. For mobile point-based loyalty programs, look for software integrations from your POS solution. KORONA fully integrates with both Como Sense and bLoyal, two proven customer loyalty platforms. These take loyalty to a whole other level with email marketing and other more advanced loyalty features. For a more in-depth look, check out our blog on the benefits of an advanced loyalty program.
3. A Rewards Program Is an Important Form of Marketing
Retail experts estimate that it is 5-25x more expensive to acquire a new customer than it is to sell to an existing one. Creating a rewarding loyalty program is a great way to market to exactly those customers. They will feel more valued and satisfied as a shopper, and thus more likely to return and tell their friends and family about your store.
It's helpful to think about your loyalty program as part of your customer relationship management system. CRM is a key tool for all types of retailers, big and small. And loyalty is a major component of this. Customers love it, it brings in more business…
4. And It Encourages More People to Register
….and you're able to gather more valuable data. The simpler the rewards system is, the easier it will be to convince more people to sign up. It's unobtrusive and requires no commitment or additional costs. Most consumers are won't hesitate as such an offer.
On the retailer's side, the benefits don't stop with simply keeping your regulars around. Additionally, you're able to collect valuable data on your customers. An email address improves your email marketing game; a phone number can let you text out special deals or promotions; order histories allow you to personalize rewards for each customer; a birthday gives you the opportunity to really impress your best customers.
Make sure that your loyalty program is working for you as must as it's working for your customers.
5. Keep Your Loyalty Program Simple for Your Customers and Your Team
However you choose to structure your points system, it should be easy to understand. Your shoppers want to know what they're getting with each purchase, how they can redeem points, and what they can redeem the points for. A confusing loyalty program will do nothing to encourage more visits and spending.
The same goes for your cashiers and associates. They should be able to quickly sell the loyalty program to each person who passes through the checkout line. With a simple program and a fast point of sale, signing up will take no time. Processing each transaction through the loyalty program will also be fast – a customer need only enter their email or phone number to sign in.
A points system keeps your customer loyalty simple for you, your team, and your shoppers.
6. Point-Based Customer Loyalty Is Versatile and Customizable
While there are many more advanced loyalty programs, a point-based system is still versatile enough to work in a way that is best for your business.
The most common points system is rewarding each participating customer with a point for every dollar spent. The points can then be redeemed for various rewards. Some retailers simply offer cashback or gift cards at particular thresholds. Though these are the most straightforward, they are typically minimal and don't do much to encourage additional spending.
Others offer exclusive products rather than cash back. This is a great opportunity to offer the customer a greater perceived value while minimizing the financial loss from the retailer. For example, people would be more excited to get a $50 apparel item than a $25 gift card. Though it may seem like a more generous offer from the retailer, a jacket that retails for $50 might only cost $15 to manufacture. So the retailer is only spending $15 rather than giving $25 to the customer who presumably would have spent that anyway.
You can also make it a simple punch system. Digital punch cards are perhaps the most straightforward system. They don't provide a lot of customer information, but they are a good way to incentivize additional purchases and bring in friends and family.
A tiered points system is slightly more complicated but can be easily implemented into your POS and CRM. Adding levels of achievement with increasingly significant qualities of rewards will increase the average ticket value and encourage more frequent visits.
7. Keep Your Customer Data Safe and Points System Accurate
First, with a digital loyalty program, you can more easily keep personal information safe. Your customer data is well-protected by a cloud POS system.
Additionally, on your end, the points or punches are guaranteed to be more accurate. Small businesses have long fought against the dreaded punch card fraud. After all, it's easy to add a few extra punches to a friend's card, leading to way too much free product being given away. Stop worrying about finding unique hole punchers or stamps and make it easy with a digital loyalty system through your retail POS.
KORONA's retail POS software includes a loyalty points system in all of our software options. We integrate with more powerful solutions built for businesses with advanced memberships, services, and ticketing. But for most of our retailers, a point-based rewards program is all they need. To find out more about how our loyalty program works, click below and register for your free demo. Our amazing team will walk you through the whole process and show you how to use each feature.
Next Read: How to Grow eCommerce Customer Loyalty: 7 Tips for Online Stores
Get Started with KORONA POS today!
Tell us a little bit about your business and explore all features that KORONA POS has to offer. And there's no commitment or credit card required.