Last Updated: June 25, 2021
Retail marketing for small businesses is one of the most stressful and critical parts of owning an SMB. There are many different areas to consider to help ensure a successful business operation:
Running promotions
Designing your store
Adding an interactive feature
Sending emails
Managing your loyalty program
Marketing your best sellers
One effective tool that is too often overlooked is gift card marketing. Custom gift cards are a great present for the holiday season that can increase sales, bring new customers to your business and increase brand awareness. These are a few of the benefits associated with offering gift cards, but there are many more advantages. Let's examine how to start a gift card program in retail and why it is important for any store.
What Is a Gift Card Program?
A gift card program is simply a way for businesses to sell gift cards to their customers. These can be purchased in-store for a physical card or online for a digital one.
Gift cards programs can only result in more sales for your business. Plus, about 15% of gift cards never get redeemed, but your business gets paid either way.
How Are Gift Cards Integrated Into Your Point of Sale?
Ideally, gift cards are sold through your point of sale, allowing you to track sales and take payments from the gift cards themselves.
With such fully integrated solutions, your customers can use gift cards in the exact same manner as they would use credit cards.
They can see any remaining balances, either digitally or on a printed receipt. Plastic gift cards are durable and can be reloaded through the point of sale, saving your business money on purchasing more cards.
Finally, if your gift card program is integrated with your point of sale, you can track gift card sales and redemption through your retail metrics and analytics. This makes it easy to judge how successful the program is for your business and how your shoppers are responding to the program.
For more on this topic, read: The Power of POS Gift Cards: A Guide for Retailers
Why Are Gift Cards So Important?
Most importantly, selling gift cards is an easy addition to your store's marketing efforts:
Getting customized gift cards is really affordable.
They serve as a great last-minute impulse purchase.
About half of all holiday shoppers will buy one.
Consumers buy more when they have a gift card.
Plastic gift cards sell much better than paper.
They market to new audiences.
Gift cards increase positive brand awareness.
Market during slower seasons or times
Are There Regulations with Gift Cards?
Gift cards are a form of payment and thus must be sold and used in accordance with all payment industry regulations.
New regulations were enacted in 2010 to protect the consumer:
Money on a gift card cannot be subject to an expiration date that is less than 5 years from the date of purchase, or the date that money was last added to the card.
Fees for inactivity can only be administered after a year of inactivity.
All fees must be clearly expressed at the time of the sale.
Any expiration date must be displayed on the card or packaging.
Additional state laws do exist, so be sure to check any further state regulations that your business may be subject to.
What Are the Benefits of Using Gift Cards?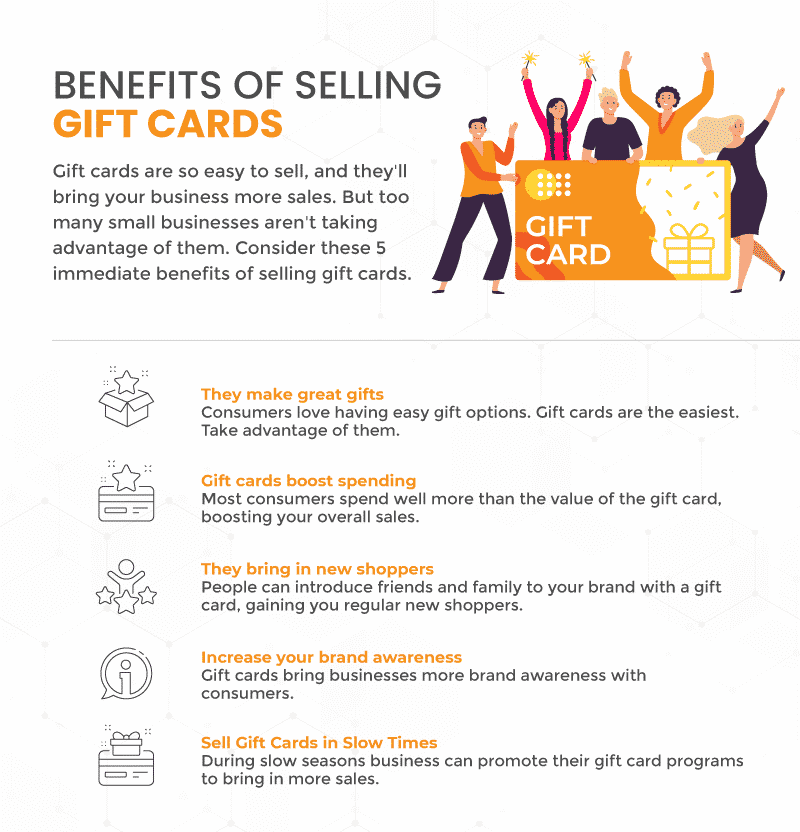 1. Custom Gift Cards are the Most Popular Gift
Gift cards are the perfect way for customers to give their family and friends presents they will love. Gift cards are easy to use and flexible to redeem, making them a remarkably popular gift.
They are also easy to purchase. Gift cards can be purchased in-store or online and they take some of the stress out of the gift-buying experience.
For those receiving retail gift cards, this offers the opportunity to pick out their own gift and avoid the hassle of exchanging presents.
2. Plastic Gift Cards Increase Customer Spending
Some business owners fear that customers who come into their stores with plastic gift cards will only spend the value of their cards. Though this may seem to be a valid concern, consumers overspend the value of their gift card by an average of $59.
Customers that shop with a custom gift card are less likely to bargain shop. They tend to treat themselves to something they wouldn't usually purchase. If they don't spend the value of their card, it's an excellent incentive for them to come back and spend more money with your business.
3. Gain New Customers with Retail Gift Cards
When your customers give their family and friends a gift card to your business, they are giving you a positive referral. This form of word-of-mouth marketing is one of the most cost-effective ways to get new customers in your door because it's from someone that they know and trust. Additionally, the card gives customers a form of "free money" to spend at the business, helping to incentivize them to visit your business and see what you have to offer.
4. Custom Gift Cards Raise Brand Awareness
Think of custom gift cards as a potential introduction to your brand. For those receiving the card, it could be their first impression of your company. We recommend including your business's information to help ensure that they can find or contact your business. Additionally, we recommend sharing a unique aspect of your company to help set your brand apart from competitors.
Plastic gift cards are fully customizable and thus allow you to design your gift in a way that highlights your brand. You can use custom shapes, clear elements, embossed printing, foil stamping, metallic elements, and more to make your card as unique and your business standout.
See Also: Brand Awareness Strategies for Retailers and Small Businesses
5. Gift Cards Can Be Used During a Time of Crisis
Throughout the widespread business closures in the wake of COVID-19, many businesses began selling gift cards that their loyal customers could redeem at some point down the road. By doing so, they were able to generate some sales during the weeks or months in which they were shut down. Most businesses that we spoke to said that their top customers responded and helped keep them afloat.
Get Gift Cards with KORONA and Plastic Printers
Now that you know why you need custom gift cards, there are a couple of other things you should know before you get started. First, your custom gift cards from Plastic Printers are designed to be compatible with KORONA POS. KORONA has an integrated gift card system that allows you to use any type of gift card without being tied to the credit card processor. In addition, you can import or export the entire gift card database in seconds.
It's easy to get started and will boost your business's sales immediately. Get in touch with KORONA or Plastic Printers to find out more. If you're an existing KORONA customer, give us a call and we can walk you through the process.
This is a guest post from Plastic Printers, a global leader in card manufacturing and design. They make the entire process easy for our customers. This streamlined process means designing, ordering, printing, and shipping are all done in one location! They offer tools such as Gift Cards, Membership Cards, Loyalty & Rewards Programs, Menus, Table Tents, Key Tags, Event & Conference Passes, Employee ID Badges & so much more. Plastic Printers also offers unique designs, custom shapes, and many other features to help your business stand out too.
Get Started with KORONA POS today!
Tell us a little bit about your business and explore all features that KORONA POS has to offer. And there's no commitment or credit card required.